With a passion for acting that's as fiery as the sun, Kathleen Marie Sammon Munroe, now Kathleen Munroe Blumenthal (b. April 9, 1982), has captured the hearts of many with her stunning performances on both the big and small screens. Born in the vibrant city of Hamilton, Ontario, Canada, Munroe is an enigmatic force in the entertainment industry.
Kathleen knew she wanted to be an actor from an early age, and nothing could stop her from pursuing her aspirations. Her unyielding tenacity and dedication to her profession have propelled her to the top of the business, where she has received critical praise for her roles in some renowned TV programs and films.
Munroe, who now lives in Los Angeles, continues to fascinate viewers with her natural talent and compelling on-screen presence. Her standout performances in Patriot (2015), Strangers (2017), and Call Me Fitz (2010) have solidified her reputation as a strong actor, and her admirers anxiously await each new project she embarks on.
How Much Is the Net Worth of Kathleen Munroe?
As per different estimating sources, Kathleen Monroe holds a net worth of around $700,000. Well, the majority of her income obviously comes from the acting job, but she also earns a decent amount as a writer, musician, and director.
Kathleen Munroe is estimated to be worth $700,000.
Photo Source: Kathleen Munroe, Instagram
The 41-year-old is a seasoned actress with a career spanning more than two decades. Her acting career began in 2001, and she has since been in several films and television series, cementing her status as one of Canada's most brilliant actors.
Munroe has completed 69 projects to date and shows no signs of slowing down. Her passion for her profession is evident in the wide number of roles she has played, demonstrating her flexibility as an actor.
Kathleen Munroe: An Actor, Writer, Musician, and Director
Kathleen Munroe took an early interest in the arts and pursued her love by studying cinema at the University of Toronto. She refined her abilities and earned vital experience, paving the road for a prosperous career.
Munroe's exceptional skill was acknowledged in 2010 when she received the coveted ACTRA Award for Outstanding Female Performance. This award recognized her flexibility and ability to fascinate viewers with her remarkable acting abilities.
In addition to acting, she is also a talented musician and composer who has written and sung her own music like Bloodlet, Let Go, Forgive, Fake Out, and many more.
Munroe's creative abilities are complemented by her fluency in both English and French, which has broadened her options to work in a variety of shows. Furthermore, Munroe has been open about her sexuality and identifies as queer.
Munroe has been in a number of high-profile television programs in recent years, including Law & Order: Organized Crime, FBI, A Perfect Plan, SWAT, Elsewhere, Chicago P.D., Chicago Med, and Taos. Her work in these programs has received critical praise, and she has established a reputation as a trustworthy and accomplished performer. Her admirers are looking forward to two of her future projects: City on Fire and The Dogs.
Talking about City on Fire which is set to be released exclusively on Apple TV+ on May 12, 2023, it is based on Don Winslow's critically acclaimed novel. Kathleen plays investigator PJ McFadden in City on Fire, a devoted, strict, and gifted investigator determined to solve a string of crimes that have shaken New York City.
The series also casts actors like Alexandra Doke, Xavier Clyde, Wyatt Oleff, Amel Khalil, and many more.
Is Kathleen Munroe Lesbian? Know More About Her Married Life and Husband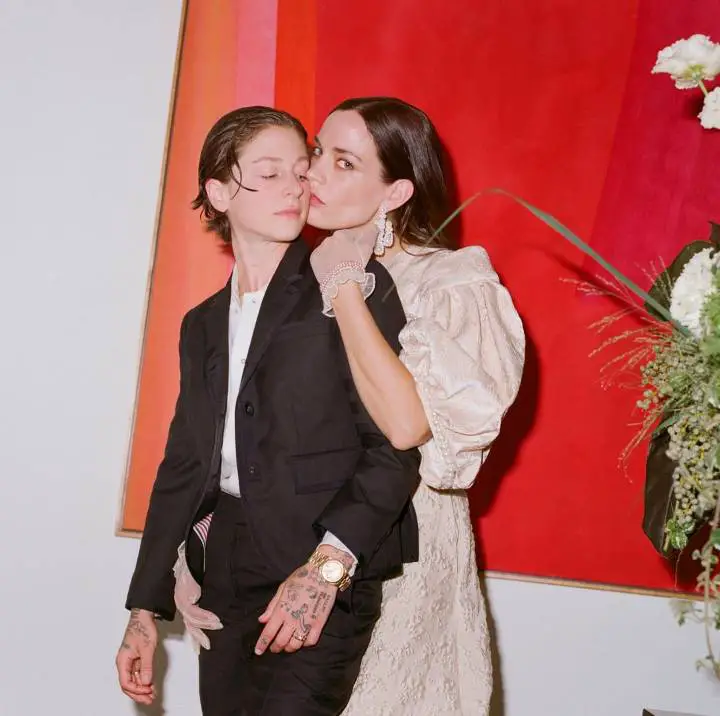 Kathleen Munroe is married to model and actor, Sophie Munroe Blumenthal, also identifying as queer.
Photo Source: Kathleen Munroe, Instagram
Kathleen Munroe has always been open about her sexuality and identifies herself as Queer. She recently married her longtime partner, Sophie Munroe Blumenthal in a private ceremony in September 2022 after getting engaged for over 15 months.
Talking about her partner, Blumenthal is an entrepreneur, model, and actor who is notable for his roles in Centre Island (2014), Painted Faces (2016), and Notes on the Gaze (2015). Well, the lovebirds seem to be head over heels for one another and do not miss to chance to flaunt their love and every single occasion on social media.
Stay tuned and connected to Celeb$Fortune for more content from the entertainment and social media world.