An Emmy Award-winning journalist, Benjamin "Ben" Aaron Colomonos, is a New York city-based media personality. Born on September 10, 1981, in Piermont, New York to father Mark Colonomos and mother Janis Yudelson Salerno, Ben is Jewish.
Ben Aaron's Unique Take with Journalism Got Him Satisfiable Jobs Everywhere He Went
The 5'8 tall journalist graduated with a degree in broadcast journalism from Emerson College in Boston, Massachusetts. He started radio journalism in 1999 at the early age of 18, reporting for Radio Disney. The young correspondent eventually moved to Los Angeles after working for a short time in Tuscon, Arizona. There he worked for Daybreak OC, an Orange County-based morning lifestyle and news show airing in Los Angeles, as their on-air television host. Aaron then worked for KSWB-TV in San Diego as a feature reporter.
Hysterically funny with a charming personality, Ben Aaron then was quickly approached by WNBC in New York. He worked for NBC Universal as the host of New York Live. His unique yet hilarious way of presenting made him very in-demand and his contents pretty interesting. He's won three Emmys for Best Feature Reporter.
Ben Aaron in 1997 before he was a 'journalist'.
Photo Source: Ben Aaron, Instagram
From talking about hot topics to doing trends of the time like dance walking and planking, Ben made his show as interesting as he is ensuring the success of the show as well as his own. Aaron was also the co-host of Crazy Talk, an American comedy and talk series that debuted in the first-run syndicate in the United States and Canada on September 14, 2015, along with Tanisha Thomas. Whether it was teaching Tanisha his dance moves or having hilarious interviews, Ben made sure the show ran smoothly and left the audience laughing.
Recommended: A Name You Might Be Familiar with, Edward Lawrence, A 'Fox News' Reporter
In 2017, along with country singer Kellie Pickler, Ben hosted an American syndicated daytime talk show, Pickler & Ben, focusing on lifestyle, beauty, celebrity, and advertorial segments, as well as the subjects of human interest stories. They were nominated for Outstanding Informative Talk Show Hosts on the 46th Annual Daytime Emmy Awards. The show was nominated for two Emmys as well.
As the show was canceled in 2019, the phenomenal reporter then worked as a morning features reporter for WPIX-TV at the start of 2020. As a side note, he also featured in National Geographic's Science of Stupid in 2020.
Just for the story of Mia and Tamia's 'Cute or Whatever'.
Photo Source: Ben Aaron, Instagram
Husband to  ABC News' Chief Meteorologist Ginger Zee wed on June 7, 2014, the couple has two sons, Adrian Benjamin Colonomos, who was born in December 2015, and Miles Macklin, who was born on February 9, 2018.
As per the famous witty journalist's socials, he has about 130,000 followers on his Instagram page (benaarontv). His posts include pictures of his children and wife, glimpses of fun moments in his life, and clips of his talk show. He also has a Youtube channel (Ben Aaron) with just about 6,000 subscribers. The humorous reporter has kept the audience quite entertained with extra does of his show.
How Much is the Net Worth of Ben Aaron?
Accompanied by a pretty successful career and a mark in the world of journalism, Ben has acquired quite a fortune for himself. With an average salary of $69,521 per year in New York City for a journalist and $65,274 of a news reporter as per Glassdoor.com, Ben has been successful in earning more than the average earning due to his successful endeavors in the shows he has worked and his continuous contribution in the field for more than 2 decades.
Aaron and His Wife Zee Aired their House Tour on Their Show, 'Renovation Realities: Ben & Ginger'
Located in Rockland County, New York, Ben Aaron and his wife Ginger Zee own a spacious and lavish house with elaborated interiors. The commodious living room has a mezzanine area with wooden floorboards and white banisters along with a blue corner sofa topped with pink scatter cushions, a brown armchair, and a vintage cream rug in the middle. A glass door in the living room that leads out to the garden made the space serene.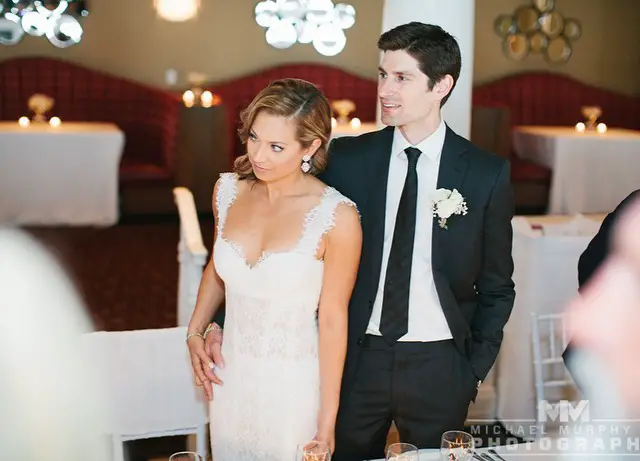 The pair celebrated their seventh wedding anniversary back in June 2021.
Photo Source: Ginger Zee, Instagram
The dining room has a large crystal chandelier while the kitchen follows a muted color scheme, with white cabinets and grey marble worktops. The house also has a grand swimming pool.  The estimated remuneration of the property is between $1 million to $3.2 million. The couple and their children, along with their two dogs, live a lavish life in their tranquil residence. There have been multiple house tours of the duo on television as well.
Aaron Is Apparently a Children's Books Author!
Like his wife, the fantastic and favorite journalist of New York has also written a book, Where The Sun Goes, published on November 24, 2019. It is a book for children with a fantastical depiction of where the sun goes at night, through the eyes of a parent and child.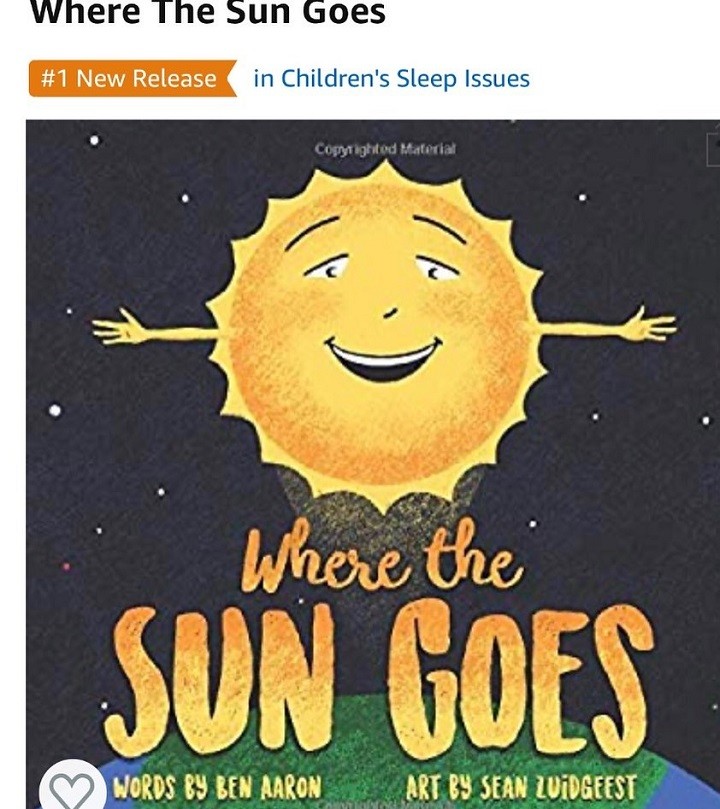 Aaron hired his wife's brother for the illustrations in his book.
Photo Source: Ben Aaron, Instagram
The book follows the sun as it travels through space and time, making its way through a bright and vibrant solar system, greeting friends, and playing games along the way. The book has been ranked #1,217,220 in Books and #4,370 in Children's Sleep Issues, in which it was #1 during its release. A single copy has been priced for $12. The success of the book has surely added assets to Aaron's wealth.
Also See: There Are Some Things You Need to Know about Journalist Aishah Hasnie
Hence, the total estimated net worth of the well appreciated, witty, and humorous journalist & presenter is around $2 million including his salary as a reporter, his properties, and other miscellaneous assets.
Stay tuned and connected to Celeb$fortune for more celebrity net worth content.