Ginger Renee Colonomos (née Zuidgeest), aka Ginger Zee, is an Emmy award-winning American chief meteorologist of Good Morning America (GMA) and ABC News. Born on January 13, 1981, in Orange, California, to father Robert Zuidgeest and mother Dawn Zuidgeest-Craft, Ginger is a well-known television personality in the world of journalism and media. She has two younger brothers named Sean Jeffrey Zuidgeest and Walter "Wally" Zuidgeest and a recently graduated younger sister Elaina Elizabeth. As per Ginger's ethnicity, her father is Dutch.
The confident reporter graduated from  Rockford High School in Rockford, Michigan, in 1999. She eventually joined Valparaiso University obtaining a degree in meteorology as well as a major in both Mathematics and Spanish.
The Unique Reason Ginger Zee Was Motivated into Meteorology
Ginger Zee had a goal of being a meteorologist on The Today Show by age 30. After her graduation, the 40-year-old media sensation worked for various media outlets such as WEYI-TV in Flint, Michigan, from 2003 to 2005, WYIN-TV in Merrillville, Indiana, WLAV-FM and WOOD-TV both in Grand Rapids, Michigan, WBMA-LD ABC 33/40 in Birmingham, Alabama, as an intern under chief meteorologist James Spann, and WMAQ in Chicago from 2006 to2011, Illinois, an NBC-owned and operated station.  Zee was then asked to fill in as a guest meteorologist on the weekend edition of The Today Show, thus fulfilling her goal.
"I saw a waterspout on Lake Michigan when I was eight. I was mesmerized. I really thought it was the coolest thing I had ever seen," Ginger tells about her inspiration for becoming a meteorologist. On  November 12, 2011, the energetic weather forecaster joined Good Morning America Weekend.
Ginger Zee followed her passion into meteorological reporting.
Photo Source: Ginger Zee, Instagram
She has covered almost every major weather event and dozens of historic storms. From broadcasting the devastated Jersey Shore during Hurricane Sandy, the Colorado floods and wildfires, and the aftermath from tornados in Moore and El Reno, Oklahoma, she has done her job pretty well. In 2013, she covered extreme weather conditions ranging from the Boston blizzard to the record-breaking heat in Death Valley. In 2016, Zee covered Hurricane Matthew and its path along the east coast.
Additionally, Zee hosts an ABC News original digital series Food Forecast, a series about how weather and climate impact the food we love, showing her deep knowledge and intelligence.
Recommended: What Drove Timbaland's Ex-Wife Monique Idlett-Mosley to Succeed with Her Multi-Million Net Worth
The storm chasing reporter's passion is not only limited to weather but also to travel, taking ABC News viewers around the world on an adventure. She has gone para-hawking in Nepal, flown a drone into the fissure of a volcano in Iceland, hiked the largest cave in the world in Vietnam, para-glided from the Himalayas to the Andes. Plus, skydiving, iceboat racing, and surfing all live on GMA.
Contrary to All Her Smiles, Zee Has a History of Rising Through Personal Difficulties As Well
As a child, the now-figure of empowerment struggled with an eating disorder when she was 12 as she shared in an episode of Good Morning America. The grief of her parents going through divorce took a toll on young Zee's mental health, thus developing the disorder. Eventually, it grew into Anorexia and her condition worsened. Undergoing numerous therapies, Zee was finally able to recover during her college days.
At the age of 21, Ginger was diagnosed with Narcolepsy, a chronic sleep disorder. As she said in an interview with Keith Harper, President of Narcolepsy Network, Inc., on the occasion of World Narcolepsy Day, the condition got her into various accidents and had a huge effect on her mental health as well. However, she didn't let the condition affect her success and thrived to reach where she is today. She also openly talks about her struggles with Narcolepsy and educates people on the topic.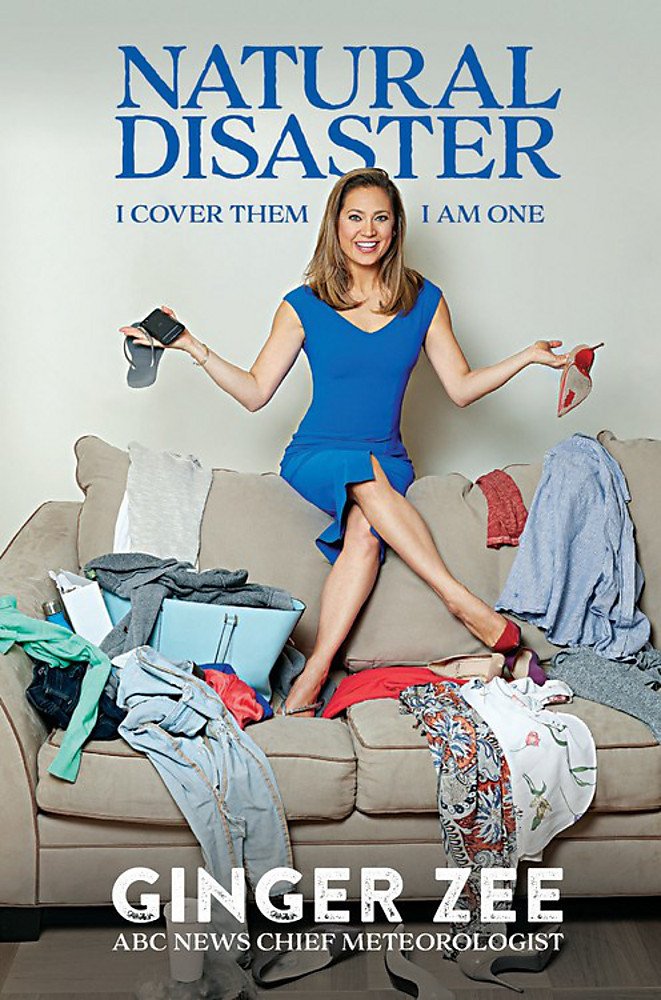 Zee chronicles her troubling past in her best-selling book, aptly named 'Natural Disaster'.
Photo Source: Kingswell
In her memoir Natural Disaster: I Cover Them. I am One., the adventurous and daring meteorologist has opened up about "her lifelong battle with crippling depression, her romances that range from misguided to dangerous, and her tumultuous professional path," the synopsis reads. She has shared stories about her experiences and difficulties in the issue, uncovering the dark sides of her life hidden behind the bubbly, energetic mask she has put on. The strong-willed woman has thus inspired many more to open up about the issue, talk more about it, and educate those who are unaware.
Also See: How Tiffany Dufu Is a Source of Inspiration for Women Everywhere to Achieve More
Amassing over 1 million followers on her Instagram (ginger_zee), the woman of many talents has lived up to the name of an influential media personality. Her contents are mostly very informational along with some glimpses of her children, husband, and family life.
How Much is Ginger Zee's Net Worth?
Favored by the success of her career in the world of media, Ginger Zee has fetched quite a lot of fortune over the time since her first job. With the average annual pay for a Chief Meteorologist of $96,774 a year as per ZipRecruiter, the successful and note-worthy chief meteorologist could have accumulated millions with her continuous dedication in the field for more than 2 decades.
For a number, her victorious career in meteorology as well as in media, and other aspirations has led her estimated net worth to be around $3 million with an annual salary of $500,000, as per Celebrity Net Worth.
Zee Is the Queen of Her Own Palace of a House with Husband Ben Aaron
With a history of being in an abusive relationship, Ginger Zee is now happily married to the hilarious and charming Ben Aaron, a New York city-based media personality and has two sons with him, Adrian Benjamin Colonomos, born in December 2015, and Miles Macklin, born on February 9, 2018. Admittedly, Aaron's energy perfectly matches with hers as well.
Zee found her match in her husband, also a TV reporter.
Photo Source: Ben Aaron, Instagram
The couple and their kids now live in a large and extravagant house with ornate décor in Rockland County, New York. The spacious living room features a mezzanine with wooden floorboards and white banisters, as well as a blue corner sofa with pink scatter cushions, a brown armchair, and an antique cream rug in the center.
The area was calmed by a glass door in the living room that led out to the garden. The dining area features a huge crystal chandelier, while the kitchen exhibits white cabinets and grey marble worktops in a muted color scheme. A large swimming pool is also available in the residence. The property's estimated value ranges from $1 million to $3.2 million. The spouse, their children, and their two dogs live a lavish and serene life in their luxurious mansion.
The New York Times Best Selling Author Is Ready to Publish Another Masterpiece in January 2022
Not just a marvelous weather reporter, but the 5'7 tall Ginger is also one of the NYT Best Selling Authors. She has written books for kids like Through the Storm, Force of Nature, and Chasing Helicity. These endeavors of the blue-eyed meteorologist have surely enumerated her riches.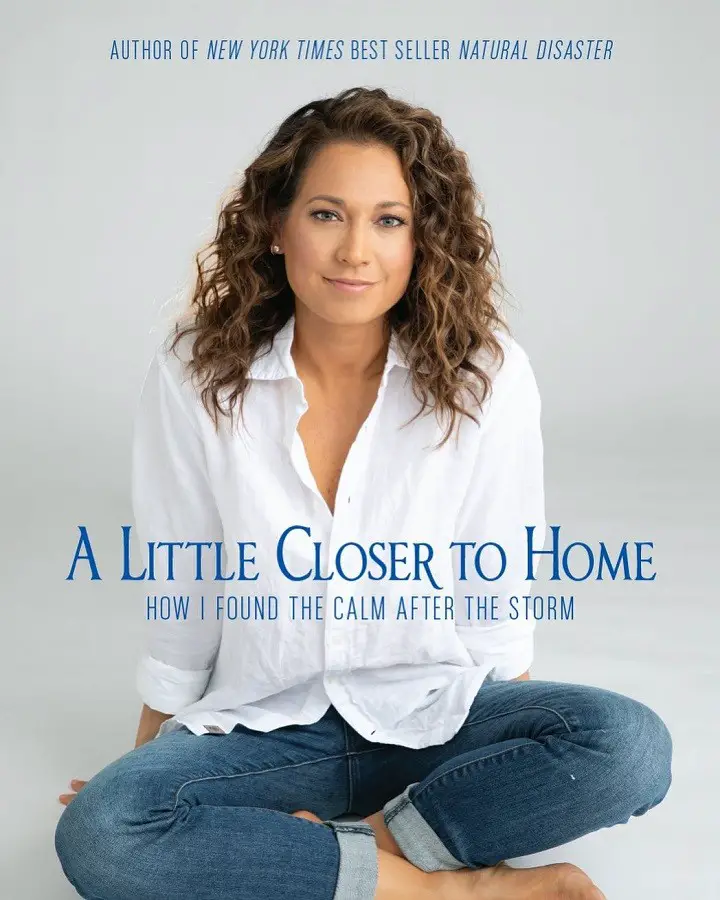 The book was originally scheduled to be released in October 2021.
Photo Source: Ginger Zee, Instagram
The most significant of her publications, however, has been her memoir, Natural Disaster: I Cover Them. I Am One., released in December 2017, which immediately hit the shelves, listing Zee as a New York Times Best Selling Author. She is on the way to release another book titled A Little Closer to Home: How Found the Calm After the Storm, where she takes readers on a much deeper journey of self-discovery. It has a release date of January 11, 2022, after several delays due to the pandemic.
Stay tuned and connected for more celebrity Net Worth content and the TV world.