Madison Beer's first boyfriend is Jack Gilinsky. She started her first relationship in 2015 after meeting her first love through a mutual friend, Nash Grier, at a party. They started dating when she was 15 and he was 18. The specifics of their relationship are mostly unknown, but they were definitely a couple. Madison Beer and Jack Gilinsky dated for two years before ending their relationship in 2017.
Madison Beer is one of the most well-known names to emerge from the internet music scene in the 2010s. She first became a big name after she got Justin Bieber's attention in around 2012. That sudden surge in popularity put her on the radar of many people, including prospective partners.
Beer has been linked to a number of people since she first appeared on the scene. We're not surprised, given that the singer's love life is currently a hot topic, with fans eager for any updates they can get on her relationship. So who was her first boyfriend? Follow along to learn everything there is to know about Madison Beer's first love.
Don't forget to check out our other celebrity relationship stories: Miss Nikki Baby, Gervonta Davis, and more!
Madison Beer Dated Her First Boyfriend Jack Gilinsky for Two Years Before Splitting up in 2017
Madison Beer's (@madisonbeer) first boyfriend is said to be Jack Gilinsky. She began her first relationship in 2015 after meeting at a party through a mutual friend, Nash Grier. Madison Beer began having relationships at a young age. When she was 15 and he was 18, they began dating. Their relationship details are mostly unknown, but they were clearly a couple.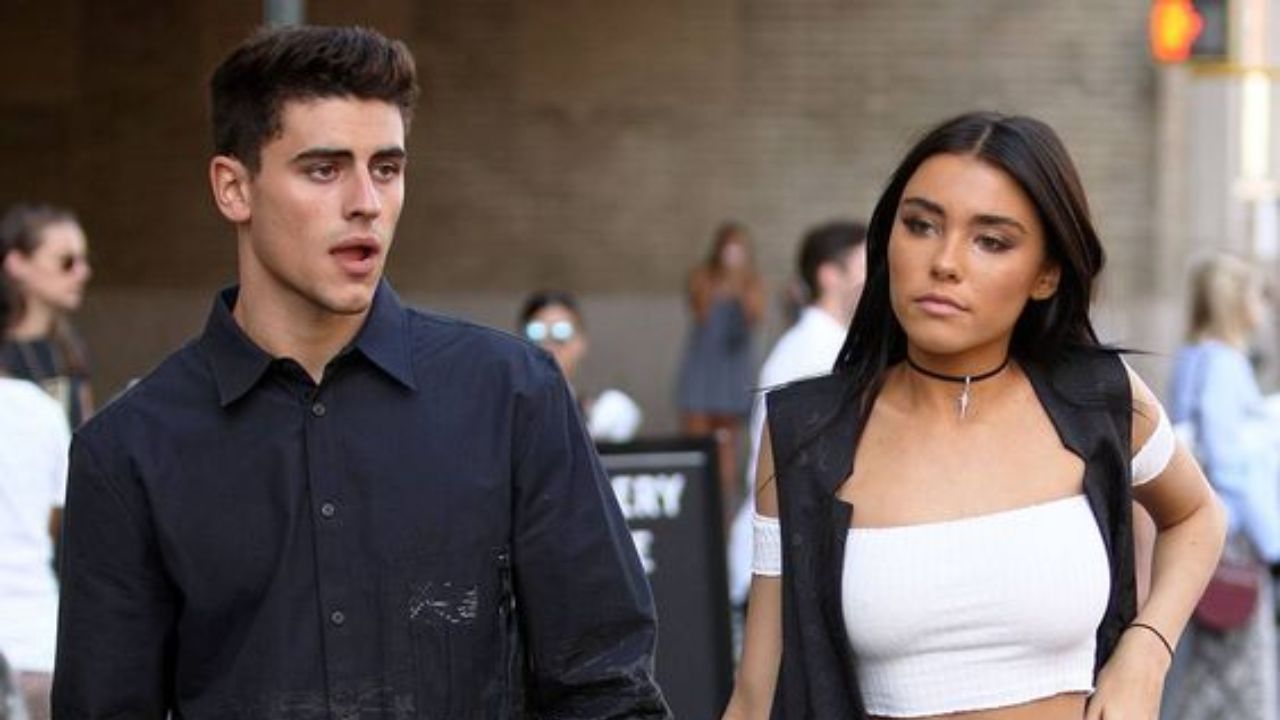 Madison Beer with her first boyfriend Jack Gilinsky in New York.
Source: Pinterest
The specifics of their relationship remain a mystery for the most part, but they were really an item. Madison Beer and Jack Gilinsky dated for two years before splitting up in 2017. When they split up, the reason for their breakup made a lot of news, and not in a good way.
Glinksy allegedly verbally abused Beer in an audio clip that was leaked on the internet. Although this leak occurred after they had broken up, it was certain that it was the cause of their breakup and that it was not the only time something similar occurred. Beer, in a now-deleted tweet, urged fans to be more cautious in their relationships than she was. She captioned;
"Don't make the same mistakes I did, your safety is never worth it. No matter what, no one deserves to be treated that way," 
Madison Beer's first boyfriend, Jack Gilinsky (@jackgilinsky) is a rapper and musician from the United States. With over 1.3 million songs sold, 11 independently released singles charting on iTunes, and the independently released EP Calibraska rising to #1 on iTunes and #3 on the Billboard Independent Chart, he needs no introduction.
Two of the Jacks in the Jack & Jack duo, Jack Gilinsky and Jack Johnson, are Nebraska natives who have carved out a niche for themselves through their talent and genius. The pair, who have known each other since kindergarten, first rose to prominence when they launched their YouTube channel. In 2013, the couple launched a Vine account together, which catapulted them into the hearts of millions of fans with their 6-second video clips.
However, this was only the beginning. The Nebraska natives' next goal was to dominate the pop music industry, which they eventually did with their singles and albums. They now have a combined YouTube following of over 1.75 million people.
Meet Madison Beer's Current Boyfriend, Nick Austin
Madison Beer and her boyfriend Nick Austin (@nickaustin) have been dating since 2020. She is very happy in her relationship and feels very secure. Beer and Austin were first linked in 2020, but the couple didn't make their relationship Instagram official until the following year. Since then, they've shared a few tributes to each other, with Austin lavishing praise on his girlfriend.
Madison Beer was out for lunch with boyfriend Nick Austin at Beverly Hills.
Source: dailymail.co.uk
The social media influencer was a member of the Hype House, a Los Angeles-based collective of TikTok and YouTube's biggest stars. Addison Rae, Charli, and Dixie D'Amelio were former members. Austin left the Hype House and stepped away from social media for much of 2020 and 2021, as he explained in a YouTube video.
The TikTok star is very popular, frequently making lip-sync videos and dancing to popular songs for his over 9 million followers. Austin frequently shares glimpses into his relationship with Beer on his TikTok page, including one video of the two traveling to Las Vegas together in September 2022. He also posted another video in October 2022 of him and Beer wearing sweatsuits and dancing to a Yung Gravy song together.
The influencer has over 503k YouTube subscribers and over 3 million Instagram followers in addition to his TikTok followers. In July 2022, Austin's YouTube channel featured a video of his girlfriend helping him dye his hair from bleached blonde to natural brown. Beer and Austin have posted about each other on social media on occasion, but they prefer to keep the majority of their romance private.