Scarlett Johansson and fiance Colin Jost are not the kind of celebrities to show off their love with PDAs in the public every time they need to prove a point. No one even knows when their first date ever was besides estimating the moment. But since May 2017, we've seen several glimpses of their life together. Only glimpses, though. And we do know of the main events of their relationship.
May seems to be a great month for the couple as they were presumed to have started dating since May 2017, Jost finally confirmed himself that "he had a girlfriend" in May 2018, and they revealed Jost popped the question to be engaged in May 2019.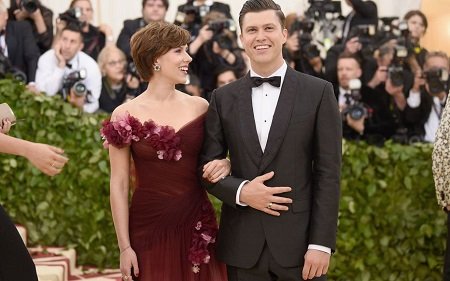 Get yourself someone who looks at you like Scarlett looks at Colin.
Photo: AFP
Is the wedding in May 2020 then? No one knows. But everyone does know of the huge rock that sits on Johansson's wedding finger. And it has made waves in the celebrity couple world. But she did wait a while before showing it to the world. And it's a one-of-kind ring.
Previously Sported at San Diego Comic-Con First in July 2019 and Then at the Golden Globes Award
The engagement ring of Scarlett Johansson, given by fiance Colin Jost, made its debut public appearance on July 22, 2019, Saturday, when she finally unveiled it at the San Diego Comic-Con 2019. She was at Marvel's panel, after having featured in the Avengers franchise, to announce her upcoming movie, Black Widow. It is set to release this February, and the day is just too close now.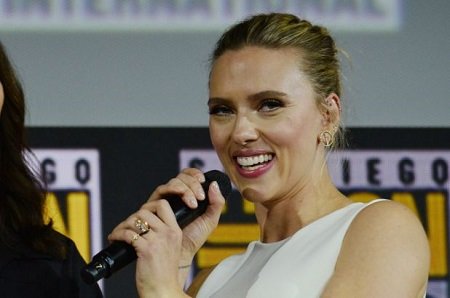 The ring's first public appearance.
Photo from: Splash News
As soon as people saw the huge diamond on Johansson's finger, everyone was freaking out, and the ring was being discussed all over the tabloids. The hype settled until she stepped out on the red carpet for the 2020 Golden Globes just recently. She was nominated for her role in Marriage Story. So she had to be there. And of course, the ring was still stuck to her hand.
The Designer
For now, let's say the designer of the ring is unknown. But there have been theories. One theory, in fact, that is almost impossible to deny.
Marion Fasel of The Adventurine did a lot of digging into the ring based on the photos of the ring from her Comic-con appearance. She even tried on a similar ring. Thus, based on every little detail the ring's photo could provide, she found the one on Johansson's finger matched the one from Taffin designer James de Givenchy (James Bond of the jewelry world??) at the TEFAF fair in May 2019. The French Jewelry designer, who is based in New York, is the nephew of legendary couturier Hubert de Givenchy.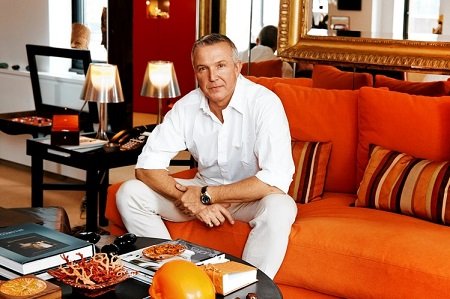 The most likely candidate for the designer of Scarlett Johansson's engagement ring, James de Givenchy.
Photo from: Wall Street Journal
Note here that the two rings fairly matched. It was not a custom design though. But it is likely that Jost chose the only ring of the particular design in the world for Johansson.
Physical Features - Make, Color, Shape, etc.
The uniqueness of the ring is vividly seen in the ring itself. Instead of being mounted on anything gold, rose gold, or platinum, its setting seems like the stone is sitting on top of a blackened, curved band, a pavé halo, if you'd like. The singularly designed ring has a rare cut stone in a ceramic setting, inspired by Art Deco and created using innovative modern technology.
It is expected to be of at least 11 carats, referring to Taffin's photograph of the similar ring on Instagram. The diamond is light brown in color and is type IIA clarity, which, in all fairness, is great clarity and fancily very difficult to find. The color might be brownish-yellow for the diamond or may even be an imperial topaz.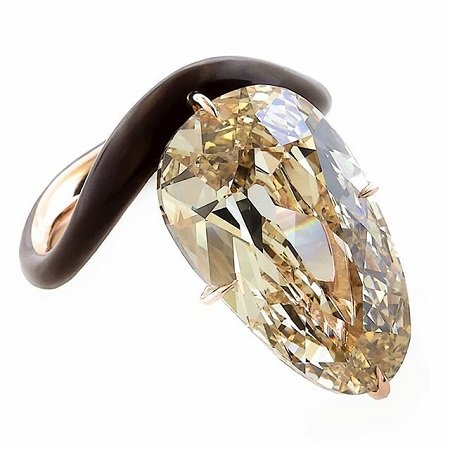 Captioned, "11 cts light brown diamond, type 2A."
Source: Taffin Jewelry, Instagram
As for the shape, it's been difficult to make it out. Because it is one of the most inconvenient ones out there, it's been hard to tell it's of one shape. Some see it as pear-shaped, some as an elongated oval, or even like an egg. But as experts say, it mixes the two shapes, oval and pear, to create an elegant egg shape.
What Type 2A/IIA Clarity Means
In layman terms, the diamond is super-rare. We're talking Koh-i-Noor rare. If Johansson's ring is in fact of Type IIA clarity, then it's the most coveted and has the rarest chemical structure type for a diamond. According to GIA,
These diamonds have no measurable nitrogen or boron impurities; they are usually colorless but they can also be gray, light brown, light yellow or light pink. Among all diamonds, those that are type IIa are chemically the most pure.
Other famous large diamonds with Type 2A clarity are the Cullinan and Koh-i-Noor.
The Price
How much the 35-year-old's engagement ring is worth is still up for discussion as well. They have to tell us themselves. But as far as guesses can go, it is clear that the couple made no haste in choosing the most gorgeous ring for their engagement. With Jost's net worth of $6 million, he wouldn't bother using half a mil to ask the love of his life to be his forever.
Apparently, the price of the ring can buy someone a house. SuperJeweler prices it at $200,000, while Rare Carat estimate it could go for $450,000 in retail. Based on the two diamond experts Elle reached out to, the range would lie in $200,000 to $400,000. Though the unique design has a different unknown story when it comes to pinning down the exact price.
Views of the Experts
"The center stone practically reached up to the knuckle of the petite 5'3" super heroine. It is a pear-shape diamond and from the lighting in the images appears to be a light brown diamond of around 11-carats. The sensational setting is anything but typical. It is a swoosh underneath the rump of the pear," Fasel wrote in her blog about the ring.
"Scarlett's 11-carat, light brown diamond looks to be a spin on two stone shapes, mixing an oval and pear to create an elegant egg shape. We can estimate a ring like this to be priced over $400,000," Alicia Davis, Shane Co.'s VP of Merchandise, told Page Six Style. "Scarlett's ring, though truly one-of-a-kind in style and design, is a great reflection of the elongated shape trend that we're seeing with everyday brides. Ovals and pear shapes are two of the most popular right now because of the way they lengthen the finger, creating a more slender finger and larger-looking diamond."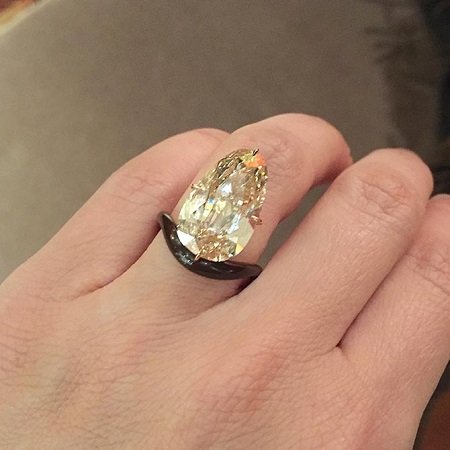 The ring that Marion Fasel tried on at the TEFAF fair in May 2019.
Photo from: The Adventurine, Instagram
"Finally! An interesting piece of jewelry. The gemstone is really intriguing. It could be either a brownish yellow diamond or an imperial topaz," Andrew Fox, president of SuperJeweler told Elle. "The band could be carved, polished wood and it would be carved stone, such as onyx. Because it is a true work of art and so unique, even it's price is hard to define. Possibly $200,000."
"The diamond has great clarity which is hard to find in a large fancy colored diamond, especially a light brown," the Gemologists and data scientists at Rare Carat explained. "The cutting style is different to the norm, too. It is cut as an 'old cut,' which is an antique style of cutting. You will notice an angular pear shape in the middle—that is an open culet which is how they used to cut diamonds before modern cutting methods were developed. The open culet means the base is flat, not pointy. If it is indeed a Type IIA diamond, it has the rarest chemical structure type for a diamond and the most coveted. This type has no nitrogen impurities."
Third Time's the Charm - The Past Scarlett Johansson Engagements
Scarlett Johansson was, in fact, married twice before her engagement to SNL star, Colin Jost. During the engagement to Ryan Reynolds in 2008, she wore a ring with a traditional round cut diamond set on yellow gold bringing a classic solitaire design. Her second ex-husband, Romain Dauriac, gave her a slightly less traditional Art Deco-inspired diamond style in 2013.
With the least traditional ring ever during her third engagement, it is apparent Johansson knows what she is looking for. This brought up the idea of the rule "by the third marriage — the third proposal — you should get the ring you really wanted all along" by Town and Country Magazine writer, Stellene Volandes.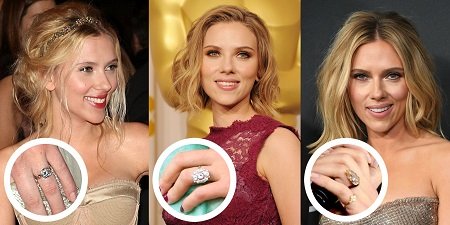 The ring got less traditional after each time.
Photo from: Town & Country Magazine
It seems the Natasha Romanoff, aka Black Widow, star did get what she wanted the third time around. "Third-time-around, couples are confident, they know what they want," Nico Landrigan, president of Verdura & Belperron, told Volandes. "They want to share the experience of buying something beautiful, choosing with their hearts and buying with their heads. And they usually don't take too long — they know the value of time!"
There's really only one thing most people are concerned about right now — not being informed of the couple's wedding and getting surprised only a little while later. Of course, we expect the wedding to be lavish, but it's highly likely they won't let the public know of it until after the actual ceremony. Expect to see some wedding pictures any day now.
Head on over to celeb$fortune for more Fortune Focus content. Also, check out the in-depth net worth details of your favorite celebrities.