Signa Mae aka Signa Mae O'Keefe (b. October 4, 2004) is an American TikTok star, social media personality, and fashion model who rose to fame for her lip sync videos on TikTok. Starting off her career at Musical.ly (now TikTok), she then expanded her career on other social media platforms like YouTube and Instagram.
The blue-eyed sensation is also an avid volleyball player and was a member of the 'Minnesota Select Volleyball Club,' where she played as a middle blocker. She also loves to write songs and play piano in her leisure time. She has a pet cat named Franklin.
A Little About Signa Mae's Family Background; Older Brother Took His Life Battling Depression
Born in Maple Grove, Minnesota, to father, Matt O'Keefe, and mother, Shannon Ottmar, she was a bubbly and happy kid until her older brother, Beau died. Her brother committed suicide after battling depression due to extreme bullying for years at the age of 15.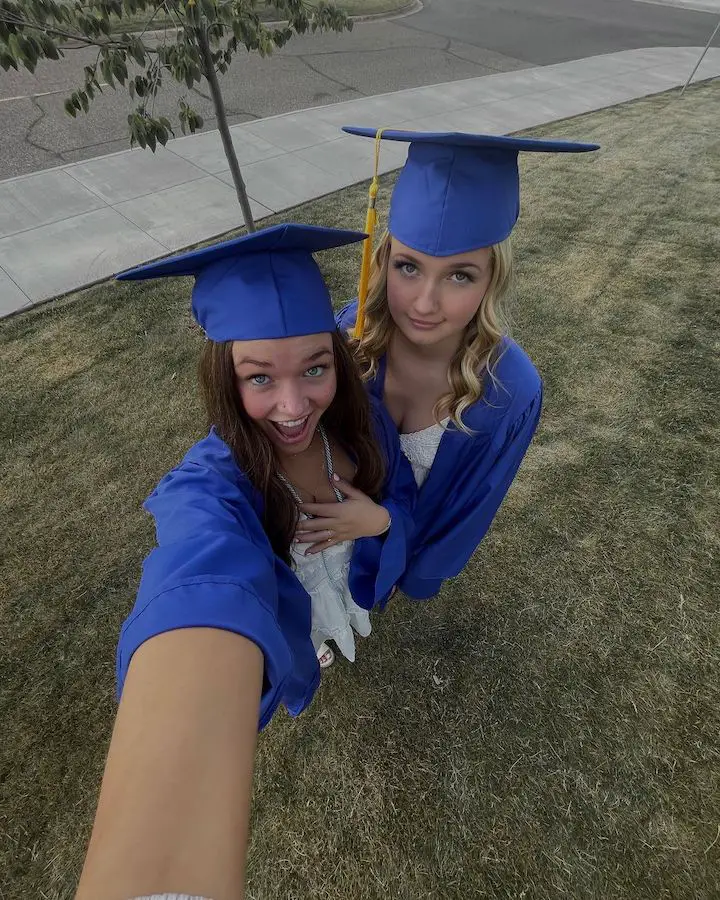 She dedicated her graduation to her mother.
Photo Source: Signa Mae, Instagram
After the death of her brother, Signa herself became the victim of anxiety issues, depression, and OCD. However, with the help of her loving parents, she did overcome these issues and now has been spreading awareness regarding suicide, bullying, and mental health issues through her social media.
Also See: Kayley Melissa's Coming Out Moment After Divorce from Ex-Husband
Meanwhile, she also has a younger sister named, Sophia O'Keefe and a brother named Aaden. When she was three, her parents parted ways, with both of them marrying new partners. Signa is very close to her mother, Shannon, and considers her as her best friend and the most significant support system who helped her overcome depression.
How Much Is The Net Worth of Signa Mae?
As of 2022, Signa Mae is estimated to be worth $200,000 earned through her social media endeavors and modeling career. She began her social media journey as a muser through Musical.ly just at the age of twelve and eventually became one of the most entertaining performers on the platform.
The 18-year-old now has over 5.5 million followers and 882 million likes on her TikTok page, signa mae (@sig). She makes an average of $4,400 per post from her TikTok through sponsorships, brand endorsement videos, and live streams.
She also reset her Instagram account in recent months due to impersonations online.
Photo Source: Signa Mae, Instagram
Similarly, she has garnered over 628K followers on her Instagram account, signa mae (@signamae) from which she makes around $2,500 per sponsored post. Besides, she has also modeled for Fashion Nova, Living Free, Princess Polly, Oh Polly, and so on.
Meanwhile, the 5'6" launched her YouTube channel, Signa and Carter, with her boyfriend, Carter Rinehart on May 17, 2019. She has collected over 28.5K subscribers on their channel where she has posted over 81 videos, "almost all" of them shorts. Besides, she's also deleted her old YouTube channel, Signa Mae, after her account was hacked continuously time and again.
Signa Mae Recently Celebrated Her Two-Year Anniversary With Her Boyfriend, Carter Rinehart.
Sorry to break it to you guys that Signa Mae is not single, and in fact, she has been dating Carter Rinehart since 2020. The couple started dating back in June 2020 and has been together for over two years now. Rinehart is very close to her family including her stepparents.
It's still the same.
Photo Source: Signa Mae, Instagram
Prior to Carter, Mae was in a relationship with Braydon Waldon for nearly a year. The former couple began dating in July 2017 but unfortunately broke up after dating for less than a year in early 2018.
Stay tuned and connected to Celeb$fortune for more content from the entertainment and social media industry.