Kayley Cromwell, popular as Kayley Melissa, is an American YouTuber and beauty blogger best known for her unique and creative hairdos tutorials and hair product reviews. She first started her journey as a beauty vlogger back in 2010 with the YouTube channel, LetsMakeitUp1, now renamed Kayley Melissa.
Melissa has been dominating the beauty industry for the past 12 years and was recently listed in the top 14 American Beauty Bloggers of 2022 by Branded Girls. She majored in Humanities with a focus on philosophy and later graduated from cosmetology school. She has been suffering from undiagnosed depression and anxiety since the age of 12.
With a birth date of June 29, 1990, Kayley was born to a martial artist father, William Cromwell, and mother, Jamie Cromwell. She is the eldest of five siblings, including Jill Cromwell (who is non-binary), Andrew Cromwell, Anna Laura Erickson, and Nathaniel Cromwell.
How Much Is The Net Worth of Kayley Melissa? Know About Her Social Media Earnings.
As per estimating sources, Kayley Melissa holds a net worth of $500,000. While the majority of her income obviously comes from her YouTube channel with 1.8 million subscribers, that does not mean her income is limited to it as she makes a huge sum from brand endeavors as well.
Her net worth comes from her social media endeavors.
Photo Source: Kayley Melissa, Instagram
Melissa launched her channel on March 20, 2010, with the name LetsMakeitUp1 which then later changed into her own name, Kayley Melissa. She first started posting make-up videos however, she started gaining subscribers through her in-depth hairstyle tutorials which went viral among the fans.
The 31-year-old makes an average of around $1,000 per video through ad revenue where she has posted over 719 times and has accumulated over 253 million views. One of the most popular videos on her channel is titled My 5 Minute Ponytail Routine which got over 26 million views.
Recommended: How Stephanie Valentine, aka Glamzilla, Made It in the YouTube Makeup Market
During an interview with Teen Vogue, she revealed that gets inspiration from movies, and has already recreated looks from Kristen Stewart in Snow White and the Huntsman and Jennifer Lawrence in The Hunger Games, Leighton Meester's Gossip Girl looks, and Ashley Benson's Pretty Little Liars hairstyles. She then launched her second YouTube channel, letsmakeitup2, on Oct 1, 2010, and has garnered over 35,000 subscribers.
While most of her videos are loved and appreciated by fans, there were also some which received lots of criticism and backlash including the video of her Dyson Airwrap reviews and the controversial statement that heat protectant does not work.
This was a paid partnership from Beyond Hair Extensions.
Photo Source: Kayley Melissa, Instagram
Similarly, with over 138K followers on her Instagram page, KayleyMelissa (@kayleymelissa), she makes an average of $500 per sponsored post. She has managed to work with prominent brands like Viktor&Rolf Fragrances, CVS Beauty, Beyond Extensions, NuMe, Herbal Essences, dpHUE, Oribe, Batiste, Together Beauty, Crest, and many more. Besides, she also launched her own shower cap in collaboration with Kitsch.
Kayley Melissa Came Out As Bisexual After Ending Her Marriage With Husband Jason.
It came as a shock to many when Kayley Melissa first came out as bisexual shortly after her divorce from her ex-husband Jason. Growing up in a conservative society, even though she knew about her sexuality, she still pushed back the thought for the fear of being judged and an outcast from society.
Talking about Jason, they first met at a party at the apartment of one of their friends and started dating in the year 2010. She featured her ex-husband in many videos on her secondary channel, LetsMakeitUp2, including the Q&A videos. After dating for two years, they tied the knot in 2012 and then ended their six years of marriage in 2018.
She broke the news of her divorce through a video titled, Life Update - Where have I been? Am I still making videos?. She further cleared out that her sexuality was not the real reason behind their split, and instead, it was because of the abuse, manipulation, and gaslighting by her former husband.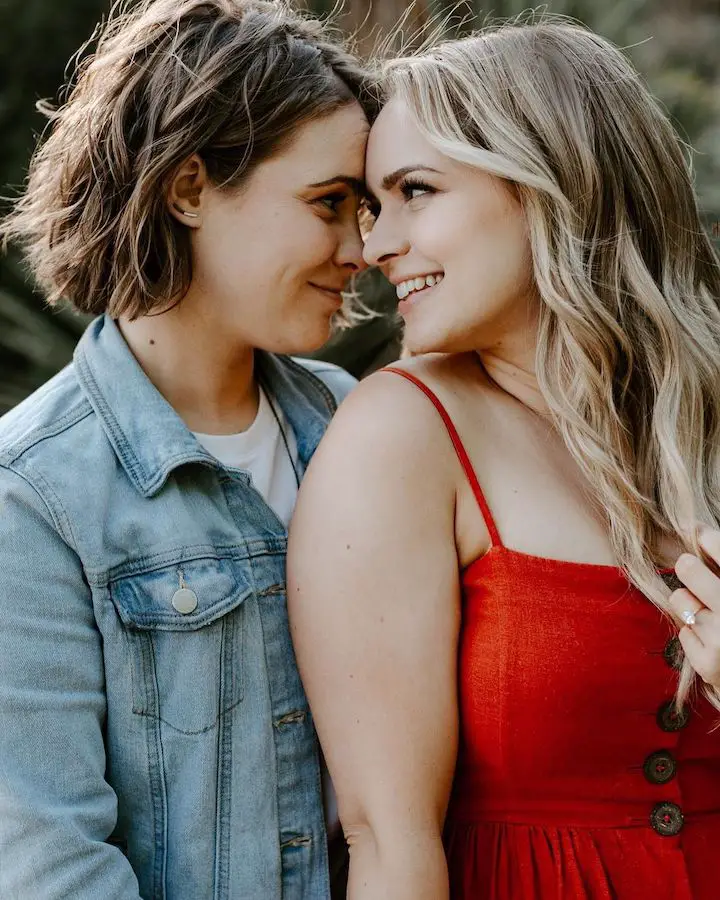 Melissa has a new somebody now.
Photo Source: Kayley Melissa, Instagram
And in the same video, she also revealed that she has been dating a girl named Jenna for 2 years whom she met on the dating app 'Tinder'. The lovebirds got engaged in May 2021 with both Kayley and Jenna proposing to each other in a romantic way.
Stay tuned and connected to Celeb$fortune for more content from the entertainment and social media industry.