This is a branch article for the real estate details of The Real Housewives of Atlanta star Kandi Burruss. For the full net worth article, see Kandi Burruss Net Worth.
In between having the time of their lives, it seems Kandi Burruss and husband Todd Tucker have had some troubles in their marriage in terms of raising Tucker's daughter, Kaela, from a previous relationship as they sat down for a marriage counseling session. (Don't tell me you didn't watch the April 12 episode.) But, of course, their new baby, Blaze Tucker, certainly might have put things back on track for the couple, because the filming happened a lot before, during her pregnancy.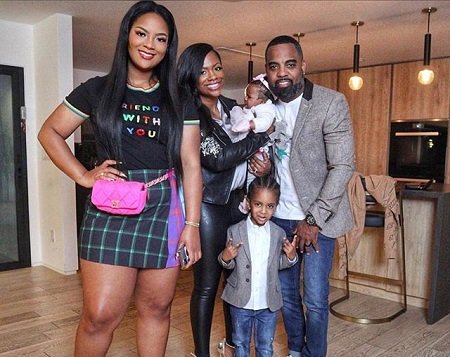 The family now resides in their southeast Georgia home.
Photo Source: Kandi Burruss Updates, Instagram
Now, the family of six (when Kaela and Burruss's teenage daughter Riley are both around) reside in the Atlanta home Kandi bought back in 2012. She is known to have bought at least two other houses during her entire career.
Kandi Burruss Bought Her First House at 19
Burruss, 19, at the top of her game in 1995 with her group Xscape, releasing two million-dollar hit albums, when she bought her first home. And at the same time, she found out that one of the members of her band wanted to go solo. And that got her thinking too.
"At that point, I had to figure out what I was going to do. I bought my first house at 19-years old. That's when I found out that one of the group members was going to have a solo career. I had to figure out how I was going to continue to take care of myself because I didn't have anybody who could afford my bills at that point," she told Forbes in January 2019.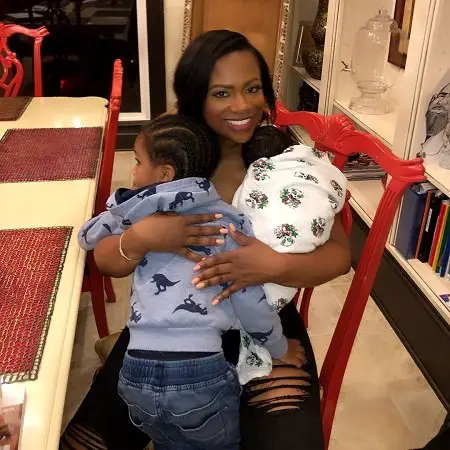 She's come a long way since herr Xscape days.
Photo Source: Kandi Burruss, Instagram
When LaTocha Scott did go solo, she teamed up with another Xscape member, Tameka "Tiny" Cottle, to start performing for various shows and herself started a songwriting career as a solo path. But no one knows what happened to the first house, but she'd bought a second one with the turn of the new millennium.
Burruss Sold a Second House for the Same Price She Bought It in 2002 After Running Empty for So Long
After she was pregnant with Riley Burruss in late 2001, Burruss bought another house in Fayetteville, Georgia, the next year to raise her daughter for $230,000. The 4-bedroom, 2.5-bathroom, 2,901-sq.-ft. house is located just minutes away from the airport in East Georgia. It's not as fancy as the mansion she currently lives in.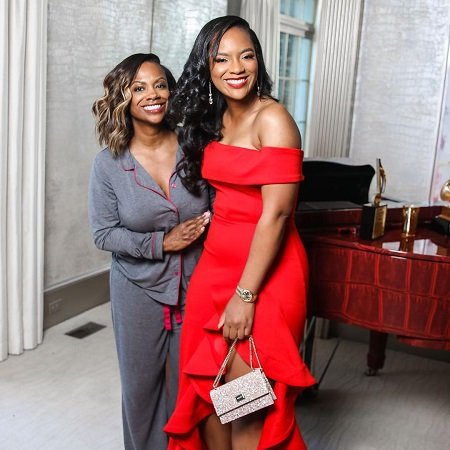 Yeah, that's Riley!
Photo Source: Riley Burruss, Instagram
After joining The Real Housewives of Atlanta crew in 2009, she bought another house and moved in. This means the former house was running empty for a long while as she didn't need to use it. Then in June 2017, she listed the home for $259,900. But it sat on the market for months until she found a buyer towards the end of the year. But the price she unloaded it was not as much as she would've liked.
She sold the home for the same price she bought it in — $230,000. Considering the money inflated over the years, it was actually a loss for her. And looking it in another way, her earnings have skyrocketed since then to cover it all and more.
The Current House Is Said to Be Worth More Than Double the Price She Bought It For
With enough exposure with The Real Housewives of Atlanta and because she needed a bigger space in the relaxing/living room when the housewives come over for any special occasion, say the baby showers for her later two kids, or gathering just for the whim of it.
In February 2012, she shared the first photo of her new 8000-sq.-ft. house in Southeast Georgia. Later sources revealed she actually snapped the home for a steal as it was worth over $1 million at the time, and she bought it for $503,000. And for a few months, she spent a total of over $200,000 to renovate it for her likings.
In September 2015, she gave a tour of her home to her fans, and it's everything she's ever wanted. It's quite an update from her previous home. Watch for yourself.
Watch: Kandi Burruss Takes You Inside Her Million-Dollar Worth Home
On a similar note, she also bought a home for her mother, Joyce, too, which she announced in September 2014. Even Todd gifted Kandi a white Bentley for her 2019 birthday in May.
Continue to tune in to Celeb$fortune for more property content. Keep checking in for more updates.