In 2023, following her high-profile divorce from George Conway, Kellyanne Conway is the subject of significant attention from potential suitors. This article delves into the question of whether she has found a new boyfriend yet.
Kellyanne Conway, a prominent figure in American politics, has consistently been in the public spotlight, most notably for her role as a counselor to former President Donald Trump. In March 2023, news erupted that Kellyanne was "living her best life" after her high-profile divorce from her husband, George Conway.
The burning question on many people's minds is whether Kellyanne Conway has found love with a new boyfriend in 2023. This article will delve into this question, while also considering her past relationships.
Check out some more relationship stories about Bill Maher and Kay Adams.
Is Kellyanne Conway Ready for a Boyfriend in 2023?
Amid the swirl of rumors and speculations, the big question lingers: is Kellyanne Conway dating anyone in 2023? According to inside sources, since her separation from George Conway, men have indeed been showing interest, with some admirers reportedly offering their numbers. However, it's important to clarify that despite the attention and the newfound post-divorce status, Kellyanne appears to be taking a measured approach.
A source close to Kellyanne revealed that she's "loving" the attention and has often been approached by potential suitors. One source even drew a playful comparison, stating, "Kellyanne is the new Pete Davidson," highlighting the level of attention she has garnered since her divorce.
However, Kellyanne herself seems to have different priorities at the moment, with an insider stating, "Her priority is her divorce and her children. That is what she is focused on right now, not dating."
The Marriage with George Conway:
Kellyanne's high-profile marriage to George Conway was a subject of intrigue for many. The couple, who tied the knot in 2001, had been in the spotlight due to their differing political views. George, an attorney, gained notoriety for his open criticism of Donald Trump, Kellyanne's former boss, which led to a unique dynamic in their relationship.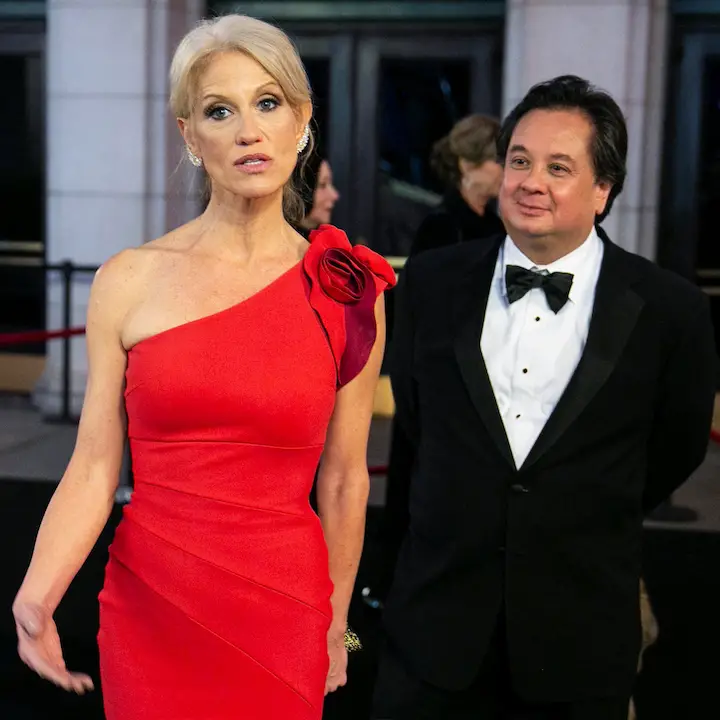 Photo Credit: Joshua Roberts, Reuters
The clashes of political ideologies within their marriage were well-documented. George's public criticism of Trump, including numerous Twitter jabs, prompted Trump to label him a "husband from hell." Meanwhile, Kellyanne, a staunch defender of the Make America Great Again (MAGA) movement, was an influential figure within the Trump administration.
The juxtaposition of their political affiliations raised questions about how they managed to stay married for more than two decades. It was a relationship that seemed to defy conventional expectations. In a statement released when they announced their divorce, the couple mentioned their appreciation for the "many happy years" they shared and emphasized their children as their top priority.
As Kellyanne once explained in 2018, "There are other family members of people who work at the White House who certainly don't support the president privately and publicly. There has been a different standard for me than there have been for other people." This statement encapsulates the challenges and intricacies of a marriage where political differences are in plain view.
Exploring Past Relationships
Kellyanne Conway's journey through relationships doesn't begin and end with her marriage to George Conway. Before her high-profile marriage, she dated former U.S. Senator and actor Fred Thompson during the 1980s. While this relationship didn't lead to marriage, it adds another layer to her personal history.
While the dating rumors continue to swirl around Kellyanne Conway, it's essential to recognize that her focus in 2023 appears to be on her divorce proceedings and her children. The attention she's receiving may be flattering, but as she navigates this period of transition, her priority remains steadfast on the matters most important to her.
In conclusion, the question of whether Kellyanne Conway has a new boyfriend in 2023 remains unanswered. The aftermath of her divorce has certainly generated interest from potential admirers, but for now, it seems that her personal life is marked by a commitment to her family and a measured approach to her future. As with any public figure, the intricacies of her personal life continue to be a subject of fascination, even as she maintains her focus on the matters that are closest to her heart.
Stay tuned and connected for more content from Celeb$fortune on celebrity relationships.