Lindsay Lohan's net worth is not as one would expect after earning $30 million in her teens. But after going through so many legal and personal troubles, she's making a turnaround in her career and image. Despite the fact, her fortune is still low while still up for debate. She is close to becoming a millionaire though. Learn how she got out after almost being broke/bankrupt.
Whatever happened to Lindsay Lohan? Well, she did go from the biggest height of stardom in her teens to almost going bankrupt soon after, but believe it or not, she is finally finding her feet and doing good. When you hear her name, one would almost always remember her Mean Girls role and the untrackable amount of controversies she's had to face in her early 20s.
The late Millenial kids grew up with the movies she starred in. Freaky Friday, Herbie: Fully Loaded, Confessions of a Teenage Drama Queen and many more were in the books for the favorite movies of teenagers in the early 2000s. To top it off, she was also a former Disney star. But her career and her net worth took a nosedive in the late 2000s.
Lindsay Lohan was also named #4 on the Maxim magazine Hot 100 of the 2005 list.
Picture Credit: GQ, 2004
After several brushes with the law, rehab centers, and unsavory events, she's turning her life around and doing what she can to redeem her fame. After attempts of even trying to make ends meet at one point, she's climbing up the ladder to once again become a millionaire.
Lindsay Lohan's Net Worth Dropped to $800,000 in 2019 from $30 Million at Age 18
As of 2019, Lindsay Lohan possesses a net worth of $800,000, which her representative contests to be in the US$5-8 million range. The various factors that influenced her net worth over the years include acting in over 50 movies/TV series, guest/host appearances in numerous talk shows & reality shows, and several encounters with the justice court & the IRS.
$800,000 worth Lindsay Lohan's most recent job was as a judge on 'Masked Singer Australia'.
Source: Network 10
The paychecks Lohan received for the movies in her early glory years were massive in comparison to the current net worth figure. Her most recent significant work is as a judge/panelist for the musical celebrity game, The Masked Singer Australia. With the Grand Finale wrapped up, that has obviously extended her fortune figures up a notch. A recent review of the actress will provide her net worth numbers close to $1 million, as of November 2019.
Known earnings from movies (Source: IMDb):
Freaky Friday (2003) - $550,000
Confessions of a Teenage Drama Queen (2004) - $1,000,000
Mean Girls (2004) - $1,000,000
Herbie: Fully Loaded (2005) - $7,500,000
Just My Luck (2006) - $7,500,000
Georgia Rule (2007) - $7,500,000
Liz & Dick (2012) - $300,000
Scary Movie 5 (2013) - $200,000
The Canyons (2013) - $6,480
Lindsay (2014) - $2,000,000
Those salaries already make up $27,556,480. That's not all. In 2004, at the age of 18, she was reported to have earned $30 million, and even with many debts, she was worth $2 million in 2012. That later just was blown off by the IRS and the credit card debts of course.
How It All Started - The High Rise Before 2007
Born on July 2, 1986 [age 34], in New York City, Lindsay was brought into the spotlight at the age of three. She came out as a Ford model and then appeared in over 60 commercials as a kid, including but not limited to The Gap, Payday, Pizza Hut, Wendy's, and Jell-O, before making her debut in 1996 in the classic Another World series. She did appear in a couple more series before that, but she didn't have to act in those appearances.
Watch: Notice Lindsay Lohan in the Jell-O Commercial from 1996
For her performances in her first feature film, The Parent Trap,  she was recognized with several honors and nominations. Then started a flurry of invitations for movies and series, including her deal with Disney. After a short hiatus from acting in 2001 to focus on her music career, she returned with Get a Clue, alongside Brenda Song, in 2002.
Then started her blockbuster career. She was cast in Freaky Friday (2003) that grossed $160 million worldwide. Although the 2004 movie Confessions of a Teenage Drama Queen didn't do too well in the box office, her performance was lauded. She immediately made a big return with Mean Girls that grossed $129 million worldwide. With $144.14 million worldwide by Herbie Fully Reloaded (2005), it seemed as though there was no stopping this rising star.
Opposite to Jamie Lee Curtis in 'Freaky Friday'.
Source: Freaky Friday, Walt Disney
The 34-year-old did four more movies in 2006 before entering into her streak of horrible-publicity years. She'd also released her first studio album, Speak, in December 2004, in accordance with her contract with Casablanca Records.
The Next Five-Seven Years Were the Toughest Ever
With the fame and demand steadily rising for Lohan, paparazzi were always on their toes to capture anything even remotely controversial. And they did succeed numerous times. They hounded her to every crazy, wild night-out party in 2007.
The first of her controversial saga began with a drunken-driving arrest and entering a drug rehab center for the first time in January 2007. There are a lot of holes to patch, but according to her, she was already attending Alcoholics Anonymous since the summer of 2006 (she was 21, the legal drinking age in the US at the time) and was suspected of doing drugs as well. She even told Vanity Fair in an October 2010 interview, "I was 18, 19 — with a ton of money and no one really here to tell me that I couldn't do certain things."
It was a serious bump in her career in 2007.
Source: Getty Images
A comprehensive timeline of her legal troubles is found everywhere on the internet. One by CNN up until March 2012 -> HERE. Read it first for more information.
In all those years, she'd admitted to doing a lot of mischievous things and of trying to avoid many court orders and probation. But she'd always find it difficult to keep it together and would end up losing a lot of money on multiple fines, bails, and charges, pricing anywhere between $3500 to $300,000. Her net worth just dwindled down in those years.
Doing Anything to Get Out of Bankruptcy
Lohan was almost bankrupt in 2011 due to her lavish spending habits, going as far as allegedly dealing $5000 a week on drugs. But she convinced the Vanity Fair interviewer it's all rumors, while paparazzi say otherwise. In 2010, lawsuits came piling in, with several claims that she's not paid a dime to different companies for their services.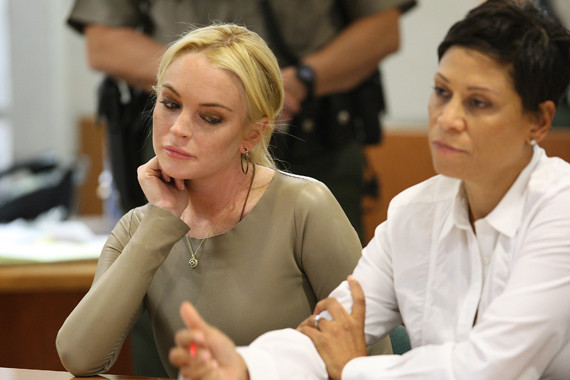 Lawsuits since 2010 didn't make it any easier.
Source: Getty Images
She was sent to rehab many times, but that year she was put in handcuffs. She spent several months in jail too. Reports came that claimed she was so broke that she owed $600,000 in credit card debts because she was months behind on her $11,000 per month rental Hollywood home. Her net worth amounted to only $100,000 in 2010, and she was close to being bankrupt with more cases coming in.
In 2011, she was sued $90,000 in unpaid limousine fees from 2009, along with the $40,000 in unpaid tanning services at a Nevada tanning salon. Her rehab fees reached $30,000, spent $80,000 for a new Porsche and a $1 million debt to her favorite Chateau Marmont.
An attempt to turn her life around started in 2008 by starting a fashion line called 6126 after Marilyn Monroe's birthday of June 1, 1926. To evade bankruptcy, 2012 was a crucial year for her. She appeared nude in the January/February issue of men's Playboy magazine and got paid $1 million. She was cast as Elizabeth Taylor in Liz & Dick for a $300,000 salary. She also got a $200,000 role in Scary Movie 5. She was suddenly worth $2 million.
However, in December 2012, the IRS seized control of her bank accounts in order to pay off the $233,000 federal back taxes. For that, she earned a reported $2 million for filming in-depth interviews with Oprah Winfrey on her show in August 2013. The money didn't remain with her though. It was all set aside for taxes, IRS debts and rehab fees.
Watch: Lindsay Lohan Answers - "Are You an Addict?"
The media piped down a smidge after she paid the debts, but still finding it difficult to live a silent life in the states, she moved to Dubai in 2016 while later opening a nightclub in Athens, Greece. Her hiatus from acting began after 2015 until she returned in 2018 with Sicknote.
In May 2018, the location of once existent Lindsay Lohan's Beach Club show on MTV, called the Lohan Beach House, was opened in Mykonos, Greece. Her viral dance moves showed her living the best time of her life at the club.
Lohan continued doing movies even after all the controversies she was surrounded with. She was clearing her negative image and doing some voluntary work for the Syrian refugees in October 2016, but the public still mocked her in no good way. She was scared of returning to the US because of her personal beliefs since she was studying Islam in the middle east. She did not convert though.
After such an arduous journey, she's in a better place now. While there may still exist several debts and fines, she's doing a lot better. She's probably still in Australia, doing what she can to feel life again.
Stay connected to celeb$fortune for more Celebrity Net Worth content.