Get a load of the Kiwi actor, Martin Henderson's net worth and how he made it all from New Zealand to Australia to the US. He is currently starring in 'Virgin River' and earned quite a lot from 'Off the Map', 'Secrets & Lies', 'Grey's Anatomy' and so on. Also, learn about Henderson's relationship with his girlfriend, Helen Randag.
Martin Henderson has been a star in three different countries. Every time he felt his work in one country was done, he moved on to the next. Although he did need a longer time in each country to achieve fame, he's a fairly sought-out actor now.
Born on October 8, 1974 [age 45], in Auckland, New Zealand, Henderson started out in his own home country at the age of 13 until the mid-90s, moved on to Australia for a bigger stage and then extended his ambition to the USA. After struggling for a moment, he did get his breakthrough in the US with Windtalkers, starring Nicholas Cage, in 2001, taking on the role of Nellie.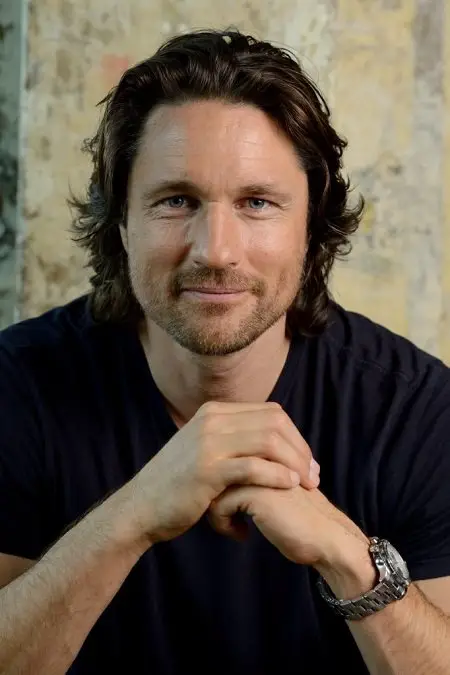 Martin Henderson is a respected actor in Hollywood with an impressive net worth.
Photo: Career Talk Aus
With over 40 acting credits during his career in its entirety, he obviously racked up quite the fortune to call his. Of course, being Britney Spears' boyfriend at one time, even if it's just in her music video of Toxic, did attract more prominent roles in renowned movies and TV series like, Little Fish, Off the Map, Secrets & Lies, Grey's Anatomy, and not to mention his latest endeavor as the lead cast member of Netflix's Virgin River. He portrays Jack Sheridan, opposite to Alexandra Breckenridge's Melinda Monroe.
With No Underestimation, Martin Henderson's Net Worth Is $6.5 Million in 2019 - Most Notable Acting Roles
As of 2019, Martin Henderson values his net worth at $6.5 million earned throughout his three-decade-long acting career, both on-screen and the theaters. For an actor, modeling is an automatic job that also brings about endorsement deals and such. Expect revenues piling up from there as well.
Everybody fell in love with Dr. Nathan Riggs.
Source: Grey's Anatomy, ABC
There is no one single role to define the New Zealander. Perhaps you may know him as Dr. Nathan Riggs in the medical drama, Grey's Anatomy, or as Ben Gundelach in Secret & Lies. He also featured alongside Naomi Watts in The Ring, opposite Bollywood actress Aishwarya Rai in Bride & Prejudice, and acted with Cate Blanchett in 2005's Little Fish. As for his breakthrough, you could say he entered Hollywood with the John Woo-directed 2002 movie, Windtalkers, after being announced as a cast member in 2001. He also had another doctor role in the sci-fi medical drama Off the Map in 2011.
Henderson's Latest Work in 'Virgin River' Is "Class" (Spoiler Alert!!!)
The 45-year-old is set to appear in the movie, Hellbent, and the new TV series, The Gloaming, next year. But currently, he's making waves with a starring role of Jack Sheridan on the Netflix drama, Virgin River. The series revolves around a woman Melinda Monroe, played by Breckenridge, who applied for a nurse practitioner job at a place called Virgin River.
Watch: Martin Henderson and Alexandra Breckenridge in Action in the New Netflix Series, 'Virgin River'
While settling in Virgin River with the intention of forgetting her past, she finds it difficult at first but bumps into Henderson's character, Sheridan. They are quick to fall for each other as they begin the relationship. However, it seems they hit a very rough patch at the end as Monroe packs her bags to leave for home back again. At this point, it is difficult to tell how the story goes, and that's exactly why fans will obviously be looking forward to the second season. They actually already are. They're asking for more.
With such success coming after the first season already, Henderson will no doubt be collecting big fat checks to add to his net worth. There's little doubt to it.
How It All Started For Henderson in New Zealand and Australia; He Was Heath Ledger's Roommate in Sydney
The Virgin River star was so gung-ho for going into the acting business that he declined an offer to study at a University at 17 just to focus on his goal. And man, are we glad he decided to do that. He started off as an actor from an age as young as thirteen with several shows in his home country. During study and after graduation from Westlake Boys High School, he was part of the New Zealand series, Strangers, before the '90s.
From 1992 to 1995, Martin starred as Stuart Neilson in Shortland Street and reprised the role in 2017 again. After a few shows and a movie in New Zealand, he moved with a bigger ambition to Australia. He started out by starring in the short-lived soapie, Echo Point in 1995 but moved on to a better recurring role of Geoff Thomas in Home and Away.
Perhaps one of the most important parts of his acting career has to be when he was in the sports drama, Sweat, that starred the young Heath Ledger. They became great friends even until Ledger's death in 2008. Martin had convinced him to move to Sydney with him, and they were roommates when they lived together.
Martin Henderson and Heath Ledger were great friends when starting out in Australia.
Photo: Getty Images
When working in Big Sky for two years in the late '90s and being nominated for the AFI Award 2000 for his supporting role of Tom Bradshaw in the Aussie film, Kick, he had already left Australia for the US. Ledger had also already moved to the US by that time and starred in 10 Things I Hate About You.
A Little Difficulty in the US, But Now He Is the Happiest With Girlfriend, and a Possible-Wife, Helen Randag
It was not 'come to the US and opportunity is immediately everywhere' for Henderson when he came to the US in 1997. He came to Hollywood to study acting & theater and trained in the two-year program at the Neighborhood Playhouse in New York City. After ending the program in 1999, he was unable to get selected for his auditioned roles in LA for over a year. But as fate would have it, he was cast in Windtalkers, and the rest is history.
Once in 2000, when he was returning to LA from the UK, he was interrogated by immigration agents at the LAX airport and even handcuffed with the chance of being deported back to New Zealand the following day. It would've been a different story to tell had he really been deported back to New Zealand.
The 5 ft. 10 in. actor is a happy man since having found an adorable girlfriend in Helen Randag, director/producer who owns a film production company, Midheaven Productions. Since the split from Demi Moore, female fans were drooling over the Kiwi heartthrob, but they were heartbroken to have learned of his relationship with Randag. They started dating in 2017 and have been together ever since.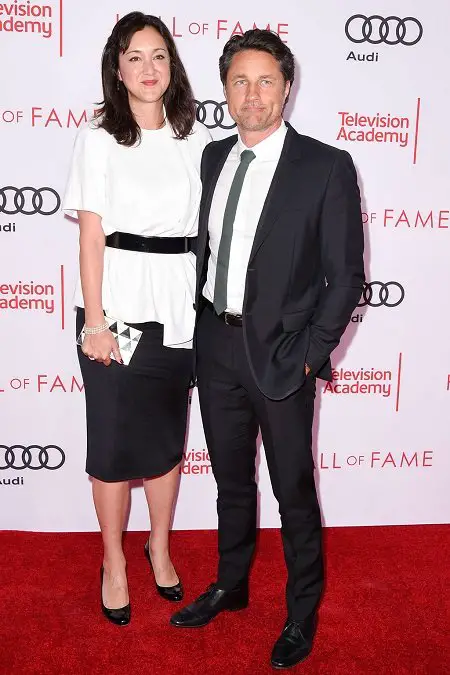 Martin Henderson is currently dating his girlfriend, Helen Randag.
Photo Credit: Stewart Cook, Variety/REX/Shutterstock
With the way things are going, (it is possible and) let's just hope we hear them getting engaged and married very soon. As for his net worth, there'll be lots of movies and TV series in store. He's already established himself in Hollywood.
There are more stories we've covered in celeb$fortune. Be sure to check them out.