A star is born! That's what everyone has to say about Roman Griffin Davis's (March 5, 2007) portrayal of Jojo Betzler, a Hitler Youth in Nazi Germany, in Taika Waititi's anti-hate satire film Jojo Rabbit. And what stunned everyone was the fact that it was his first professional acting gig.
Born in London, Griffin holds both French and British nationality and now resides in East Sussex, English countryside alongside his parents and his four siblings. The English actor dreams to be a big name in the entertainment industry and plan to work with superstars, Steven Spielberg, Brad Pitt, and Christian Bale in near future.
Roman Griffin Davis Comes From Industrial Family Background.
Many of you might not know that Roman Griffin Davis is actually from a film-making family with his dad, Ben Davis being a cinematographer, and his mother, Camille Griffin being a writer and director. Moreover, Ben has worked for blockbusters Kick-Ass, Hannibal Rising, and the Marvel Studios films Guardians of the Galaxy (2014), Avengers: Age of Ultron (2015), Doctor Strange (2016), Captain Marvel, and Eternals.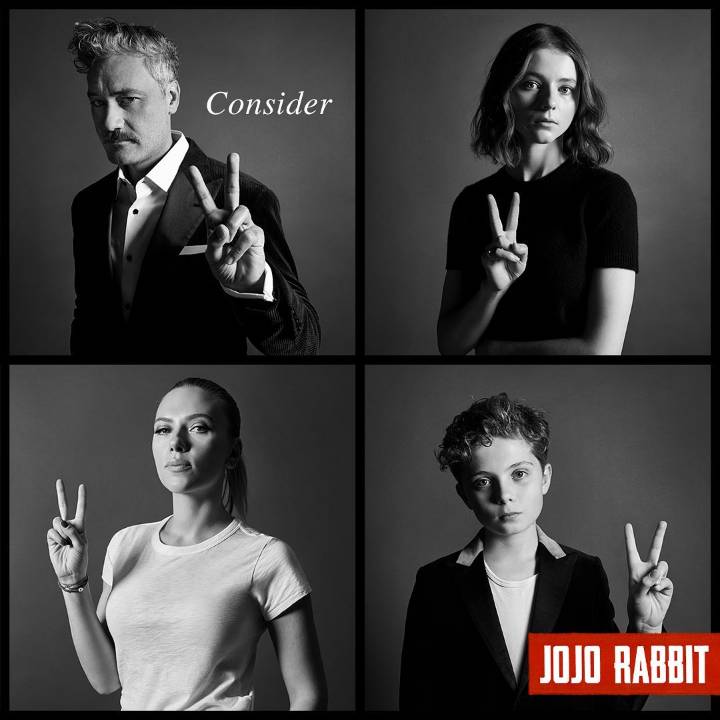 Roman Griffin Davis shared the screen with actors like Scarlett Johansson, Rebel Wilson, and Stephen Merchant in his debut movie, Jojo Rabit.
Photo Source: Roman Griffin Davis, Instagram
Talking about Camille, she has recently made her directorial feature film debut in the apocalyptic Christmas-themed parody movie Silent Night which stars famous actors like Keira Knightley, Matthew Goode, Annabelle Wallis, and of course Roman as well.
And now following the success of Roman, his twin brothers, Gilby Griffin Davis and Hardy Griffin Davis have also followed his steps and played small roles in both Jojo Rabbit and Silent Night. What's more, his grandfather Mike Davis was also a renowned cinematographer and camera operator.
Also Read: The Baby-Sitters Club's Momona Tamada Was an Award-Winning Dancer Before She Got into Acting
Meanwhile, growing up on movie sets, Roman always knew from a very young age that he wanted to be an actor. So, he started auditioning for different movies at the age of nine, however, got his first professional acting role as the lead in Taika Waititi's Jojo Rabbit in 2019.
Davis shared the screen with the likes of Scarlett Johansson, Rebel Wilson, and Stephen Merchant who were nothing full of praise for this young star. This satirical film Jojo Rabbit is based on Christine Leunens' acclaimed 2004 novel, Caging Skies.
Here's How Roman Griffin Davis Accumulated $1 Million Net Worth.
As of 2022, Roman Griffin Davis is estimated to be worth $1 million. He may not have a long resume when it comes to acting, but he has already managed to leave an imprint in the entertainment buzz with his role as a Hitler-obsessed German boy during World War II in the black comedy film, Jojo Rabbit.
It was not easy for Davis to secure the role in Jojo Rabbit as he had to beat out over 1000 other actors to be in the film which he successfully did. What's more surprising is that Roman had no idea that he was auditioning for a film about Nazis as he thought it was about "Peter Rabbit".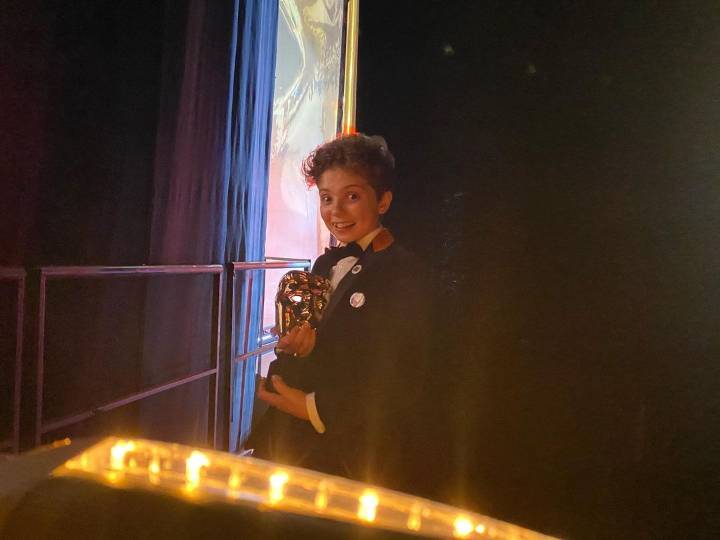 Roman Griffin Davis, all geared up to present the award at Baftas.
Photo Source: Roman Griffin Davis, Instagram handle
Whatsoever, the 15-year-old was nominated for six awards for his performance in
Jojo Rabbit
including the Best Actor nomination in a Musical or Comedy at the Golden Globes alongside veterans like
Leonardo DiCaprio
and
Eddie Murphy
.
Out of six, Roman won two awards including the Critics' Choice Movie Award for Best Young Performer and the Washington D.C. Area Film Critics Association Award for Best Breakthrough Performance. The Golden nom has also starred in TV series like Felicità - La stagione delle buone notizie and Fables and now will be making his comeback through A Rare Grand Alignment.
Stay tuned and connected to Celeb$fortune for more content from the entertainment and social media world.