The first impression of Sutton Stracke on The Real Housewives of Beverly Hills made it clear she was making it a lasting one. The real deal from her was when she picked up custom couture from Dolce & Gabbana at the private home of Domenico Dolce in Italy. And even more so when her connection to the brand was clear as day more than just professional.
She's been generous enough to gift her friends, considering her lifestyle with money, like that dress she modeled for her friend Lisa Rinna. Casting aside the "meltdown" she had for gaining few pounds and not feeling comfortable with the shopping items in Italy, she's talked about the designers like the friends they are for her.
There's been a lot of discussion about her connection to Dolce and Stefano Gabbana, or rather the brand only, but it was not immediately known how she was so close with the designers in the first place. And she doesn't really like to talk about money. However, thanks to a little podcast appearance on Behind the Velvet Rope with David Yontef, it's been a little clearer than before.
"I was never a Dolce girl before." Sutton Bonded with the Designers Over Their Love for Dance, Ballet Really
While she may be donning Dolce & Gabbana practically 24×7 now, Stracke was not such a huge fan of the brand, only because she believed she didn't have the body type. Only after a few interactions and a revelation later that she'll come to love the brand & the designers and have a custom fitting of her own from them.
The mother-of-three met the designers at a show she attended with Jennifer Tilly in Italy years ago. She later tried the pieces and changed her perspective on what Dolce & Gabbana is to her. "I was never a Dolce girl before. I don't have that kind of body," she recollects in the podcast. "They're the nicest, most giving people."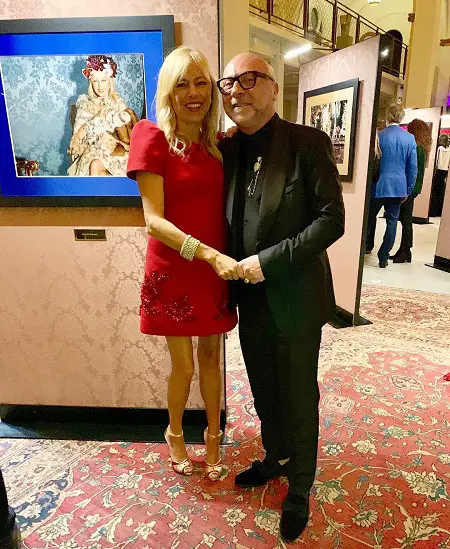 There's her own portion of the gallery for Dolce & Gabbana.
Photo Source: Sutton Stracke Instagram
She was originally in Italy for a week but ended up staying there for three weeks as she "hung out" with the designers. She celebrates Dolce's birthday every year on social media. And there was one more thing that they bonded over — their mutual love for dance. "And they're big ballet fans and I don't know, we just really clicked for some reason," she continued.
Also From Bravo: 'RHOA's Eva Marcille's House & Real Estate Details
"And I was like, 'Oh I get it.' They really bring the area where the show is, to their clothes," Stracke says of their aesthetics. "It's very specific and they love Italy and it just comes out. And they love their clients and it's truly a family."
The Tiaras from Dolce & Gabbana Are Possibly Her Favorite Pieces of Jewelry in the House
The connection she built up with the designer pair actually got her a year gift from the brand. She gets a tiara every year on her birthday, surely one of the most coveted pieces in her home, among the clothes or jewelry.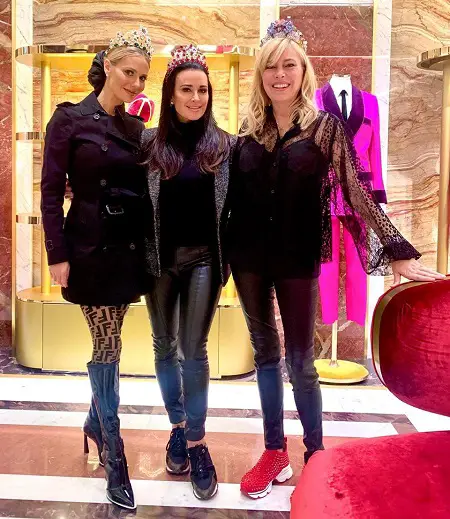 The crown is not so heavy now, is it?
Photo Source: Sutton Stracke Instagram
"They started giving me these tiaras for my birthday," the 49-year-old explains. "Like I've never had a tiara before in my life. So I started getting a tiara for my birthday. And then I was kind of like I dig it. So you get addicted. They're addictive."
Every time anyone tours her closet or even her house, the tiaras will never go unnoticed. She puts one on whenever she wants cheering up too.
"I think if you're ever sad, ever blue...get a tiara. It changes bad hair days. It changes bad moods," she says in a jewelry tour with Marie Claire magazine. "We're all housewives here in Beverly Hills. And they like to fight over the tiara. I don't have to fight over mine. I have a lot of them." And there were a lot of other brands too. Cartier, Sophia Loren and so on.
Watch: RHOBH's Sutton Stracke Shows Her Jewelry Talks about Them
In addition, among the lines of couture she has, a custom one from Dolce & Gabbana should complete her designer closet. All of it's enough to wow even Rinna the first time around, who also tried one of the tiaras in Dolce's home with pride. And Dolce, too, has visited Stracke's new boutique in West Hollywood.
Recommended: NeNe Leakes' Millionaire Mansion Is No Joke
It's one more thing Rinna has to hype up Stracke's wealth with. Considering the Dolce & Gabbana connection dropped Rinna's jaw the first time, there will be a lot more to talk about.
Stay connected to Celeb$fortune for celebrity Net Worth content. Keep checking the Focus section for more updates.