Alexandra Breckenridge started off acting as a teen, but looking back on how far she's come, it feels like she was born with a natural talent for the trade. With several notable roles coming her way since only a decade ago to add to her net worth, she made the past decade of doing numerous supporting roles all the worthwhile. She was pursuing a career on what she was interested in, after all. And the most recent role of Melinda Monroe in the Netflix original, Virgin River, says it all.
Born on May 15, 1982 [age 38], in Bridgeport and living in Darien, Connecticut until 10, Alex moved to California with her mother and started living with her up in Mill Valley at the age of 12. She fell in love with acting at 13 after she performed in local theater productions. The passion helped as her mother relocated to Los Angeles with her to let her pursue the acting career she so badly wanted.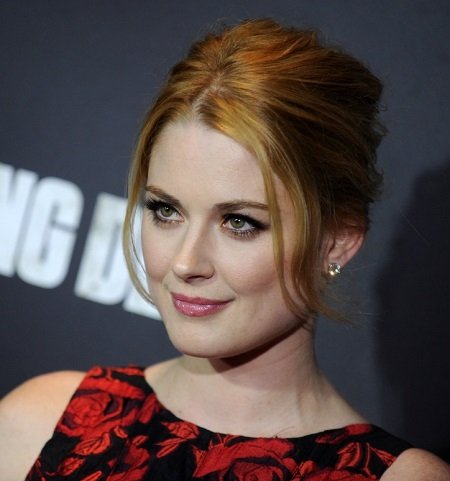 Alexandra Breckenridge left high school to be an actress.
Photo Source: Pinterest
It seems she's really gone too far since the guest roles in the late 90s. With that, she's obviously got some big pile of cash to count for her net worth. Granted the early days didn't really pull it out for her, but the spirit of never giving up landed her in that breakthrough role in the Shakespearean remake of Twelfth Night into the movie She's the Man. Everybody is in love with the former redhead now.
Alexandra Breckenridge's Net Worth of $2.5 Million Is Sure to Increase after 'Virgin River' Paid Off
As of January 2020, Alexandra Breckenridge controls a net worth of $2.5 million. Obviously, her sources of income are the various roles in movies & TV shows, but as an actor, money also comes around from several celebrity appearances in different events and several endorsement deals headed her way.
To get you started, you should know that she is a big horror fanatic since she was eight. She loves psychological thrillers, with her favorites being Rosemary's Baby [1968], The Shining [1980] and Don't Look Now [1973]. But when it comes to playing roles, she was often involved in teenage drama shows and movies. Plus her two recent works are also both of romance genre.
The first one is a TV movie, Love in Store, where she is leading as Terrie Carpenter. The second is the critically acclaimed Virgin River on Netflix, alongside the likes of Martin Henderson as Jack Sheridan, Annette O'Toole as Hope McCrea, among several talented stars. As the romance series of the year 2019 for fans, the second season for Virgin River is already in the works after fans immediately wanted to see what happens next as the first season ended in kind of a cliffhanging fashion.
Watch: For Those Who Have Yet to Start the Show. You Should!!!
Spoiler Alert in this section for the Show!!!
The show, adapted from the novel series by Robyn Carr, revolves around Breckenridge's character, Melinda (or Mel for short), who applies for a nurse practitioner job at the place called Virgin River (a fictional place) and goes to settle in the place with the intention of leaving behind her past and the memories before. She's determined to start fresh but finds it difficult at first.
Moving on wouldn't be that easy, of course. But then she bumps into Henderson's character, Jack, and they fall for each other. However, it seems they hit a very rough patch at the end as Monroe packs her bags to leave for home back again. If she ever moved back home or if she started working on the relationship is something we have to wait for the second season to come. Some speculate it will be December 2020 for it to be released again. As for Breckenridge, she is working on a new movie, In Limbo, as the main character, Amy.
Some Notable Roles Adding Up Her Net Worth - Moving on from Lead 'Mystery Girl' Series Not Being Selected by UPN
When Alex was moved to California, she and her mother lived in LA for a year as she started doing theaters. After that, they moved up to Mill Valley in Marin County, and she further continued theaters for three more years, along with acting classes. Her mom really got her going right from the start. Attribute her to Alex's net worth as well.
Breckenridge played the lead character's brother's crazy ex in 'She's the Man'.
Photo Snap: She's the Man, Dreamworks
According to her, the class manager, Bruce Ducott, discovered her innate talent and asked her to do a monologue for an acting agency. It was smooth sailing since then as she immediately got an agent and started auditioning as she relocated back to LA at the age of 15. And she never completed high school, or felt the need to, because acting was her bigger dream, and she got busy with continuous auditions.
A year later in 1998, she got her first on-screen role in a short TV movie Ghosts of Fear Street, as well as in the TV movie, Even the Losers. Since then, she followed them up with several guest appearances in movies and series like Dawson's Creek [2000], Freaks and Geeks [2000], Big Fat Liar [2002], Orange County [2002] and the short film D.E.B.S. (2003, Best Short at the 2003 New York Lesbian and Gay Film Festival), until 2004 when she was about to get her breakthrough role.
Young Breckenridge was offered her own series, the drama pilot Mystery Girl on UPN. But the network decided to choose only one female-led detective series in the 2004-2005 season, and hers was not picked up. It wasn't the end of the road for her though. After more supporting roles in a couple of years like Lisa 'Cleopatra' Hunt in CSI: Crime Scene Investigation, Michele Weinberger in Romy and Michele: In the Beginning (2005 remake of Lisa Kudrow's original 1997 film), and Sarah in Murder Book [2005], she got the breakthrough with a co-lead role of Monique in She's the Man in 2006.
The recurring roles of Willa McPherson in Dirt, Vivian in The Ex List and Abby Cassidy in Life Unexpected all followed until the end of the decade, along with many other roles. She'd also started to voice various characters on Family Guy in 2005, which she continued for 65 episodes till 2018.
With the turn of the decade, Alexandra's major roles adding fame and fortune to her net worth were in Christmas Around the Corner, This Is Us, The Walking Dead, Dark, Other People's Children, American Horror Story, Save Me, True Blood, Ticket Out and, of course, Virgin River. Yes, she's done a lot of roles in the horror genre and the romance genre.
Endorsements, Paid Partnerships and Appearances
There's not much information about the endorsement deals or charity appearances that she's made (we're sure she's helped a lot of people). But there has been several ways money's been coming from for her. Social media has been a great way to add up to her net worth. It seems she has a paid partnership with Palmers as she advertised their Coconut Oil Formula on Instagram.
With over 300k followers on her Instagram account and the sponsored posts, the earnings come at about half a million right there. Oh, and there's also this super-important thing to mention about her. She's also an avid photographer. Along with acting, that's her biggest hobby since the very beginning. She also made it into the cover of Pregnancy Newborn magazine in its November 2017 issue, a month before her second child was born.
Married Life with Husband Casey Hooper Is Awesome with Two Kids in Four Years Already
Alexandra Breckenridge and her husband, Casey Hooper tied the knot on September 14, 2015. The two were quick to build up a bigger family as they welcomed their first child, son Jack Breckenridge Hooper on September 3, 2016, and then daughter Billie Breckenridge Hooper on December 6, 2017. And she was not afraid to show-off her baby bumps during the pregnancy.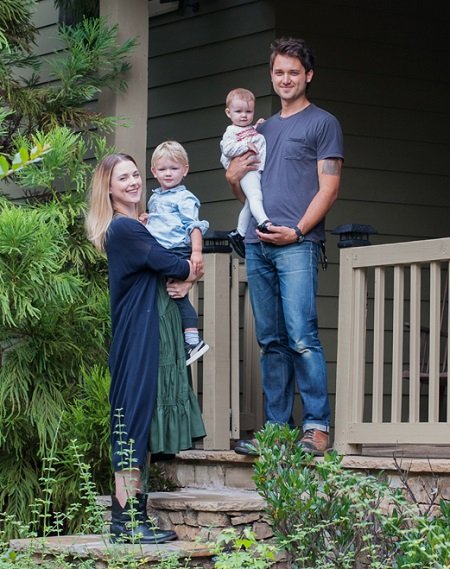 It's one happy family.
Photography: Anthony Masterson
Hooper was a lead guitarist for Katy Perry and met Breck at a Grammys after-party. They've come a long way since then and now live in a quiet community just outside Atlanta, Georgia, in a two-story house. The house is absolutely adorable. Check it all out here.
With the kind of exciting roles she'll likely get again, Alex's net worth is sure to thrive. But for now, everyone wants to see what happens to Mel. We can't wait for the next Virgin River season to come out.
Head on over to celeb$fortune homepage for more Celebrity Net Worth content. Also, check out the Fortune Focus section for more celebrity property discussion.