The beauty industry has grown and transposed with the trade of the time along with its definition. The modeling industry has not only been cast off to showcase beauty but also to empower women and break the boundary of how beauty is defined. One of such empowered women is Ava Marie Capra.
Born on August 30, 1995, in New York, USA, Ava Marie Capra Garbarino is a model, actress, singer, and social media influencer. Born to Father Phil Garbarino and mother Anne Marie Capra, the 26-year-old blonde, has a famous sister, Chanel Capra; who is an entertainer, an artist, and the owner of an entertainment company BellaMafia, brother Francis Capra; also an actor, and younger brother, Asa Capra; an artist, author, and influencer.
Of Italian and Dominican descent, the Capra family relocated to Los Angeles, California for Francis's career. She graduated from high school in May 2013 from Options for Youth in Los Angeles and went to California State University. The talented model took singing, photography as well as piano classes.
Career: 'America's Next Top Model' Contestant Ava Capra Now Features in Netflix's 'The Circle'
Marie was in the entertainment biz even before she participated in America's Next Top Model. She had been in a few music videos, commercials, and prints, as she told in an interview in ANTM. As her family members are too involved in this sector, it was easier for her to pursue a career in the entertainment field.
She pulled off an audacious mullet for her time on 'America's Next Top Model'.
Photo Source: Ava Marie Capra, Instagram
The 5'5" tall model and influencer kick-started her famous career with participation in the famous CW reality show America's Next Top model's Cycle 22 in 2015. Ava rose to her fame with her beautiful features and extraordinary performance. She was one of the masses' favorites and known as the "Flower Power Girl".  Her drastic makeover in the series had been a popular topic of talk gaining her the nickname "Girl with the mullet" as well.
Despite her dissatisfaction with the makeover, Ava performed pretty confidently acquiring more support from the audience and having one picture of the day in the show. Though she was predicted to be in the top 3, unfortunately, the beautiful blonde was eliminated in episode 6 of the series, shocking the entire audience. The way she gracefully handled herself through her makeover, tasks and criticism owned her love and appreciation from millions.
Marie has been featured in the music video of the well-known song Bad Wolves' cover of the popular The Cranberries song, Zombie. Not only that, but the stunner has also been in movies like Love in a Lifetime (2019) & The Romance (2014) and a short film titled BELONG. The multitalented model has as well been in commercials.
There was a hint of inspiration from Miley Cyrus in a lot of her looks.
Photo Source: Ava Marie Capra, Instagram
The brown-eyed social media influencer has quite a lot of followers on her social media platforms. She has been successful in gaining 227,000 followers on her Instagram page (avacapra). The social media sensation is also a fitness freak. Her secret to looking fabulous on the red carpet, as she said in an interview at Beautycon, is, "Be confident, Be sexy, and have a good time". She constantly shares her workout routines, diets, and fitness tips on social media gaining her more followers on the platform.
Also See: Meet Gianluca Vachhi, Literally Awarded the 'King of Instagram' Title
The soft-spoken influencer also has a YouTube channel (Ava Capra) with just over 1,000 subscribers. Her contents include tutorials, unboxing videos, vlogs as well as cover songs. She, however, isn't very active on YouTube as her last post was a year ago.
On 28 August 2021, Ava announced that she'll be on Netflix's The Circle, an American reality competition series, with her sister Chanel Capra. She can be seen promoting the series and being excited about it as well, and the audience and her followers are quite thrilled about it too. The third season's first four episodes were released on September 8, 2021, with the contestant competing for the $100,000 grand prize.
Ava Capra's Love Life Is Always a Secret, Except One...
To answer the most common question about the model and social media star, Ava Capra is not married! However, her love life has always been a secret. Although, she is adamant in letting her followers know that her best friend is her hairdresser, Randy Madden.
"I fell in love at 16 years old to a boy with a beautiful soul."
Photo Source: Ava Marie Capra, Instagram
On a more serious note, Capra was in a relationship with Kentaro Krosse when she was 16. In a post on her Instagram, she has described her relationship with Krosse as "Splendor in the grass." Woefully, Ken lost his battle with brain cancer on April 27, 2019. Since then she hasn't been open about her love life and has only shared her professional life socially.
These Are Ava Capra's Net Worth Sources
The all-rounder beauty has turned everything she's touched into gold. A model, entertainer, influencer, host, vocalist as well as a business person, Ava Marie controls an estimated net worth of $400,000.
With an average annual pay of $66,644, per ZipRecruiter, for a fashion model in Los Angeles, the stunning model has earned herself quite the fortune with years of working as one of the top models with brands like Ford, as a face model for Elléments Magazine and Stila Cosmetics, Styles For Less, Inc., LA-based Otto Models, ForPlay Catalog (@shopforplay), and many runaway fashion shows.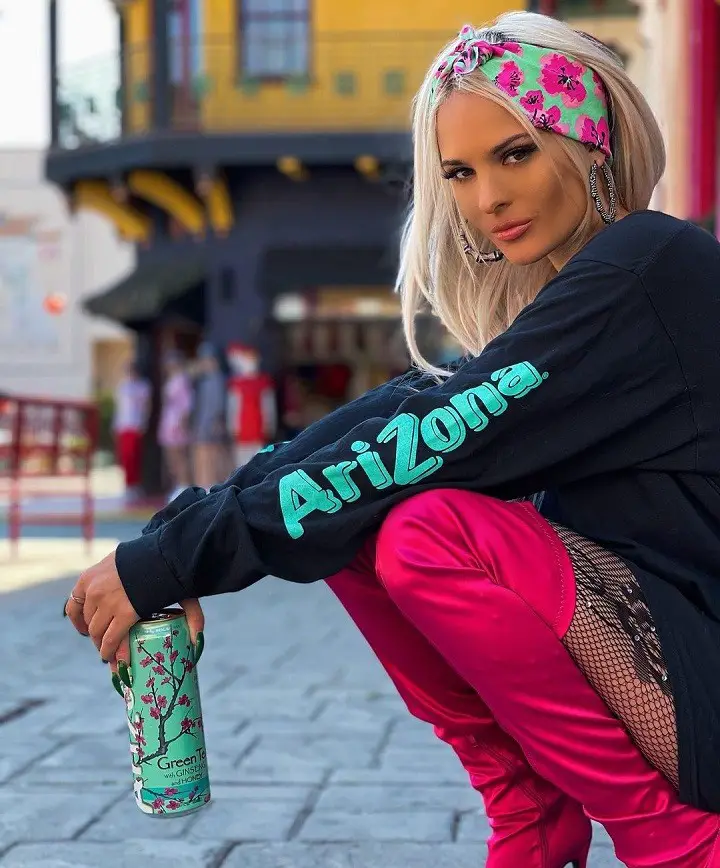 Sponsorships attribute to a part of her net worth as well.
Photo Source: Ava Marie Capra, Instagram
Not just a model, but the sensational charmer has also handled a business gig in Dave and Buster's commercial in 2014 and has experiences in business handling, social media consultant, and as a Retail Sales Consultant in Love Culture, Inc. All of her endeavors have added more to her gross wealth. She has also worked as a host for various events including for Babes in Toyland Charity.
Recommended: How Monique Idlett-Mosley Made Her Money
Talking about her social media remuneration, with over 227,000 followers on Instagram, the social media influencer has an estimated average earning of $800 per post. She has also done paid promotions for Ride Sugarrush, SugarBearHair, Vive Organics, Drink Arizona, and numerous other brands. She's also active on TikTok, but she seems to hardly approach sponsorships on the platform.
A self-made empowered woman in the beauty industry, Ava Marie Capra has shown that anything is achievable with consistent effort and sincere dedication.
Stay tuned and connected to Celeb$fortune for more celebrity biography content.