Despite what one Google search for 'King of Instagram' says (of course, it turned up Dan Bilzerian), Gianluca Vachi convinced the World Bloggers Award committee that he really deserved the title. Gianluca, who? He's the guy every young people these days would want to have the story of, never mind middle-aged people. Yes, after learning of his story, anyone would probably concede the title to him.
And COVID-19's impact has been graceful for the title to still be his after winning it in 2019, with the Awards this year being postponed for 2021. If that's still not convincing, he's been dubbed the real-life 'Most Interesting Man in the World' by Forbes (yes). He does have the look (a lot younger for his age), and the story to back it up.
Gianluca Vacchi is a 53-year-old [b. August 5, 1967] multimillionaire businessman-turned DJ, dancer, author & Instagram sensation from Sardinia, Italy, known for the lavish lifestyle he lives. Of course, with Instagram, his silver hair, tattoos, six-packs & even the tied tips of his gray beard got boys in their 20's wishing to be him.
The Family Business, IMA Group, Set Up Gianluca Vacchi's Net Worth, But He First Had to Make It Successful Too
As of 2020, Celebrity Net Worth estimates Gianluca Vacchi to be worth $200 million, but as official as they may be, it hasn't stopped others from estimating his net worth to be around half a billion. Don't count out the estimation because, at the age of just 25, he inherited the family business, IMA Group, a designer and manufacturer of automated machines for processing and packaging food, pharmaceuticals, cosmetics, tea and coffee valued at 3.3 million (Forbes didn't specify $ or €).
There's a businessman and a social media phenomenon at the same time.
Photo Credit: David Becker, Getty Images for LARAS
When he took over the "family businesses" with his cousin, he says that it was in need of deep restructuring. With his background in economics, he turned it around and helped the business go public. Then he listed all the businesses on the stock exchange.
At 29, he went into private equity, deciding to be a shareholder, buying and selling companies in a plethora of sectors, almost everything he could get his hands on. However, at one point after raking in more than he could spend, "the world didn't have anything to give me anymore."
Also See: Recently on the Spotlight, Brandon Daniel Fugal's Net Worth Is Also Something to Contend
Vacchi was not conservative enough to be bound within the walls of a corporate boardroom. In 2013, after just over two decades of deciding for things in business, he decided to give it all up so that he could just live it up. It's never too late after all. Then began his carefree life as a nightclub DJ, dancer and a social media superstar. He left the boardroom, but he still does have an ownership stake at the company.
"I'm not interested in accumulating money at all anymore, I'm only interested in what's moving my curiosity," he told Business Insider in 2017 of his current lifestyle.
It's Never Too Late for Social Media, And He's Got the Fiancée to Make Young People Even More Jealous
As he moved into the search for what piques his curiosity, social media just popped up. Of course, it did. With DJ-ing, dancing, and WORKING OUT, he prides in titling himself as 'Global Entertainer and Celebrity' or 'Pop Artist of a Global Lifestyle'. He is constantly showing off his eccentric lifestyle, which he has no qualms about, and hangs out with A- and B-list celebrities quite often.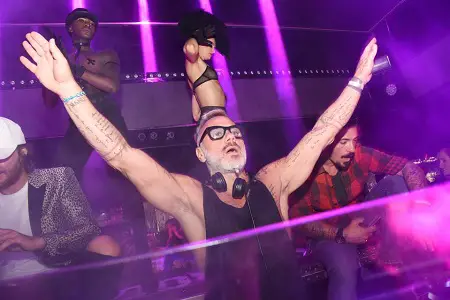 Here he is at a  VIP Room as part of the 'Saint-Tropez Party On French Riviera' in 2017.
Photo Credit: Foc Kan, WireImage
"It used to be that the first thing people did was look at the newspaper, now they wake up and go on Instagram," he continued to Business Insider. "People are more interested in other peoples' lives than their own. It is very strange, but it's like that."
Nevertheless, what really got the balls rolling for him in the social media world was in the summer of 2016 when a video of him dancing to Ricky Martin with his partner at the time, 34-year-old model Giorgia Gabriele, while on holiday went viral. It's been all uphill since then.
You May Find Interesting: A 'Real Housewife', Sutton Stracke Has Dolce & Gabbana Connection to Know About
Speaking of partner, if his looks and money aren't enough to make a guy jealous, his fiancée definitely will. He is currently engaged to his partner, Sharon Fonseca, who is almost 30 years his junior, since 2019. They've recently welcomed a baby girl, Blu Jerusalema Vacchi into this world. The 25-year-old model was not shying away from dancing with her partner even during her pregnancy.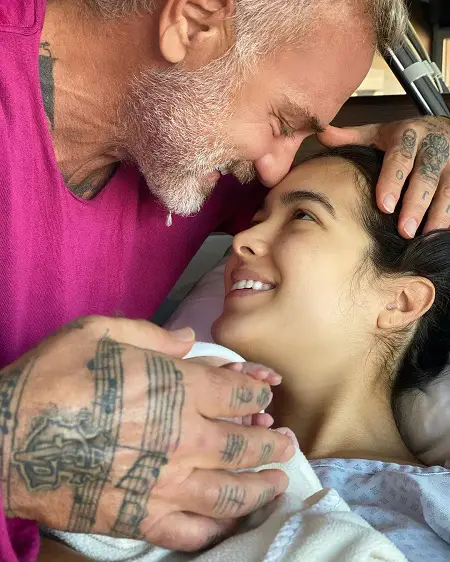 Their celebrity friends were pouring in their congratulations in a bunch.
Photo Source: Gianluca Vachhi, Instagram
At the time of writing, he's got over 18 million followers on Instagram, capable of raking in around $50,000 from whatever sponsorships he can make with each of his posts. Private jets, colorful suits, pajama collection, and every glamorous party on his feed are a sight to behold, albeit with more than a hint of jealousy.
He's Constantly Moving: Vacchi Listed One of His Custom-Designed Main Bases in Miami for Sale for $10.9 Million
In the same interview with Business Insider, the 53-year-old professed he never stays anywhere for more than a week. If he does, it just feels strange to him. Although, the current situation, along with his baby, might have rooted him in one place for now. And his luggage usually comprises of Louis Vuitton and Mulberry. Every place he's got, from Europe to the US, have been styled differently, like one "red passion suite" in Milan.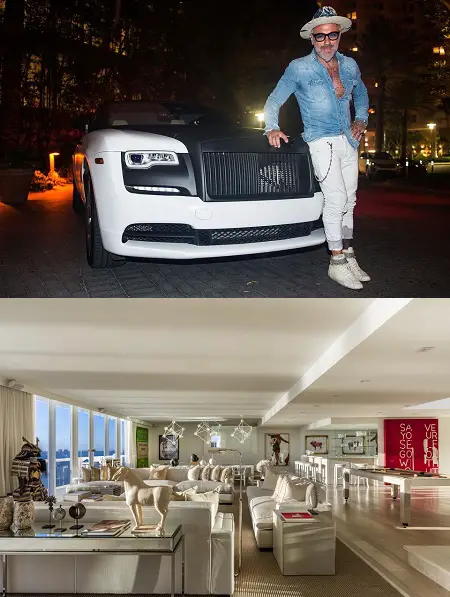 He's always got a fancy background as well.
Photo Credit: Romain Maurice, Getty Images for Haute Living / Douglas Elliman
The other main base was in the US, the Sunset Harbour penthouse in Miami, to be exact. On the 26th floor, he personally designed his penthouse that overlooks the Biscayne Bay and calls it the S2S (Sunrise to Sunset). The location also helped him launch his DJ career.
The 2500-sq-ft living salon's star feature is the DJ booth, with a host of extravagant luxuries like the pool table, vibrant posters, a Mongolian warrior costume, the art collection, a herd of rocking sheep and even a life-sized ostrich.
Learn About: The D'Amelio Family's Net Worth
With probably family life calling him, he listed the penthouse for sale in April 2020 for a massive $10.9 million, $3.4 million more than he bought it for in 2015.
Some of His Shares and Assets Were Alleged to Have Been Seized to Service Debts
With his lifestyle and life partner, there's no shortage of people jealous, reaaallly jealous, of him. And when reports came about in August 2017 that he was in financial trouble, social media was full of parody comments about him. An Italian tabloid, Quotidiano, ran a story about how he had a yacht, some villas and his shares in the Casalunga Golf Club seized to pay off a €10.5 million ($12.25 million) debt.
The Independent reported the story, stating his yearly salary from IMA Group as about €5 million ($5.83M) a year. He reportedly told the Italian publication that it was "just a little debt" in comparison to his business's massive earnings. Either way, people on social media made a mockery of his troubles. They even made a Facebook page called Find Gianluca Vacchi a job.
The tweet translates to "It is a short step from the yacht to the pedal boat." Either way, he's never stopped flaunting his ostentatious lifestyle on social media henceforth (a fancy worth just for the feel of it).
He's Released a Self-Congratulatory Book AND a Music Single
In addition to punishing critics with more eccentric posts, he's also released a book to congratulate his own life and the transition of lifestyle, although before the negative reputation. Titled #Enjoy, it was released in 2016 and writes about his decision to retire from his 20-year business career at 45.
He's always adhered to music since his changing lifestyle. And while launching his DJ career, he also released his first-ever single, Viento. In this video, he's dancing to an Indian song on TikTok. He also starred in the viral J Balvin music video.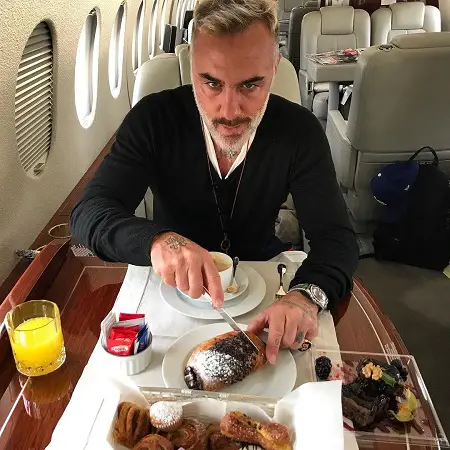 What's next for him? He told BI that he was looking to be an actor, but that's yet to happen. Still, there's a good reason he could be in the next Dos Equis commercials.
Stay in touch with Celeb$fortune for more celebrity Net Worth content. Keep checking the Focus section for more updates.