Billie Eilish is an American Singer/Songwriter who is already a millionaire. Learn about how she started on her road to fame and what sources helped accumulate such an impressive net worth. Also know how well 'Ocean Eyes', 'Bad Guy', 'When We All Fall Asleep, Where Do We Go?',  and all her other songs did on various charts like Billboard.
There's really no need of introduction for this teenage sensation. While girls her age are out there getting fame for ridiculous things, Billie Eilish is one of those who chose to break that norm and make good honest music, if you are into that kind.
Born on December 18, 2001 (age 18), Billie's fame began with a stroke of luck, but it wasn't just that. It was her talent that got her to where she is. She writes her songs herself and has a unique kind of music style (even though it may be too common, she does it the best).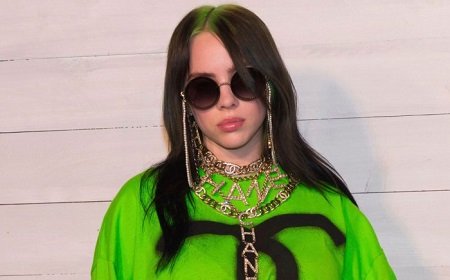 Her style may weird you out, but it's cool.
Source: Shutterstock
At such a young age, she is already a millionaire. Her signature sense of style also attracts followers from all over the world. The clothes she wears also has people wondering why she wears it (she's declared it'll change in 2020, but it may take some time for it). Regardless, her net worth is unbelievable for a girl her age.
Billie Eilish's $8.5 Million Net Worth Is Completely Accumulated from Music
At the age of 18, Billie Eilish has an astounding net worth of $8.5 million as of November 2019. Her major source of income is obviously music. But what people don't realize is that recording music isn't the only thing she does. While writing songs for herself, she also does it for movies and goes on tours quite often. Additional money also comes off of merchandise that is sold in her name.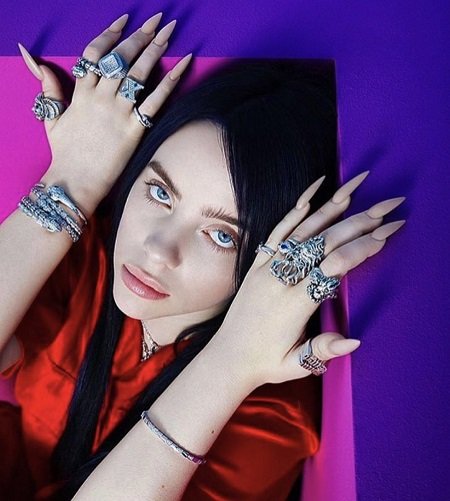 Billie Eilish has a Net Worth much more for her age.
Source: We Heart It
For a singer, earning that much wealth in their debut years is not so common. But Billie has done it already. Ocean Eyes was the song that broke her into the music scene, and it has gone platinum since it was first uploaded to SoundCloud in early 2016. In addition to all the music in between, her first studio album, When We All Fall Asleep, Where Do We Go? stood at No.1 on Billboard Hot 100 Chart. That made her the first woman born after 2000 to make it to the top.
'Ocean Eyes' Was Actually Made for Her Dance Teacher Who Needed a Song for His Dance Choreography
Billie was turning 14 in 2015 when her dance teacher wanted original music for his new choreography, and she made Ocean Eyes in October that year out of her whim. She handed it to him while meaning it to be featured in her next dance routine. He was so impressed with it that he uploaded it on SoundCloud in early 2016.
Watch: Billie Eilish's First Music Video - 'Ocean Eyes'

The song was discovered by the site, Hillydilly, which gave it a huge push among the public. Several major record labels were in line to get the rights to the song. It was eventually released worldwide by Darkroom and Interscope Records with the music video in March 2016. Now it already has 130 million views on Spotify and was certified Platinum in 2017. Money started rolling with that song too.
Music for Movies and Chart Toppers
The 17-year-old then released two singles, My Boy and Idontwannabeyouanymore, followed up by six more songs every Friday to finally compile an EP, dont smile at me, and released it on August 12, 2017, via Darkroom and Interscope Records. The EP made it to #3 on the US alternative chart, as well as #7 in Norway, #8 in Sweden and #20 on the Billboard 200. Meanwhile, Ocean Eyes was certified gold and reached #96 on the Billboard Hot 100. So was Bellyache from Idontwannabeyouanymore.
The talent she has for writing songs has been exploited in the movie business as well. Her collaboration with Khalid on the song, Lovely, was used in Netflix's 13 Reasons Why Season 2. It reached #4 in New Zealand and #5 in Australia. Her music can also be noticed in movies like X-Men: Apocalypse and Everything, Everything. She also co-wrote Your Eyes for The Knocks' EP, Testify.
Watch/Listen: Billie Eilish in Collaboration with Khalid - 'Lovely'
You could say 2018 was the most silent year on the charts of her three-year debut in the music career. She released three singles, Bitches Broken Hearts, You Should See Me in a Crown and When the Party's Over. She still was highlighted with the last of the three songs making it to #3 in New Zealand and #10 in Australia.
2019 came with a bang for her. She released her first official studio album, When We All Fall Asleep, Where Do We Go?, in March/April, after compiling up the 2018 songs and others record the same year. It went No.1 on Billboard Hot 100 Chart, the first 21st century female artist to do so and the youngest female to spend more than a week at the top, while also topping the charts in the UK, Australia and Canada. It also broke the record for the most songs simultaneously on the Billboard list for a woman.
Update: So, here's everything that we've missed here: Her house, her cars, her Grammy records and more.
The album was certified Double Platinum by June 2019, but there was one song in particular that made the biggest waves. Bad Guy became the No.1 Billboard Hot 100 Single. It also got her nominated for nine different awards at the MTV VMAs and won her the New Artist and Push Artist titles. AMAs are up next.
Her Brother Composes All Her Songs and Toured with Her
Not to be called thrifty, but all the songs written by Billie have been handled in production by her older brother Finneas O'Connell. He composes all the songs and helped her handle many other aspects of fame. All her family members are in the music field somehow, and thus it seems, music is in her blood.
The brother-sister duo is the true talent to the music we listen to from Billie.
Source: Finneas O'Connell
Finneas's help has been extended when Billie tours as well. Given her age, it makes sense, but it's the connection they have to make beautiful music together that makes the siblings stick together in everything. After releasing don't smile at me, Finneas added a drummer to their team and set out for Billie's first tour ever, Where's My Mind? tour. They went and performed in festivals in the US as well as in Australia and New Zealand.
As it is quite common, tours also bring in a lot of money, and Billie has also gotten the best out of it. She'd been touring nationwide non-stop since February/March 2019 and after a little break she is taking, she will resume the worldwide Where Do We Go Tour in March 2020. Meanwhile, she released a new song everything i wanted on November 14, 2019.
It begins with the US, and believe it or not all the national tour tickets have been sold out already. Tickets to her concerts cost about $234 on average. Imagine the bucketload of money she will bring back home from numerous sold-out stadiums. She leaves the US/Canada in May towards Mexico. It's downwards since then to South America before leaving for Europe in July. Portugal is the first in Europe.
Each and everything that she does for music will continue to pile up her net worth, the Gold/Platinum certificates, tours and even merchandise are her income sources. With such a young age, the $6 million is bound to soar in the coming years. Everybody is in love with her and her songs.
Fact: Her choice of words in her songs might be attributed to the fact that she is a patient of Tourette Syndrome. Still, it fits perfectly with her style. And she loves to tour, but fans want her to rest and have even started a petition for it.
Keep checking
celeb$fortune
for more Celebrity Net Worth updates.