Elon musk who is just in his late forties had already made his way to the 40th richest person in the world as per Forbes. He is the man worth $23.6 Billion. So let's have an overlook of his journey towards such dreamy 'eleven digits' number.
Born and bred in South Africa, Musk now holds the citizenship of Canada and the United States. He is the co-founder of a world-renowned American automotive and energy company called 'Tesla.' Moreover, the entrepreneur is the founder of rocket and Spacecraft launcher company 'SpaceX', that has a notable impact and revolutionizes space technology. 
Education:
At 17, moved to Canada to attend Queens University,

Bachelor's degree in economics from Wharton School,

Bachelor's degree in physics from the College of Arts and Sciences. 

Enrolled for Ph.D. in applied physics and material sciences at Stanford University but dropped out just in two days. 
Company and carrier: 
Space X and Tesla founder Elon Musk
SOURCE: Daily Express
SpaceX: Founded in May 2002, ($33.3 billion, CNBC report) 
an aerospace manufacturer and space transport services company.
 Tesla:  Founded in 2003 but he joined in 2004, the year after it was founded, ($770 Million)
an electric vehicle manufacturer 
SolarCity: Created in 2006 
a solar energy service company
OpenAI: Co-founded in 2015 
a nonprofit research company aiming to promote friendly artificial intelligence 
Neuralink: Co-founded in July 2016
a neurotechnology company focused on developing brain-computer interfaces
The Boring Company: Formed in December 2016
an infrastructure and tunnel-construction company 
One interesting event in Elon Musk's life, he became a multimillionaire in his late 20s when he sold his start-up company, Zip2. In 1999, Elon and Kimble Musk used the same money they received after selling Zip2 and found x.com, an online payment company. later they sold the same company and which led to the creation of PayPal as it is known today. 
Musk found his third company SpaceX in 2002 as an aerospace manufacturer and space transport services company. He then joined Tesla Motors a year later of its establishment as a CEO, and shifted a paradigm and bring about change in people's perception on the electric motor, which then they considered less powerful and inefficient to compete in the market. 
Recent lunch of Tesla: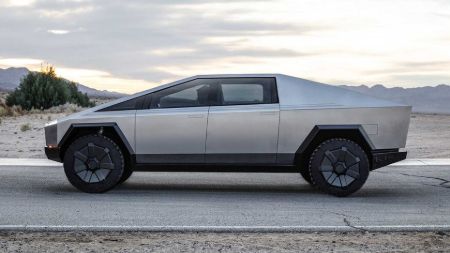 Tesla CyberTruck
SOURCE: GadgetInfo
Specification:
Base Price: $40,000

Zero to 60 mph in 2.9 sec

a stainless steel body

14,000-pound towing
It is made of a steel alloy, scratchproof and on top of that, it is sledgehammer- proof. The glasses are extremely strong and as he says, it is also a bulletproof to 9mm shells. His creativity and actions made us witness the impossible be it in design, power, and structure. 
The technology entrepreneur journey of being an engineer, technology entrepreneur and investor started in 1995 and is still going on. Throughout these years, his multiple successful ventures helped to earn billions and created a remarkable impact in the society. Billionaire entrepreneur Elon Musk's vision, "The journey to Mars and beyond is possible for anyone of their invention."  
Winding all up, one of the leading innovators and genius mind holds a staggering fortune of $23.6 Billion via which he's not just living but enjoying the life of riches.
To find more Net Worth details of your beloved celebrities surf around cleb$fortune.