If you are a big fan of the games Roblox and Minecraft, there's a good chance that you know the popular gaming group of YouTube personalities called KREW. Kimberly La, aka GoldenGlare (September 29, 1993), is a Canadian gaming YouTuber and a member of KREW best known for her funny roleplay, adventure, challenge, and mini-game videos, which she creates using the game creation platforms like Roblox, Minecraft, etc.
Kimberly La or Kim in short also popular as GoldenGlare known for her impressive and creative gameplay and has achieved considerable recognition and success on the platform. She live streams her games on YouTube so that her audience can watch her play video games with brilliant narrations. She is a big fan of K-pop groups BlackPink and BTS and also loves singer Ariana Grande.
GoldenGlares Life Before Fame: Know More About Her Siblings, Parents, And Boyfriend.
Kimberly La, before becoming full-time gaming YouTuber, used to be a barista at a local Starbucks and even worked as an accounting clerk for the same college she studied at. She quit both her jobs after her success in the gaming scene.
Coming from a middle-class family, Kim and her siblings used to work in their family-owned restaurants in order to help their parents. And now, after getting success in the gaming world, they have made sure that their parents don't have to work anymore. She is of Canadian-Chinese-Vietnamese descent as one of her parents is Chinese who grew up in Vietnam.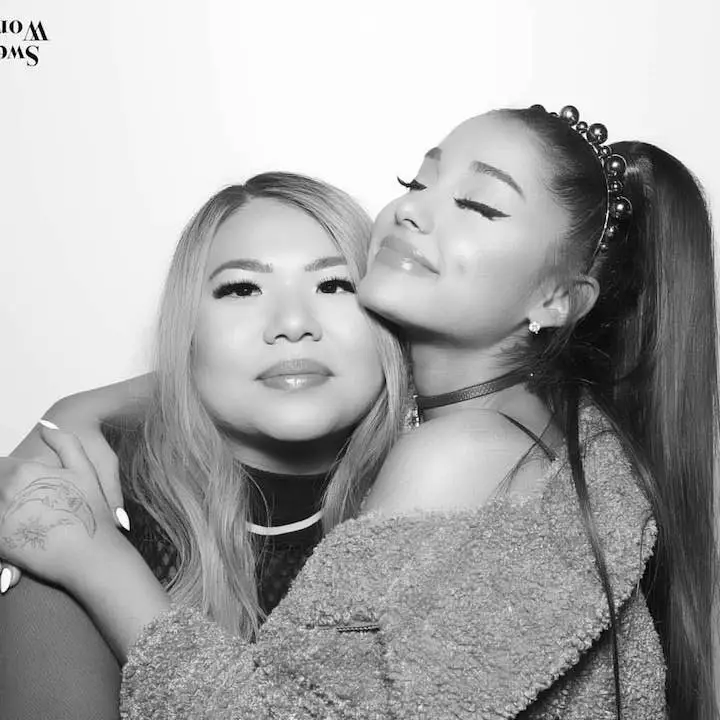 Yes, she's a big fan of Grande.
Photo Source: GoldenGlare, Instagram
GoldenGlare is the second eldest among five siblings, PaintingRainbows (Betty La), Lunar Eclipse (Wenny La), ItsFunneh (Kat, who is the most popular of them all), and DraconiteDragon (Allen La). She also has five fur babies including two cats and three dogs named Kiaria, Ezera, Alven, Dembe, and Reinhardt.
Recommended: There's So Much to Know About Kyedae Shymko.
Although seeming very open and extroverted in her videos, she knows how to keep her professional life separate from her personal life just like her siblings. The 29-year-old has not even revealed the name of her parents, let alone her boyfriend. However, with her impeccable video gaming and video editing skills, there's no doubt she has won millions of hearts.
How Much Is the Net Worth of GoldenGlare?
As per estimating sources, GoldenGlare holds a net worth of $500,000 as a gaming YouTuber and social media influencer. She created her YouTube channel, GoldenGlare on December 27, 2009, but posted her first video, Saving Christmas - Grumpy Grinch (Minecraft Roleplay) only after six years.
She now has over 1.46 million subscribers and a 123 million total views count, from which she makes an average of $4,100 per video through ad revenue. Having posted over 90 videos, her channel is the second most active channel among her siblings after Kat aka ItsFunneh, the most popular among her siblings with 9.14 million subscribers.
Their individual channels have more subscribers than their collaborative one.
Photo Source: GoldenGlare, Instagram
One of the most popular videos on her channel is STEALING CANDY FROM PRISON!! | Roblox Prison which got over 6.2 million views. Her username in Roblox is GOLD3NGLARE with the display name Gold and also has an alter ego character named Goldboi with which she acts as a male version of herself.
With the huge following on YouTube, it is no surprise that she has a major fanbase on Instagram as well. She has garnered over 327K followers on her Instagram account, GOLD (goldenglare_), from which she earns around $1,300 per sponsored post.
Similar: Meet Gracie Haschak, Also the Second Eldest Siblings of the Haschak Sisters Dancing Group.
She and her siblings also have a collaborative youtube channel called KREW having recently passed over 1 million subscribers where they post short videos and keep the fans updated about their work and life. They collect around $7,800 per video through ad revenue from this channel, although they have only posted so few times.
To add further to her net worth, she and her siblings came up with their own branded Merchandise available at krewdistrict.com which sells all sorts of clothing apparel and accessories like tees, hoodies, crewnecks, tote bags, lanyards, joggers, pillow bags, and many more with KREW imprints on them. They have also made their own game available on the play store called KREW EATS.
Stay tuned and connected to Celeb$fortune for more content from the entertainment and social media world.