Amazon co-founder and ex-CEO, MacKenzie Bezos is the ex-wife of Jeff Bezos, the richest man on Earth. She is also a writer and philanthropist. But her billionaire net worth is collected from the 75-25 divorce settlement of the 'Amazon' stakes from Jeff. Every detail here.
Welcome to the Billionaire club, MacKenzie Bezos! Following the split and official divorce from the Amazon CEO and the richest man on earth, Jeff Bezos, the divorce settlement has shot her personal net worth directly to billions. It is the most expensive divorce after all.
By profession, MacKenzie Bezos (née Tuttle) [b. April 7, 1970] is an author/writer/novelist. She is also an excellent Philanthropist known for her works with the anti-bullying organization, Bystander Revolution. But she was instrumental in the financial success of Amazon, as well as in the foundation of the online shopping platform. In fact, they brainstormed the name 'Amazon' for the company almost named 'Relentless.com'. They separated in January 2019 when they announced they would be getting a divorce.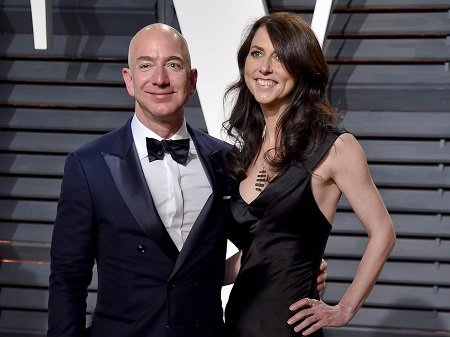 They were both important in Amazon's foundation.
Source: Evan Agostini, Associated Press
While it remained the Bezos couple who were the richest in the world for the 25 years that they were married, Jeff's name to the headlines. But with their settlement of the 75-25 split of the Amazon stock, her fortune is a separate entity that made her crack into the billionaire ranks.
The Net Worth of $36.8 Billion at the Time of the Divorce Made Her the Third Richest Woman in The World
(The real-time statistics have changed MacKenzie's value and position)
Stock value is a tricky thing, it changes every hour. So different sources will have a different value of an individual's wealth. According to the settlement, MacKenzie agreed to let Jeff keep 75% of his 78.8 million shares in Amazon and she kept the 25% that made up 4% of the Amazon stock. The divorce between the two finalized on April 4, 2019, the moment Mackenzie's net worth reached $35.6 billion in accordance with the stock value of Amazon. But in August, Forbes reported Jeff had finally transferred the 25% of her shares to his ex-wife on July 29, 2019. The value at the time was $36.8 billion.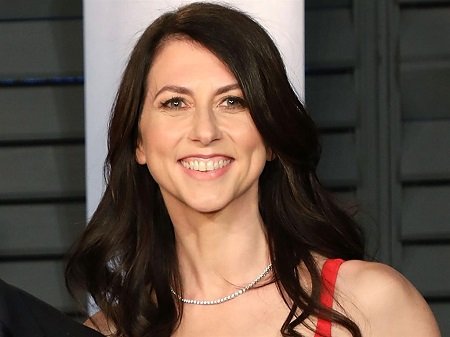 Her Shares on Amazon Stock is still her source of net worth.
Source: Taylor Hill, Getty Images
The event consequently made MacKenzie a billionaire and the third richest woman in the world, only after L'Oréal's Francoise Bettencourt Meyers and Walmart's Alice Walton. She was and will be among the richest people in the world overall as well. But Amazon's stock prices have fluctuated largely since then. (She is now the fourth richest woman in the world after being taken over by Julia Koch since the divorce.) Combining that with her philanthropic endeavors after the divorce as well, her net worth stands as $35.4 billion as of November 7, 2019, the time of writing. He primary source of income continues to be her shares on Amazon.
Why Did She Agree on the 75-25 Split Instead in the Usual 50-50 -> Philanthropy
It was odd news when the 50-year-old announced that she was happy to let her ex-husband, Jeff keep 75% of his shares in Amazon and the voting control of her 25% shares, as well all her interests in the Washington Post and Blue Origin. While many believe she deserves 50% of the wealth, she is extremely content with the settlement. If people knew about her philanthropic journey, they would know why. Of course, she did a lot of menial work during the beginning of Amazon, she knows the wealth is too much for her to keep.
The writer had already stated in May she would sign the Giving Pledge, started by Bill Gates and Warren Buffet, meaning she would give at least half their personal wealth for charity. Jeff hasn't signed it yet, but he did pledge $2 billion last year as charities for homeless families and to build Montessori-inspired schools.
They also contributed $15 million together in 2011 to their alma mater for creating a center for brain study. Next, they cashed in $2.5 million in Washington to support same-sex marriage in 2012.
The mother-of-four has been very giving in the past too. In 2014, she founded Bystander Revolution which provides advice to people to eradicate bullying in today's world. She started it after realizing that the perception among bystanders of bullying was one of the biggest barriers to changing the bully culture. Its contributors include a host of big-name celebrities, singers, actors, activists and everyone who feel the need to join them, while MacKenzie remains the executive director.
Sales of Her Books Are Modest, but She Won the 2006 American Book Award for 'The Testing of Luther Albright'
If there's one thing MacKenzie loved most was writing from a very young age. While her two published books were much loved, no one got to read the first thing she ever wrote. According to her bio on Amazon.com, she handwrote a 142-page book called The Book Worm which was lost in a flood.
It is well-known that she studied under Pulitzer Prize-winning author Toni Morrison at Princeton, which was a good enough sign that showed would win something too. She met Jeff when being interviewed for the hedge fund, D.E. Shaw in 1993. She pursued the passion while working in Amazon after its creation as well and published her first official book, The Testing of Luther Albright in 2005, after working on it for 10 years. The hard work paid off as she won the American Book Awards in 2006.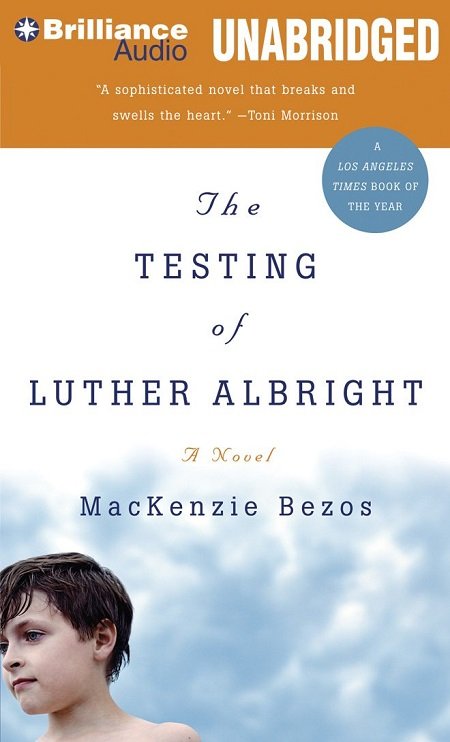 She will never give up on her passion.
Source: Amazon
She worked on another novel, this time, not consulting Jeff about it at all. She completed the second novel, Traps, in 2013. The sales of both the books were modest, selling a few thousand printed copies. But what she got from that is measly compared to her current fortune. But she won't give up on her passion, and we may see yet another book, sort of like a memoir, from her.
How Could the Property Division Might Have Happened — The Houses and Kids' Custody
Over the course of their marriage, the couple bought a lot of real estate properties. While all of them are not known, the most prominent ones are probably easy to split. Not that they would do a cash division, they likely did what's best for their four kids.
The couple bought a 5.3-acre lot in Medina, near Lake Washington, in 1998 for $10 million, which was valued at over $50 million in 2005 after they bought another estate next door. They did not have a prenuptial agreement during their marriage, but since they agreed to a settlement, a judge just has to sign off the agreement. As it would be convenient for the kids, the two estates might have been divided between the two.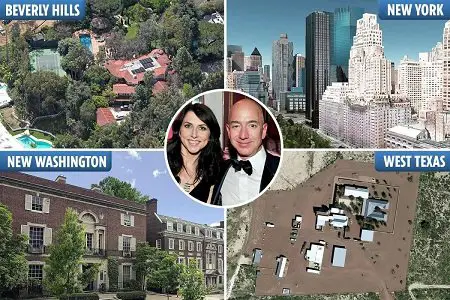 They still spend time with their kids just as before.
Source: Getty
The couple also co-owned a mansion and a contemporary home, bought for a total of $37.4 million in 2007 & 2018 respectively. That likely can be justly divided. They bought a West Texas ranch where Blue Origin exists. According to the agreement, that might've already gone to Jeff. Similarly, the Washington, DC, mansion they bought in 2015 for $19 million would also be let go by MacKenzie. As for the New York City apartments purchased for $7.65 million and $5.3 million can be kept for her since it is an area for an author like her. Realtor has explained it excellently, here.
Despite the divorce, the relationship has not gone sour between the two, and it seems they will hash everything out like the geniuses they are. They need to do that for the children too. There's also the matter of whether MacKenzie will change her last name again or not!
Stay tuned in to celeb$fortune for more Net Worth contents of other billionaires.