Tobi Lutke is a billionaire who founded 'Shopify' and is the CEO of the firm. Learn everything about his net worth story along with some wiki/bio for the fun of it.
Tobias "Tobi" Lutke might be known as a businessman today, but he was actually a passionate programmer and a snowboarding enthusiast. Both of the latter, combined, led him to create his greatest invention ever, which in turn would make him a billionaire. He is the founder, co-owner and the current CEO (since 2008) of an e-commerce platform named Shopify Inc.
The 39-year-old [July 16, 1980] created Shopify for not just himself in mind, but any businessman who needed an online platform to expand their business, just like he did with his little startup. Now the corporation has over 800,000 merchant customers, each trying to expand their own businesses.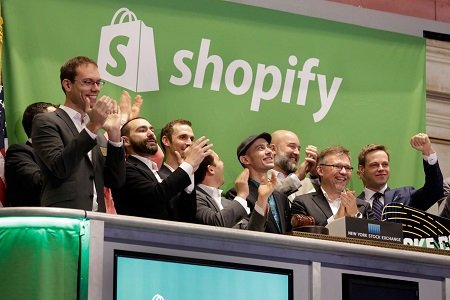 Tobi has nothing but praises coming his way.
Source: The Software Reporter
Tobi did everything right to maintain his startup, unlike many others that fail due to the 'wrong' choices. He gained his billionaire status only a couple of years back, and his net worth is almost doubling every year. It's all thanks to the meteoric rise in Shopify Inc.'s stock value.
Tobi's Net Worth Doubled in Six Months to $3.2 Billion Since January 2019
Forbes calculated Tobi's wealth in February 2019 to be $2.8 billion, but Shopify was on the way to a meteoric rise in stock value at the time. They have recalculated the figure in August and reported Tobi Lütke's net worth to be $3.2 billion. Forbes is yet to update its yearly calculations, so expect to see that number increase continuously. The rate is exceptional.
Shopify's stock, which trades on the New York Stock Exchange (NYSE) under the ticket $SHOP, skyrocketed by 106% in August since mid-February and is valued at $42.3 billion.  Tobi owns almost 9% of the Ottawa-based company, and the rest is backed up by investors and consumers who he has excellent relationships with. His recent figure makes perfect sense now.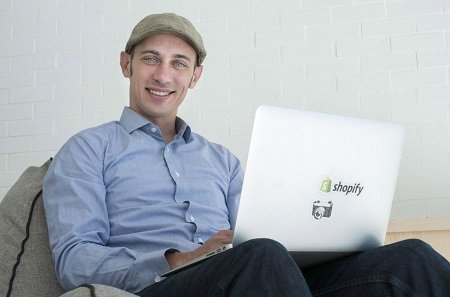 The stock value of 'Shopify' is (at least) doubling every year.
Source: Paul Chiasson, The Canadian Press
During Forbes's calculations, the company was already in its meteoric rise in shares, which began in January. It surpassed eBay in terms of market capitalization in the next six months and reported $362 million in revenue only in the last quarter, an increase in almost 50% during the same time last year. It means it has already become the second-largest e-commerce platform, only behind Amazon valued at $906 billion. Likewise, Tobi's net worth also doubled in those six months.
Tobi also serves as the board member for the government-run Canada Learning Code, which received $9.4 million from the government for the second phase of its CanCode investment earlier in July. It received $110 million in the last two years. He's been a part of it since it launched in October 2016. Goal - create 10 million meaningful technology education experiences for Canadians until 2026.
The German Businessman Wanted an Online Platform for His Snowboard Business in Canada - He Just Created One!
The Story of How He Coded 'Shopify' and Why He Moved to Canada From Germany
The German-born businessman was a bright one when he was young. He taught himself to code as a programmer at the age of just 12 and joined high school a little later. But when he was 16, he dropped out of it because he thought he was wasting his time in the academic path and lost his respect for the institution.
Computers were his thing, so he joined an apprenticeship as a Fachinformatiker — computer programmer —  with a company in his hometown called BOG Koblenz (Koblenzer Carl-Benz-School), a  subsidiary of Siemens. There he fell in love with the programming language, Delphi, run by Jürgen, whose methods and the environment he still aspires to replicate at Shopify. Full story in Tobi's words -> here.
Many don't know that he's married with three kids. He loved snowboarding when he was young, and that's how he met her. He was visiting Whistler, B.C., once for a vacation when he met Fiona McKean.  They started dating, and he was so in love with her that he moved to Ottawa, Canada, in 2002, just for the sake of being with her. He brought only carry-on luggage from Germany at the event. They soon married and are still living there as happily as they can.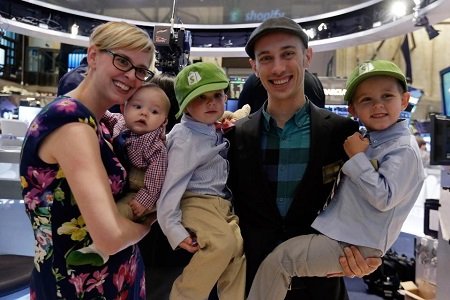 He soon found the love of his life in Canada and has three children with her.
Source: Richard Drew, Associated Press
Following the settlement in Ottawa, he started a small business of selling snowboards online with a store called Snowdevil in 2004 which saw sales dwindle down after the winter. There were no satisfiable platforms for him for his business. Using his own programming background, he coded for Shopify block-by-block himself. Thus, Shopify was founded in 2004. His wife was expecting their first child back then.
It's basically a store where you can buy stores and shelves for your own business. He and his partners, Daniel Weinand and Scott Lake, saw the potential in Shopify, rather than in Snowdevil, and when other retailers were asking if they could license it, he launched Shopify in 2006.
Many, many people have shares in the company. After Tobi's 9%, his father-in-law, Bruce McKean has a 4% stake as reported by Bloomberg's data in November 2017. He was the one who helped Shopify survive during its initial years and was the chairman from 2007 to 2010. Meanwhile, the 2000 employees owned over 20% of the firm.
The Rise of Shopify and Tobi's Net Worth
The success was relatively slow at the beginning of its years, but steady. Of course, the support of Bruce's many cheque helped a lot, but even after he left the chairman post, better things were to come. Shopify raised $22 million from investors in 2010 & 2011 and acquired Select Start Studios for its Android and iOS apps & domain name 'mcommerce.com' in 2012.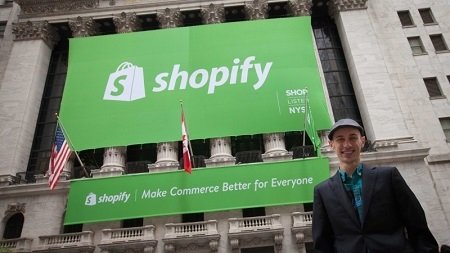 The success just kept on going.
Source: Ottawa Business Journal
In December 2013, when Shopify raised $100 million in a deal led by the venture investing arm of the Ontario Municipal Employees Retirement System (OMERS Ventures) and New York's Insight Venture Partners, close sources said the company's valuation reached its $1 billion mark, something only a handful of companies worldwide did at the time. Tobi owned 20% of the firm back then. The sales increased from $132 million in 2010 to $1.6 billion then.
This Shows Nothing Escapes Controversies
As investors came pouring in, his stake-percentage decreased, but by no means decreasing his net worth. It's because Shopify was doing much better with more money coming in. They went public on the stock market in May 2015. Tobi became a billionaire in 2017 but in October that year, the Citron short-seller Andrew Left alleged the company's many users were doing badly in business.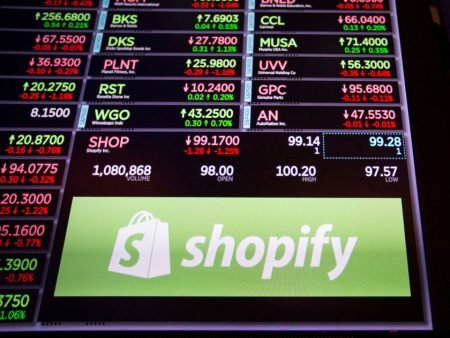 2017 was the only time the stock value of 'Shopify' declined quite heavily.
Source: Bloomberg
That led to some serious drop in stock value and a drop in Tobi's net worth from the billionaire status. After striking down everything against him, the figure soared back up again, and Tobi was re-evaluated to be $1.17 billion worth in November 2017. And Shopify was worth $12 billion.
For the last two years, the shares have gone up by over at least 120% each and now valued at $42.3 billion, as discussed earlier. The key to making the investors keep investing in a business is being upfront about it with them, like he is about the things he doesn't know.
The father-of-three started another venture called Shopify Studios, in January 2019, to develop entrepreneur-focused documentaries. They already signed deals with Anonymous Content, Spoke Studios and Saville Productions before that.
In September 2019, the company announced the acquisition of 6 River Systems Inc., to handle their Shopify Fulfillment Network that was announced in June. The transaction was valued at approximately $450 million. Its primary target is to ensure timely deliveries for low shipping costs, increasing the speed and reliability of warehouse operations. 6 River Systems is expected to generate annual billings of $30 million while increasing Shopify's expenses by $25 million in 2020.
The Globe and Mail's CEO of the Year 2014 has loyal customers all over the world with the likes of Unilever, Kylie Cosmetics and MVMT. Kylie Jenner's Kylie Cosmetics pays $480,000 every year for its services.
The $1 Win Over Elon Musk and His Car From Tesla, but He Still Rides His Bicycle to Work
As much as a marketing genius that Tobi is, he is just as humorous and humble. He's recently made the world laugh proudly at and admire his efforts for a greater good at the same time. It was in May 2019 when a YouTuber by the name of Jimmy Donaldson, aka 'MrBeast', decided to celebrate his 20 million subscribers mark by launching a campaign called TeamTrees. Everybody probably already knows about this.
There were suggestions (more like challenges) from the fans, and he thusly decided to start planting 20 million trees earlier in October. Over 300,000 people have donated to the cause when he already raised over $10 million until a few days ago. He also teamed up with Arbor Day Foundation, the largest non-profit, tree-planting organization. While the most popular donor remains Tesla owner Elon Musk with his $1 million, one person, in particular, broke the record in the most hilarious of ways.
Yes, Tobi Lutke donated $1 million + $1 to beat that record and make us all laugh heartily. According to the campaign's motive of planting one tree for every dollar donated, Tobi has lent an extra dollar for an extra tree. He has been a part of several other campaigns and charities over the years as well.
It not like he's battling out with Elon at this charity or their net worth numbers (the difference is huge, like $20 billion huge); Tobi's his customer as well. He owns a Tesla, but his humble nature drives him to use his bicycle to get to work more often than the car.
The house he and his family live in is not that fancy either. They only moved out of Fiona's parents' house after the big success of Shopify at the end of the first decade of 2000. They bought their own cottage, Opinicon, on Newboro Lake. It is very family-friendly and modest, to say the least. The three kids, Fraser, Sam and Tristan, enjoy the moments in the resort too.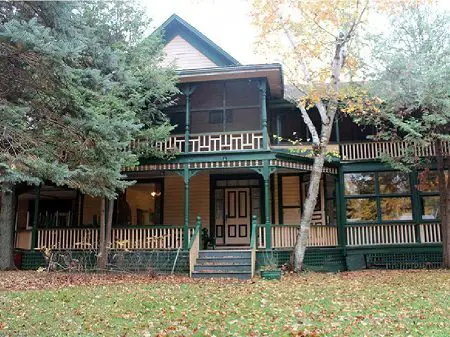 The Lutke Family restored the gone-under Opinicon Resort.
Source: Messy Nessy
For her, Tobi put in an offer for the Opinicon resort (which was on sale from 2012), because Fiona had a lot of good memories of that place. They took ownership of the 6.5-hectare/18-room property on January 29, 2015, and that became their summer home, or when they are not in the busy bustling streets of Ottawa. Tenders for the house started at $500,000, but the sale price was never disclosed.
Stay connected to us here at celeb$fortune for more net worth updates on the rich and the humble.