Meet the richest and the only billionaire from Swaziland, Nathan Kirsh. His net worth is accumulating at a consistent rate without any losses. Find out here about how he has built an empire with his Jetro Holdings company in the USA and Kirsh Group in Swaziland, what he owns and how much stakes he has on which companies.
Swaziland, modern-day Eswatini (referred to the country hereon), is classified as a developing country and is a landlocked one in Southern Africa. Whatever may the condition of the country be, it also has a billionaire in Nathan "Natie" Kirsh. He is the head of the Kirsh Group in Eswatini and has majority stakes of his US-based company, Jetro Holdings.
Born on January 6, 1932, in South Africa, he has triple citizenship (United States, South Africa, and Eswatini) but still identifies as a Swazi while living in Ezulwini, Eswatini, with his wife. Whereas, his group is based in the UK with equity and investments in Australia, Eswatini, the UK, the US, and Israel.
Watch: Nathan Kirsh's Interview with Irina Nevzlin; Get to Know Him First
The path began with a malt business venture. With clever investments in all his years, his net worth is nothing short of amazing. Not only is it impressive, but it is also still growing as we speak. That doesn't mean he keeps it all though. The increase is happening even with so much of his wealth contributed to those who need it in his home country.
Nathan Kirsh's Net Worth of $5.3 Billion As of November 2019 Is Over 112% of Swaziland's GDP
In 2018, Eswatini's Gross Domestic Product (GDP) was calculated to be $4.7 billion (2019 value won't be evaluated until the end of the year). As per the real-time net worth calculations of Forbes, Nathan Kirsh holds a net worth of $5.3 billion as of November 17, 2019. Do the math, and you get his value to be over 112% of the whole country's GDP. Meanwhile, Bloomberg amounts his real-time net worth to $6.17 billion right now. His world-billionaire ranking has also been increasing gradually as he is currently 383rd on Forbes' list.
The major source of that wealth is his 75% ownership of New York cash and carry operation Jetro Holdings, which he himself founded in the '70s. The company has control over 115 Jetro Cash & Carry and Restaurant Depot stores in the states. Another pile of fortune comes from Kirsh Holdings Group, his primary holding group, that owns half of Swazi Plaza Properties. It also owns 49% of Sydney-based Abacus Property Group, about 10% of Holmes Place, an Amsterdam-based gym chain, and a publicly-traded real estate investment trust.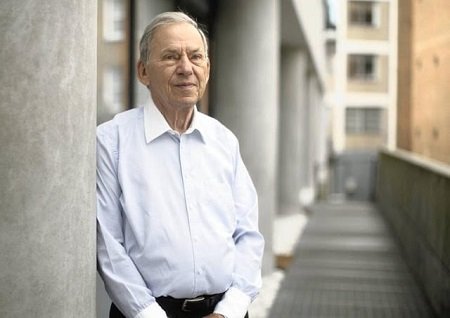 Kirsh is Africa's fifth-richest person.
Source: Getty Images
In addition, Kirsh also had stakes in Crest JMT Leather, a UK-based tanner; KiTec Industries, Mumbai-based pipe maker; and Yehud, an Israel-based Magal Security Systems. Costco Wholesale, Kroger, Metro, and Loblaw Companies are four publicly traded companies associated with Jetro.
To give you a sense of how much he earns, in 2012 alone, Jetro was reported to have generated at least $6.5 billion in revenue and $500 million in earnings before interest, tax, depreciation, and amortization (Ebitda). Meanwhile, the 2018 evaluations showed over an astounding $11 billion in revenue.
The 'Swazi' Billionaire Helped Turn Around Eswatini's Food Business and Status
Despite having residency in the UK & the US and the two other citizenships, when it comes to assigning a country to him, Swaziland/Eswatini will have to come first. Everything for him started there. His first hand at work was helping his mother with his father's malt factory in Potchefstroom in 1952. He established his own corn milling and malt business venture in 1958 in his home country and launched it with a £1200 inheritance after his dad died.
With enough success, the Swazi government made a deal with his company, it should purchase all the corn grown in the country. He had already helped reduce then-Swaziland's food dependency on South Africa, but then he became the sole importer of the crop.
Watch: Nathan Kirsh - There Are Wins, and Then There Are Losses
Investment choices were a boon for the 88-year-old. He returned to his birth country/South Africa for some more business opportunities, which started with the acquisition of Moshal Gevisser in 1970, two years after he entered the country. It was the time of apartheid in the country, a time in which the government banned white businessmen to operate in black townships. But Moshal Gevisser was a wholesale food distributor with a pilot cash and carry program, which meant he could sell the required goods to black shopkeepers. Thus, it became the dominant food retailer in South Africa.
There Was a Low; Acquisition of Restaurant Depot 18 Years After the Foundation of Jetro Was the Real Pusher for Billionaire Status
The business was booming. But after the insurance company, Sanlam acquired 49% of the stake at Moshal in 1983/84, trouble spewed. He wanted to expand into real estate, but a top executive had issued the construction of 22 shopping malls instead of the one that Kirsh had given permission for. Since they were all guaranteed by the company assets, through no fault of his own, massive real estate loans almost cost him his entire fortune. During the time of the national economic crisis, he approached a deal with Sanlam in 1985 that meant all his company assets were acquired by them in substitution to his capital.
One thing he came out as a winner in the negotiations was the complete control of Jetro Holdings. He had already established it in June 1976 in Brooklyn, which would be the turning point in his billionaire career. The existence of Jetro, which had only five stores on the east coast of the USA at the time, revamped his net worth.
Immediately after the loss of his footing in South Africa, he moved to the states in 1985 (or early 1986) to run Jetro. By the early 1990s, with 10 outlets across the US, it generated over $400 million in revenue. Then he sold 80% stake to Metro Holding, one of Germany's largest grocery conglomerates.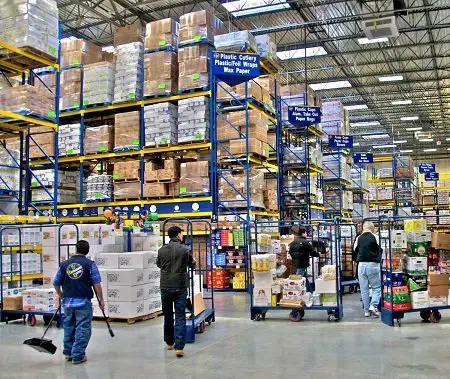 Restaurant Depot is a members-only wholesale food service supplier.
Source: Restaurant Depot
The income went on increasing every year and looking to solve the trouble between restaurateurs and bodega owners, he acquired Restaurant Depot in 1994 and opened his first in New York in 1995. Metro lost interest in the company and sold their stake back to Kirsh, despite several warnings from him that it was a bad idea and the financial growth Jetro was spearheading towards.
In 2003, Kirsh contacted Warren Buffett (Berkshire Hathaway) for capital at Jetro. Buffett initially agreed to buy a minority share of Jetro, but he passed on it after they couldn't completely agree on terms. In 2004, Kirsh sold a 27% stake to CCMP and Leonard Green. He also gave 10% of the company to its executives and employees. In 2012, he issued a $1 billion private placement in debt to pay a one-time shareholder dividend and another $1.4 billion next year to buy back about half of the stakes held by private equity partners. Thus, he retained his 75% interest in Jetro.
His company also included Mira Mag and Ki Corporation by 2006. He held a stake in Minerva Property Management in 2008. He earned $40 million with a run on Minerva in 2009. He also acquired Magal Security Systems in the late 1970s and listed in the Nasdaq in 1993. He was the director with a 24.2% stake in 2009, but he sold his elevated 40% stake in Magal to FMI.
Kirsh Owns One of the Tallest Buildings in London
Nathan Kirsh is married to Frances Herr since 1969 and has three children with her. Two of them are daughters, and one son, Philip Kirsh, is a businessman himself. Philip founded the Hot & Crusty bakery chain in New York, but he also handles his father's business, being the director of KI Corporation and working with the Kirsh Foundation, Nathan's charity, on the education sector in Eswatini.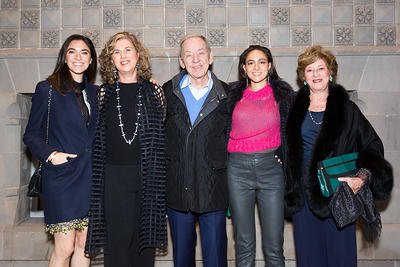 Philip's other sister in Justine Osborne (second right). Others (from left) granddaughter, Pamela Mirels; daughter Linda Mirels; him; Justine; and Frances.
Source: BFA
Philip is also married, to Rona Gluck, and with one of his sister, Linda Mirels, he acquired over $56 million worth of apartments, including a $30 million penthouse in NYC's Trump Tower.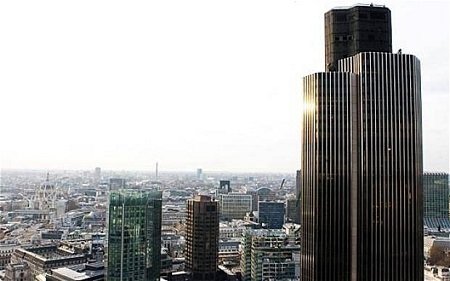 Nathan Kirsh is never letting go of this one.
Source: Alamy
In December 2011, Nathan himself completed a deal to buy the 600 ft. tall Tower 42 for £282.5 million ($366.27 million). It houses many important business suits and he does not plan on selling it, especially after a £50 million retail and office redevelopment at its EC2 site.
Philanthropy - Funded over 12000 Start-Ups & Successful Small Businesses
As with many of the richest billionaires of the world, Nathan also has invested much of his time and money towards philanthropy. He contributed towards many of ORT UK's charitable programs in 59 countries, but his main focus remains in helping the 10,000+ small businesses with starter capital in Swaziland with his Kirsh Foundation. He states that 70% of the recipients are women with an overall 70% success rate. He's also funded 700 startups in Israel.
In 2013, Kirsh donated £10 million (~US$13 million) to the London Business School (LBS) hoping to improve its endowment. His granddaughter, Pamela Mirels, received her MBA from LBS and was followed up by his grandson as well. He has nine grandchildren in total.
The same year, he was awarded the Jewish Report Special and Extraordinary Lifetime Achievement Award. At the 2015 ORT UK annual dinner, he was honored into its 1880 society with a Jewish Report Achievers award.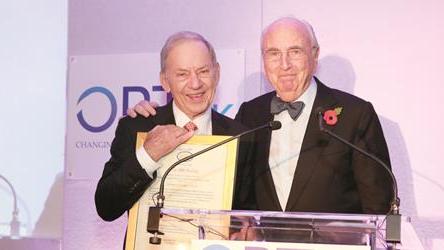 His philanthropic work is noticed by a lot of people.
Source: The Jewish Chronicle.
Earlier in April  2019, Kirsh and his wife celebrated their 50th wedding anniversary by donating $5 million for Soroka Medical Center in Beersheba, Israel, to open a new trauma center and emergency department. The hospital expansion will be named the Frances and Nathan Kirsh Emergency Department.
The story makes him a self-made billionaire which actually happened a second time since he was once a billionaire before the 1985 deal with Sanlam and lost the status for a brief while after that. His net worth will still keep on increasing, and when his son inherits it, he will be a direct billionaire with an even higher ranking in the world's richest list. He himself is a millionaire already.
Keep checking celeb$fortune for more Celebrity Net Worth updates.