Here's what you should know about James Charles' relationship with Noah Beck, his Coachella boyfriend, is he single or dating someone, and James Charles' jail baited.
James Charles (born James Charles Dickinson) is an American internet personality who is best known his YouTube videos about beauty, lifestyle, and makeup. The social media personality gained more popularity when he became the first male ambassador for CoverGirl.
James' self-titled YouTube channel, which he started in 2015, now boasts an impressive 20.2 million subscribers and 2,365,765,579 overall views on the account. Following his massive audience, the beauty guru is the number one beauty YouTuber on the platform and the world.
We have compiled some interesting facts about the internet personality, here's what we know about this amazing person.
James Charles Jail Baited? What Happened, What Does it Mean?
So, as we all know What is Jail Bait, if not here's what it means...
"Jailbait or jail bait is slang for a person who is younger than the legal age of consent for sexual activity and usually appears older, with the implication that a person above the age of consent might find them sexually attractive", as Wikipedia describes it.
Something similar happened with James Charles, well, it was not exactly the same thing but, our boy, James Charles had a little bit of slip up on social media, the star YouTuber was caught making a minor mistake while praising his one of the fans. Josue, aka Faze Sway, a Fortnite gamer, tweeted out a picture of his new haircut.
After a few minutes, James Charles responded by saying "they kind of look good," and after realizing Faze Sway is a minor, the beauty guru made another tweet saying, "oops I take it back, I had no idea you were 16, sorry lmao."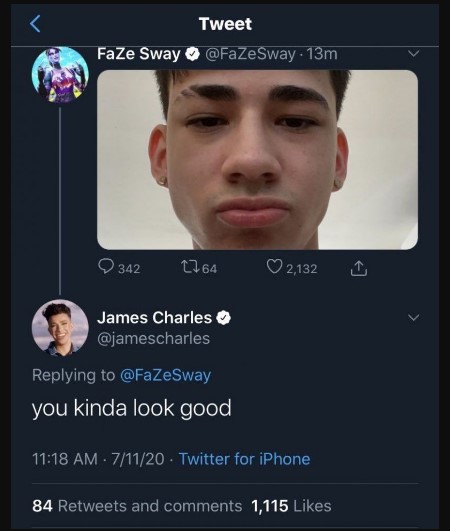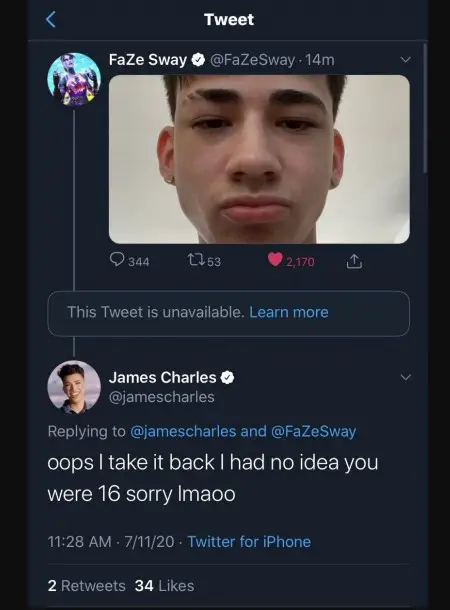 It was an honest mistake, complimenting fans is nothing of a big deal, however, things have changed of late, and James Charles swiftly apologized before it could create any more drama, however, people still named the incident, "James Charles Jail Baited."
Are James Charles and Noah Beck Dating?
The answer is no, James Charles and Noah Beck are not dating. Recently the duo made a video together on James' TikTok account, where the two are seen grooving to Saweetee's "Tap in" song, following which fans speculated the two are more than friends.
But on a video uploaded by Bryce Hall, James and Noah were just having fun while in Charles' house. The rumors, however, got so big, Noah had to personally address the matter on his Instagram. On the comment section, Noah Beck wrote, "I am straight, I love James but yes, I am straight. <3"
Who is James Charles Dating in 2020, and What About His Coachella Boyfriend? 
As of 2020, James Charles is single, he is not dating anyone and doesn't have a boyfriend. And about his boyfriend that we saw in the Coachella was a con artist, and James admitted he is pretty much done with him now.
When fans were circulating pictures of James and his alleged boyfriend at the time, James replied to one of his fans tweet, saying. "nope, unfortunately, I am still very single. This boy played me for months on end and is a disgusting con artist. I am thankful I had my friends with me to protect me."
But, wait, there's a twist, James tweeted out again, saying, "Shouldn't have tweeted earlier and I deleted it, and I apologize. I was angry because my followers clearly have caught on which is exactly what I didn't want..."
James did not disclose the name, however, it's the internet and you can't hide things for too long, after finding the name of the kid, James' followers, or should we call them sisters, started harassing the boy. Following which he uploaded his first video to address James' accusations.
James Charles' Coachella ex-boyfriend. He admitted he is straight, and he is not a clout chaser. He revealed he said he was straight multiple times to James but it was James who manipulated him.
Photo Source: The Viewers Choice YouTube
During the video, James's ex-boyfriend, Gage (a name suggested by the internet), stressed everything said about him was a lie.
And that's it for here, if you want some more in-depth information on James Charles, you should go here, it's another segment of our website, where we lay out things in detail! If you want to know what happened between Tati Westbrooke and James Charles, you should go here.
For more interesting content like this, don't forget to visit Celebsfortune!