When it comes to makeup, TikTok has been everyone's go-to source for information where you come across the products that you never knew you needed, with quickfire tutorials and hauls showing you the latest beauty releases. And one of the most loved beauty influencers on TikTok is Stephanie Valentine (b. December 16, 1991) aka Glamzilla.
Stephanie is a professional Canadian make-up artist, TikTok star, YouTuber, and Instagram influencer who is best known for her unfiltered and honest reviews on trending beauty products. She is a mix of Ecuadorian and Filipino descent and has five siblings.
She had been suffering from an autoimmune condition from a very young age and was very insecure due to rosacea, psoriasis, and eczema. Besides, Glamzilla recently got laser eye surgery as she is suffering from astigmatism and one of her eyes is near-sighted while the other is far-sighted.
From Being Kicked Out from Home to Becoming One of The Most Popular Beauty Influencers, Know about Her Journey To Fame.
Well, it might be hard for anyone to imagine Stephanie Valentine in any other profession than a makeup expert. But in order to fulfill her Asian mother's dream, she actually attended police school and graduated with honors (quite shocking right?).
Even though she always wanted to be in the makeup industry, due to her parents' persistence, she then worked as a court clerk. However, it did not stop her from posting glammed-up pictures on her Instagram page. After not being content with her job, she finally lost her last straw when her boss spilled coffee on the floor and asked her to clean that up.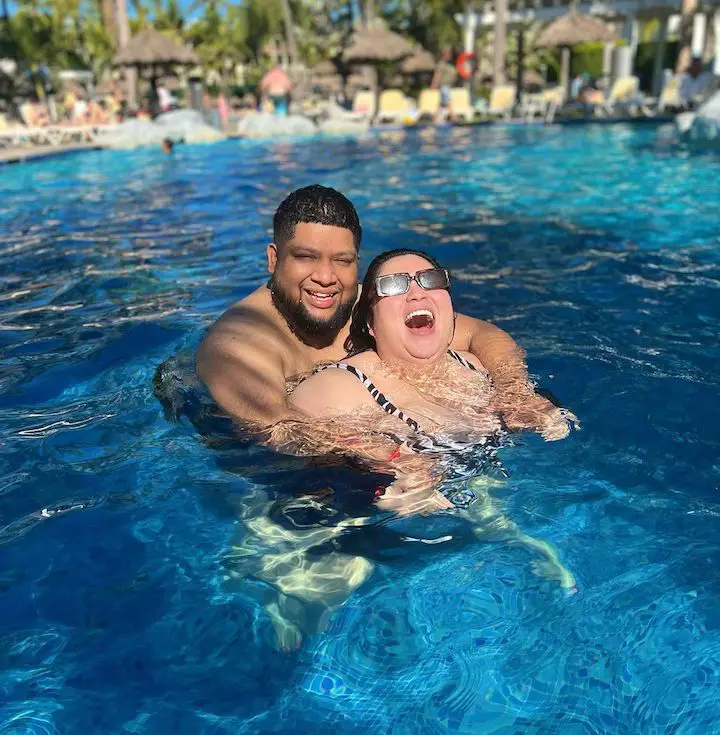 There was one person who got through to her during her formative years, and they are still together.
Photo Source: Stephanie Valentine, Instagram
After quitting her job, she then decided to be an Instagrammer for which her parents kicked her out at the age of 16. During that hard time when her own family had turned their back on her, her boyfriend, Bryon, supported her to follow her dream over his own.
As the influencer did not make any money for the first five years, her boyfriend worked 12 hours a day, six days a week from which they paid for their food, rent as well as makeup items. She finally got her big break after the video of her using NYX Shine Loud lipstick went viral all over TikTok which even grabbed the attention of NYX Cosmetics.
Recommended: Meet the English Makeup Vlogger, James Welsh.
Glamzilla then started getting tons of views and beauty brands started approaching her for collaboration. And now, she is supporting Bryon to chase his passion without whom Stephanie wouldn't have been able to achieve this success herself. Talking about their relationship, they have been together for nearly 14 years now.
Meanwhile, the Instagram influencer always believed in giving back and has a different way of helping, by converting her non-used makeup products into money and donating it straight to Red Door Family Shelter. She sells her unwanted makeup products to her fans through an event called Glamzilla Holiday Beauty Drive which she hosts every year.
Stephanie Valentine, aka Glamzilla's Net Worth In 2020: From Rihanna To Selena Gomez, She Is Everyone's Favourite.
According to the estimating sources, Stephanie Valentine enjoys a net worth of $500,000 thanks to social media sponsorships and endeavors. Well, she started her journey as a social media influencer through Instagram, however, it was her TikTok videos that helped her to reach this height.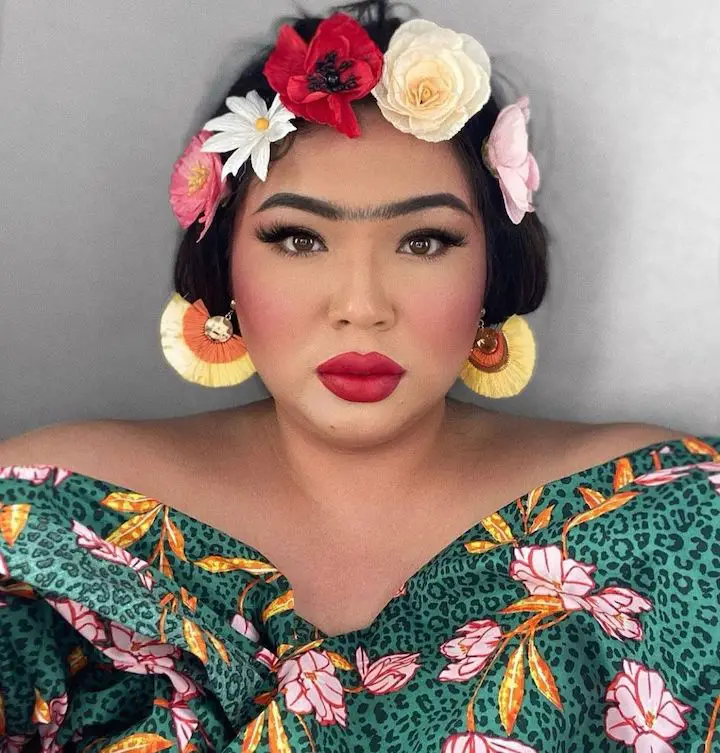 One video was all it took for her too.
Photo Source: Stephanie Valentine, Instagram
The Toronto-based influencer became a viral sensation after the video of her review of NYX Shine Loud Lipstick went viral over TikTok which literally helped the lipstick sales multiply by three times. Not only that, but Glamzilla is also credited for skyrocketing sales of KVD's Good Apple Foundation, Glow Recipe's Watermelon Glow BHA + PHA Pore-Tight Toner, and even bringing Maybelline's classic Fit Me Foundation back into the spotlight.
The 30-year-old makeup artist has now garnered over 1.5 million followers on her TikTok page, GLAMZILLA  (@glamzilla) from which she makes an average of $1,200 per sponsored post. Similarly, with over 379K followers on her Instagram account, Stephanie Valentine (@glamzilla), she earns around $1,500 per post through sponsorships and brand endorsements.
Also See: Madison Miller Is a Lifestyle, Fashion, and Haul Vlogger Continuing YouTube After Her Divorce
She no doubt has been a treasure in the beauty community and renowned all over the world for her honest makeup product reviews and beauty hack. What's more, even Rihanna recognized Glamzilla at Fenty Beauty and Fenty Skin party and admitted that she is a fan of her videos.
Stephanie started her YouTube career on June 29, 2015, and has garnered over 665K subscribers on her channel, GLAMZILLA. She makes an average of $1,900 per video from her YouTube channel where she has posted nearly 300 times.
Well, Glamzilla has also collaborated with prominent brands like Tarte, Haus Labs, Benefit Cosmetics, Torrid, NYX, Sephora, and many more. She also worked with Canadian leader, Penningtons during the launch of the 'Freedom to Be Me' campaign celebrating all women. Besides, she even hosts 'Beauty Pop Quiz' where she has invited celebrities and make-up enthusiasts like Selena Gomez, Alicia Keys, Patrick Starr, and so on.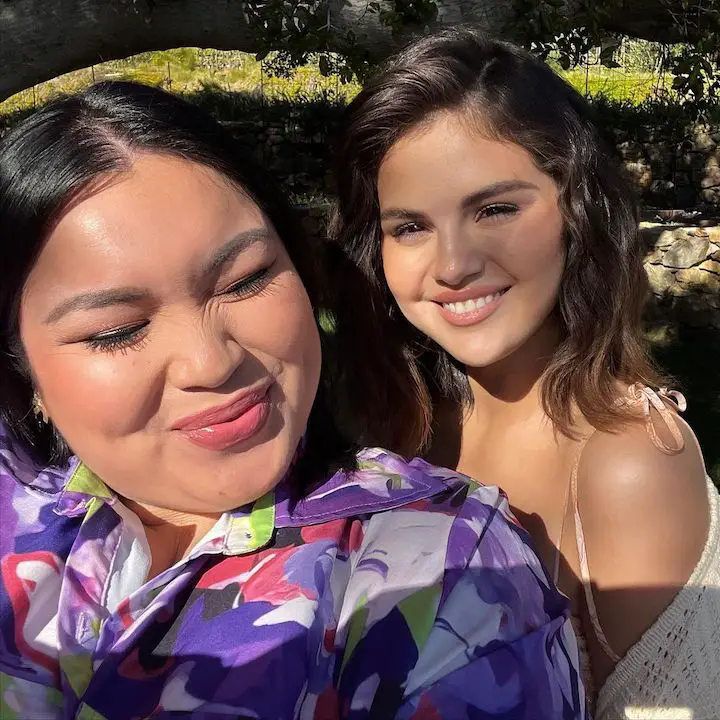 Of course, Gomez only recently started 'Rare Beauty' herself. Photo Source: Stephanie Valentine, Instagram
Not to forget, she also owns Glamzilla Pro which offers bridal services including consultations, bridal makeup trials, bridal makeup, wedding party makeup, ethnic bridal makeup, groom makeup, groomsmen makeup, and more starting from $50.
In addition to her creativity on social media, Glamzilla also got an opportunity to show off her makeup skills on the hit Kim Kardashian show, GLAMMASTERS! Valentine was featured in a book published by TikTok that celebrates the platform's API Content Creators and even voted one of the 2019 Top 26 Toronto-based Makeup Artists by Narcity.
Stay tuned and connected to Celeb$fortune for more content from the entertainment and social media industry.