Grab all the relationship details of the Dope actress Kiersey Clemons including details of her love life, relationship, girlfriend, and more. 
Recently the internet's been going crazy to know the dating relationship status of Iris West who played the crush of Ezra Miller aka Flash. Thou her romantic slo-mo scene was cut from Justice League, DCU fans & her followers were left more curious to know who Kiersey was dating in real & details her relationship status.
So in order to answer all your queries ahead, we present you with all the details about the 27 years old star Floria-born actress ahead we present you with all the details of Kiersey Clemons's dating life and relationship.
Who is Kiesrsey Clemons Dating in 2021?
If you been following Kiesrsey Clemons, then you might well know about her popular relationship status with her stunt double Ebony De La Haye. Yes, you heard it right, the gorgeous actress is in a relationship with her stunt double Kiesrsey.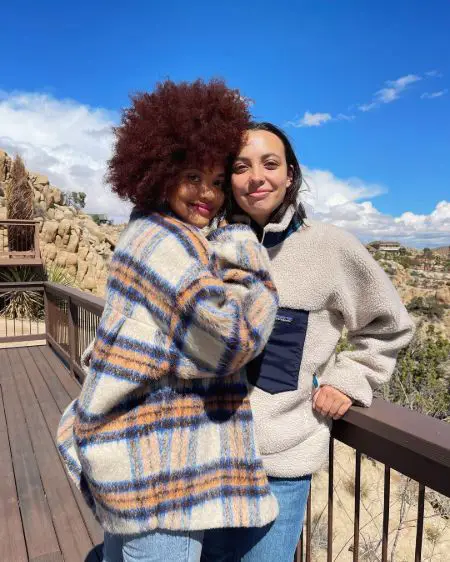 Ebony De La Haye Dating stunt double Ebony De La Haye. 
Image Source: Instagram (@ebonydelahaye)
Matter of fact the couple is open about their relationship and people seem to love the way the LGBTQ+ community coming out and expressing about their relationship. Matter of fact, the love birds have been spending quiet quality time together as they spent three months of lockdown together.
Check Out: Who Is 90 Days Fiance Cynthia Decker Husband? Grab Her Marriage Life Details!
And, talking exclusively to Vogue magazine, Clemons shared,
"I realized that even after three months in lockdown together, there's always more to learn about your significant other."
We see love's in the air and the best part about their relationship is that both the couple adores and supports each other relationship which is what puts the icing on the cake. While many of you might also be wondering how their romantic fumes started to happen, well, hold on as we provide you with all the details.
When & How did Kiersey Clemon and Ebony De La Haye Start Dating?
Clemon and Ebony's relationship started back in 2017 where the two couples met each other in Fiji during the movie shoot of Clemon's survivalist thriller 'Sweetheart'. For the movie, Kiersay was appointed for her underwater stunts.
Watch: Sweetheart Official Trailer
After spending quite time together the couple fell in love and were inseparable. Yes, initially it was hard for them to manage everything as Ebony was from Australia, and after having a long-distance relationship for a year, Haye finally got the visa and is currently spending their time together in L.A.
Are Jordan Wisley & Nia Moore Dating? What's Happening!!!
We hope you enjoyed the article, for more Entertainment updates make sure to bookmark BAE Magazine.