Wiz Khalifa's girlfriend as of 2023 is believed to be Aimee Aguilar who is an Instagram model. The couple has been frequently spotted together and they are currently dating however they have yet to make their relationship official. It seems the 35-year-old American rapper has moved on from his relationship with Amber Rose. The couple got married on July 8, 2013, and later split in 2014 and they share a son.
Have you heard the latest song by Wiz Khalifa? What do you think about the song? Well, the 35-year-old rapper has recently released his song, Mercury Retrograde with an official music video on January 30, 2023, and he amazed his fans with the song.
If you've been searching for some old Wiz,  his new song is precisely what you've been waiting for. Wiz Khalifa released a chill, psychedelic song that combines his silky flow and quick bars. Wiz challenged the idea that smoking is not compatible with achievement at the same time.
In addition to Mercury Retrograde, the 35-year-old rapper also released another official music video, I Love To Smoke, on January 18, 2023. Wiz talks about his undeniable love for pot smoking throughout the song. Wiz Khalifa considers how his habits have contributed to his success despite the stigma associated with marijuana and the fans seem to love his song.
After the release of the music videos, fans are curious to learn more about Wiz Khalifa including who his girlfriend is in 2023. Well, here's everything we have on Khalifa's relationship status!
Previously, we touched on Berrettini's and Quavo's relationship status.
Wiz Khalifa's Girlfriend in 2023: The Rapper Was Married to Amber Rose and They Share a Son!
Wiz Khalifa
's (
@wizkhalifa
) girlfriend as of 2023 is believed to be an Instagram model,
Aimee Aguilar
(
@aimeeags
). Although there's not much information about the two datings, they are said to be meeting regularly and taking their relationship slowly. The couple has been frequently spotted together however they have yet to confirm that they are in a relationship. Let's hope everything works out for them and see where this relationship goes.
Cameron Jibril Thomaz, known by his stage name Wiz Khalifa is an American rapper, singer, songwriter, and actor who signed with Warner Bros. in 2006 and released his debut album, Show and Prove. Wiz grew up in a difficult environment and was born to military parents. Even though the 35-year-old rapper had to endure a lot in the course of his career, he is now a popular artist who is adored by fans all over the world.
A Peek Into Wiz Khalifa's Relationships
Over the years, Wiz Khalifa has dated several high-profile women leading the viewers to know more about his girlfriend in 2023 and all his ex-girlfriends' lists. As a celebrity, it's not surprising for celebrities to be linked with other stars and Khalifa is no exception. The American rapper has been linked with several women but the rapper has only dated Natalie Nunn, Indyamarie Jean, Izabela Guedes, Winnie Harlow, and Amber Rose officially.
Natalie Nunn is a well-known television personality best recognized for her role in the Bad Girls Club's fourth season, and the two of them, Khalifa and Nunn, only dated for a short time from October to December 2010. Similarly, Wiz Khalifa also dated a fashion model, Indyamarie Jean from October to December 2015.
Similar to Jean and Nunn, the Canadian fashion model and public spokesperson on the skin condition vitiligo, Winnie Harlow also dated Khalifa for a few months in the fall of 2018. The couple made their relationship official on Valentine's Day 2017 but things didn't work out for them and they broke up in February 2018.
Following the breakup of his relationship with Nunn, Khalifa started dating rapper, model, and television personality, Amber Rose. Aguilar is largely known for modeling on Instagram, but she has also dabbled in acting, making brief appearances in Impractical Jokers and Power episodes, in addition to launching her own reasonably priced swimsuit line, Oasis Swim, this past summer.
They dated for a year before being engaged and getting married on July 8, 2013. Of all the relationships, breaking up with Amber was a tough call for Khalifa and he has even opened up about the split and stated,
I was sad after it ended, but I wasn't depressed. I've never really been depressed in my life. I was sad because we were going through a lot and my son was involved, and that hurt me because my main goal is to raise my son how I want. I'm a control freak, and not being able to control that was weird. I didn't know how to deal with it and didn't understand that feeling. A year later, I'm way smarter and better equipped to deal with it. I feel like not being in that relationship helped me out a lot.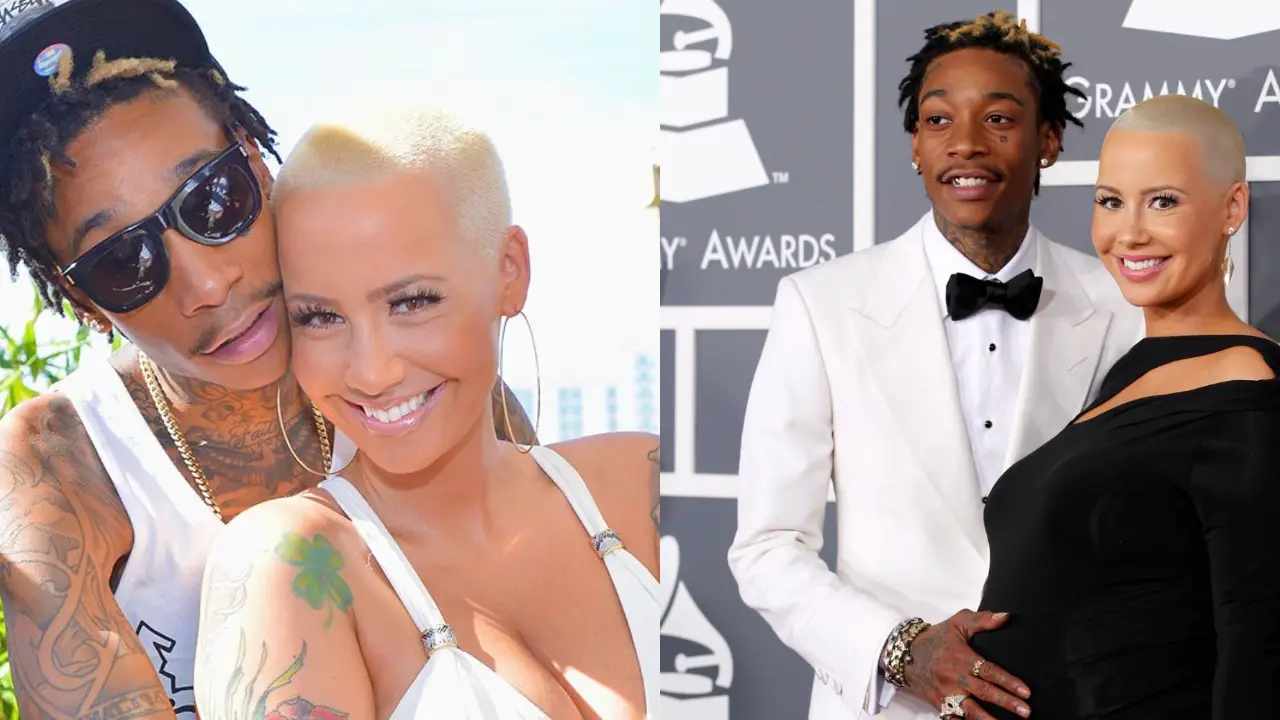 Wiz Khalifa dated Amber Rose and shares a son with her.
Source: Celebs Fortune
Khalifa and Rose were a relationship goal for years before getting divorced three years later. Despite having split up, the two have been on good terms and have remained friends over the years and the couple also share a son, Sebastian Taylor Thomaz, together whom they welcomed to this world in 2013. As of 2023, the couple has been divorced and is still on good terms, and as a matter of fact, they are even good friends.
Who is Wiz Khalifa Currently Dating? Has It been official?
It's not the first time the couple has been spotted together. The pair also made an appearance a month ago in Darren & Richie's Oscar Party  Fashion Arrivals where the couple wore matching outfits leading the viewers to believe that the two of them are dating.
Although there has been no official announcement about the two of them dating, the pair is currently in a relationship and they seem very happy with each other, and we wish them nothing but happiness in their relationship.