Speaking of born with a silver spoon in their mouth, here's Anna Shay. The daughter of a late billionaire had it all when growing up but continues to take the humble words of wisdom her parents passed down to her. When it came to Bling Empire, she had no idea what she was getting into when she accepted a proposal from her friend, Jeff Jenkins, the series' executive producer.
Anna Shay is quite popular within the Los Angeles area, even before she came to the spotlight in front of the camera but stayed virtually hidden from the discussions of wealth. Her father, Edward A. Shay, was a top-secret defense services US and UN contractor who founded the billionaire worth Pacific Architects and Engineers (PAE) in 1955. Her mother, Ai-San, was Japanese-American.
The 60-year-old and her brother Allen simply inherited her father's fortune after he passed away in 1995. The company was later sold for $1.2 billion to Lockheed Martin in 2006, according to TVGuide. She knows the power of that kind of money, having closed down entire jewelry stores in Paris.
What Is Anna Shay's Net Worth?
Even going into 2021, Anna Shay is estimated to be worth at least or around $600 million by many sources. And that's assuming she and her brother split the sale of their father's company, PAE, halfway or 50-50. But whether she has been able to maintain that value still is another question.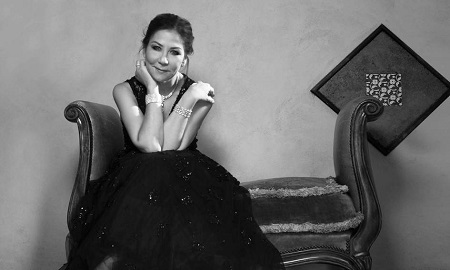 Some question if she's a billionaire as well.
Photo Credit: Joseph Chen, Genlux Magazine
Over the years of the acquisition of the money from the sale, which was made by cash, she did spend quite a lot on luxury. For her status, it's probably all necessary spending. She's bought houses, and aside from her own necessities, she's letting her only son enjoy the riches as well.
Shay Reportedly Bought a $5.75 Million Mansion from Dr. Phil's Son As a Gift for Her Own Son
A testament to how Shay is still keeping a net worth of over half a billion is also her son's designer bongs and one-of-a-kind glass pipe collections. Back in 2015, her 27-year-old son, Kenny Kemp, was featured in a BuzzFeed article, calling him a "passionate stoner" & the sole heir of "hundreds of millions of dollars" and introducing his half a million dollar worth collection. And it was all hidden from even his mother in her own mansion.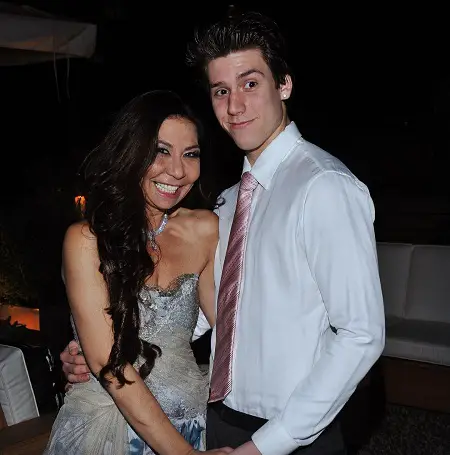 Meanwhile, Variety describes him as "a hardcore cannabis aficionado".
Photo Source: Anna Shay, Instagram
It probably amazes some people to know that these one-of-a-kind glass pipes are each worth tens of thousands of dollars, mainly due to inflation over time. He was a marijuana entrepreneur, so to speak. Who is his father by the way? According to an obituary for Shay's mother, it's Ken Kemp, one of her four marriages.
Shay recently told The Oprah Magazine that an unbreakable wall comes up if someone hurts her son or her loved ones. Meanwhile, she's also given her only son the walls to enclose himself in, a mansion to live in, to be exact.
Related: How 'Bling Empire's Kelly Mi Li Built Her Self-Made Net Worth Empire
In March 2020, Variety reported that Anna Shay had purchased a 6,170-square-foot Beverly Hills villa seemingly as a gift to her son. The seller was none other than Dr. Phil's younger rockstar son, Jordan McGraw, pricing the mansion at $5.75 million. It makes sense that it could be a gift for Kenny, considering she had her own lavish mansion on the world-famous Sunset Boulevard.
Her Own House, Which Has Famous Mob Ties, Is Now on the Market
Back in December 2020, the socialite listed her Sunset Boulevard estate with an almost 9000-square-foot house for sale for $16 million. She lived in the lavish estate for nine years which she bought for $9.4 million in 2011, having renovated it to her liking. It was the same house that Bling Empire took the viewers to, and her wealth was clear from the overpriced accessories.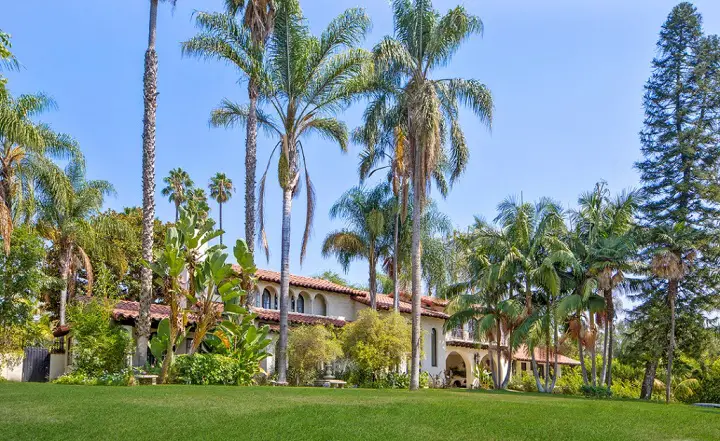 It's iconic in every way.
Photo Source: Redfin
The 1930s Old Hollywood-style villa reportedly was once owned by mobster Tony Milano, and legend has it that Shirly Temple lived there when she was eight years old in 1936. It also features a paddle tennis court, a four-car garage, a swimming pool, and separate guest quarters. And among her luxury cars is a white Lamborghini. She also owns a private jet, a given for her stature.
Anna Shay Is a Philanthropist and Quite the Gift-Donor
For someone who wears diamond jewelry to yoga, philanthropy is an admirable quality. She was previously a board member for the George Lopez Foundation, raising awareness about kidney disease and organ donation. Additionally, she's worked with Shay Foundation, which her parents founded, to focus on promoting education, arts, and music. They were the founding members of The Music Center in LA.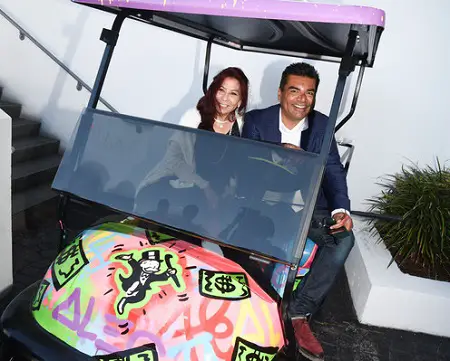 Shay also attended George Lopez's 8th Annual Celebrity Golf Classic Pre-Party.
Photo Credit: Michael Buckner, Getty Images for The George Lopez Foundation
As much as she enjoys investing in herself, she is surprisingly generous in terms of gifts. Of course, her son already was the biggest recipient. But for anyone she cares about, her gifts would be lavish, to say the least. So much so that a $1,000 sneaker among her gifts to fellow castmate Kevin Kreider was a little too much for him.
She would casually throw parties as gifts if she ever feels the need to. And from tennis bracelets to Parisian getaways and shopping sprees, she would give it all, wanting nothing, absolutely nothing, in return. Even for herself, she purchases things solely because it gives her joy and not to flaunt on social media. She also doesn't understand sponsorships, meaning she gains nothing via Instagram with just about 35,000 followers.
Recommended: How 53-year-old Gianluca Vacchi Inherited His Family Fortune and Used It For Social Media Fame
"I think the ones who talk about it don't really have it," she recently told The Los Angeles Times. "Why would you wear something to show it off? My mother came from aristocracy, and my dad came from the South Side of Chicago. They told me that if they ever saw the clothes wearing me or the cars driving me, they would take it all away and never buy anything for me ever again. I'm glad they did that."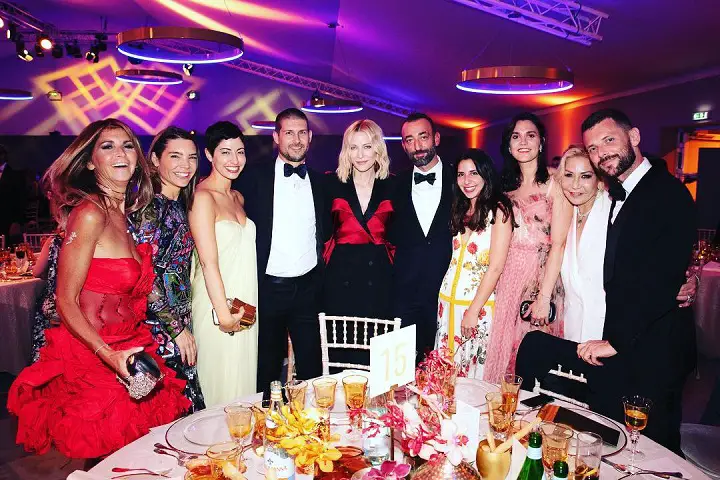 Spotted the celebrity? Cate Blanchett is not the only one here.
Photo Source: Anna Shay, Instagram
Everything is handed down from her parents, even their wisdom. And she is eager to hand her own among her castmates. She knows she is the oldest member of the group and often acts as a mother to the young millionaires. Kelly Mi Li has gotten some free relationship advice from Shay's vast experience in the area.
And sometimes, money can feel like trinkets to her. But she does plan some good out of it. For example, the check (of an undisclosed amount) she received from Netflix isn't much when compared to her net worth, and she was stuck for a while about what to do with it.
Also See: Christine Chiu's Net Worth Breakdown
"I didn't cash them, then I got in trouble for not cashing them," she says. "I have them in a savings account. I'd like to have a party sometime. I don't think the money belongs to me. I think it belongs to the crew that had to put up with me."
Stay tuned and connected to Celeb$fortune for more celebrity Net Worth content. Keep checking the Focus section for more updates.