Kylie Jenner is an actress, model and businesswoman with a huge net worth, collected mainly by 'Kylie Cosmetics', her own beauty brand. Learn the complete breakdown of her net worth, how she earned all her worth from various sources, and how she spends the money she makes.
Kylie Jenner is obsessed with a fuller lip, but at the age of just 21, she became the youngest self-made billionaire ever, surpassing what Mark Zuckerberg did at the age of 23. She just turned 22 in August 2019 and has a greater plan for the future of her venture, which unsurprisingly involves a lot of social media.
Of course, the days on television brought in the rush of fan followings and obviously cash; it doesn't compare to what she did as an entrepreneur and a businesswoman. She launched her beauty brand, mainly focused on lips, Kylie Cosmetics in November 2015 (albeit with a different name). And within a few years, it turned this reality TV actress and model into a billionaire by March 2019, Forbes reported.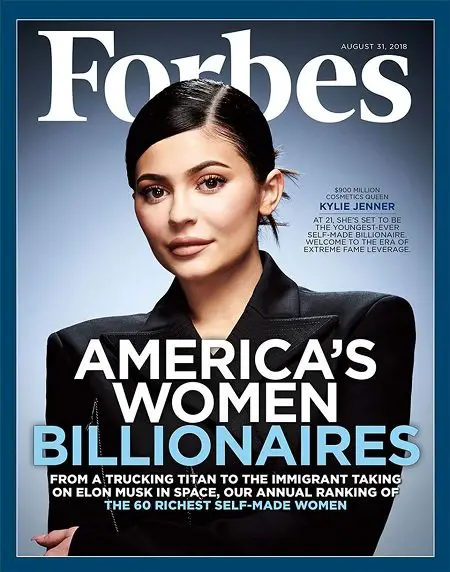 On the cover of August 2018 Issue of Forbes.
Source: Forbes
What's even more amazing is that she is the youngest of the Kardashian-Jenner family and already is the richest of them all. While Kim Kardashian had her way of obtaining a net worth of around $350 million with a you-know-what scandal, Kylie used the power of social media and her unending love for full lips to spread her Lip Kit line everywhere. She was just 17 in August 2014 when she trademarked the phrase, "Kylie Lip Kits … for the perfect pout".
Kylie Jenner's Net Worth Goes Down to $700 Million amidst the Pandemic
Kylie Jenner possesses an official net worth of $700 million, updated constantly by Forbes but the latest as of October 2020. The majority of that current wealth is contributed by her lip kit brand turned wide-ranged beauty brand, Kylie Cosmetics. Forbes valued the company at $900 million and while some may argue that means she doesn't actually have a billion dollars in cash/bonds & assets unless she sells the company, she can spit out millions by continuously selling her products.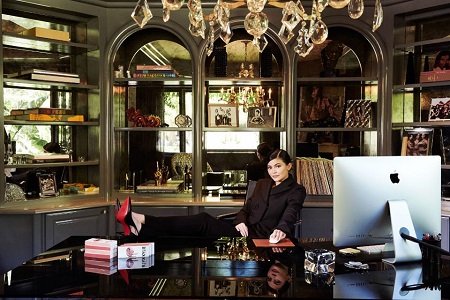 Kylie owns 100% of the company Kylies Cosmetics.
Source: Jamel Toppin, Forbes
The term 'self-made' comes from the fact that those Self-Made Billionaires used 100% of their own money to launch their thing, and with Kylie, she owns a complete 100% stake at the company. Despite how people argue that her mother, Kris Jenner, handles all the business side of things, all the money the company makes goes directly into her own pocket. Yes, she had help, but Kylie is the owner, CEO and CMO (Chief Marketing Officer) of the company and false preachings can't take it away from her.
In May 2015, she admitted to having used temporary lip fillers after the Kylie Jenner Lip Challenge went viral. She admitted she was always insecure with her lips and used to apply liners beyond her lips' natural perimeter to create the illusion of bigger lips. She just did it to make herself feel more confident, but later that year, she ventured off on her own to launch her customized lip kits. She paid an outside company $250,000 of her own earnings from being a model to make the first 15,000 lip kits. She didn't even let her mother cash in on it!
Disclaimer! The following numbers are disputed and later lowered by Forbes upon obtaining new details.
How Social Media, Her Mother and Shopify Helped the Humongous Rise in Kylie Cosmetics' Fame
Kylie's fans on social media are no stranger to her selfies and other pictures highlighting the beauty side of her. That's what she used to make her products viral too. She announced the launch of Kylie Lip Kits on Instagram a day before it got to sales, 30 November 2015. Following one minute of the launch, it was sold out. People started going out on eBay to sell each $29 kit for upto $1000.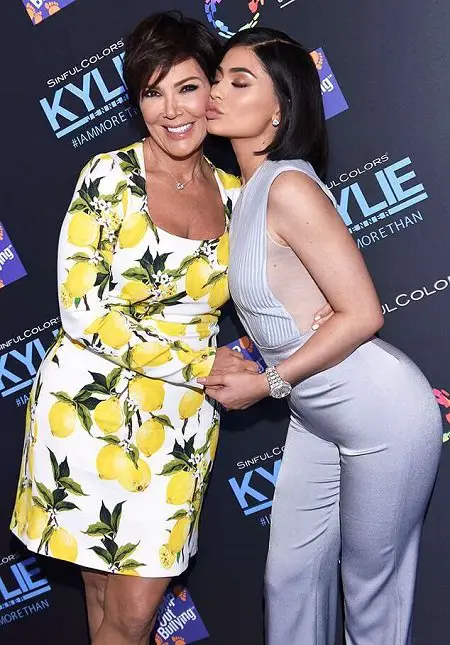 Kris connected Kylie Cosmetics to Shopify, and everything just clicked.
Source: Vivien Killilea, Getty Images for SinfulColors
Kris comes in after this. She brought a shelf in the e-commerce platform Shopify from another billionaire CEO, Canadian Tobi Lutke, in December 2015 as a platform for her daughter's products. (She takes 10% management from all her children, still negligible to what Kylie now earns.) Meanwhile, Kylie opens Instagram every hour to pout for selfies and let her 150 million followers know what shade she is wearing. Millions on Snapchat, likewise on Twitter and her company's followers in the same numbers have it soaring for her.
500,000 lip kits in six different shades were stocked on Shopify in February 2016, Kylie Lip Kits relaunched as Kylie Cosmetics this time. In November 2016, she released the holiday collection which sold $19 million worth kits within 24 hours, before the holiday even began. The company collected $307 million by the end of 2016. Kylie did a few Topshop run and pop-ups in New York, Los Angeles & San Francisco toward the end of the year but didn't really need to afterward.
In 2017, the revenue grew just by 7% of 2016, despite adding 30 new products. There was indeed a dip as Forbes estimated. But the $330 million then was no small deal either. It went similarly for the beginning of 2018, but a new deal later was about to allow her to break that record we talked about earlier.
The Deal with Ulta Helped Her Attain a Higher Revenue
Business was going the same way in 2018, but it was getting difficult to beat the earlier year's revenue. Then, Ulta happened. In August, Kylie announced the brand was to be coming to Ulta stores during the holiday season. After signing an exclusive distribution deal with the fashion retailer, the lip kits were made available in their 1300+ stores across all 50 American states. After six weeks (starting in November), Kylie Cosmetics sold $54.5 million worth of products via Ulta, taking a 9% rise of revenue from last year. Thus, she earned an estimated $360 million in 2018.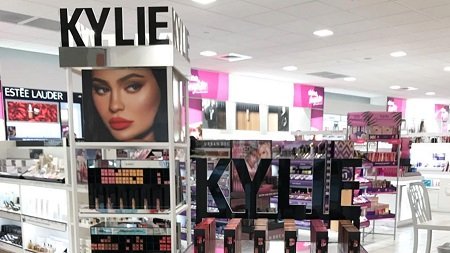 She did sort of a meet-and-greet and took selfies with the fans at the Ulta stores.
Source: Instagram
After 2019 came rolling, she was named billionaire by Forbes (not much help needed from the fans who actually tried raising $100 million to make her one in 2018), and she launched her vegan Kylie Skin line in May. While some criticized the products to have used animal derivatives, it seems they mistook the ingredients with slightly different names.
What's more? She recently filed a trademark for a possible baby line. Speaking of which, Kylie plans on sticking to Kylie Cosmetics forever and also hopes she could pass it on to her daughter, Stormi, who will be 2 years old this coming February. Update: She launched the Stormi Collection on Stormi's extravagant Second Birthday dubbed 'StormiWorld 2'.
Not Many Employees to Pay Too Much for Salaries
The company may be almost a billion-dollar worth, but it only has seven full-time employees and five part-time employees. It's not like she is not willing to spend her money (you'll see why), she just doesn't need to, for that part. So, don't expect a career or a job at Kylie Cosmetics yet. But be on the lookout.
As for manufacturing and packaging, Seed Beauty, a private-label producer in nearby Oxnard, California, handles it all. The sales are handled by Shopify and now Ulta too. Meanwhile, Kris takes care of finance and PR, as mentioned. Kylie pays an estimated $480,000 annually to Shopify for their shelves.
She Lived in the Shadow of Her siblings Before Modeling and Finding Her Feet
When the filming of Keeping Up with the Kardashians began in 2007, Kylie was just 9 and already a child celebrity as she appeared on the show with her parents and siblings. While her sister Kendall Jenner, half-siblings Kourtney Kardashian, Khloe Kardashian, Kim, and Rob Kardashian were all successful in their own way, she admits she felt adrift. Even her parents were already famous.
I struggled for a minute with finding something to do on my own.
Kylie further appeared in other family-related shows like Kourtney and Kim Take… shows in Miami, New York, and the Hamptons. Then she also appeared on America's Next Top Model with her siblings in 2012 when only 15 years old. That was what she did for a while. With the help of her mother, she was earning six-seven figures as a model at the time. She has also had numerous acting credits to her name in all her years of the spotlight, an obvious case when living in such a household.
Endorsements and Beauty Deals Before Kylie Lip Kits
In 2013, the entrepreneur received her first product endorsement with a $100,000 payout to add to her net worth from Nicole by OPI nail polish brand for her Wear Something Spar-kylie and Rainbow in the S-kylie. Her own skincare line with Kendall called The Kendall & Kylie Collection, and jewelry collection, Metal Haven by Kendall & Kylie, came later that year incorporating deals with PacSun and Glamhouse respectively. In 2014, she made another partnership with Steve Madden's Madden Girl brand for a shoe and handbag line of products.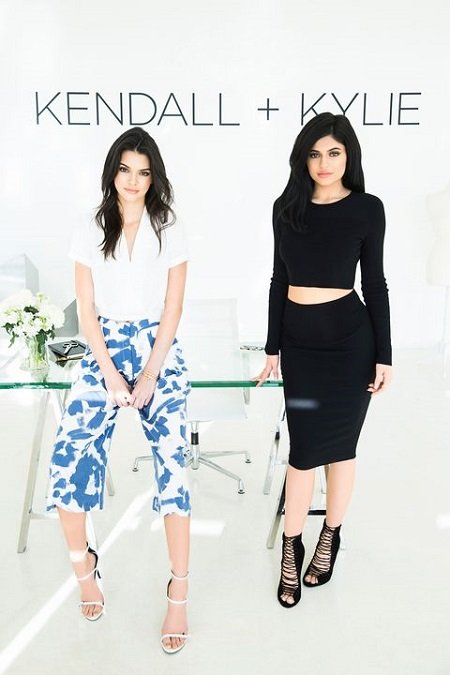 'The Kendall & Kylie Collection' and 'Kendall + Kylie' were more from the sister duo.
Source: Kendall & Kylie Fashion, Pinterest
In 2015, Nip + Fab's skincare line came with Kylie and then a new clothing line in partnership with U.K.-based Topshop was formed, again with Kendall involved. It was named Kendall + Kylie, of course. Along with the official launch of Kylie Cosmetics, a huge endorsement deal came in from the athletic shoes and clothing retailer, Puma.
Then there was the sunglasses line, Quay x Kylie, with Quay Australia. She also has endorsement pacts with Fashion Nova, SugarBearHair Vitamins, Teami Blends detox tea, and other companies, earning her millions more.
Social Media Earnings Like You Wouldn't Believe
With a huge following of 150 million, money can come in millions as well. It's the case of Kylie who earns heftily from sponsored posts. She regularly posts ads for the companies with her endorsement pact, each with an estimated value of $1 million. Forbes estimates her earnings to be $18 million from those social-branded posts. The massive follower numbers also can provide from $200,000 and $1 million.
Kylie Jenner's Properties, Cars and Expenditures — She Really Loves to Spend
While Kylie doesn't have to pay much for running the company, she certainly lives the lavish life we all wish we could too. What she does with her money is she spends it. How she spends her money is in the most extravagant of ways, certainly to utilize the massive net worth she has.
In 2016, she purchased a 1.4-acre Hidden Hills, California, compound for $12 million, which includes a 13,000 square-foot mansion. She lives in this property now. The home decor is also as lavish as can be. Imagine the price it's soared up to by now (some estimate it around $35 million). She's bought more than $40 million total worth of at least five such compounds in the last two years. She sold a $3.3 million house at Calabasas, CA, in 2017 for $3.15 million taking a deficit in the asking price.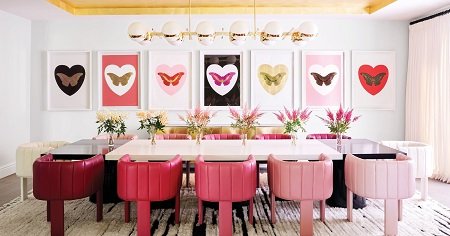 Pieces from Damien Hirst's "I Love You" series anchor the dining room. Brass chandelier by Coup D'etat; custom table and chairs by Martyn Lawrence Bullard; shag rug by Woven.
Source: Architectural Digest
Main article: Kylie Jenner's $14 million car collection
Cars! She also has a massive collection of luxury cars for her no-shabby net worth. She got a $225,000 black Mercedes-Benz G-Wagon for her 16th birthday, which started the collection. She has a $400,000 Lamborghini Aventador and reportedly paid $10,000 to wrap the G-Wagon to match it. She gifted a unique $200,000 Land Rover for herself on her 19th birthday.
Her garage also includes a maroon G550 4×4 SUV (Mercedes), many Ferraris, a black Bentley Bentayga, and multiple Rolls-Royces each worth six figures. She also gifted her mother a $250,000 Ferrari 488 for her birthday. She showed off her $3 million Bugatti Chiron a couple of months earlier, which was heavily criticized by the fans. She deleted the video of course.
Watch: Kylie Fulfills Her Fans' Wishes for a Garage Tour
The mother also makes sure her daughter, Stormi, gets the best treatment from her. She bought her an $820 Gucci baby carrier and a $12,500 Fendi baby stroller. She also has already picked a bag to be Stormi's first purse. It is a mini Hermes Birkin bag. In fact, she has an entire row of Hermes Birkin bags in her closet, the most expensive ones in the world.
When asked what's the one thing she would take in an event of a fire, she replied that it would be the $432,000 Hermes Himalayan crocodile skin Birkin bag with 18 karats white gold hardware and over 200 diamonds. Of course, her closet has everything essential for her and her baby. A $53,000 Rolex watch and $9,000 Cartier diamond rings are just some of them.
Kylie may have split from Stormi's baby daddy this September, but she did spend quite a lot for their not-so-cheap dates. For now ex-boyfriend Travis Scott's birthday, she rented out Six Flags Magic Mountain in Los Angeles, which starts at $150,000. They continued on to Turks and Caicos islands, staying at the luxury resort Amanyara, the luxury suites costing $23,538 per night. Oh, and she also rented out a million-dollar yacht in Italy to celebrate her 22nd birthday this August.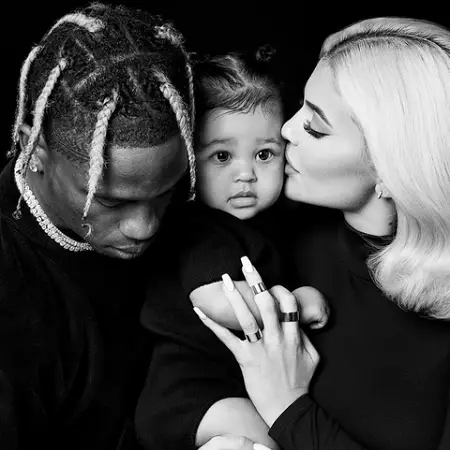 And finally, the beauty mogul doesn't stop spending on her own beauty. Aside from the accessories, she also spends heavily on makeup and hair. She styles herself frequently with custom wigs by hairstylist Tokyo Stylez. Each wig can cost upto $5,000. $30 for her favorite mink eyelashes from Lilly Lashes, $350 spray tanning sessions at Jimmy Coco and Britney Tokyo's fresh manicures with a charge of $125 for a two-hour session & an additional $50 for house calls are what crosses out on her beauty budget.
Life of a celebrity billionaire is no easy feat to keep track of, and Kylie is no exception. After she launched her beauty brand, her sisters have also tried, but what she did wouldn't be matched that easily. If she stills makes more of the revenue with her Kylie Cosmetics Forever plans and cut back on a few of those lavish lifestyle choices, she still has the capability to break more net worth records. It's only a matter a time we see more of it.
Stay connected to celeb$fortune for more Net Worth contents of various other rich celebrities.