With the growing influence of Tiktok, Tiktokers have become as famous as any mainstream celebrity. Successful in setting his name in the hall of fame, Luke Robert Davidson has been skyrocketing to the top.
Born on January 28, 2003, in Dauphin, Canada to James Davidson and Shelley Davidson, Luke Davidson is a comedy skit Tiktoker. A cat person owning three cats named Nibbles, Rory, and Jag, the hilarious Tiktoker also has a step-brother named Chris.
Residing in Manitoba province in the middle of a golf course, the blue-eyed social media star is quite popular in his school. As talented as he seems, the energetic content creator also plays drums in a Jazz band in his school. Young and energetic Luke graduated from Dauphin Regional Secondary School in 2021 and has even posted a picture of the day.
From Thinking That Tiktok Is Cringy to Being One of the Popular Creators on the Platform
Just like many of us, 18-year-old Luke also thought that making Tiktok was embarrassing. When he actually wanted to make one, he made an account using his cat's name Rory so that no one would know who he really is. Little did the Canadian Tiktok star know, it was the accelerator of his career as a social media personality.
The 5'10" tall video creator downloaded Tiktok because it was famous among his friends and decided to make one just because he was bored. His first video which was under the sound "Have you ever looked at someone and thought what goes on in their mind" got thousands of views overnight. Though shy and embarrassed at first, this motivated him to post 2-3 more videos. Eventually, the blue-eyed Tiktoker is now a famous social media personality.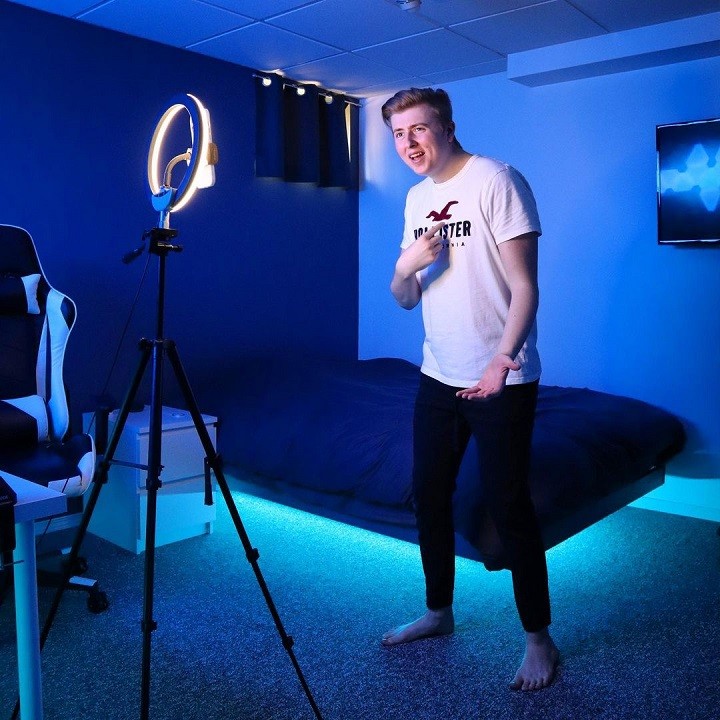 We see what he meant...
Photo Source: Luke Davidson, Instagram
Well known for his comedy skits, pranks, and hilariously relatably videos, Luke is now a popular figure on Tiktok (lukedavidson_). With around 9 million followers, the handsomely humorous content creator has been proficient enough to create viral videos with his relatable yet comedic concept and equally charming personality.
With around 9 million followers on Tiktok, the young star's ultimate goal in life is to be a successful man and his socials are helping him much to get there. Whether it is making a video on "10 facts that you didn't know could save your life" with a massive view count of over 30 million or a funny student POV video with his own twists, Davidson has been making satirical light-hearted comedy sketches that have given him massive views and subsequently tremendous triumph and recognition.
Recommended: Faline San's Unexpected Fame Resulted in Her Analyzing Our Article About Her
Eventually, Davidson came up with his Youtube channel (Luke Davidson) as well. His first video was on hitting 1 million on Tiktok and acknowledging his fans. He now posts vlogs, QnAs, pranks, gaming videos, and his comedy skits from tiktok. Receiving his golden play button on June 11, 2021, Davidson posted a picture of himself with his trophy mentioning that "this is just the beginning". The talented influencer's channel has been doing pretty well with 2.32 million subscribers. The Youtuber also has numerous Youtube shorts which have helped him reach quite a large number of audiences.
Keeping in mind that his audiences are young teens, the Canadian influencer's content is age-appropriate. Based on relatable topics, Davidson's content is automatically likable, and with the addition of his unique approach, they are quite enjoyable. Not just humorous relatable content, Luke also makes educational and engaging videos perfect for kids and teens.
Is Luke Davidson Single & Ready to Mingle or Committed?
As charming, funny, and interesting as the rising Tiktok star is, it's surprising to know that he is still SINGLE!! Rather a very private type of person, Davidson's past relationships haven't been known as well. His social media handles are purely content-based and include no hint of his girlfriend, exes, or even crushes. Just a young teen living his life indulging himself in learning, growing, and creating a name for himself, Luke Davidson can be considered a professional who likes to keep his personal life private.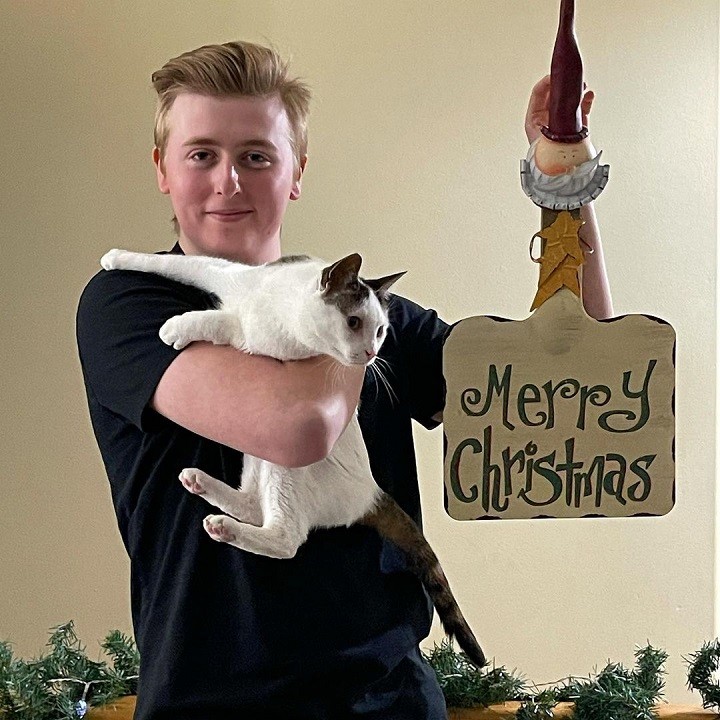 He does have a cat though.
Photo Source: Luke Davidson, Instagram
A fan of curling and golfing, Luke is a young energetic man who does all sorts of activities just like any other teen. Building his own PC and playing games when free are some of his favorite things to do. While his least favorite subject is maths, he does enjoy studying ELA. A globetrotter, the video creator has visited Mexico, Jamaica, the USA, and many other countries as he said in a QnA video on his Youtube channel.
The 18-Year Old millionaire Is Ready to Take on the World
Consistent in his work and serving entertaining content, Luke Davidson can be considered one of the youngest and richest Tiktoker and he has been flexing it as well.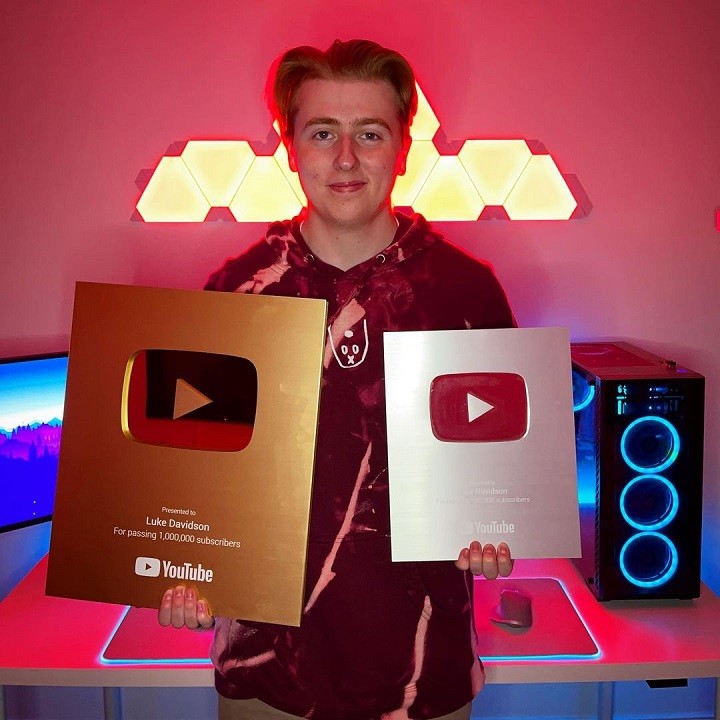 It's a preview of what is to come.
Photo Source: Luke Davidson, Instagram
With TikTok being his primary platform, amassing 9 Million followers, the progressive Tiktoker's estimated earning per post is around $7,500 through endorsements and live stream income. Coupled with 1,000+ posts, Davidson could have earned millions from Tiktok alone.
As a Youtuber, accompanied by an A grade Youtube channel and 2.3 Million subscribers, Luke has an astonishing estimated earning of $11,000 from sponsorship videos. As such, Luke Davidson has an approximate net worth of $2.5 million.
Also See: If You Like Luke Davidson's TikToks, You'll Love TheMermaidScales or Krutika's Funny Clips
Not to forget the successful influencer's Instagram page (lukedavidson__) which has just about 75,000 followers, he has an estimated income of $400 per post. Though the Tiktok influencer's Instagram handle is purely personal right now, he is planning to post reels on the platform as well, as soon as the feature is available in his country.
Bought His Dream Car at the Age of 17!
An achiever with a dream of becoming a happy and successful man, Luke Davidson bought his dream car, a 2003 Nissan 350z, at the age of 17. The content creator has made a vlog on his Youtube channel about the purchase and seems very happy and content with it.
Dreams do come true sometimes.
Photo Source: Luke Davidson, Instagram
The car costs around 25,000 Canadian dollars and has excellent features as well. To own a car at the age of 17 with one's own earnings is quite a big achievement for the talented vlogger. Not to forget the camera which he uses, Canon EOS M50, as shown in his Youtube unboxing vlog. The camera costs around $904 and has quite brilliant features as well.
Stay tuned and connected to Celeb$fortune for more content from the entertainment and social media world.