It's quite amazing how a person can bring that fuzzy-warm feeling in our hearts just by being cute and who else is a better example than the adorable Krutika, also known with her social media handle TheMermaidScales with different stylizations.
Creating a label for herself with her expressions, mesmerizing smile, bubbly personality, and humorous content, Krutika, has been an internet sensation on platforms like Tiktok, Instagram, and Youtube. Born on December 5, 1998, the rising star is originally from Maharastra, India, and a Hindu by religion.
A model, blogger, and internet's favorite creator, Krutika, themermaidscales, has been entertaining the audiences with her hilarity and relatable reels. However, the 22-year-old star has been casually secretive when it comes to her family and life before fame private. She is known to have a sister though.
Fashion, Social Media, Skits, Gaming, Anime: You Name It, Krutika TheMermaidScales Has Got It All
A social butterfly, Krutika started her social media career as an aspiring fashion blogger and makeup enthusiast. Initially, she tried her hand at Youtube and Instagram. The model and fashion fanatic created her Youtube channel (themermaidscales) in August 2017 and posted her first video on May 24, 2018. She used to post fashion looks on various themes, her first being "Edgy Fashion".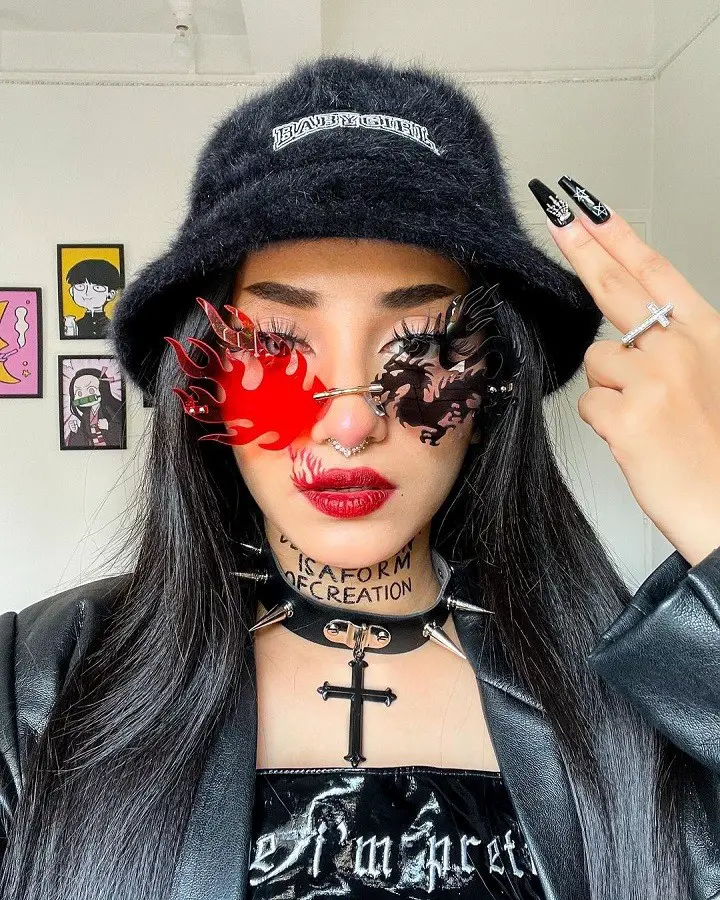 A lot of her outfits are Anime inspired. She rarely posts photos without outfits.
Photo Source: Krutika (themermaidscales), Instagram
The bubbly creator still creates fashion look books, showcasing her keen interest in the field. Similarly, the 5'1'' tall influencer also uploads makeup tutorials on her Youtube channel, beginning her beauty journey with simple makeup looks which were trendy at the time. Her contents were only limited to fashion and beauty. Now the channel has her original comedy sketches, and she also posted her first vlog on February 24, 2021, with over 962,000 subscribers at the time of writing.
With lockdown beginning and everyone shut up in their homes due to the Novel CoronaVirus, the charming social media celeb has utilized her time and began posting and engaging more on the most popular and happening platform, TikTok. Though she started posting on the platform in 2019, it was during the pandemic when she took a step up.
Recommended: Faline San Roasted Celeb$fortune's Article About Her in a Video, And We Love It.
The talented artist's alluring makeup looks combined with her funny skits made her grow like a wildfire in the world of TikTok. Her on-point acting skills with the relatable concept of the sketches increased her likability on the platform thus gaining her 13.6 million followers. The now TikToker's most viewed and liked video has 35.5M views and 7.2M likes. This clearly shows her influence and appeal on the platform.
Whether it's a reel on the pressure we feel at the cash counter or bathroom wars with siblings, the comedy sketches mixed with the happenings of our daily lives are presented in a hilarious and fun way by TheMermaidScales that has helped spread positivity amidst the chaos of the pandemic. She usually picks up trendy audios but uses her creativity to make them unique thus grabbing the audience's attention.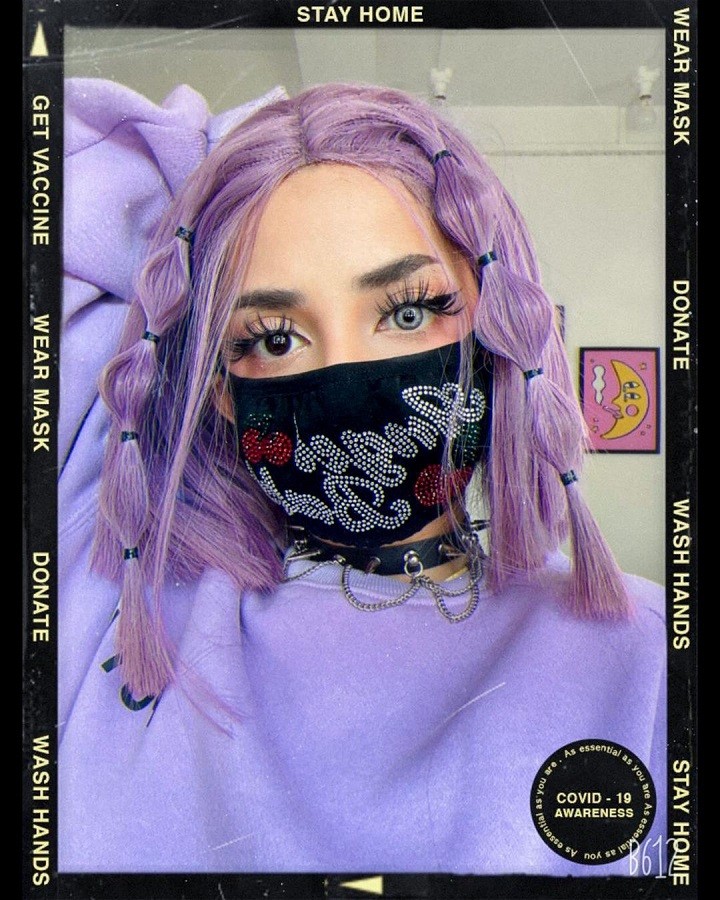 Krutika, aka themermaidscales, takes part in the 'India Fights Corona' campaign.
Photo Source: Krutika (themermaidscales), Instagram
Not just limited to makeup or fashion or comedy, the young bundle of joy is also a gamer. She has a separate youtube channel for her gaming videos (mermaidchan, the immediately reminding her love for anime) with over 60,000 subscribers. The channel was created in January 2021, and the energetic influencer has been posting her gameplays of Genshin Impact, Minecraft, and Among us. Likewise, she actively streams Genshin Impact, Fortnite, and Fall Guys: Ultimate Knockout on Twitch (themermaidscales) which has around 8,000 followers as well.
As she describes herself, the stunner is also a weeb and a K-drama fan. Her anime influence is clearly depicted by her cosplay pictures and videos. The artistic creator has cosplayed many anime characters with Gojo from Jujutsu Kaisen, Hisoka from Hunter x Hunter, and  Runa from Kakegurui being the popular ones.
Also See: Julia Giselle's Art Pieces Are As Beautiful As She Is. Here's How She Exploded on Social Media.
The gifted star's Instagram (themermaidscales) is filled with her funny reels, pictures, incredible out-of-the-box fashion sense, and extremely creative makeup looks. With over 4 million followers on her Instagram, the charismatic artist has been successful in keeping the audience engaged in her creations eventually growing her reach.
How Much Is the Social Media Sensation's Net Worth?
With an astonishing number of followers and consistent posts across all her social media platforms, the Saggitarian has accumulated riches enough to live a lavish life. With the presence, impact, and engagement Krutika has on social media platforms, the joyful and witty content creator lives a life of comfort with a total net worth of around $2 million.
She has yet to introduce any merchandise from her.
Photo Source: Krutika (themermaidscales), Instagram
As Tiktok is Krutika's main platform right now, the talented Tiktoker's consistent posting and equally interesting content have helped her gain nearly 14 million followers. Her estimated earnings per post from the platform is $11,000 through the obvious streams of sponsorships, live streams, and TikTok's influencer payments as well.
Accompanied by two Youtube channels, with over 500 uploads in her main channel and over 1 million subscribers, the jolly influencer's earning from Youtube is estimated to be around $1,500 per video through partnerships. In accordance with her second gaming Youtube channel, with only 33 uploads and 60,000 followers, the part-time gamer does get a little on the side, although insignificant to how much she can make on other platforms and accounts.
Must Read: How Rapidly Bella Poarch's Net Worth Is Growing with Her TikTok Follower Count
The Instagram influencer also has a huge number of followers of 4.2 million at the time of writing. Her popularity in the Gram has helped her gain an estimated earning of $11,000 per post. She has also collaborated with numerous brands and occasionally posts paid promotions which also adds up her fortune.
Not to forget her Twitch streams, the multitalented influencer's average media value per video is $22 while her total estimated media value is $174. And it is important to remember that TheMermaidScales name is getting her massive followers every day, and these follower numbers are constantly changing variables.
One Can Only Keep Wondering About Krutika The Mermaid Scale's Boyfriend
A social butterfly like herself, constantly being present in people's eyes, the beautiful Tiktok star is rather very private about her personal life. As her posts are focused on her skits, fashion, beauty, and games, she doesn't post about her personal life and enjoys it away from the limelight. She hasn't posted any details about her family and likewise her love life.
Krutika often jokes about anything that people generally might consider weird.
Photo Source: Krutika (themermaidscales), Instagram
A true professional in her craft, the 22-year-old star hasn't let herself be associated with anyone else but be recognized for her contents and creations. We can assume that the cheerful and shining influencer is either single or with someone who isn't a social media personality. She has sarcastically mentioned a few reasons she is single in one of her TikTok videos, "my height, my social skills, my anxiety, my humor, my laziness".
After This: 'The Circle S3' and Former 'Amerca's Next Top Model' Contestant Ava Marie Capra Is More Than a Model
As sweet as she seems, Krutika, or Themermaidscales as she likes to be called on social media, is the true definition of "big things come in a small package". Filled with an insane amount of energy and creative flow, she has been able to create contents we all can relate to and present in her own unique way, thus gaining love, appreciation, and all the success she deserves.
Stay tuned and connected to Celeb$fortune for more content from the social media and the entertainment worlds.