If there comes a day when you feel sad and down, then you may want to take a mental note from a five-year-old Scarlett Gray Smith, who has been spreading positive vibes and instilling confidence with her daily dose of affirmations.
With a birth date of 11 March 2017, Myrtle Beach resident Smith starts her day repeating positive affirmations (such as  "I am beautiful", "I am strong", and "I am loved") after her mother, Tiania Haneline while doing their daily rituals. The African-American social media icon has been ruling the internet with her bubbly personality and has made headlines with her adorable and heartfelt reminders.
Is Scarlett Gray Smith Adopted? Know More About Her Father and Brothers.
Born to an actor, Travin D. Smith, and an influencer mother, Tiania Haneline, Scarlett Gray Smith has three elder brothers and is not an adopted child. With her mother being white and her being a mixed child, there have been lots of rumors of her being adopted.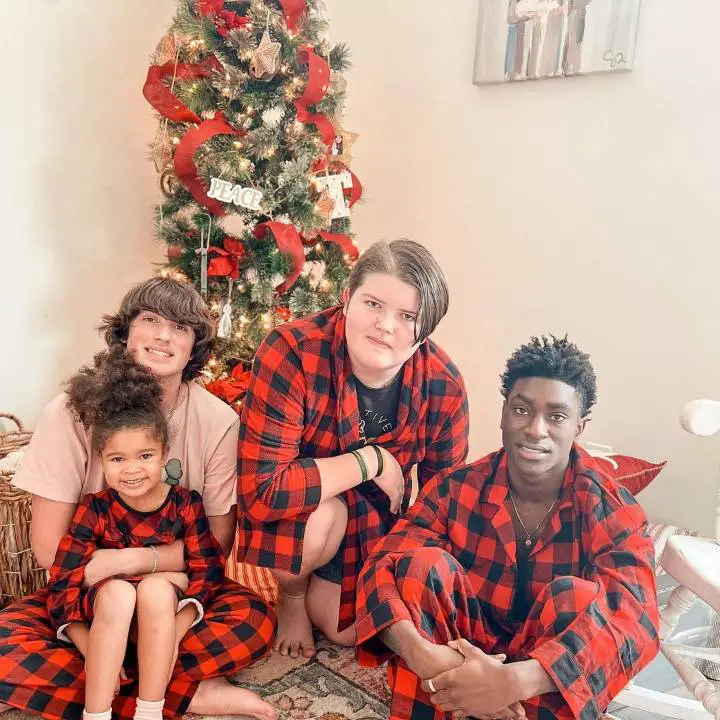 Scarlett Gray Smith with her brothers, Walker Walden and Reice Walden, and her bonus brother, Tybell.
Photo  Source: Tiania and Scarlett, Instagram
As her parents have already divorced and Travin is not seen often in their videos which also led to these speculations. Even though Haneline has not disclosed any information about her divorce, she has cleared that they are co-parenting their daughter together and has no hard feelings toward her former lover.
Well, before Travin, Haneline was married to a painter, graphic designer, voice actor, and screenwriter, Michael Walden with whom she shares two sons, Walker Walden and Reice Walden. Besides, Scarlett also has another half-brother named TJ from her father's previous marriage.
What's more, Scarlett is not only close to her half brothers but also with Michael despite having no blood relationship. Besides, she is loved and adored by her mother's new boyfriend, Randy Watson.
How Much Is The Net Worth of Scarlett Gray Smith? Her Income Source and Merchandise.
Scarlett Gray Smith has now launched her book titled, 'I'm Going to Have a Good Day!: Daily Affirmations with Scarlett'.
Photo Source: Scarlett and Tiania, Instagram
As per estimating sources, Scarlett Gray Smith holds a net worth of $500,000 which mainly comes from her social media endeavors. However, that does not mean her income is only limited to brand deals as the five years old earns a good sum from merchandise sales. Regardless, as per most rules in the business world, the money is probably to be saved for her future.
The mother-daughter duo has always been practicing these "positive affirmations" since early 2020. However, she started posting them amid Black Lives Matter protests, during a civil unrest that happened all over the United States. Tiania Haneline has been planting the seed of self-love in her daughter since a young age which has ultimately helped Smith burst with confidence.
And now, they have decided to spread these daily exuberant affirmations to the whole world through their book called I'm Going to Have a Good Day!: Daily Affirmations with Scarlett. This uplifting picture book is available on Target, and Amazon, and also available on her website.
The influencers' mother-daughter have ragged over 6.1 million followers and 266M likes on their joint TikTok page, Scarlett and Tiania (@scarlettandtiania) with their entertainment content. Besides, it alone makes them an average of $4,500 per post through sponsorships and brand endorsements.
Also Read: Jancy Family's Suri Belle and Familia Diamond's Txunamy Ortiz Are Best Friends & Related As Cousins
Additionally, they have collaborated with brands like Disney, Walmart, TextNow, thredUP, TurboTax, Home Chef, Fomo Boutique, Posh Peanuts, Lolos Macrame Earring Boutique, Quay Sunglasses, Worthy Label Magnetic Lashes, and popular hair care brand, Hairitage by Mindy McKnight. Some of the most popular TikTok videos are the videos of Smith practicing positive affirmations and her hair tutorial which got over a million views.
They also have a joint Instagram account, Tiania and Scarlett, which is obviously managed by her mom just like her other social media pages. With over 274,000 followers on their Instagram page, they make an average of $1,000 per sponsored post.
The mother-daughter pair are also active on their YouTube channel, Scarlett and Tiania, where they have collected over 184,000 subscribers. What's more, Smith's merch line sells high-quality unisex t-shirts, baseball hats, stickers, posters, face masks, notebooks, and phone cases with affirmations which are available to shop at scarlettgraysmith.com.
Meanwhile, their achievements and news have been covered in various media outlets, including ABC News (i.e. Good Morning America), PopSugar, People, BuzzFeed, Entertainment Tonight, and so on. With the amount of popularity, Scarlett is gaining at the moment it won't be wrong to say that she will be one of the most popular social media icons in near future.
Stay tuned and connected to Celeb$fortune for more celebrity content from the entertainment and social media world.