Xavier Clyde Scott aka Xavier Clyde (b. 2002) is an emerging star who has already created a name for himself on the big screen within a short time. Despite being young, Clyde has already established himself as a gifted and versatile actor, with a variety of parts demonstrating his ability to add depth and subtlety to each character he portrays.
While still in the early stages as an actor, Clyde has already appeared in a number of independent films, earning critical acclaim for his work. His natural skill, commitment, and hard work have swiftly made him a sought-after talent in the business, and this young star will only continue to climb in the years ahead.
Xavier Clyde's Emerging Acting Career
Xavier Clyde debuted in the industry in 2020, immediately distinguishing himself as a bright prospect. Clyde's breakthrough role was as Xavier Scott in the online series 5 South, where he demonstrated his innate skill and charisma as an actor. He subsequently went on to portray Micky in the indie film Hard, where he exhibited his breadth and ability to give the depth and subtlety of his character.
Clyde's outstanding skill and natural screen presence have piqued the interest of both spectators and industry insiders. With two intriguing future projects, his fame is destined to grow even higher. He will appear in City on Fire, a criminal thriller series that will launch on Apple TV+ in May 2023. He will also appear in the upcoming crime drama Heist 88, which is now in the post-production stage.
Xavier Clyde Is Aspiring to Be a Novelist in 'City on Fire'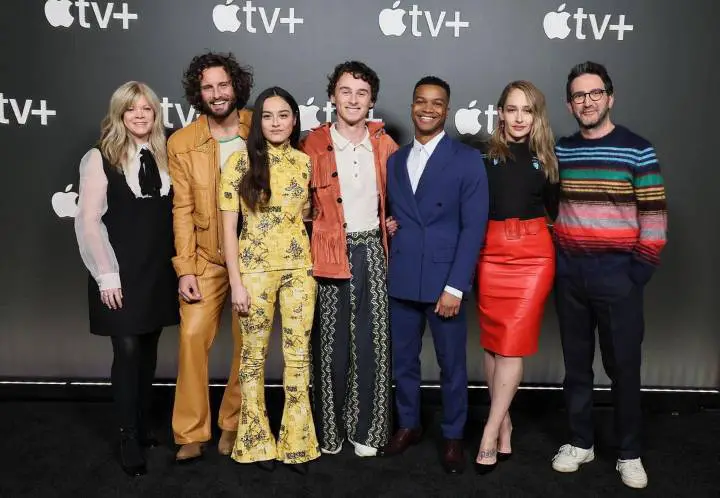 Xavier Clyde with the cast of the anticipated crime series, 'City on Fire'.
Photo Source: Xavier Clyde, Instagram
City on Fire is an anticipated criminal drama television series for Apple TV+ that has already sparked considerable interest in the entertainment business. The sitcom, created by Josh Schwartz and Stephanie Savage, is based on Garth Risk Hallberg's highly acclaimed novel of the same name. The series, which is set to begin on May 12, 2023, promises to present a riveting and exciting tale that will have fans on the edge of their seats.
One of the most anticipated performances in City on Fire is that of Xavier Clyde, who portrays Mercer, a young aspiring novelist. Clyde, while being relatively new to the acting field, has already established himself to be a natural talent, and his part in City on Fire is sure to highlight his strengths even more.
The series also contains a star-studded ensemble of excellent performers, including Wyatt Oleff, Chase Sui Wonders, Jemima Kirke, Kathleen Munroe, Nico Tortorella, Alexandra Doke, and Ashley Zukerman, in addition to Clyde's amazing performance. Audiences may anticipate powerful and fascinating performances from all of the cast members with such a talented ensemble.
Who Is Xavier Clyde Dating?
While some rumors about his potential relationships have circulated, Xavier has yet to confirm or deny any of them. As far as the public is aware, the actor is single and is currently focused on his job. Despite the nature of his role in City on Fire, he has not revealed anything about his sexuality either.
It's not that unusual for celebrities to keep their personal lives quiet, especially when they're just starting out. Xavier looks to be following this tradition, focusing on his job and keeping his personal life out of the spotlight.
Stay tuned and connected to Celeb$Fortune for more content from the entertainment and social media world.