Brittany Megan Xavier (November 23, 1986) is an American entrepreneur, model, fashion blogger, and social media star who is best known for her self-titled website which includes fashion, lifestyle, and travel advice sold online. She promotes the content and vlogs on Instagram, TikTok, and YouTube for several brands like H&M, Dior, and Marc Jacobs.
Furthermore, she was awarded the Bloglovin' Awards' Breakthrough Fashion Blogger Of The Year title for her fashion blog Thrifts and Threads. Moreover, the pro-TikToker created clips for New York Fashion Week 2020. Xavier is also a vocal ambassador for GetUsPPE, a non-profit organization that focuses on addressing the shortage of Personal Protective Equipment.
Brittany Xavier was born in Glendora, California. She belongs to a mixed ancestry of Argentinean, French, and Irish. Her father is a businessman, and her mother is a housewife whose names are not official yet. Her younger sister is named Bailey.
The social media butterfly is the first in her family to attend college & did her schooling at Glendora High School and then went to the University of La Verne for graduation. She holds a Bachelor's Degree in Political Science and International relations. Moreover, she wanted to study law after graduation but prioritized taking a job and left her studies to support her family.
Who is Brittany Xavier's husband? 
The 35-year-old model is a happily married woman. Brittany married her lover Anthony Xavier, a photographer and videographer by profession. They met in the hotel when she was out for dinner with a mutual friend of Anthony for the first time and then she invited him for a meal. They started to know each other and stayed in a relationship for three years.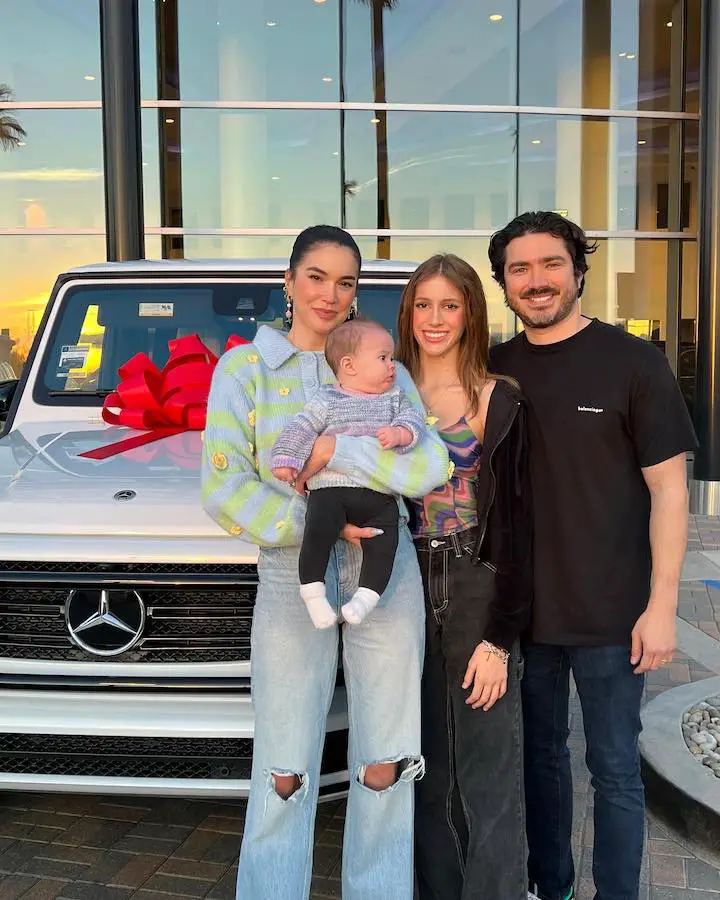 A lot of people actually confused her daughter (center) for Brittany's sister or niece.
Photo Source: Brittany Xavier, Instagram
The lovebirds decided to turn their relationship into a husband-wife. Although, she already had a kid with her ex-boyfriend. They tied their wedding knot on September 7, 2013. The couple married privately in front of their family, friends, and relatives. However, their wedding destination is not officially known.
Recommended: Fashion Vlogger Madison Miller Is Reeling from Divorce with the Father of Her Two Daughters
Anthony and Brittany are happily enjoying their married life together. The couple has welcomed a daughter named Poppy Wren Xavier. Moreover, the two spouses spend quality time together in Pasadena, California. Her husband is very supportive and helps produce every video and content of hers. Anthony and Brittany are free of rumors and allegations as of now, and we can find more about her in this video. They also work together as business partners for digital marketing.
The Relationship with Ex-Boyfriend That Resulted in Teen Pregnancy

Brittany Xavier was in a serious relationship with someone in her college days, whose name is still unknown. She revealed her relationship with her ex-boyfriend in one of her videos in 2019. However, they separated after a couple of years. Brittany knew she was pregnant at 19 ten days after their separation and later welcomed a baby girl named Jadyn on January 10, 2007, who Anthony readily adopted.

Her daughter, Jadyn Xavier, is also a social media influencer and is often seen together with her mom. Brittany had at least one relationship in the past. However, the beautiful lady with a charming personality is a married woman now and spends quality time with her husband and kids.
Brittany Xavier's Net Worth and Social Media Earnings
The famous social media star has gained a heavy amount of money from her successful career. Brittany Xavier's estimated net worth is around $1 million as of 2022. She collected all this amount from her career as a fashion blogger, social media star, and entrepreneur. Apart from her career, she earns a decent amount through the endorsement, advertisement, and sponsorship of different brands and companies.
She first started out as a blogger rather than a social media influencer.
Photo Source: Brittany Xavier, Instagram
Currently, Xavier is living a happy and luxurious life with her family. Her net worth will surely rise higher in the upcoming days. She works with her husband, Anthony Xavier, a videographer and photographer. However, they are more like business partners when it comes to working.
Brittany started her career journey as a fashion blogger and entrepreneur. She owns a self-titled website that includes fashion, beauty, travel, and press. Xavier worked in marketing at an insurance brokerage company. In addition, she is also a member of a non-profit organization GetUsPPE, which focused on providing PPE kits during the pandemic.
Also See: Brooke Miccio Left Her Full-Time Tech Sales Job for Social Media
The Instagram model is also a well-known face on all social media platforms. Her Instagram account (@brittanyxavier) has about 1.6 million followers, and she endorses several brands like H&M, Dior, Marc Jacobs, Cartier, Givenchy, and YSL. She earns an estimated average of around $4,500 per post through partnerships and endorsements.
Brittany Xavier is primarily active on YouTube (@Brittany Xavier) with 557k subscribers. She joined in December 2015, two years after starting her blog. Her channel is full of content and vlogs. Similarly, she posts her lifestyle, beauty, and travel posts with the help of her husband Anthony regarding several brands and advertisements. Her estimated YouTube earnings are around $2,500 per video through sponsorships and ad revenue.
Brittany is also available on TikTok (@brittany.xavier) with 4.7 million followers and 263 million likes. The gorgeous-looking model is best known for her beauty and is appreciated nationwide. With millions of followers on her TikTok account and earns a decent amount through her content, an estimated $3,500 per clip including live stream income.

Stay tuned and connected to Celeb$fortune for more stories from the entertainment and social media world.