You may have heard celebrities receiving hate for grooming a child or showing off toxicity but have cases been seen where an influencer received death threats for showing off love for their significant one? That's what a rising TikToker Cora Tilley (b. December 17, 2004) is dealing with right now.
Born in Georgia, Tilley grew up in the care of her single mother, BreAnne Tilley Robinson along with her five siblings including her brother, Zachary Middleton, Bella Middleton, Morgan Towns, and Joshua Towns. Her mother recently got married to her boyfriend, Tyrell Jordan Robinson, in July 2021 who also has a son from his previous relationship.
Her father, Michael Towns, also married another woman named Jessica Spann Towns after three years of her birth and currently lives with his new wife. Besides, her mother was expecting a baby boy whose due date was in June 2021 but unfortunately had a miscarriage. Cora follows Christianity and was even baptized in November 2020.
How Much Is The Net Worth of Cora Tilley?
As per estimating sources, Cora Tilley holds a net worth of $200,000. Being a social media influencer she gets tons of brand endorsements and sponsorships which is basically her main source of income. Not to forget, she makes further from live streams and simply AdSense as well.

Tilley has had multiple TikTok accounts taken down.
Photo Source: Cora Tilley, Instagram
And, yes, she has three different TikTok accounts of which her account named, coratilleyyyy got banned. Well, it's not a new thing for her as her other account, coratilley with 492.8K followers also got banned last year but was recovered later.
The American social media icon also has another account, notcoratilley, which has over 841.5K followers and 31.6 million likes. One of her most popular TikTok is with 10.5 million views where she used the TikTok timer feature asking questions about her boyfriend and looked for angel numbers to confirm whether her questions as true.
Tilley also has garnered a loyal fan base on her Instagram account, coratilleyofficial which has over 280K followers. Additionally, she also has launched her career as a YouTuber on October 16, 2015, with the self-titled channel, Cora Tilley, but has posted only two videos to this date, apart from the shorts.
Cora Tilley Was Nearly Banned for Her Version of Racism
Cora Tilley faced backlashes in the past for her notion of the word 'racism'. She was accused of misinterpreting the word after exclaiming that racism is something "white people experience too". Multiple other TikTok users continued conversing with her about the situation, all of them ended with her standing her ground.
The 17-year-old apologized multiple times, nonetheless, without receiving much forgiveness. Some of her fans have come to terms with it and are not happy about the fact that she still continues receiving hate. What's more, her house address was also leaked following this incident making it hard for her to even go to school.
Charli D'Amelio Backed Up Cora Tilley When She Received Multiple Death Threats for Showing Affection for Her Boyfriend
Cora Tilley revealed that she is dating fellow influencer Christian Hitchcock since December 2021, and they have been inseparable since the day their relationship started. The couple first met through TikTok and started talking in October 2021. And it was Tilley who first made the move and flirted with him.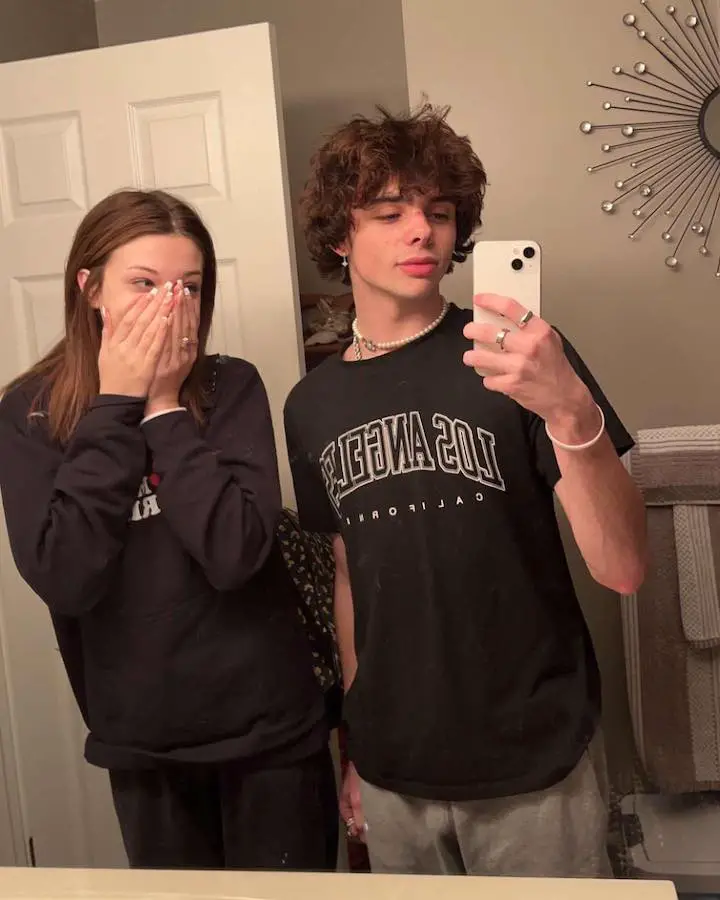 They have been regularly posting their relationship on social media.
Photo Source: Cora Tilley, Instagram
As the love birds are in a long-distance relationship with 664 miles apart, they often post emotional videos and pictures of missing each other on their social media platforms. While some fans were very supportive, others felt very annoyed with their posts calling them an over-dramatic couple.
Not only that, some even hated to the point they started sending death threats and harassing the couple through DMs and all. This even caught the attention of popular TikTok star Charli D'Amelio, and she personally messaged Cora. Seeing your video you posted on TikTok about getting a lot of hate and I was there, just wanted to let you know I know how hard it is but you have to do your best to ignore it. it," she said. "I feel terrible that people are so cruel but you seem like a great girl and I hate to see other people get you, please raise your head!"
Following this intense online hate, Tilley announced that she would be taking a break from social media for a certain period of time. However, she is still active on her TikTok page notcoratilley and continuously interacts with her fans.
Stay tuned and connected to Celeb$fortune for more content from the entertainment and social media industry.