Emily Michelle Alexander aka Emily Alexander (b. March 23, 2000) is an aspiring American YouTuber and social media influencer who is popular for her fashion blogs, pranks, challenges, and clothing haul videos. She came into prominence after being featured on her YouTube star boyfriend, Adi Fishman's YouTube videos.
Growing up, Alexander was really into sports and even played volleyball, basketball, softball, and soccer in her high school. The American native has two elder sisters, Brenda and Sarah Alexander, and wants to pursue her career in fashion.
Emily Alexander's Net Worth in 2021: Her Income From Social Media
As per estimating sources, Emily Alexander holds a net worth of around $300,000 thanks to her flourishing career as a social media influencer. The 5'7" primarily earns through YouTube AdSense and sponsorships and endeavors. Among all the popular brands, she has already worked with popular brands like Ulta Beauty, Fashion Nova, Romwe, BOBS from Skechers, UNiDAYS, JustFab, and many more.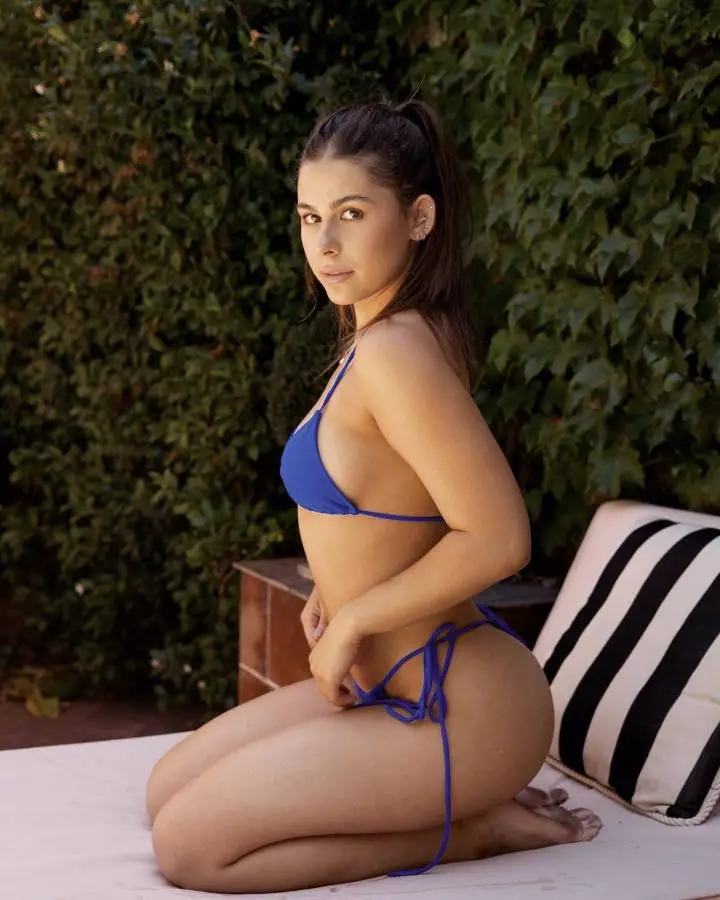 Who thought our naive Emily Alexander will be on OnlyFans?
Photo Source: Emily Alexander, Instagram
Emily forayed into the social media scene in May 2013 through Instagram, but only started getting fame after her association with Adi Fishman. She now has 516,000 followers on her Instagram account, Emily Michelle Alexander, and earns around $2,600 per sponsored post.
Adi might have helped her start her YouTube journey, but she always dreamt of being an internet celebrity from a very young age. Moreover, she grew up watching beauty gurus online and knew that she too could make it big in the fashion industry.
Since YouTube helps expand her fan base which will ultimately help her fashion career so, she got into YouTube. Emily launched her self-titled YouTube channel, Emily Alexander, on January 2018 but started posting only after 3 months in April 2018. With over 649,000 subscribers, she makes an average of $1,000 per video.
Fishman surely helped her gain popularity over the internet and also help her to gain views on her YouTube channel as well. If you have scrolled through her channel then you will know her most viewed videos are always with Adi which include, I WORE A SCANDALOUS OUTFIT TO SEE HOW MY BOYFRIEND WOULD REACT!, Acting Like A GOLD DIGGER To See How My BOYFRIEND Reacts!, STUFFING MY BRA To See If My Boyfriend Notices.. and so on which has over 1 million views.
Apart from YouTube and Instagram, she also has a homogenous fan following on her TikTok account, emily alexander. With over 909,000 followers and 25.6 million likes, she makes around $700 per post strictly through sponsorship and endorsement post. 
What's more, after a year of pranking her boyfriend about starting OnlyFans, Emily has finally taken the leap to make an OF account where she charges a certain amount for pictures and videos. And that's another stream of income for her.
Who Is Emily Alexander Dating? Did She Break Up With Adi Fishman?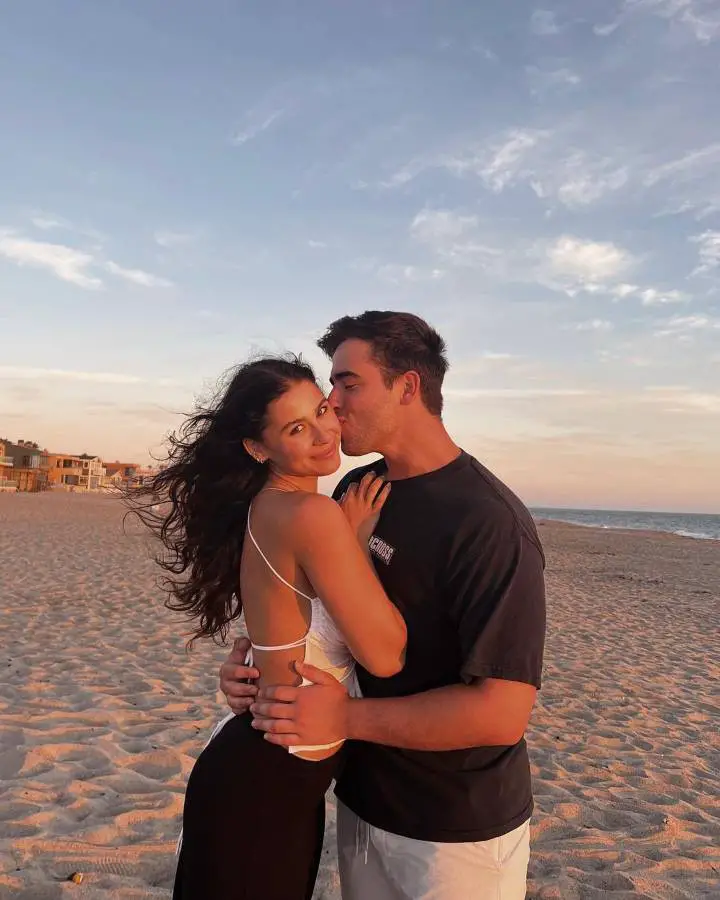 Half a decade and more to go!
Photo Source: Emily Alexander, Instagram Handle
Emily Alexander is currently dating her YouTuber boyfriend, Adi Fishman. The pair started dating in 2017 and has been together for five years now. They have been going stronger since the start of their relationship and recently celebrated their five-year anniversary in September 2021.
The pair officially announced their relationship through a video titled Something I've NEVER Talked About... (Meet My Girlfriend) on mid-October 2018 after dating for a year. What's more, Fishman was even Emily's high school crush, but he did not have feelings for her back then. And after two years, Adi finally realized his affection for her during junior year and eventually started to take a step forward toward their relationship and the rest is history.
Meanwhile, there have been rumors of their split after they pulled a breakup prank on their fans. In the breakup video, Adi acted so real and even cried which made people believe that they have actually parted ways. However, they posted a video after three days disclosing it was all a prank, and also posted the behind-the-scenes of their breakup video. It seems like many people haven't watched this video and still think the couple is not together anymore.
The love birds even have their separate family channel or say couple channel which was called the Diem Family (now renamed as Adi&Em). The channel features vlogs, challenges, and pranks that they pull on each other and also their friends. And their relationship took a new turn as now they have even moved in together.
Fans Accuse Emily Alexander of Being a Gold Digger
Being an internet couple is really hard as people will pass judgment on relationships and even backlash you now and then. And Emily Alexander has been getting accusations of being a gold digger and using Adi Fishman for clout since the start of their fling.
Also Read: Get the Deets on Katie Sigmond, Ex-Girlfriend of Jeremy Hutchins, Popular on OnlyFans
Well, the truth is not even close to it as she started dating Adi before he got into fame. Fishman also shut down those rumors saying they got into a relationship during high school and even joked about him being broke at that time. Whatsoever, these judgment does not seem to affect their love as their bond has been stronger than ever.
Emily Alexander and Adi Fishman Are Getting Married.
Well, the news of Emily Alexander and Adi Fishman getting married surfaced all over the internet after the 22-year-old model posted a video titled we're getting married next!. The video comes after Emily caught the bouquet suggesting they are next in line to marriage at the 'Jatie' Wedding (Katie Betzing and Josh Brueckner).
While some fans think they are just joking, others think the couple might be giving hints that they are getting married real soon. Whatsoever, it has already been over a year since the announcement but who knows if Adi might pop up with the ring soon.
Stay tuned and connected to Celeb$Fortune for more content from the entertainment and social media world.