Jessica McLeod (b. January 25, 1997) is a Canadian actress, producer, writer, and director most known for her roles in hits like Van Helsing, Death Note, The Hollow Child, and many more. Being in the entertainment industry for more than 16 years now, she has won multiple awards for her remarkable acting skills including Best Actor and Best Lead Performance by a Female in a Motion Picture for The Hollow Child.
Born in Victoria, British Columbia, Canada, McLeod started acting her acting career from a very young age and has garnered over 48 credits in film and television till this age. Jessica graduated in both the regular and Fine Arts program with Honors from Claremont Secondary School and is of Scottish ancestry.
Jessica McLeod's Life Before Fame: She Was a Pro Junior Swimmer
It may sound surprising but Jessica McLeod was already a professional swimmer even before she established herself in the entertainment buzz. At the tender age of nine, she became one of the 13 qualifiers for Provincial AAA Championships (swimming) in the under 11 age category where only 2 girls in the Province of BC under 10 qualified.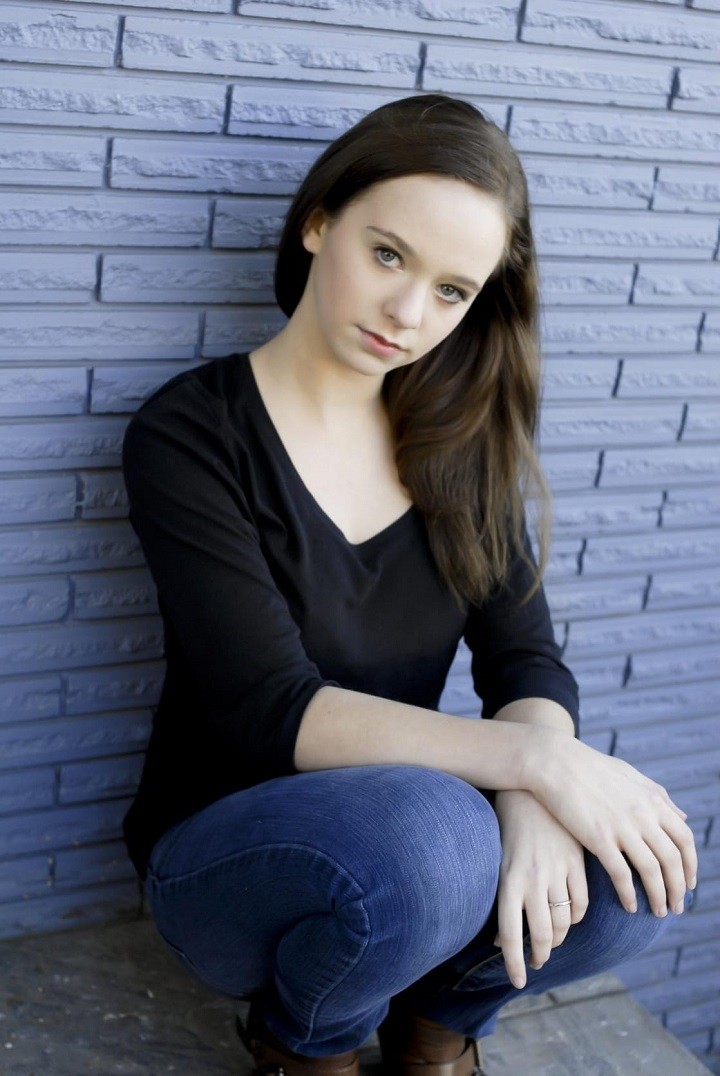 McLeod was a swimmer before she was an actor.
Photo Source: Listal
Similarly, the actress qualified again for Provincial Short Course swimming championships in 2007 and was one of only 19 girls under the age of 11 to have a qualifying time. In the same year, McLeod qualified for Provincial Long Course Swimming Championships but unfortunately could not participate due to Chicken Pox.
Jessica who is known as "Jim" in her swim club, participated and won in numerous swimming competitions. Moreover, she attained the Canadian Age Group National swimming qualifying time in July 2009. Besides swimming, McLeod also acquires a great talent in poetry.
The Hollow Child star even published two original poems in the Claremont Review Issue Spring 2013. What's more, she also won 3rd place in a Canadian National Poetry Contest (Junior Category), for her poem A Baby in the year 2011.
Jessica McLeod Holds The Net Worth of $500,000 Thanks to Her 16+ Years Acting Career
Jessica McLeod started her career in the acting industry as a teen and is now one of the prominent actors in the show biz. She began acting professionally at eight but only got her big breakthrough after numerous small roles with a supernatural thriller The Hollow Child in the year 2017 where she portrayed the role of Samantha.
Jessica McLeod's portfolio in acting is a must-see impressive work of art.
Photo Credit: Malcolm Tweedy
Being in the entertainment industry for over 16 years, McLeod has amassed 48 acting credits including her roles in Death Note, The Hollow Child, Van Helsing, One of Us Is Lying, and so on, till the time of writing. Besides acting, she directed and produced the Television series, Almost Actors and also produced shorts like Deadbeat Daddies and The Condenado League.
Recommended: See How Anya Chalotra Rose from Theater to Acting Alongside Henry Cavill
The actress also has garnered three credits as a writer for the TV series, Almost Actors and short films like A Typical Fairytale and A Blast from Our Teenage Pasts. With her 16 plus years of experience in acting, Jessica McLeod is worth $500,000. Not to forget, she also earns a good sum from sponsorships and brand endorsements. 6,000 followers on Instagram is an understatement to her success though.
Jessica McLeod Is Winning Hearts in the Newly Released 'One of Us Is Lying'
Even though Jessica McLeod is playing a supporting role in Peacock's murder mystery drama, One of Us Is Lying, she has already won fans' hearts with her role as the LGBTQ character Janae Matthews. The series is adopted from Karen M. McManus' best-selling novel of the same name.
The plot revolves around the five high school students, Simon, Bronwyn, Nate, Addy, and Cooper who are all tangled up in the mysterious conspiracy surrounding the detention-based death. Being an outcast, Janae promises to avenge the death of her only friend Simon.
When a smaller role like McLeod's (far right) gets into the bigger picture.
Photo Source: One of Us Is Lying, Peacock TV
Throughout the show, Janae struggles with being a lesbian and eventually gather up the strength to finally confesses her feeling for Maeva, Bronwyn's sister, and Simon's girlfriend. The other cast of the show involves, Marianly Tejada as Bronwyn, Annalisa Cochrane as Addy, Chibuikem Uche as Cooper, Cooper van Grootel as Nate, Mark McKenna as Simon, Melissa Collazo as Maeva, and Barrett Carnahan as Jake.
Fans are anticipating her upcoming drama film, The Unforgivable, which is based on the 2009 British miniseries Unforgiven. Jessica will be playing the role of Hannah in the movie, which also stars the actress, Sandra Bullock. Additionally, she will be starring as Karen in the upcoming character drama, Day to Night which also stars Robert Moloney and Camille Sullivan, still in post-production.
Stay tuned and connected to Celeb$fortune for more content from the entertainment and social media world.