Love it or hate it, Julia Haart's miniseries My Unorthodox Life has been one of Netflix's hit series in the year 2021. Be it an appreciation for talking about the hardships faced by women in an ultra-strict orthodox community or negative criticism with the number of people coming forward claiming orthodox Jewish life is nothing like portrayed in the series, My Unorthodox Life has always been the headlines since the day its trailer was released.
And talking about Julia Haart [b. April 11, 1971], she is one strong lady who has not only become one of the top entrepreneurs in the business world but also has ruled the modeling industry, working with famous models like Kendel Jenner, Naomi Campbell, Lindsey Wixson, and Sasha Pivovarova. Haart has always managed to be in the headlines for different reasons, and now rumored her split with billionaire entrepreneur, Silvio Scaglia Haart has been trending news.
Julia Haart's Life Before Leaving The Ultra Strict Orthodox Community and Her First Marriage
Born as Julia Leibov in Moscow, Russia, Julia Haart is the eldest of eight children of her parents. She, along with her parents, moved to Austin, Texas, when she was just three, and when she was in the eighth grade, they again relocated to Monsey, New York, the home of an ultra-Orthodox Jewish community.
She then attended the religious girl school, Bais Yaakov Academy, in Brooklyn and taught herself how to sew and smuggled fashion magazines into her house at the age of sixteen. And when she turned 18, she changed her name to Talia, a Jewish name, in order to blend more in the Haredi community.
Her Instagram bio reads "Disrupting the modeling industry."
Photo Source: Julia Haart, Instagram
The fashion designer tied the knot with her first husband Yosef Hendler at the age of 19 and became Leibov Hendler. While struggling to adapt to the ultra-strict Jewish community, she eventually gave birth to their four children: sons Shlomo & Aron, and daughters Batsheva & Miriam Haart.
Even after all those years, Haart still juggled to live the Orthodox life and even contemplated suicide (starving herself to death or losing weight to 73 pounds). In the Yeshivish Jewish group where women were to dress with extreme modesty and conform to restrictive gender roles, the fashion mogul was often reprimanded for dressing in bright colors and was once pulled into the rabbi's office for dancing too provocatively.
When her bisexual daughter, Miriam, was being forced into this obedient, quiet, meek woman, Julia finally gathered up the courage to leave the community behind with Miriam. The 5 feet ¼ inch woman eventually started her own shoe company and then became the creative designer in the luxury lingerie company where she met her future husband, Silvio Scaglia Haart.
Julia Haart's $500 Million Net Worth is As Interesting As Her Show, 'My Unorthodox Life'
As per estimating sources, Julia Haart holds a net worth of around $600 million, not bad for a woman who left Monsey, New York, when she was 43 years old to start her life all over again. Less than a decade after fleeing her strict Jewish life, she is now a successful fashion designer and entrepreneur who head a global talent empire called Elite World Group.
She has a history of being the CEO of multiple companies.
Photo Source: Julia Haart, Instagram
Well, the 50-year-old started her career through a wearable luxury shoe brand named after herself despite having no formal design training. She collaborated with a ski boot engineer and a German company that creates an insulation gel used by NASA to design high-quality ultra-comfortable shoes. Her hard work really paid off, and her innovative shoes were sold in 17 different countries which eventually attracted the Italian luxury lingerie company, La Perla.
Then, she sold her company and started working as the creative director of the company. In the fall/winter 2017 show, she designed a La Perla Manor runway extravaganza, where Naomi Campbell, Lindsey Wixson, Sasha Pivovarova, and Kendall Jenner walked in.
Haart then became the co-owner and the chief executive of Elite World Group, the modeling and talent conglomerate which is brought by her now-husband, Silvio Scaglia Haart in March 2019. As per Trend Net Worth, she nearly earns $2 million a year, or $400,000 a month as the CEO and CCO of the talent media company.
Recommended: How Cookie Entrepreneur Adina Miccio Earned Her Net Worth
Besides, her reality show, My Unorthodox Life became a hit on Netflix which further adds to her net worth. Also, the miniseries is renewed for the new season which will "feature more fashion, family, female empowerment, faith, fabulousness, and of course, Haart."
In addition, her riveting, inspiring memoir Brazen, which tells the story of her extraordinary journey, from leaving an ultra-orthodox Jewish community, is set to be published by Penguin Books USA around April 2022. What's more, she owns a $55 million apartment in Tribeca and also a vacation home in The Hamptons.
Julia Haart Controversies And Lawsuit
When Julia Haart's My Unorthodox Life got released, it divided the orthodox world into two groups. While many people praised her for showing the harsh reality faced by women, others came out to say that the Jewish community is nothing like she portrayed in the show.
Apart from that, in 2019, Julia's media talent company, Elite Model Management, was sued by Men Women N.Y. Model Management over a mass "conspiracy" to poach managers and models. The lawsuit alleges that her company poached over 16 managers and 55 models between March and July costing Women Model Management about $22 million annually.
No, Julia Haart Is Not Getting Divorced With Her Billionaire Husband, Silvio Scaglia Haart
Recently, the news of Julia Haart and her husband, Silvio Scaglia Haart has surfaced over the internet, and even PageSix, Dailymail, People confirmed the news of their divorce. However, Julia shut these rumors by posting pictures of her movie date night with Silvio on 9 January 2021.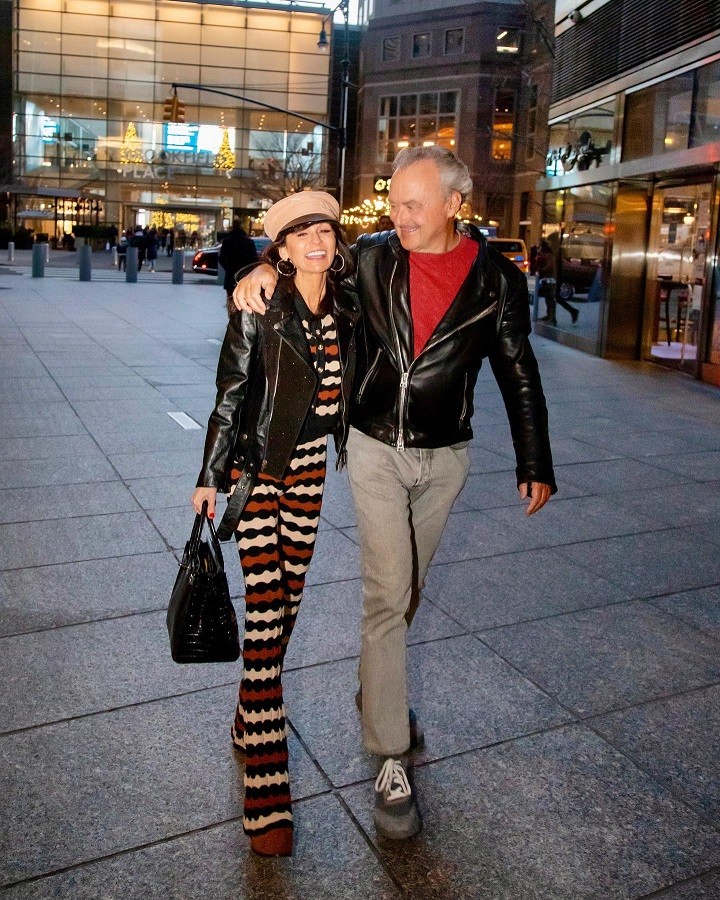 There were the rumors and then she dropped a "movie night" post.
Photo Source: Julia Haart, Instagram
The two first met while Julia was the creative director of La Perla, a luxury lingerie company that Silvio was the CEO of. Unlike other love stories, their relationship did not start on good terms with Haart constantly yelling and being horrible to him. However, with time the couple developed a friendship over mutual respect, which soon "transitioned into something more."
They eventually tied the knot in 2019 with Scaglia taking her last name Haart. Prior to Julia, the Italian entrepreneur was also married to Monica Aschei with whom he shared children. Meanwhile, her daughter Batsheva is separated from her own husband Ben Weinstein but with no further news of divorce.
Stay tuned and connected to Celeb$fortune for more celebrity content from the entertainment and social media industry.