Julie Marie Nolke is a Canadian vlogger, actor and comedian notable for her eponymous YouTube channel, formerly called Feeling Peckish, posting skits every Thursday and occasionally making videos for Tastemade, a food-and-travel network. She controls a 2020 net worth of $2 million.
She obtained her BFA in acting from York University in 2012 and started working for Tastemade part-time in 2014 before going full-time in 2015, around the time she started her YouTube channel. Her husband, Samuel Larson, who holds a similar degree, assists with the direction of the videos.
Nolke is really a veteran in comedy.
Photo Source: Julie Nolke Instagram
Beyond YouTube, the Calgary-born has also been a part of other projects like Larson's Oil Men, Workin' Moms, TallBoyz, The Boys, What We Do in the Shadows and the to-be-released Secret Society of Second Born Royals. However, Explaining the Pandemic to my Past Self Parts 1 & 2 still remain her two most popular videos yet.
Incomes Sources for Julie Nolke's Net Worth
The recently-turned 30-year-old primarily earns from her YouTube AdSense and sponsorships, especially so since her aforementioned video brought her the exposure back in April 2020. She now has over 590,000 subscribers, up from less than 75,000 before the breakthrough.
Recommended: Net Worth Details of the D'Amelio Family
Besides social media earnings, she also made quite a bit from working at Tastemade, working for $1,000 a video with Larson from back in 2015 as they signed as a partner manager with the company. They were later signed directly as demands for more videos started flowing in. Tastemade's website has over 300 mini-episodes from the two. She likely stopped since mid-2019.
She's a Giver: Donated the Entire Pandemic Part II Video Earnings to George Floyd Memorial Fund
The actor recently celebrated her 500,000 subscriber mark with a behind-the-scenes video-special, a month after receiving her first button from YouTube on surpassing 100,000 subscribers. Although her subscriber-count increase was massive within that time period, she had 250,000 subscribers when receiving that award.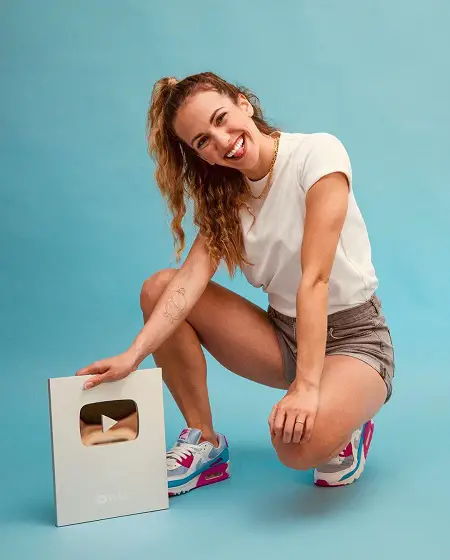 It's not the end of the road yet.
Photo Source: Julie Nolke Instagram
At the same time, she'd released the second part of Explaining the Pandemic to my Past Self video, which immediately went #1 Trending in the US. She likely knew one of the largest earnings of her YouTube career would come from the video, which she accordingly announced would be completely contributed to the George Floyd Memorial Fund. With over 6.1 million views there alone, the earning is approximately between $11,000 and $24,000 from AdSense.
Social Media Earnings
In comparison, she likely earns around $2,000 per video on average. But with more sponsorships from general YouTuber-targeted advertisers like Skillshare, NordVPN, and such, there's still much to explore. She's partnered with Warner Bros. Canada and Amazon's Prime Video Canada in the past, even being in a McCafé donuts ad. She's also set up a Patreon page for her fans to help her with making the videos. She's uploaded over 130 videos by now, and the number increases by one every Thursday.
Check Out: Sarah Cooper's Trump Impersonations Are Spot On. But Get to Know Her Better
Additionally, Nolke's estimated earning from Instagram is put around $500 per post, without many sponsored ones. Although, it doesn't seem like she focuses on monetization on Instagram with her time and passion on YouTube. She did sponsor Nintendo with a giveaway once. But just above 95,000 followers don't do justice to her either.
Nolke's net worth is clearly not from social media only.
Photo Source: Julie Nolke Instagram
Either way, her sketches have attracted a lot of followers in recent months, which is made up of people with a particular interest in such videos. After all, it all just depends. With the current trend in the increase in her fanbase, her popularity doesn't stop now Even though she is often called the Pandemic Girl by first-time viewers, she will be Julie to her fanbase, who is likely one of the rare celebrities able to tolerate any comments thrown at her.
Keep checking into Celeb$fortune for more celebrity net worth content. For more updates, stay tuned to the Focus section.