If this is your first time trying to know this particular YouTuber, Julie Nolke is a fine specimen of a unique YouTuber in the YouTube world. That's the first thing you ought to know about her. She writes all her skits (call it Sketches, by the way), acts in the majority of them and even though her subscriber-count & video view-count isn't increasing much throughout the years, she is regularly posting these days.
But the weirdest thing about Julie's video view-count is that almost half the total views of her channel has been attributed by one single video, Explaining the Pandemic to my Past Self, that has swept viral in the current lockdown situation, because she grasped the details of an unprepared life during the entire COVID-19 situation and shines a light at some major positive changes as well. Like some didn't know the Australian bushfires happened in January 2020, not 2019.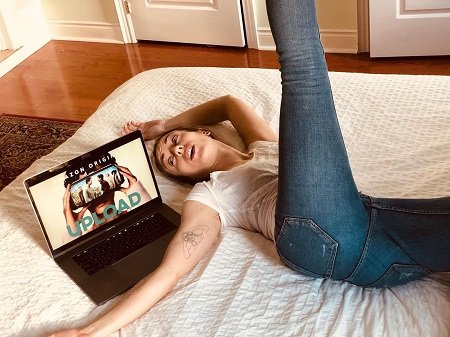 Yeah, she's a little weird.
Photo Source: Julie Nolke, Instagram
If you think there are many other YouTuber that do the kind of skit she does, then you might wanna see all her past videos as well. The ones she made before that viral one popped up in your suggestions section. She doesn't have a huge crew around her as others often do. And to add to that, she's also an actor (well, duh?), in a little more professional world as well. Plus, she introduces some interesting people on her videos as well.
Julie Nolke Is Canadian, & This Is the Kind of Videos She Posts
Born on August 24, 1990, (Age 30) Julie Marie Nolke was raised in Calgary, Canada as she completed her B.F.A. in acting from Toronto's York University in 2012. She is half Ukrainian, a huge foodie & traveller and loves to write comedy, parody skits, each addressing a pressing issue in the world, current or past. Her mother, Cheryl Nolke, and her father, David Nolke, are both accountants.
She started her YouTube channel in October 2011 and first named it Feeling Peckish with her partner Samuel Larson. Yeah, it's named 'Julie Nolke' now. As it happens, she renamed the channel somewhere along the way in early 2018 as she filmed for 22 continuous days to create Christmas Vlog series, during her time for YouTube camp in New York, in late 2017.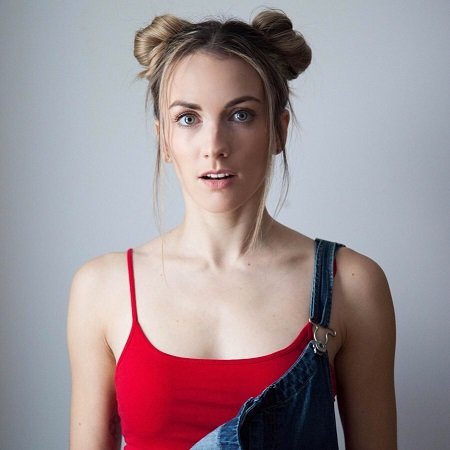 Julie's net worth below will definitely surprise you.
Photo Source: Julie Nolke, Instagram
Since the end of the Vlogmas series, she started making her signature parody videos every Thursday (nothing new for her) and continued them to entertain her 159,000 subscribers (only??) [Update: June 5, 2020]. Plus, she also stopped saying "Welcome back to Feeling Peckish," at the start of her videos. The parodies seem so real, you can't tell them apart from her real videos. A lot of first-time viewers are continually confused.
Julie doesn't usually parody the biggest of trends, but once you start watching her videos, you will understand how other YouTubers may hide some imperfections in their normal videos. BTW, did you know she shaved her head in Grade 10 in support of cancer?
We Found This Video on YouTube "Unlisted" on Her Account. We Knew a Lot More about Her Than Things Mentioned Here. Don't Even Skip the Article.
In one of her sketches, she writes herself as a troll who writes mean comments on YouTube as she goes on to reveal how those kinds of people write mean things about other YouTubers. She collaborated with other food channel users like Gunnarolla [Gunnarolla], Jen Phanomrat [Just Eat Life], and Frankie Celenza [Frankie Cooks], who even let her read actual hate comments they received.
Watch: What an Honest Mean Comment Writer Would Say
In another, she details how the worst day of a YouTuber's life could go like. In another another, she tours her apartment and parodies a creep or even a serial killer (if that person is a YouTuber too) detailing their home. There's a weight loss parody and a lot of those adult harassment issues & "normal" everyday issues she's addressed, which, of course, educates you in a funny way. There's a vague definition of what "normal" means in her videos.
Trending: Everything about Sophie Fergi
In her early days, Julie Nolke did a lot of videos related to food with a cheeky recipe and a movie parody for a company called Tastemade, as she got help in finishing up her videos. Her first video on her channel, WHAT'S IN MY MOUTH?! - with Justeatlife with Phanomrat, was from May 2015, and judging by the intro, it wasn't the first one she made.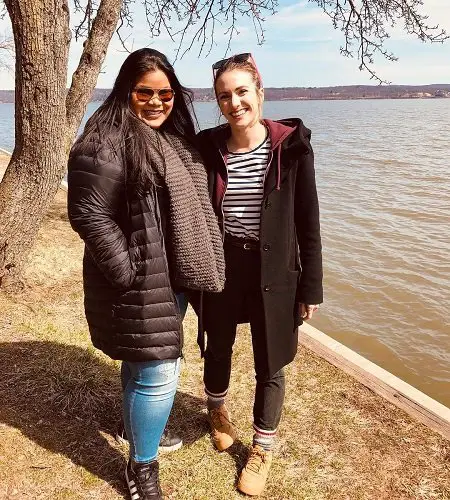 Julie's associated with other food vloggers as well.
Photo Source: Julie Nolke, Instagram
You can find a lot of the aforementioned kinds of videos occasionally on the Tastemade YouTube channel, as she is one of the Tastemakers there. For a more specialized collection of only her videos, she has her own profile on the Tastemade website.
Does Julie Nolke Have a Boyfriend? Umm... If You Didn't Notice, YEAH!
Julie Nolke started dating boyfriend Samuel Larson since within a year of her graduation and is a director for her videos. The two then got married in June 2019 and now live on Toronto. Full story of their relationship here.
Remember how we referred to Samuel Larson earlier as her 'partner'? He likes to be called Sam for short. Yes, we were not sure whether to label him as her boyfriend but found out Nolke herself calls him her boyfriend. They've been together for as long as she's been making YouTube videos, so you know it's a really long-term relationship.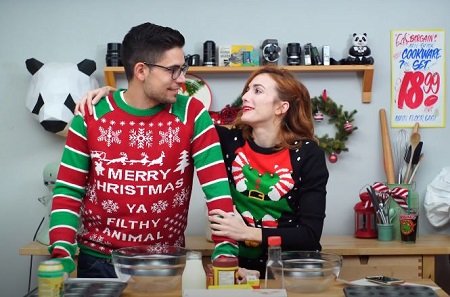 Julie Nolke funnily calls her boyfriend Sam Larson 'Brother from another mother'.
Photo Source: Julie Nolke, YouTube
In an interview with Hilah Cooking's Hilah Johnson, she talks about how she started Feeling Peckish as a vlog channel in the first year of her graduation from York and just met Sam as an aspiring director, in the very first month, a perfect match. You could say, they met around 2013.
Suggested: Piper Rockelle's Relationship History
He'd seen her in a show during her university days while he was casting for a 100-page script he'd written. Despite not being able to make a movie out of it, he originally contacted her because he thought she was "hot" and had a meeting. She also thought, "This guy is really motivated," and started dating not long after.
Listen: Explanation of How They Met in Their Own Words Is More Fun, So Don't Skip the Interview [Starts from 2:37]
Boyfriend Sam is usually behind the camera on Julie's videos and occasionally is introduced in front of the camera in her sketches. He's Julie Nolke's videographer, but during the nationwide lockdown, it's just been editing it all by herself. She's still entertaining you, isn't she?
In one earlier video, her sketch script of meeting an ex's girlfriend in a train was based on a real past relationship. Friends Gina Phillip and Trish Rainone featured in the video, RAN INTO MY EX'S NEW GIRLFRIEND, from November 2018. Gina appears quite often in her videos.
Watch: That Awkward Time You Meet Your Ex's New Partner
Julie wrote, "Based on a true story," in the description of the video.
Julie Nolke's Acting Credits
As an obvious section, it'll just be a summary. Every one of her videos serves as her acting portfolio as she's acted in a lot of her own scripts on YouTube. Yes, some sketches are collaborations, and some were written by others for her.
Meanwhile, IMDb only seems to only mention some of Julie's videos, including the Pandemic video. Besides, she's been a part of several short movies in the past, like Exquisite [2014], Oil Men [2017, created & directed by Sam] and Hashtag Apocalypse [2019, written by Julie and Carson Gale, directed by Sam].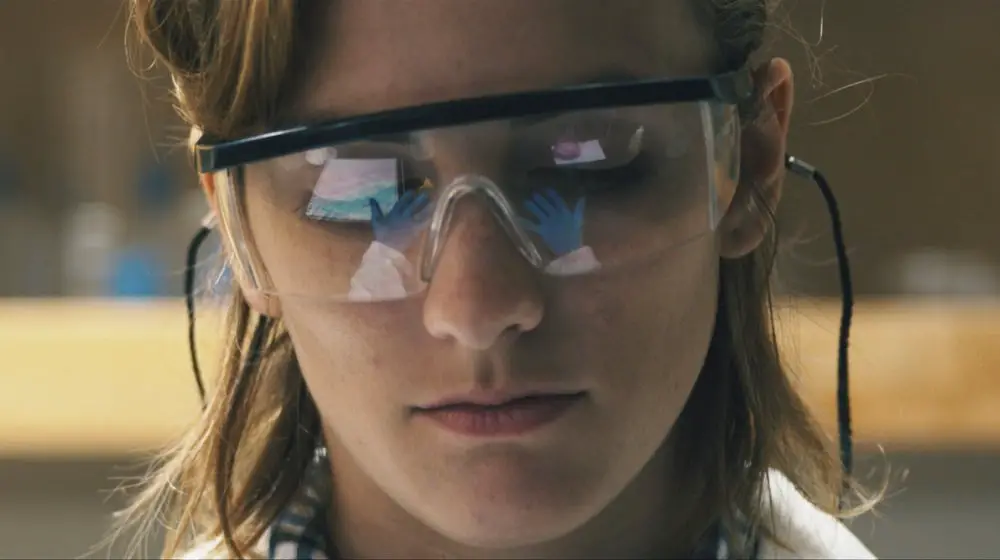 Julie Nolke plays a young oil and gas chemist in 'Oil Men'.
Photo Source: Oil Men
In addition, she's also appeared on Television with single episode appearances on TallBoyz [2019] and Workin' Moms [2020]. But the comedy movie Secret Society of Second Born Royals, which is in the post-production stage, will probably be her biggest break so far. Skylar Astin [Wreck-It Ralph], Elodie Yung [The Hitman's Bodyguard], Greg Bryk [Saw V] and Niles Fitch [This Is Us] are starring in it alongside Julie. So, watch out.
Recommended: James Charles' Net Worth Details
Her IMDb profile also mentions her as a writer, editor and producer of Hashtag Apocalypse. In addition, Feeling Peckish is mentioned as a TV Series Documentary since 2015. She is managed by Grand Wave Entertainment.
Julie Nolke Addressed the Plastic Surgery Issue in Another Funny Look
Main Article: Julie Nolke's Plastic Surgery Details
As you can imagine, if you don't read that piece, you'll never understand the real deal of her plastic surgery rumors.
She's done a lot of these parodies, so don't get surprised by the result. In one video, she portrays someone who gives away free cruises, (I mean, really give away), but because of the fake 'Congratulations!' trend on internet & phone these days, she always gets turned down. Just watch the video. Some think she deserves an Emmy.
You'll Be Surprised by Julie Nolke's Net Worth! 'Tastemade' Signed a Deal with Nolke & Larson
As of May 2020, Julie Nolke's net worth is estimated at around $2 million as she's a freelance-turned professional food vlogger for Tastemade, an actress and a full-blown parody YouTuber. She earns a lot from her paid partnerships with several brands and sponsorships on social media like Warner Bros. Canada & Amazon's Prime Video Canada. Yeah, her videos are that famous, despite the low number of views on YouTube.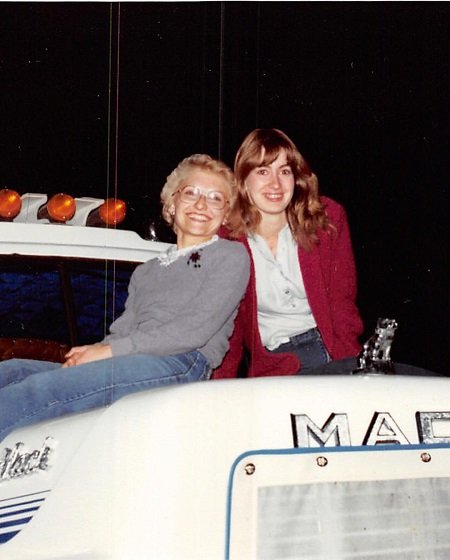 Her mom used to drive "a motorcycle, drove semi-trucks, dominated in business and got married in a red skirt suit."
Photo & Quote Source: Julie Nolke, Instagram
Tastemade was established in 2012, and it seems Julie found a place of comfort to make sketches for food & travel videos. But she was working a desk job at an investors' association when she first started making videos on YouTube and for Tastemade. She signed with a Tastemade "partner manager" to get help optimizing and sharing her own videos while agreeing to split ad revenue.
Recommended: Things You Need to Know about Maddie Ziegler and Her Net Worth
But when Tastemade started to be really huge & demands started piling up in around 2015, Tastemade signed up Julie and boyfriend Sam directly. They were paid $1000 for a video and were making videos three times a week for them, producing ideas and "branded content". It even included a series sponsored by Starbucks. The Washington Post reported this and explained how they make such videos.
Watch: Julie Nolke Makes Croissants for the First Time
So yeah, they quit their jobs for this work. And they never had to rely solely on ad revenue on YouTube. That's how she's always able to make videos for you despite the low subscriber-count. And so far, they've made over 300 videos for Tastemade. That's over $300,000 in earnings right there from Tastemade's YouTube channel as well.
In her own YouTube user account, Julie Nolke, she has just over 159,000 subscribers and has posted 135 times since 2015. From ad revenue on YouTube alone, she earns around $200,000 every year, that over $500 a day. And since her record-breaking Pandemic video, her subscriber-count is increasing by thousands every day. Really, she's been gaining it only since that video In the last 24 hours at the time of writing, she's gained 15,000 new subscribers.
Update: Julie Is Back with a Pandemic Time Travel Sequence As She Crosses the 275K Subscriber-Count Milestone
Of course, because of the addicting nature (depends on your perspective) of her videos, there's a chain reaction in people's suggestions list. Before you know it, you'll be watching each one of her sketches.
Watch: It Suddenly Popped on My Suggestions List & Didn't Know She Was So Underrated
On Instagram, she's got a modest fan-following, which is also increasing since the viral video. With just over 53,000 followers and 400 posts, she earns around $300 for each post through sponsorships. But you know, she's not relying on it. In her bio, she also mentions she works for Trip Advisor. It's a shame her account is not verified yet. But just you wait.
BTW, she's also got a TikTok account, Julie Nolke, with a modest 1500 followers. She's only posted 26 times though.
Also: At 16 Years Old, JoJo Siwa Is Already a Superstar
Hope you understand how Julie Nolke's videos are like. And if you've found them funny and amusing, you'll be watching it all day as we did. If not, keep your opinions to yourself, or so she says in her skits.
Keep tuning in to Celeb$fortune to get to know some rare people out there that deserve to be known. Also, check out the net worth articles we usually do and more updates in the Focus section.