If you could have one superpower what would you choose? For Madi Filipowicz (b. April 21, 2005), it would be invisibility. And for those who don't know her, Madi is an Italian/Mexican-American actress, model, social media influencer, TikTok content creator, and Youtuber.
Born to Joe, and a CEO mother, Laura Medina-Filipowicz, she attended private catholic school up to her fourth grade and after that, she was homeschooled for six years (completing both junior and high school). The LA-based influencer is currently studying BA degree in Communication at Southern New Hampshire University.
Madi Filipowicz Was a Gymnast for Eight Years. Did She Change Her Career Because of Her Mother, Laura?
Yes, you heard it right. Madi Filipowicz, before her fame as a social media influencer, was an avid gymnast and an athlete. She started learning gymnastics from a very young age and participated in different competitions for eight long years.
However, when she suddenly decided to quit gymnastics, people were wondering if she was forced by her mother, Laura Filipowicz, to pursue her career in social media as Laura herself has been working in the entertainment industry for 15+ years.
Photo Source: Madi Filipowicz, Instagram
Well, mom Filipowicz is the CEO and executive producer of the Z Star Digital LLC which manages celebrities like Nicolas Sturniolo, Matthew Sturniolo, Christopher Sturniolo, Jax Malcolm, Yung Pleit, and Madi herself.
Not to forget, she was also the founder and the CEO of ConnectHER Media Group, an LA-based innovative full-digital media group for nearly 14 years. Whatsoever, neither Madi nor Laura has revealed the exact reason for her quitting gymnastics. Besides, the 17-year-old seems like she is really enjoying her new life as a social media star and actress.
Additionally, gymnastics is not the only sport that she masters in, as she is also a very talented figure skater, competitive rock climber as well as a ballet dancer. Meanwhile, Filipowicz was once rumored to be dating the YouTuber, Christopher or Chris Sturniolo.
How Much Is The Net Worth of Madi Filipowicz?
As of 2022, Madi Filipowicz is estimated to be worth $100,000 as a model, social media icon, and actress. Among all her work, she is best known for starring in Jenna Davis' Under the Surface music video, the documentary Teens Wanna Know, Jax Malcolm's Run Run Rudolph, and the short film, How Clause Ruined Christmas.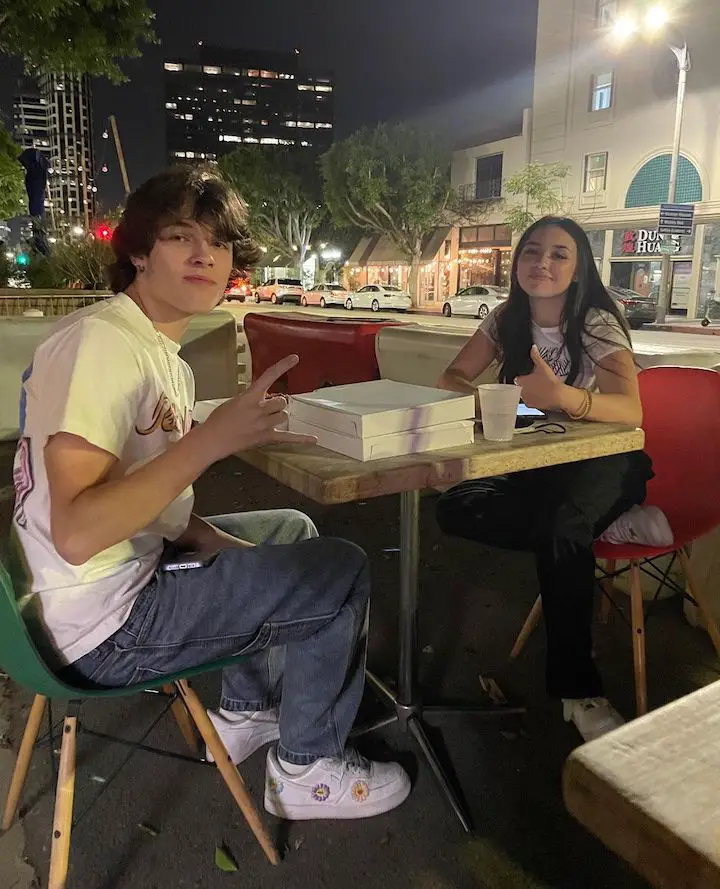 Filipowicz is just the girl who hangs out with the Sturniolo Triplets.
Photo Source: Nick Matt Chris, Instagram
Being in the entertainment industry for six long years, Filipowicz has managed to work with prominent brands like Garnier, Sketchers, Redkin, Bubble, Aelfric Eden, Petite N Pretty, Far Out Toys, Purely White, Casetic, Hey Rowan, and many more. She has also collaborated with travel brands such as Xperencias Xcaret and the Riviera Nayarit Tourism bureau.
Besides, she is also popular for her appearance on the GLO Show series for the GLO-UP GIRLS TV which also features other influencers and popular content creators like Rachel Brockman, Sicily Rose, Paige Taylor, Makenna Kelly, Dai Time, Enzo Torres, Evan Urquhart, and Cole Allison. What's more, she was also featured in J-14, Forbes, Teen Music Insider, and so on.
Represented by Z Star Digital, the young entrepreneur is currently interning with them under the role of Talent Acquisition Advisor and plans to be a successful actress in the future while concurrently building her own brand. Meanwhile, the actress is quite popular on her Instagram page, madi filipowicz (@madifilipowicz) with over 180K followers from which she makes an average of $700 per sponsored post.
Similarly, Filipowicz has been growing her fan following on other social media platforms like YouTube as well as TikTok. The 5'4" tall social media icon launched her eponymous YouTube channel, Madi Filipowicz on Feb 11, 2022, and has already garnered 14.7K subscribers even though she has not posted any video yet. Besides, she has over 213.6K followers and 3.8 million total likes on her TikTok page, madi filipowicz (@madifilipowicz).
Stay tuned and connected to Celeb$fortune for more content from the entertainment and social media industry.