Is it weird that we found Jenna Davis' song Under the Surface catchy? We'd like to think not. She's been singing cover songs all her life and not just as a lip-sync user formerly in Musical.ly. She rose to fame with her second most popular video on YouTube, a cover song for Sia's Cheap Thrills when she was 12. Of course, she used a squeakier voice to match the singer, but the entire covered music video is definitely interesting.
Of course, Davis is the oldest member of the Piper Rockelle [net worth: $2.7 million] gang, but there's so much more to her fame & talent than just that. She's been singing & dancing all her life, rose up as an actor and has done a ton of short films, movies & TV shows alongside a resounding YouTube career with over half a million subscribers.
Background: Jenna Davis' Parents Live Cities Apart But They're Still a Love-Filled Couple
With birthdate on May 5, 2004 (age 18), Jenna Davis was born an only child (so, no siblings) in Plano, Texas, to father Ronnie Davis and mother Anna Lee Davis. The family moved to Chaska, Minnesota, when Jenna was a young girl, who grew up there until she was 11. Her mother was a voice teacher for 20 years, so you know she'd had training ever since she could speak. The name of her dog is Daisy.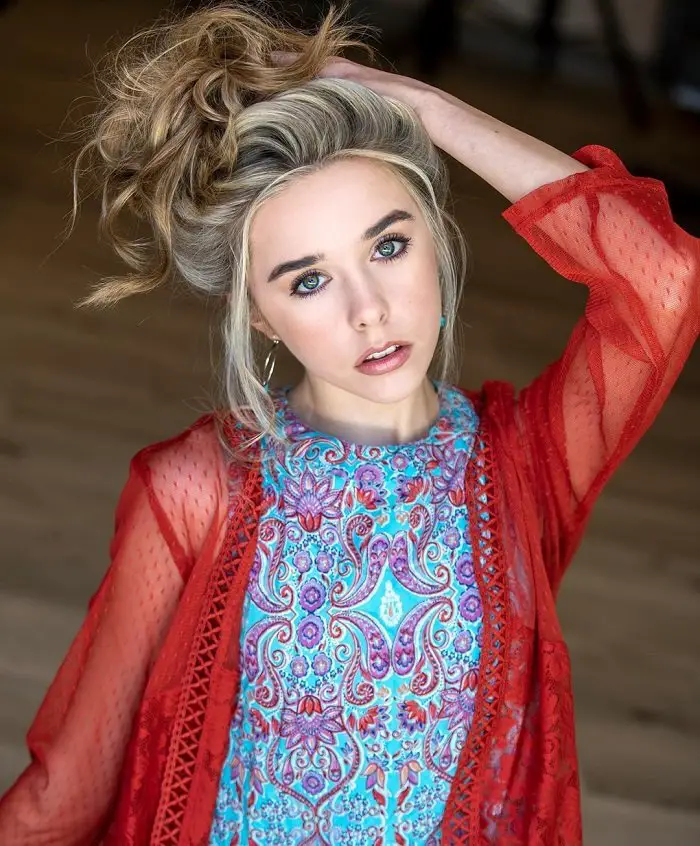 Minnesota and California won't keep her parents apart.
Photo Source: Jenna Davis, Instagram
When she was 11 in September 2016, she and her mother moved to an apartment in Los Angeles after she'd already auditioned for Disney from Minnesota and also gained a little bit of credit to her résumé. Yes, just before dancing to her Cheap Thrills cover. Amidst what she calls "the LA adventure", she booked a recurring role in Disney's Raven's Home in Brat TV's Chicken Girls alongside Annie LeBlanc [net worth: $2.5 million].
Watch: Jenna's Parents Feature in Her Q & A Challenge
Meanwhile, her father stayed behind in their family home for his work on the workdays. He does visit Jenna and his wife during the weekends. And he's featured in a couple of Jenna's YouTube videos too. As for her videos, they're mostly for fun, little interviews, reactions, cover songs and even after joining Piper's gang, she limits the kind of videos the others make.
Davis Seems to Love the Character 'Monica': The Movies & TV Series
No, not Monica from F.R.I.E.N.D.S., if you know what we're talking about.
While singing was a big part of her career, acting came first when she was 10, but she'd begun that practice since she was five. While in Minnesota, she was already acting in theaters with her first role coming in a theater production of Annie by her community theater. She played Molly.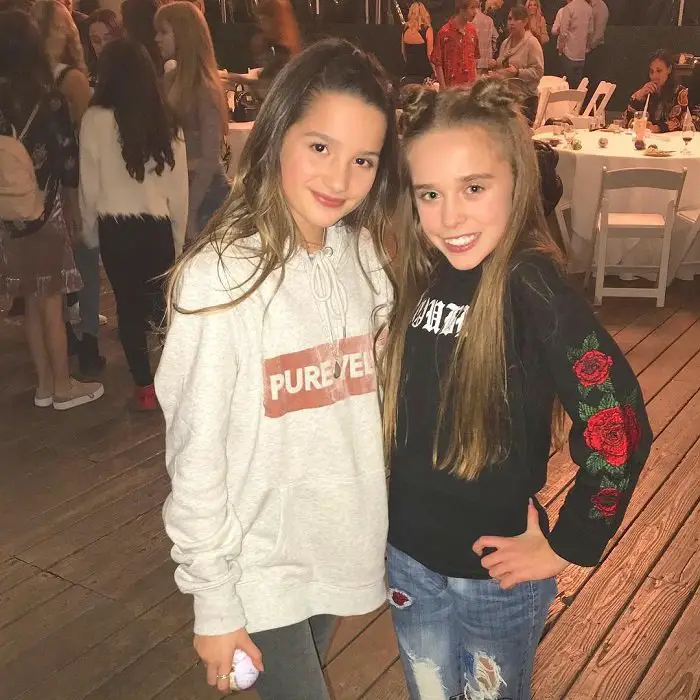 They first worked in 'Chicken Girls' together.
Photo Source: Jenna Davis, Instagram
She got her first filmed role in a short movie, And Happiness, in late 2014. She starred in the video, which became her second-ever video on YouTube. She went on to star in a few more short movies like Some Calming Music, The Woods, The Clubhouse, before getting a behind-the-camera voice role of Sally Sweet in two episodes of The Last Tycoon in 2017.
Jenna's first series role came with a recurring role in October 2017 with Brat TV's Chicken Girls. She portrayed the character Monica, which would come to become a recurring name for her in other shows as well. She used that name in a one-episode role in 2018 in Afterschooled and in another recurring role in Brat TV's A Girl Named Jo in 2018/19. In between in 2018, she had another recurring role, Maddy, in Brat TV's Keys.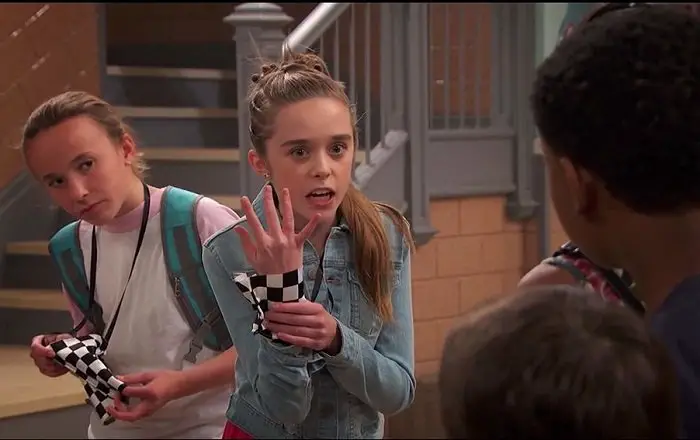 Yeah, she's juggling every interest around.
Photo Source: Raven's Home, Carrie's Chronicles
After Chicken Girls, June 2018 became a huge thing for the young star. Her first real movie role, a cameo in Mr. Neighbor's House 2, aired, and so did Chicken Girls: The Movie. Davis had huge recurring roles in two TV series, voicing Teri in the Netflix animated series, Treehouse Detectives, and getting that "big" role of Sienna in Disney's Raven's Home that same month. She later voiced several characters in the short TV series, Vampirina, in 2018/19. And yeah, she's met Dove Cameron.
For now, there's one project she's been a part of that's been pending for a long time. She'd finished filming for Saturday at the Starlight in January 2019, which was set for release that year but hasn't been released thus far.
Singing, Dancing & an Overall Talent
Jenna Davis has been singing all her life as she and her mother sing around the apartment all the time. She began dancing when she was two, a little earlier to be called amazing, and won her first talent show when she was six.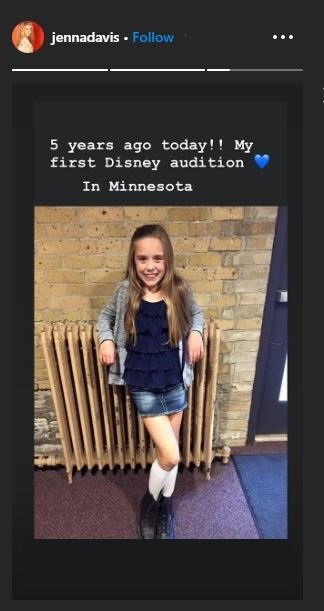 Story from May 7, 2020.
Photo Source: Jenna Davis, Instagram Story
The talented you girl had been singing cover shows on Snapchat and other video-making apps, like that time she sang Opportunity from Annie (that motion-picture show, not the theater musical) as a 10-year-old girl. That was her first video on YouTube.
But a little professionally, she started her journey with her first official cover music video for Sia's Cheap Thrills in November 2016. She'd already released her official single Breathing Fire. But the first music video exploded on YouTube as it crossed 1 million in such a short time. Now, the video has over 4.5 million views.
Watch: Jenna Davis' First Viral Video
Jenna Davis has quite an extensive portfolio of songs. There was apparently an EP from her called Seasons in 2015, which is not available for public sharing but can be listened to on Spotify and other music purchasing platforms.
After Cheap Thrills, she went on to released covers for Alessia Cara's How Far I'll Go (with video), Kelly Clarkson's Piece by Piece, Sophia Grace's Girl in the Mirror (she rapped on that one + video), Marshmello & Anne-Marie's FRIENDS,  Ariana Grande, Meghan Trainor, Justin Bieber, Camila Cabello, Lady Gaga,  Miley Cyrus, Ava Max, Selena Gomez, and so much more. Her personal favorite song is Lukas Graham's Love Someone.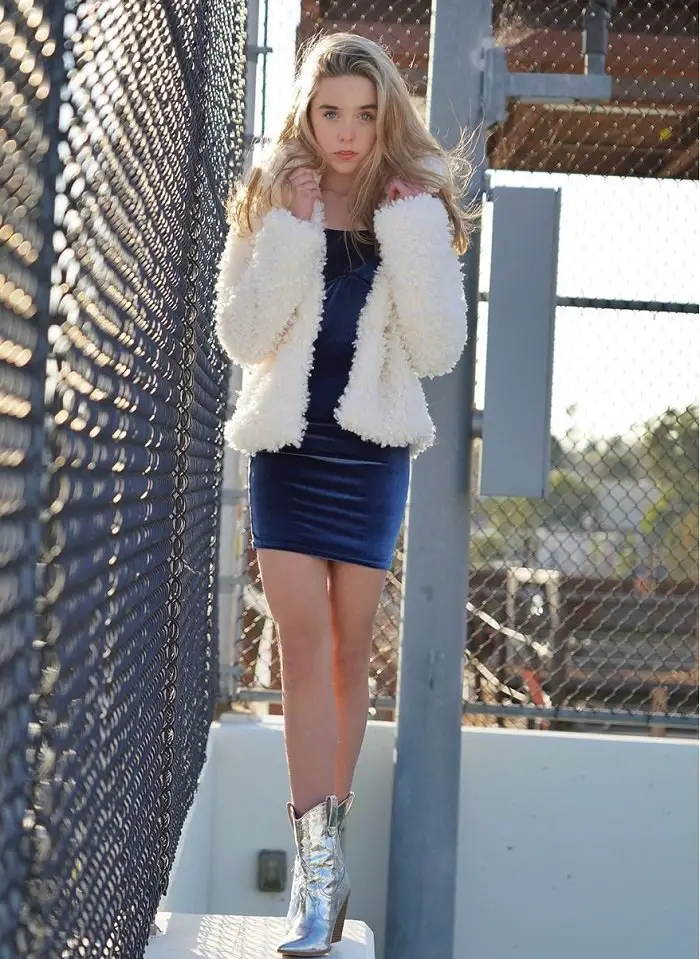 Fact: She does not ever want to model for 'Victoria's Secret'.
Photo Source: Jenna Davis, Instagram
Although she didn't get similar attention from her later cover songs, she didn't quit making them. But she was also getting ready for more original singles. She released Summer of '19 in November 2019, which she says is in reference to an emotional summer of 2019. She was already a member of Piper's group by then as she started writing "it's Jenna Davis one of Piper Rockelle's best friends," in the description box of the video.
The song received similar attraction on YouTube (though not even close to that much) as Cheap Thrills with 2.7 million views, at the time of writing. And remember there was one video on her channel above all others (including Cheap Thrills)? Yeah, she released the music video for her single Under The Surface in February 2020, and that one has over 4.7 million views. Of course, it was catchy, if you like the kind.
Watch: You Can Keep Asking for More
And perhaps, you don't know this, she featured in the music video for Annie LeBlanc's Picture This as they seem to be good friends for a long time.
Jenna Davis' Relationship Status
It's a given topic when it comes to the squad. But no matter how many video titles you see saying Jenna Davis' crush is being revealed, none of them really reveal the guy (it's a style for users in the gang), although you'll get some facts about the mysterious guy. It's not anyone in the squad yet as the guy goes to another school.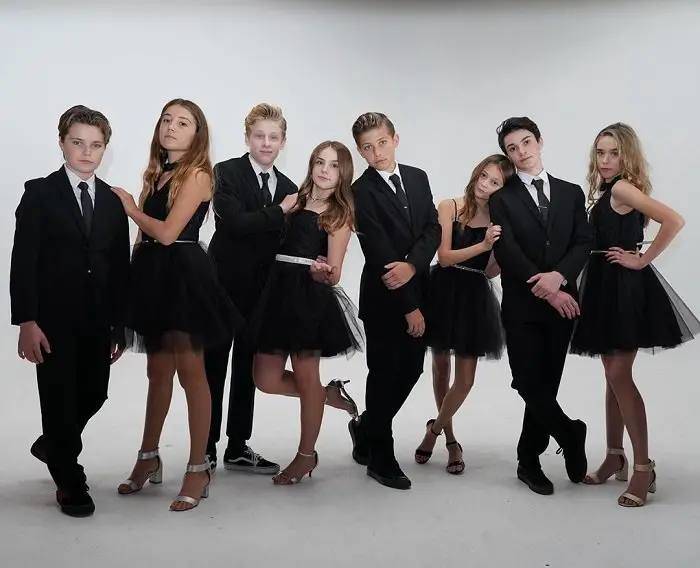 Jenna is the oldest of the group and says they all consider her like a mother to them.
Photo Source: Pinterest
In a September 2019 video, where she tried answering 100 questions in 5 minutes, she reveals some things about her relationship status. She was single back them with no serious guys before but two people who were "kinda". She also clears out about not having a crush on any of the guys, Walker Bryant, Lev Cameron [net worth: $600,000], Jentzen Ramirez [net worth: $1 million] or Hayden Haas [net worth: $200,000], for that matter, as she's also got her heart broken once (summer of 19 probably). She considers all of them her siblings, as the oldest in the gang.
However, she did say she had a crush back then, but in a rapid-fire round, there was no question of revealing it. Although, she never said who she is, she has made subsequent videos saying some things about her crush, particularly in the RELATIONSHIP ADVICE (PART 2) W/ Piper Rockelle & Squad *MY CRUSH REVEALED?* video in early March (she didn't discuss anything about her crush in part one of it).
Plus, (if you see this in-between by chance) she went to Instaprom with Mason Coutinho in May 2018. For a while now, Jenna has been stating she's single in her YouTube videos, the likes of which Piper & gang often make. But in one video, she was about to reveal her crush but pushed the face reveal date off, promising to release it in a video if that one hits over 50k likes. It's got 97k likes right now, but there are no signs of it yet.
Other Sources of Jenna Davis' Net Worth: Social Media Presence
As of May 2020, Jenna Davis controls a net worth of $900,000 as an actor, singer, content creator and a social media influencer. Typically, anyone can earn from their social media platforms if they are able to grasp sponsorships with their photos. The earnings depend on the amount of reaction that lands on the influencer's posts containing sponsorships and that is often affected by the number of followers the user has.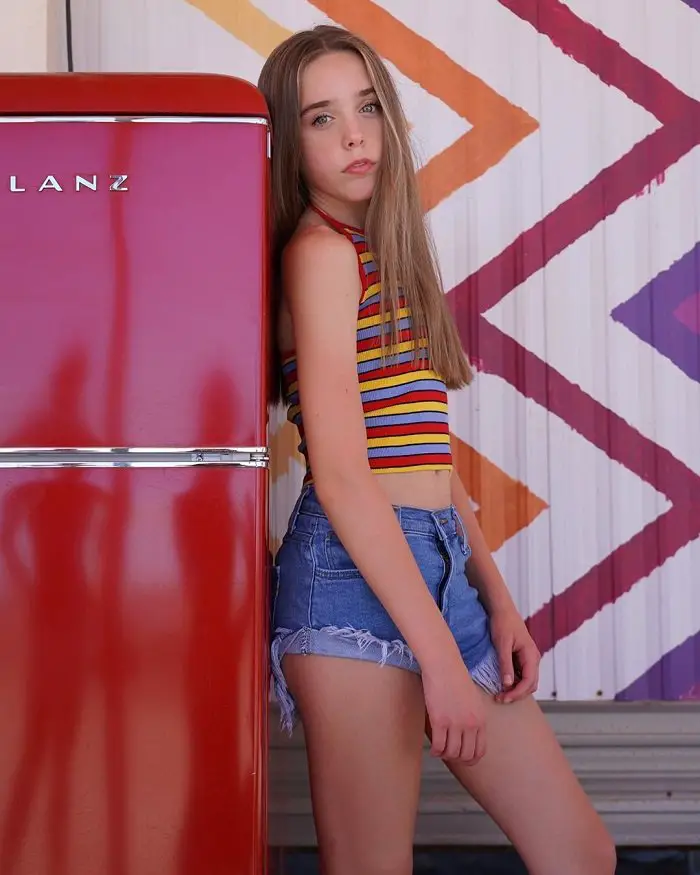 Subtle sponsorships often exist in celebrities' posts. Their net worth depends on it.
Photo Source: Jenna Davis, Instagram
For Jenna, the most prominent deal is the one with Fashion Nova that many teenage influencers of her age sponsor. Also, she promotes Piper Rockelle's branded merchandise. And she knows her presence on social media can create unnecessary "big deal" for little things that are not meant to be expressed that way. Maybe why she doesn't appear in the multiple videos of Rockelle or Sawyer Sharbino [net worth: $300,000] or anyone else for that matter.
But don't get her wrong, she likes being a part of the squad. And she is studying like the girls her age as she plans of going to college too.
YouTube
Jenna started her YouTube channel in August 2014, posting her first video in January 2015. Her past videos only included music, fashion/beauty, reactions, and Q & A types, but since joining Piper Rockelle's gang, those kinds of videos are also being uploaded. Although she tries to regular with posting, there are times where she can't. So, don't lash out at her for that.
Watch: You'll Probably Wanna Watch This Video at All Costs
At the time of writing, she's got about 550,000 subscribers and 116 videos on her channel, Jenna Davis. And with almost 33 million views, she has the potential to earn $200,000 every year from ad revenue.
Instagram
She's got a lot to offer on Instagram as well. She's a huge bible fan too. From her Instagram page, Jenna Davis, with 1 million followers and about 550 posts, she earns around 2,700 for each of her posts through sponsorships.
TikTok
As a singer, dancer, and actor, it's a given that she can do TikTok videos easily, no problem. She was big on Musical.ly before setting up her TikTok page, Jenna Davis (@itsjennadavis). She now has 1.1 million followers and posted over 350 times. With that, she earns around $900 through sponsorships.
She has a mild 4,606 follower number on Twitter though.
Stay connected to Celeb$fortune for content related or unrelated to Jenna that you may like.