It seems Jacob Sartorius has faded already. He's only 17 and has already disappeared from the music world, despite still releasing music, after showing a lot of promise a couple of years ago. But life has been tough for him because maintaining that fame as a teenager isn't easy at all.
Born Rolf Jacob Sartorius on October 2, 2002 (age 17) in Tulsa, Oklahoma, Sartorius was taken in by adoptive parents, since his birth parents couldn't raise him, and moved to Reston, Virginia immediately and raised there. Since gaining fame at 11 years of age, he had to constantly change schools because of bullying, a topic in which he was famous for raising awareness in the first place. It just goes to show, the world is a cruel, cruel place. He was thus homeschooled later on.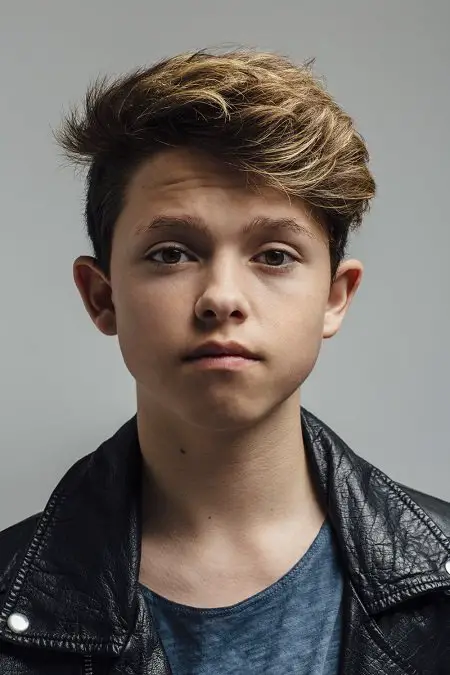 His anti-bullying clip shot him to fame in no time.
Photo Source: Jacob Sartorius
We don't know when he'll make a comeback to music again, after failing miserably in the last three Extended Plays, with the constant need to be in therapy. He does, however, find solace in front of the cameras, a kind of therapy for him itself. So there might just be something more from this guy after all.
Music and Online Career Helped Jacob Sartorius Amass a Net Worth of $1.5 Million
As of April 2020, Jacob Sartorius controls a net worth of $1.5 million. The money comes from the fame he garnered as a mild Vine celebrity, before moving on to Musical.ly and music in its entirety. To be more specific, his income sources include sponsorships from his social media pages and music sales.
Sartorius moved on from social media to the music world to show he's different.
Photo Credit: Nick Favila
It might've been the case of restless anticipation of fans for his first music, thus getting his first EP to various charts, and not find the right button to keep his fans interested in his music anymore. But he still has fans across all social media platforms though. So he still earns quite a lot from sponsorships, as well as merchandise sales. Especially now that he can really do well in TikTok too. Anyone remember Baby Ariel [net worth: $2 million] here?
Beginnings: The Social Media Fame and Earnings
As a eight-year-old he was acting in local musical theater for amusing himself; he knew he loved performing. Aged 11, he uploaded his first video on Vine on August 17, 2014, and he wouldn't have imagined it was going to be such a viral one to unknowingly kickstart his career. The video had a message about anti-bullying.
Source: Jacob Sartorius, Vine
Sartorius began picking up pace in his social media fame and even joined Musical.ly later that year. But he wouldn't post regularly until February 2015. Since then, he made a considerable following on Vine as well as Musical.ly. By August 2016, he had 8 million followers on Musical.ly, 7 million on Instagram, Vine & Twitter, as well as over 1.2 million YouTube subscribers. He was already making music by then, and people were calling him the next Justin Bieber.
With fame, he reveals in a tweet in July 2016 that he was changing schools because of bullying, "verbally attacked, pushed, and teased for things as small as my ears." But social media was his consolation, all that he needed, while he still had friends he knew from before anything.
Instagram Earnings
Since the music thing didn't do too well, his Instagram following has been lagging behind with a slow increase in followers. But it seems he only refreshed his Instagram since his first post only goes as far back as in March 2020.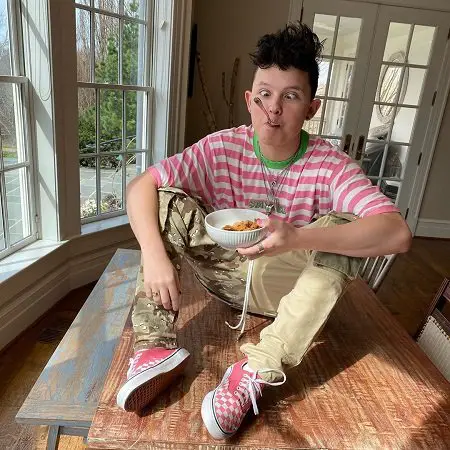 He's starting anew with a completely different type of Instagram account.
Photo Source: Jacob Sartorius, Instagram
Still, he possesses 9.3 million followers on his account, Jacob Sartorius, and having posted only 14 times since then, he still gets from $18,600 to $31,000 from each of his posts from sponsorships. And remember, he was making such amount for a long time now, presumably from all his deleted photos of possibly another account.
YouTube Earnings
With his music earnings, Sartorius is pretty big on YouTube as well. Most of his videos on his user account (not a channel!) are related to his music, but the rare ones contain a few of those with him speaking to his fans. Like the one he revealed he was adopted and other updates. In 2017, he also started a secondary YouTube channel, Life of Jacob, for the vlogging part.
Watch: Jacob Sartorius Reveals He Was Adopted
Jacob's posted 46 times and has over 3 million fans subscribing to him. He earns about $180 each day with the number of views he gets on his music videos. His earlier videos topped 50 million views.
TikTok Earnings
Sartorius still continues his fame on the lip-syncing app platform, Musical.ly, by taking it over to TikTok. He now has 23 million followers and stands 18th in the follower-count standings. He's posted over 1,500 times (yeah) and earns somewhere between $13,700 and $23,000 from each of his posts through sponsorships.
His lip-syncing talents have backed his net worth pretty well. In an interview with Seventeen Magazine, he spoke about how his energy is the reason he's got that kind of fame in such a short time.
For his social media presence, he was nominated a bunch of times: Twice for Choice Muser in the Teen Choice Awards [2016, 2017], once in Shorty Awards for Choice Muser of the Year [2017], once in iHeart Radio Music Awards for the Social Star Award [2017] and two others in 2017.
The Music Thing: He Likely Doesn't Intend to Stop
Lip-syncing and Vining was one thing, but as people saw no talent in users in Musical.ly, Sartorius went on to prove them wrong. In May 2016, he signed with T3 Music Group and then wrote & released his first single, Sweatshirt, on May 3.
It was a massive success as it peaked #90 on the US Billboard Hot 100, has 56 million views on YouTube, and he still looks back to the song as his Instagram bio reads, "no you can not wear my sweatshirt". He then performed for the first time with the song in Baltimore, during the Magcon tour, on May 7, and he knew, he could take on tours of his own. The tour had Shawn Mendes, Cameron Dallas and a couple of other rising singers.
Watch: Music Video for Jacob Sartorius' 'Sweatshirt'
On August 12, 2016, Sartorius then released his second music video, Hit or Miss, on YouTube, his most-watched video to date with 68 million views. He called that one his first real video as he got to work with producers and also brought in numerous fans to appear in Venice Beach. It also peaked #72 in the US, his highest place in the charts for a single yet. And both his singles cracked into the iTunes top 10 list. By that time, he already had his own merch line, with sportswear with his name on it.
Jacob then released All My Friends in October 2016 and decided to go on his first solo mini-tour ever, also titled All My Friends. Although, he had support from his pals, Johnny Orlando, The Bomb Digz and Baby Ariel at the time. He toured three cities in October and three in November. Meanwhile, the song hit #25 on the Pop Digital Songs chart. He'd also signed with UTA at the time, obviously a top talent agency.
On January 20, 2017, Sartorius released his first EP, The Last Text, with six songs, which was a success in several countries. At the same time, he announced his second tour, The Last Text World Tour, to promote his EP in seven countries.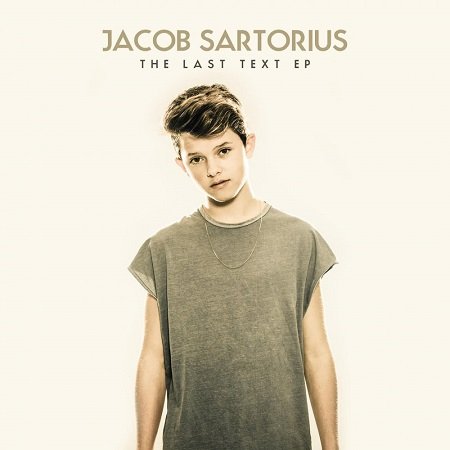 His first EP was instrumental on increasing his net worth.
Photo Source: Jacob Sartorius
In August 2017, he signed with RCA Records and announced he would be releasing his major debut EP, Left Me Hangin', on October 6. He also shared the lyric video of Skateboard immediately on YouTube. In case you didn't know, Julia Michaels wrote the songs in the album. He also did three shows in three cities on September 30, 2017, before the album's release. He then took Left Me Hangin' on a tour across Europe in October, with Bars & Melody (remembers the anti-bullying kids on Britain's Got Talent?), The Bomb Digz, accompanying him while Lukas Rieger also appeared.
His first Christmas song, Cozy, was also released in December that year.
Since then, his music took a dive as it failed to make any real impact on the listeners. Still, he won't stop making music. He released his third overall EP Better With You in November 2018. His fourth overall EP (third major EP), Where Have You Been?, came on May 31, 2019.
Sartorius Once Dated Millie Bobby Brown (Yeah, from 'Stranger Things')
Sartorius has been linked to fellow TikTok celebrity and singer Baby Ariel a lot of times since she accompanied him in his debut All My Friends tour. Because they were really vibing from the start. But in the latest video, who is my crush, released by Ariel herself, she finally addresses the rumors at the end, saying "No, we're just friends. We're BFFs!" Is it still hard to believe it though?
Watch: Baby Ariel Goes Through Her Love Life
He was, however, confirmed to be dating one other rising personality though. Stranger Things star Millie Bobby Brown went out with him for about half a year since late 2017. The photo of the piggyback he gave her sure did trend. And there was no denying something was going on, with heart emojis on Instagram Story in December. They confirmed the relationship in January 2018 and had a sweet Valentine's Day afterward. But the relationship was mostly on and off at the time.
Then in July 2018, they announced their mutual separation on Instagram, but blocking him wasn't a sign the breakup was amicable. But months after that, they were still sparking rumors of their comeback, especially since her "LOVE U" birthday wish for Sartorius in October 2018. In January 2019, when Brown was wearing a Mac Miller T-shirt seemingly once worn by Sartorius, people thought they were dating in secret because of the hate they got when they were together. Others just thought it was coincident that she wore the same type of shirt he had too.
There's still time...
Photo Source: Millie Bobby Brown, Instagram Stories
There's still a development to come from his love life though. With BFF Ariel also in the picture, Brown may still be a BFF to him though. As for his music career, he knows he can't stop now. And even if the songs don't give something to him, he'd still be releasing music. Just stay tuned.
Keep in touch with Celeb$fortune for more celebrity Net Worth related content. Check out the Focus section for other updates.