Jeffree Star dished on Kylie Jenner [net worth: $1 billion] and her products from Kylie Cosmetics so much so that she removed him from the brand's PR list. But with a net worth like his, he was always going to be buying it himself and doing more videos as per his fans' request. Like that, he's gotten himself in a lot of controversies, some quite understandably in a good way, some in a not-so-good way. But he has made attempts at making things right by himself.
Born Jeffree Lynn Steininger Jr. in Orange County, California, on November 15, 1985 [age 34], his father, Jeffrey Steininger Sr. committed suicide when he was just six years old, and thus, was raised by his model mother Marra Shubyann Lindstrom Steininger. He always had that knack as a makeup artist since he was a child, experimenting on his mother's easily accessible beauty products and would go on to wear makeup to his school.
There are few people who could compare to his makeup business.
Photo Source: Jeffree Star, Instagram
Star continued on to maintain his interest in makeup and modeling after his Pacifica High School (BTW, his yearbook picture is awesome) days and first collected enough money from his music interest to start his own line of beauty products, Jeffree Star Cosmetics in 2014. His YouTube channel exploded ever since, carrying on his fame from MySpace.
Jeffree Star's Net Worth of $180 Million Is Not Just Because of Focusing on the Beauty Industry
As of March 2020, Jeffree Star controls a staggering net worth of $180 million with multiple sources of income. As he said in a video with Shane Dawson, the money comes from the investments of his earnings collected by his beauty brand in various other business opportunities. The capital for his Jeffree Star Cosmetics was obtained from his early music career, which he unknowingly left behind.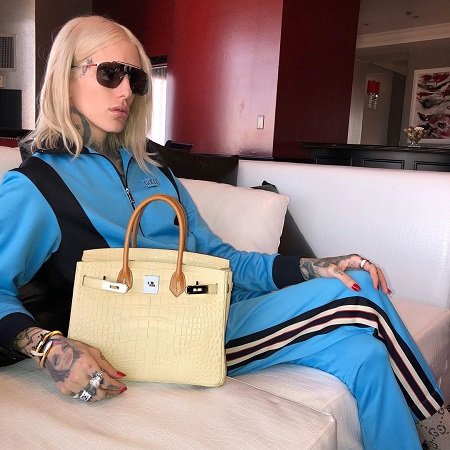 Star never stops flaunting his net worth.
Photo Source: Jeffree Star, Instagram
Well, he's focused on his blooming YouTube channel, which is, in all fairness, is the highest-rated beauty channel around. Of course, it comes with the proof that Forbes named him the fifth-highest paid YouTuber in 2019, and he was the only beauty vlogger in the list. So, in effect, he also earns a major amount from his social media pages, through sponsorships as well as endorsements and merchandise sales, like every other YouTuber.
Early MySpace Years: He Now Knows He Was Racist and Regrets Everything
After graduating from high school in 2003, Star moved to Los Angeles in the hopes of gaining traction in the fashion industry. He thus had to make ends meet and worked at several makeup counters, starting out in a MAC store, slowly working his way up with connections to celebrities. When he joined MySpace in 2003, he didn't imagine his videos there would pop all over the world with fame.
He was using MySpace to further his music career, but outside the camera, he recalls, he was using a fake ID to attend those Hollywood events to get the work as the higher-profile celebrities' makeup artist for a while. He posted makeup tips and songs, while blogging about his life.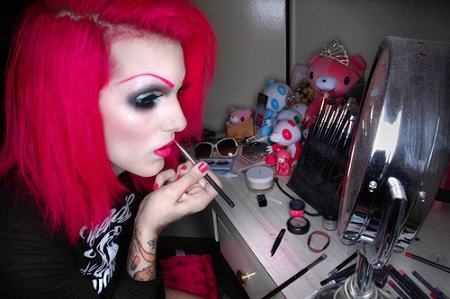 His makeups were popular when he was on MySpace as well.
Photo Source: MySpace Archives
Soon enough, he gathered a huge loyal following with thousands of comments in his photos and clips and thus became the most connected MySpace user by 2006. He was an exquisite thing on the early social media platform, with so many tattoos and unique makeup styles easily amusing his followers. He was also consoling some distraught fans with image problems in their own lives, telling them it's okay to be different when they randomly messaged him.
However, he was a typical out-of-control kid back then, around 2005. He was unbelievably racist and threw derogatory slurs about marginalized and minority communities. This was something that was brought up time and again, years after MySpace went defunct. He was lashed out at times, but he's repeatedly addressed these things, horribly regretting every such thing he did and said back then.
In a media tour, he apologized in a YouTube video giving shoutout at millions of his fans. "It's upsetting. It's nasty. It makes me sick to my stomach to watch those old videos. I'm embarrassed as a person because that's never what I stood for."
Then, Music Just Came Along — He's Only Released One Full Album
In and around 2006, his connections led him to Peaches' drummer, Samantha Maloney, who encouraged him to take on a music career. And along with his own interest, he took on a career as an electronica and pop music artist, a genre very much ideal for his style. But he had already released a song, We Want C***, back in 2005, which was a big viral video for him.
Then in 2007, he was a part of the True Colors Tour, which also included Britney Spears. He then released his first EP, Plastic Surgery Slumber Party, in 2007. By the end of 2007, he had 24 million music listens within a year and a half. He was doing shows in the UK as well. His second EP, Cupcakes Taste Like Violence, was released in 2008, which entered the top 10 list on several charts.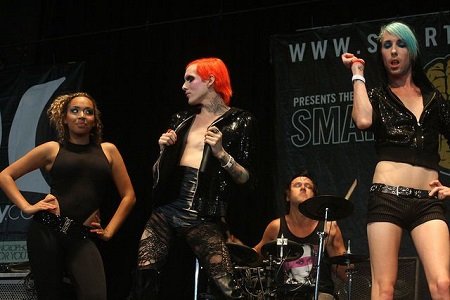 As soon as he got serious in music, he was an instant hit.
Photo Source: Revelist
Then in September 2009, he dropped his first album through Popsicle records. Beauty Killer peaked at #2 on the Top Heatseekers chart and at #122 on the Billboard 200, while reaching #7 on the US Billboard Top Electronic Albums chart and #22 on the US Independent Albums chart. He was already working on Kesha and Nicki Minaj before. And songs also came in collaborations.
Lollipop Luxury featuring Minaj in the album and later featuring himself in Kesha's music video for 2010's Take If Off were some of his best collaborations. But his worst part about his music career? He considers signing a record deal for Akon's Konvict Muzik in 2010 as the biggest mistake he's ever made.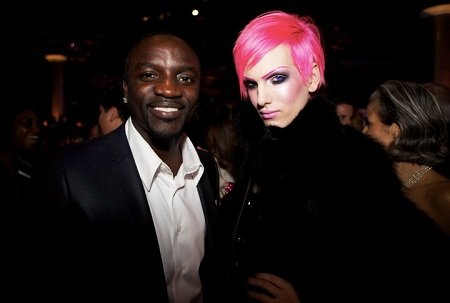 Jeffree Star with Akon.
Photo Source: The Blumile
He was already doing tours and shows of his own and was planning to release his second album. But personality clashes with Akon himself was not helping, and he thus left the record deal. In 2013, he completely left the music industry with no clear explanation.
Aside from the lone studio album, he released four Extended Plays in total and five music videos. But the music earnings no longer remain a part of his net worth directly.
Getting Serious in Makeup: Getting Rich by Investing Earnings from Products Sold for New Products Over and Over Again
During his MySpace fame, Star noticed his makeup dos were copied by young boys who felt outcasted. It was swarming all over the internet. He'd also already entered the YouTube world around the time he released his solo album. But after leaving music was the time he really started getting serious.
In early or mid-2014, he invested his entire life savings from music and makeup career onto the establishment of his own company, Jeffree Star Cosmetics, and started producing a line of liquid lipstick. He was not sure if that was going to work as he went almost bankrupt after the foundation, but he was determined to move forward in the beauty world.
Watch: Jeffree Star Invites MannyMUA to Try Out His Liquid Lipsticks Line
The guy then started using YouTube as a platform to promote his line, one of the firsts to do so, shifting his priority from music. Of course, he had his trusted then-friend, the celebrity tattoo and makeup artist Kat Von D, with him to help. It was a massive success, and everyone was waiting for the first line to be released. His YouTube following was thus increasing rapidly.
Then in November 2014, when he released the first collection of velour liquid lipsticks [One Product!!!], all 30,000 units of the line sold out within a few minutes of its launch. The smart thing he did was here. He used all the earnings from the sale to launch three more shades of the lipsticks. Then came the lip scrubs, highlighter palettes and eye-shadow pallets, along with a line of accessories and clothing including makeup bags and mirrors.
The first mall-based store in the US began carrying Jeffree's makeup line, but he had his warehouses of his own that was the major distributor. In the year 2018, he made $18 million for himself from various business ventures, as Forbes listed him as the fifth-highest paid YouTuber. Meanwhile, in the documentary with Dawson, The Secret World of Jeffree Star, he claimed his business earned a annual gross revenue over $100 million worth of products, which Forbes also stated it earns every year. Dawson's episode also showcased his lavish lifestyle.
Star and Dawson collaborated on multiple beauty products.
Photo Source: Instagram
Other income sources of his net worth include deals with brands like Morphe makeup brushes and tours, apart from social media. He's also very smart in investments as he has invested in marijuana (though, he says he doesn't drink), real estate and merchandising, as he owns the shipping and fulfillment center distributing the Jeffree Star Cosmetics products and other drop shipment companies.
Star also teamed up with Dawson in 2019 to launch a line of eye-shadow and liquid lipsticks. If the line would be all sold out, he stated that it would bring in $35 million for the pair, with $10 million going to Dawson.
He has suffered some losses too, specifically the theft at one of his stock and shipping facility warehouses in March 2019. According to his statement, "more than $2.5 million of product was stolen from me".
Social Media Earnings
While the earnings he gets through sponsorships of social media seem feeble in comparison to the income from the beauty line itself, it is important to note that it also has a huge part in his career.
YouTube
As long as YouTube hits the trend, Jeffree Star will be around. He moved on from focusing on music to make and is still a star celebrity makeup artist. In his early makeup businessman days, he used YouTube to promote his products. But these days, he's obviously not limited to that only. He also frequently reviews products from other companies, as we've specifically seen him dish out Kylie Jenner's products. And mind you, the entire Kardashian-Jenner house is somewhat his rivals.
Watch: Jeffree Star's Most Popular Video to Date (Warning, It's Lengthy!)
On his YouTube channel, jeffreestar, Star possesses 17.6 million subscribers. Having posted 370 times already, with many also been deleted due to the several controversies, he earns around $15,800 for every video, considering the astronomical amount of video views, total 2.2 billion and counting. Of course, the money is through sponsorships as he reviews a lot of products from other brands.
Speaking of earning rate per day, he earns around $4,500 per day, meaning almost $2 million every year from YouTube alone. Even if it's not as much as he earns his stake from his own company, it certainly adds a bunch.
Instagram
In a more obvious way, he is quite popular on Instagram as well. With over 16 million followers on his page, Jeffree Star, he earns somewhere in the range of $33,000 to $53,300 from each of his posts from sponsorships. He's posted an amazing almost 6,000 times.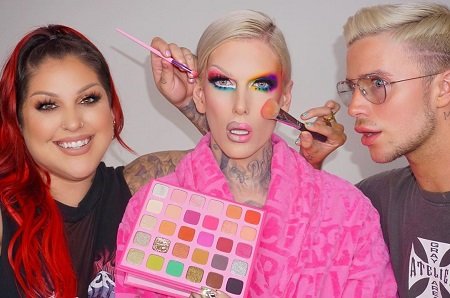 Promotions don't stop for Jeffree.
Photo Source: Jeffree Star, Instagram
There are all kinds of posts in there. But the ones showcasing his cars are at such a different level of showing his lavish lifestyle. All his vehicles are in pink, like Kylie's?
Star Constantly Updates His Fans about His House and Car Collection: A New House Since the Breakup with Nathan Schwandt
In 2015, Star started dating now-ex-boyfriend Nathan Schwandt in his first-ever relationship. Schwandt was working at a pet store when he DMed Star on Instagram one day, quite sometime before the makeup business really took off. Since being together, they lived in a mansion in Calabasas, California, with five dogs, a property he'd bought in 2016 for $3.62 million and was complete with 10 bedrooms & 15 bathrooms.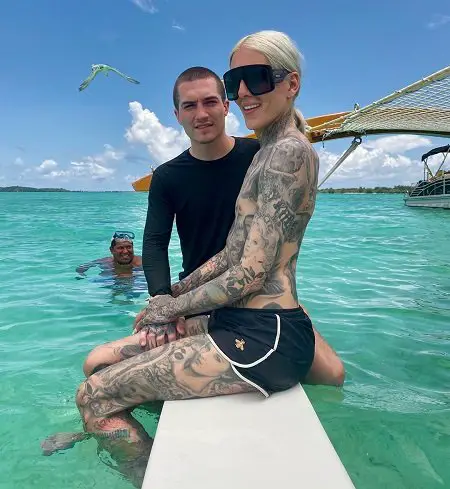 The two were extremely heartbroken from their split.
Photo Source: Jeffree Star, Instagram
The 7,000 square-foot home was renovated completely by Star and Schwandt to meet their likings, spending millions on it. But as trouble started brewing in their relationship in 2019, the couple was not a couple anymore. In January 2020, Star announced that he and Schwandt had broken up a few weeks earlier, in an emotional YouTube video describing all the difficult times he's had in his life, apart from losing his "soulmate" and "love of my life" as well.
Now that he's single, he moved into a new house, in a property he bought in December 2019 for $14.6 million in Hidden Hills, California. The 3-acre lot has 8 bedrooms and 13 bathrooms in 25,000 square feet of living space. He recently gave a house tour explaining how he's living life as a single man again and spending time under lockdown.
Watch: Jeffree Star's Second House Tour During Quarantine
Before announcing the breakup, he'd also given "the" house tour while also already saying goodbye to the old house. Star has also given tour of his car collection a certain amount of times on his YouTube channel, sometimes as an introduction to his new car, like the Pink Rolls Royce Wraith, or sometimes as a gift to Schwandt the $150,000 Yellow Aston Martin Vantage by selling his Bentley he'd had for years.
Watch: While Introducing His Rolls Royce Wraith, He Take a Tour of His Cars
As for some other cars, he also owns a few Lamborghini; primarily the Urus; Ferraris, Tesla, BMW i8, all colored pink. He does complete justice to his net worth.
The Controversies
There's kind of no point on writing this, as many readers probably haven't come this far. Have you? Ha! There's a true fan here, if you've come this far that it. We know it's a very lengthy article. Thanks for bearing with us.
When you get into a business as Jeffree Star, there are bound to be some controversies along the way. The most popular one is obviously the feud he had with Kylie Jenner's Kylie Cosmetics as a whole. Plus, he's had that backstab from Kim Kardashian-West. Remember when his past racist life came back? West tried defending him at first, but when her fans pressured her for defending such a racist personality, despite it being a past already, she apologized to her own fans instead, presumably to get the fanbase back again. Meanwhile, Star was calling for people to get over the whole situation.
Watch: Jeffree Star's Lashing Out at Kylie Jenner's Products; The Entire Timeline
But more importantly, his friendship with Kat Von D ending was heartbreaking. There were a lot of accusations along the way that ended what should've lasted longer. Around the same time, he also got involved in a feud with Jerrod Blandino, calling him out for Too Faced's Unicorn Tears lipstick referral in the now-deleted Instagram post.
And there's also the one with he inserted himself in — The Tati Westbrook [net worth: $10 million] vs James Charles [net worth: $25 million] drama. He did end it though, releasing a surprising video of him wanting to end the whole thing and saying sorry for all the things he said against Charles. Here's the entire story for your convenience.
There are more celebrity Net Worth stories to come from Celeb$fortune. Stay tuned for more updates.