Do you know why everyone's crazy for Loren Gray? 'Cause she's a real-life Barbie Doll. More so than the people who use extensive plastic surgery operations (yeah, we have seen her without makeup too). But there have been suspicions of photoshops, as well as a lot of haters on the Internet, much like Danielle Cohn [net worth: $2 million] does.
Born on April 19, 2002 [age 18], in Pottstown, Pennsylvania, to a hairstylist mom and a biologist dad, Loren Gray Beech is a social media personality famous across every prominent platform there is. With the fame she got on Musical.ly, she went on to release her own songs and shine across YouTube, Instagram and now TikTok.
Loren Gray's net worth might surprise you.
Photo Source: loren gray, Instagram
Her influence as a new celebrity increased when she moved to LA in the eighth grade. Although people would have her go learn something in school instead of using the platforms that make them question why kids are famous, she's earned quite a lot already. And if everything else doesn't pan out, she could have a career as a singer, having already collaborated with high profile artists. So, if TikTok falls one day, she will have other sources for her growing net worth.
Loren Gray's 2020 Net Worth of $4 Million is Unbelievable but Prettily Backed Up — Income Sources
As of February 2020, Loren Gray controls a net worth of $4 million. Being second on the TikTok rankings doesn't completely give her that amount, but that's not the focus here. Aside from the sponsored post earnings on TikTok, the value is also achieved equally from the sponsored posts on Instagram and YouTube, while also coming from her merchandise sales.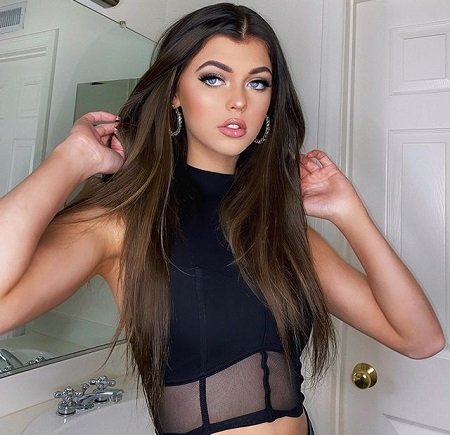 Loren Gray's 'Barbie' look does tend to annoy people a lot.
Photo Source: loren gray, Instagram
If everything in social media collapses, there's still a chance for her to collect her fortune from the music industry. She's already released six songs and collaborated with several other artists to get to where she is. She's also an aspiring model and a fashion enthusiast.
Social Media Earnings — Her Musical.ly Fame Forced Her to Move to LA
Before the 18-year-old got on those platforms that she's now famous for, she actually started Twitter as a to-be 11-year-old in March 2011. She also signed up for YouNow a year later in June 2014. Now, she has over 1 million followers on the former.
What really pushed her high was her peer's suggestion to use Musical.ly, which later merged with ByteDance to be known as TikTok. She was in sixth grade at the time, and her clips were made into compilations on YouTube. She was getting more fame than her friends, and they were not completely happy about it.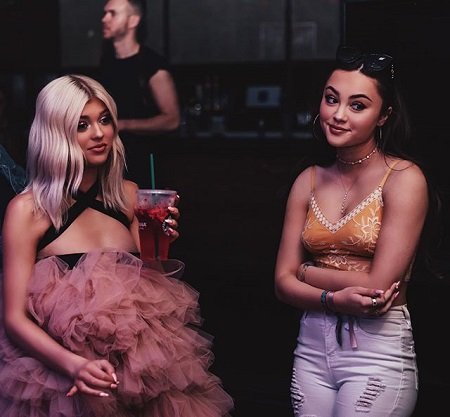 Gray and her friends say she was bullied at her school due to her Musical.ly fame.
Photo Source: loren gray, Instagram
"They would write awful things — that I have no talent, that I'm rude, that I have lip fillers, that I've had work done. … People were saying they were going to jump me. To the point where I was in the school bathroom calling my mom and telling her I was scared."
In an interview with Uproxx, Gray remembers she was afraid to go to school because of all the bullying she would receive there. She had only a few close friends since then. Worried for her safety, her mom, Lora Beech, moved to Los Angeles. And it was a sound decision for the family.
TikTok - Loren Gray and Baby Ariel Reportedly Are in an Online War
It's not a primary source of income for her, but it's what she started out with. She continued growing her fanbase after moving to LA. She seems almost unbeatable on TikTok. Since starting out in late 2015, she's amassed 39.4 million followers, more than any other person or entity (the app's official account itself) in the platform.
Despite having a low rate of increase in follower-count, it doesn't look like anyone will take her down anytime soon. Not even Charli D'Amelio [net worth: $4 million], whose numbers seem to keep growing at a record rate. But it's been a little slow these past few days.
Gray has been featured & pictured alongside another top TikTok contender, Ariel Rebecca Martin, aka Baby Ariel [net worth: $2 million], many times. Ariel has 31.6 million followers and is sixth on the list. It was weird that there've been clips of the two going at each other on social media. An online war going on?
So, are they not friends anymore?
Source: Instagram
Nonetheless, Gray is cementing her position at the top for quite a while. Meanwhile, her net worth has been boosted by a portion of her 2,295 posts on her TikTok account, Loren Gray. She earns an average of around $32,000 from each of those sponsored posts (remember, not all of those 2,295 posts are sponsored). Her numbers has been so huge that TikTok itself hasn't been able to calculate the total amount of likes she's got. It displays '0 likes' while she rakes in 7-8 million likes per post.
Instagram
You'll only see huge Hollywood stars with a follower-count like Gray's on Instagram. It'll take too long to go through her page to determine her first post, but with over 1250 of them, you'll get a glimpse of all parts of her life when going through it.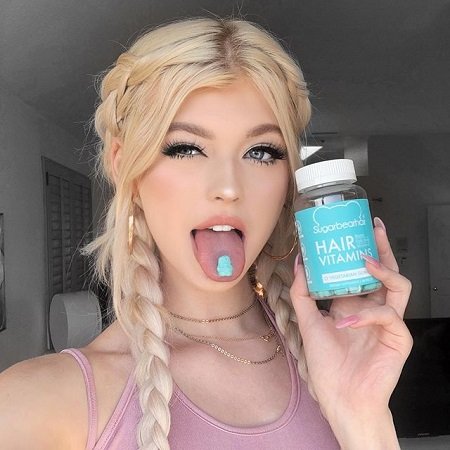 Sponsored posts are how brands reach their customers these days.
Photo Source: loren gray, Instagram
At the time of writing, Loren has 18.6 million followers on her Instagram page, loren gray. From each of her sponsored posts, she earns a minimum of $37,000 and a maximum of $62,000. Yeah, that's a lot and a wide range, while her engagement rate reads 3.81%.
YouTube
While Musical.ly kicked off her career as a social media personality, she was already on YouTube. Yeah, she started her channel, Loren Gray, in 2012. Although, you'll find her first video from four years ago only. Aside from her music videos, she mainly posts fashion & makeup tutorials and of competing in several online challenges.
Watch: Gray Has a Huge Fan-Following
The channel now has 3.68 million subscribers, although she's posted fairly regularly. There are 37 total videos on her channel, each of which brings in an average of 700,000 views. But her music videos are the rare ones which give her millions of views. From each of those 37 videos, she earns around an average of $14,000, to add to her net worth.
She also hosts her own web series on Snapchat called Glow Up.
Music Career - Collaboration with Jason Derulo, Chris Brown and Saweetie
Gray did drop out of her sixth-grade school due to bullying but continued her studies until the eighth grade. She dropped out again due to social media pressure. Her mom said she had to watch Gray cry non-stop and so put her up for counseling after taking her out of school. But then, the move to Los Angeles came.
Watch: Loren Gray Talks of How Bullying Made Her Leave School
According to her mother, Gray had a passion for music since her toddler days. She used to perform in front of her dolls when she was little and did that in her early teens on social media as well. She also performed in front of her fans for the first time on a social media tour in 2016 when her mother was not sure she should. But despite the criticisms, it would be a turning point of her music career.
The next year, she featured in the music video for Personal, by English musician HRVY. The year was 2017. In a bid to find backing from established people in the industry, her manager at the time started looking for a representative. He convinced her dad, Jeremy Beech, they should be looking for one. (She also has a maternal half-sister, Jordan L. Adkins.)
"Her manager at the time, he was like, 'Do you know how huge this kid's gonna be? I was like, 'Man, I'm starting to get the idea," her dad told Uproxx. "They just sat her down and said, 'So where do you envision yourself?' Loren said, 'I want to sell out arenas.' Deadpan."
Watch: Loren Gray's Story of Being a Musician
Then in March 2018, she signed a record deal with Virgin Records and Capitol Records. She then released her debut single, My Story, in August 2018, which, according to Gray, is based on a friend who was always "falling in love with the wrong people".
The lyrical video has hit over 8.5 million views, and so began her true singing career. And despite people saying she didn't have talent, she went on to release five more songs, like Kick You Out in November 2018 with over 5 million views and her biggest hit, Queen, in December 2018 with 13 million views.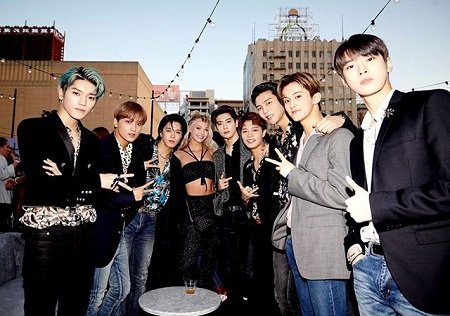 She's also met NCT 127.
Source: loren gray, Instagram
In addition, she's collaborated with several established artists as well. For her two April 2019 singles, Options and Lie Like That, she teamed up with Captain Cuts, which includes Walk the Moon, Halsey, The Chainsmokers, to write and produce, while bringing in Nija (Jason Derulo, Chris Brown) on the former and Ivy Adara, on the latter, as collaborators. Captain Cuts was already involved in her Queen music video as well.
Gray's last release was Can't Do It in May 2019, which featured rapper Saweetie. Since then, she probably has been busy since it marked the beginning of an era on TikTok. Since August, we know how stars like D'Amelio, Addison Rae [net worth: $3 million], and Baby Ariel, have skyrocketed in the popularity board.
Everyone involved in a song gets a total of 9 cents of royalties per copy sold, split according to their roles.
There's a Chance for Her in the Modeling and Beauty Industry
It's crystal clear Loren Gray is fascinated by new things in the beauty and fashion world. And it's obvious she's already stepped foot into it. Her makeup and fashion tutorials are one thing, but she's also featured in Teen Vogue and Seventeen Magazine, apart from being interviewed by numerous high-profile magazines. She's been on the cover of L'Officiel Baltics magazine.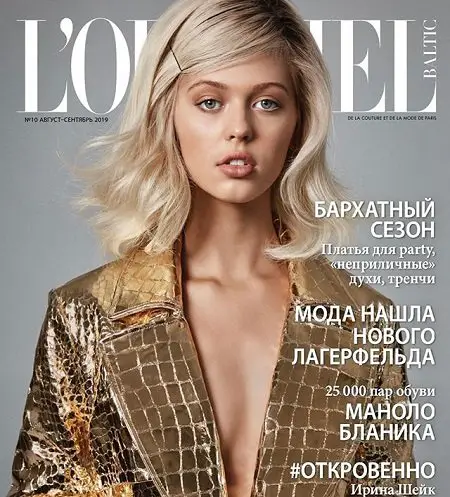 August 2019 cover. Baltic nations for 'L'Officiel Baltics' magazine: Estonia, Latvia, Lithuania.
Photo Source: Loren Gray, Instagram
The social media society has also honored her presence. She was nominated Choice Muser at the 2016 Teen Choice Awards and Muser of the Year at the 9th Annual Shorty Awards in 2017. She was again nominated for Choice Muser at the 2018 Teen Choice Awards and a 2019 Teen Choice Award for Choice Web Star: Music. Another nomination for her came at the 2019 iHeart Radio Music Awards for the Social Star Award in January 2019, after she featured on Lost Kings' single Anti-Everything video.
How She Wants Her Social Media Presence to Be Like
Like any other teenager who's famous on TikTok, she's had her share of criticisms on social media. Of course, comments like, "She should go to school and learn something," is a common ground for everyone. She's also been lashed out at for being fake and talentless. Her body and look, especially, has caused self-proclaimed investigators to find a fault in her due to all the filters available on social media.
Of course, looking like Barbie has that effect. And people have apparently found out she allegedly photoshops her photos and videos to make her look flawless. And we've all searched to see her face without makeup. How many differences did you find? A million? Of course, that's true for any celebrity you may adore yourself.
Watch: You Won't Recognize Her Without the Makeup
Despite it all, Gray says she wants people to see her unfiltered on social media. She says she doesn't want people to see her as an online robot but as a human being with emotions. But, as we all know, it's hard not to remain unfiltered on social media completely, at this age especially.
"I think that the biggest misconception, for me, is that people think, 'Oh, she's just pretty.' It bothers me to the core, because there's so much more to me than that. To be fair, that's what I started out as," she said in an interview with Interview Magazine. "But the more that people got to know me and my personality, the more I connected with my fans and made friends, and people got to see more of my life. I've decided that I'm not going to filter as much of what I post, because what's the point?"
"Five days ago, I posted a photo of me having a mental breakdown on New Year's Eve. It ended up being one of the most-liked pictures on my account," she continued. "I want my fans to be able to approach me in public and not think that I'm some robot who only exists online. I'm a silly girl. I want to make a stupid video. I want to cry on the internet."
Keep checking out Celeb$fortune for more celebrity Net Worth related content.