This is a branch article for the relationship timeline of Sway House LA member Kio Cyr and model Olivia Ponton. For the main article, see Biographical Details of Olivia Ponton.
Among a lot of relationships in the TikTok world, this one is kind of one of those which has less of a drama. Still, they decided (NOT REALLY) they needed to create some, as less as it is by not admitting to the fact that they were in a relationship for quite a while.
Sway House member Kio Cyr and newly-appointed Wilhelmina Models model Olivia Ponton might have hidden the fact that they were dating because they likely met only in 2020. Likely, we don't know that one yet. But they did take a lot of time juggling the minds of their fans around when they acted so cozy around each other. all couple-y and such.
How the Relationship Actually Started, Through Teeth Compliments!
Of course, social media was where the two first noticed and met each other. First, Kio actually saw her on TikTok and followed her on the platform, proceeding to Snapchat and Instagram. She thought he was attractive and complimented his teeth in an Instagram Story reply. Then, Kio responded by praising her teeth in an Instagram Story reply as well. And thus, they started talking all online. Yeah, they got close over on social media and weren't really catfished.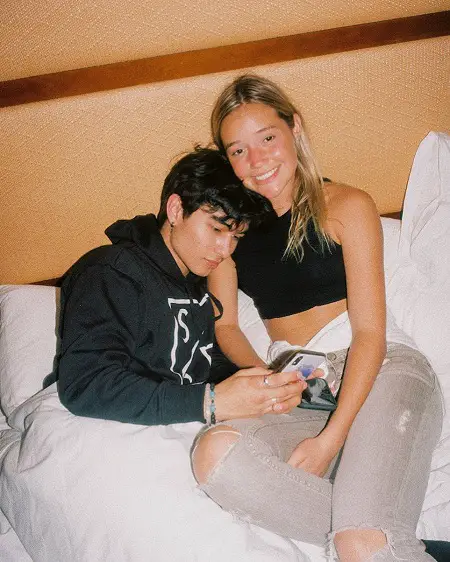 Teeth of all things.
Photo Source: Kio Cyr Instagram
Of the time they first met at a Florida airport, Olivia said she was freaking out when the moment came. In a video Kio posted on his channel in early March (more below), she stated, "I was like freaking out and then I got out of my car and ran out to him. My first impression I was just like… I was talking to you for so long and I was finally able to, like, see you."
First Social Media Together Immediately After Meeting
It was likely on February 18, 2020, the first time they ever made a social media post together, that the two met for the first time as it seems he was visiting her house in Florida at the time. And the very first social media post they did together was a TikTok clip on Kio's page. Olivia later posted another TikTok video about meeting a guy in the mall which is really confusing when you consider they met at the airport.
The first Instagram post together also came from Olivia on February 29, 2020, a photo of the two working out at the gym at 8 am. By this time, they were already hailed boyfriend-girlfriend. Kio stayed in Florida for 10 days before having to bid her a temporary goodbye, with Olivia posting a TikTok video of the emotional moment on March 1.
A Phase with Subtle Relationship Confirmations Maybe?
With a flurry of social media posts all over, they add more fuel to the rumor fire as they didn't give us anything to think about denying they are together. The first of them was a video on Kio's YouTube channel doing a Q&A as "friends". You cannot count the number of times they said they were friends in one round with just two hands. Yeah, they were continuously trying to deny the rumors at all costs. Well, they did a pretty bad job at that, and maybe they intended to let it be that way.
Watch: They Also Talk about How They Met on the Internet & in Person
And when Sway House members Bryce Hall and Josh Richards ask him if he has a girlfriend, he just shies away. One of the earliest signs they were dating already.
The two continued to post photos together, including one that says Kio was one of those people who makes her happy and mainly the one really unofficial confirmation of the relationship, captioning a photo in mid-March, "because friends don't look at friends that way." And yeah, being jealous of girls around Kio did say something.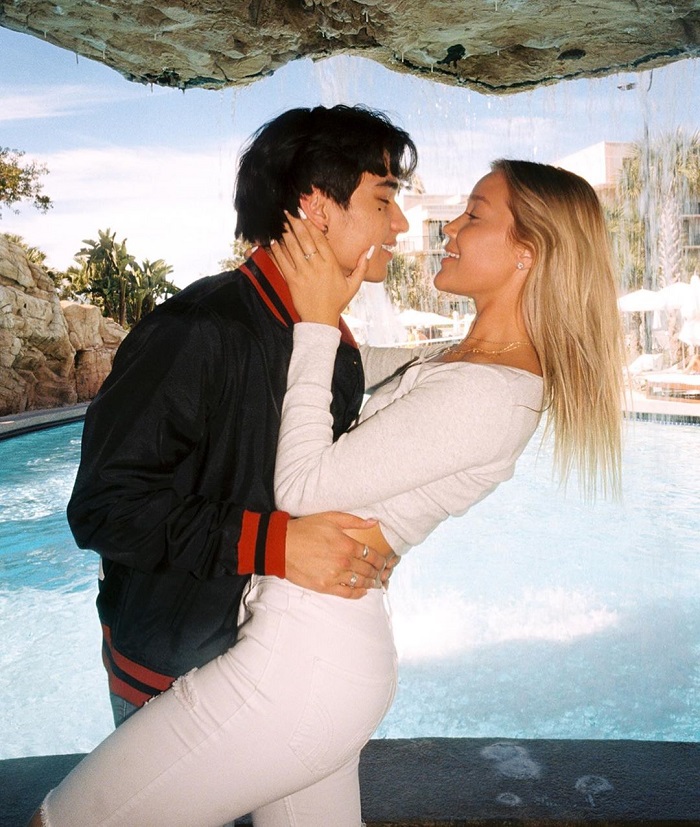 Yes, they don't you guys.
Photo Source: Olivia Ponton, Instagram
With some great photos along the way on Instagram, Olivia declares she misses him so much with a TikTok video.
When All Doubts Were Put to Rest that Kio Cyr & Olivia Ponton Are Dating
April was probably a huge month in their relationship as they decided not to hide their dating relationship from the public. Although they did not officially confirm it, one TikTok video from Olivia on April 16, 2020, probably shot any doubts of their relationship down. And it was on April 27, 2020, that we first saw them kiss in front of the camera with a photo on Olivia's Instagram page.
There was no denying they took their sweet time before really announcing.
Photo Source: Kio Cyr, Instagram
And now it seems they've been doing really well with their relationship. Kio attended Olivia's graduation from high school in mid-May, even though he doesn't go there. Plus, they've had quite a time in Florida, jet-skiing in the ocean around the Cape Romano Dome Houses in Marco Island, Florida.
Update: Their Announcement of Their Breakup Creates a String of Accusations and Scandals
Main Article: The Kio Cyr and Olivia Ponton Breakup: The Shades & Blames
Keep tuning in to Celeb$fortune for more celebrity relationship content updates.