Alex Warren [net worth: $700,000] may have been struck hard when being compared to David Dobrik [net worth: $7 million]. But if you try and compare the relationship that Alex Warren and Kouvr Annon have to any other people amidst the recent TikTok hype, then don't. There's a certain kind of dedication within the couple that's gotten them to be able to maintain a long-distance relationship before a sacrifice was made by Annon.
Her Instagram bio may write "Just dating a YouTuber on the side…", but on her own, she's an avid traveler and also an Instagram model before being tagged the girlfriend of the said YouTuber. And she's a huge fan of keeping pets as she has three cats, two hamsters, and a lizard, among some unknown ones. Yeah, the whole package for Warren.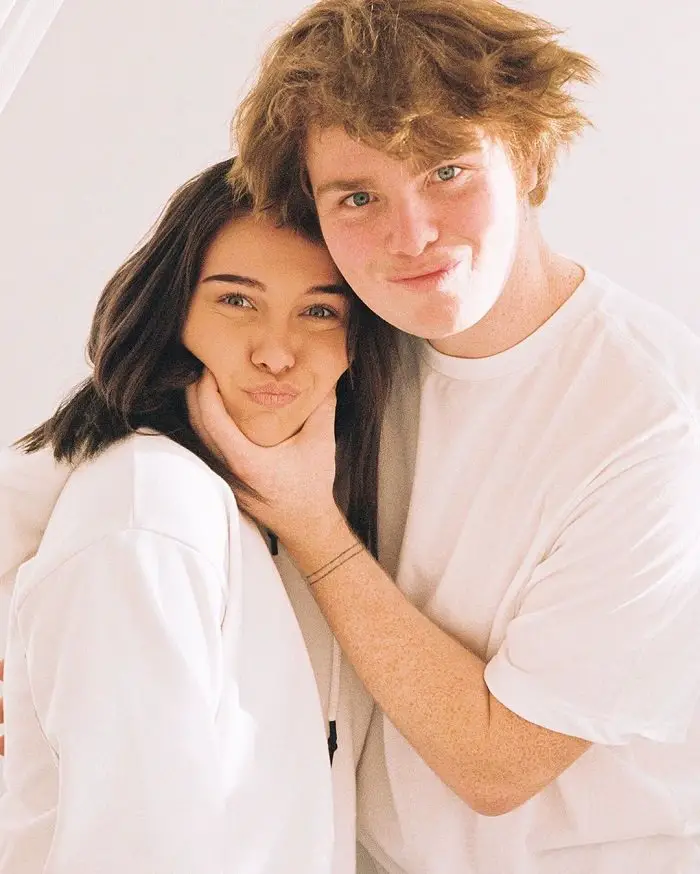 Yeah, this one will last longer.
Photo Source: Kouvr Annon, Instagram
Kouvr Annon is currently a member of the notorious TikTok collaborative, The Hype House LA, which hosts an array of top stars, mentioning the obvious queen of TikTok, Charli D'Amelio [net worth: $4 million], also racing to the top Addison Rae [net worth: $1.5 million], Chase Hudson [net worth: $800,000], Thomas Petrou, Dixie D'Amelio [net worth: $700,000], Tayler Holder, Avani Gregg, Anthony Reeves and so forth. A better know fact is that Daisy Keech [net worth: $600,000] filed a lawsuit against the whole house as a co-founder, also mentioning Annon was also a co-founder.
Background
With a birth date on May 31, 2000, Kouvr Annon was born in O'ahu, Hawaii, and seems to have met Warren in one of her early travels as an IG model across the country. She has four sisters, but no other info is available on her family as her whole online life has been an acting married couple with Warren. Yeah, they've been pushed to get married already.
This is Annon's first post on Instagram.
Photo Source: Kouvr Annon, Instagram
Before she moved permanently to LA, Annon traveled all over the US for her modeling work as she's been in California, Kauai, Maui, and Vegas, according to her Instagram page. Her oldest post on the social media platform is from July 2018. She is now represented by Abrams Artists Agency, rebranded as A3 Artists Agency, since signing for them in April 2020, a little different from the D'Amelio Family's UTA & Hype House's WME.
Kouvr only later became a YouTuber in January 2019 but is not regular as she is obviously not letting go of Warren. She appears in his videos every so often, & his channel is like the duo's own collaborative channel. Still, she's got over 5 million views with just eight videos, 2.1 million views only in that one video titled, My Nightly Routine Living With Five Boys. Yeah, self-explanatory.
Alex Warren and Kouvr Annon's Relationship Timeline: She Moved 2500 Miles to Be with Him
Kouvr Annon and Alex Warren started dating in 2018, which was confirmed by his first appearance on her Instagram page in December 2018. And then, her life has been just him. They were committed to a long-distance relationship in the early days, but it's unclear when they met. But for a few months after the unofficial confirmation, they continued their long-distance thing until it became too hard for them to be apart from each other that way. He was in LA, she was in Hawaii.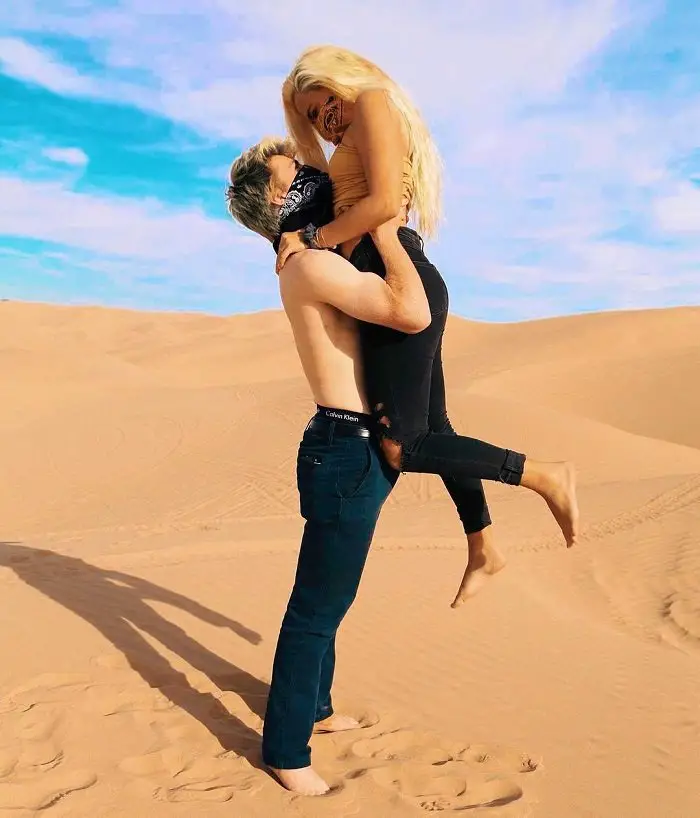 Their unofficial confirmation post.
Photo Source: Kouvr Annon, Instagram
Yeah, so what did they do? Kouvr just up & left her hometown and moved to LA to be with him. The distance is 2,562 miles, according to Google Maps. In a March 2, 2019, video on Warren's YouTube channel, the couple talked about her decision to move to LA, but it's unclear when she moved in with him. It was a difficult move for her, of course.
Watch: Kouvr & Warren Announces her Hard Decision to Move in LA
There've been some very romantic instants in their relationship since being official. Their Instagram pages are filled with how loving they are to each other. But the most awesome time in their timeline has to be in January 2019 when Warren flew over the 2,562 miles to meet and take Annon completely by surprise. He snuck up on her on the beach, and she was overflowing with emotions.
Watch: Try Not to Get Emotional
Also, in November 2019, the two opened up about their feelings on all their fans' comments of marriage and stuff with a video. In a mini Q & A interview for each other, they address fans' concerns of marriage by referencing their age.
"We're 19! Everyone keeps commenting, 'Get married'," she says. And then he jokingly adds, "So, we're getting married." The tried to completely avoid the questions on children though, for obvious reasons. Y'all have to wait for it all.
The Net Worth Sources of Kouvr Annon: Social Media Presence
As of May 2020, Kouvr Annon amasses a net worth of $200,000 with social media sponsorships and merchandise sales. Yeah, she's set up her own merch website, KOUVR, to sell branded merchandise, which includes hats, Moodie tops, T-shirts, hoodies, half shirts & so on. The prices range from $29.95 to $59.95.
Yeah, merchandise sales are huge sources of her net worth.
Photo Source: KOUVR
In terms of social media sponsorships, as part of promotion deals from certain apparel brands, as well as companies of other genres, they earn a certain portion from the sales if their posts lead to it. Bang Energy, Fashion Nova, CHNGE, GNC and X Out are some of those sponsorships.
Instagram
Kouvr Annon is known for her fashion/beauty-inspired content on her social media. But her love life is equally vibrant on her posts. So, there's no need to talk about how she's just there to promote products. Because, let's be honest, she does put up useful info in each of her Instagram posts so that you know what the facts are when it comes to life & products.
With over 150 posts and 1.1 million followers on her Instagram page, Kouvr Annon (@k0uvr), she can earn an average of around $3,200 for each of her posts through sponsorships.
YouTube
Annon has posted only eight videos on her YouTube channel, Kouvr, since starting in January 2019. But she has over 360,000 subscribers and has the capacity to earn $6,000 every month if she decides to post regularly. However, it seems she is content with only appearing in Warren's videos.
TikTok
As a member of the Hype House, she is supposed to make TikTok content every day. She's got over 7 million followers and has posted over 380 times. With sponsorships, she earns an average of around $5,600 per post. Funny clips are never a miss in all her posts.
Keep checking in to Celeb$fortune for more celebrity information content. For updates and other precise content, see the Focus section.