Meet the viral Country singer Matthew Cooper (b. August 27, 2000), aka Matt Cooper, whose first radio single, Aint Met Us Yet, became the No. 1 hit overall on the iTunes All-Genre Sales Chart after being viral on the social media platform, TikTok. The Florida native is also a YouTuber, TikTok star, and member of the popular collaborative group, The Schnacky Fam.
Born in Jacksonville, Florida, to father, Michael Cooper, and mother, Pam Cooper, he has two brothers named Daniel Cooper and David Cooper. Cooper first got into music during middle school and started learning piano and guitar in order to impress his classmates.
Even though he was not serious at first, he slowly realized that he loved playing musical instruments and jamming to songs. Well, talking about his love life, he has never revealed any information about his relationship. However, he calls his fellow YouTuber, Carol Chaves his crush.
Matt Cooper Wrote a Song Called "Taylor Swift" Using The Title of Her Songs
By now, you might already have gist that Matt Cooper is a creative and talented musician of this era. And if you have still doubt about his talent, then listen to his new hit song Taylor Swift which he released five months back.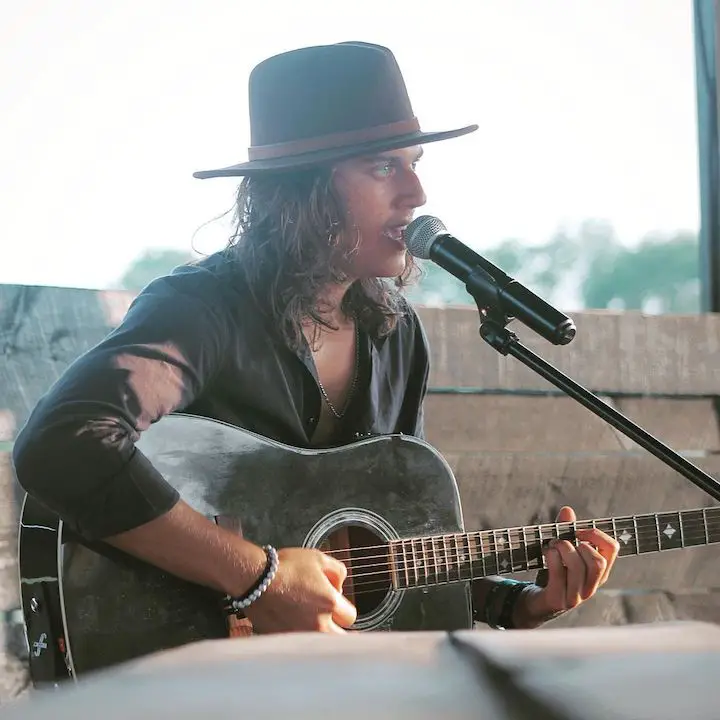 Cooper's music videos gain millions of views in comparison to any other of his videos.
Photo Source: Matt Cooper, Instagram
Just like Taylor Swift once wrote a song for her idol, Tim McGraw, Cooper also dedicated this song to the 11 times Grammy Awards winner. The song went viral gaining millions of views on YouTube and other platforms.
What's more, he takes references from some of the popular songs by Taylor Swift in the lyrics like Back To December, Fearless, Red, Style, Delicate, You Belong With Me, 22, Fifteen, Tim McGraw, Our Song, Love Story, Blank Space, Wildest Dreams, Begin Again, Forever & Always, All You Had To Do Is Stay, and Dress.
How Much Is The Net Worth of Matt Cooper?
As per estimating sources, Matt Cooper holds a net worth of $200,000 as a musician, YouTuber, and social media influencer. He first started writing music during his freshman year of college and has written more than sixty songs to date.
Matt released his first-ever song called Make You Mine back in 2020 hoping that he would become the next Shawn Mendes. However, the reality was far from it. He then released songs like A Million More, Calling It Friends, All of My Heart, and Turn Up The Music.
His net worth is down to his music earnings basically.
Photo Source: Matt Cooper, Instagram
However, he got his big break from the song Aint Met Us Yet which became a No.1 hit on the iTunes all-genre chart earning over 10.3 million streams on Spotify and Apple Music. Prior to its release, the song was teased on TikTok, garnering a combined 22 million views.
Following the success of the songs, he was approached by different labels and companies, one of which is his current record Turnberry Records. Some of his most popular songs other than Aint Met Us Yet & Taylor Swift are This Room, Grow Old, Partner In Crime, Cindrella, and so on.
Besides, the blue-eyed sensation has over 68,000 subscribers on his self-titled YouTube channel, Matt Cooper, from which he makes an average of about $200 per video through ad revenue. Besides, he also earns extra bucks from brand endorsements and sponsorship deals.
With over 1 million followers on TikTok (@realmattcooper) and 70K followers on Instagram (@realmattcooper), he makes around $800 per post from his TikTok and $350 per post from his Instagram page strictly through sponsorships.
Unlike other members of The Schnacky Fam like Austin Armstrong, Noah Schnacky, Colby Schnacky, Carol Chaves, Allie Schnacky, Ella Schnacky, Noelle Schnacky, Kristin Marino, and Malik Brookins, he does not collaborate a lot with them due to his busy schedule. The group also started their own content group together, called Immersed House recently.
Stay tuned and connected to Celeb$fortune for more content from the entertainment and social media world.