The new hot couple on Internet star Indi Star and Donald Dougher has surely made the internet go crazy with their daring love story stories. Yes, we are talking about the 'Dindi' relationship here.  What's cooking, what happened so far! What about Indi's past relationship with Walker Bryant? Hold on as we have answers to all of your questions. 
Before we begin with who is Indi's new hot crush Donald Dougher is, we now label their relationship a little elevated than crushing as they both kissed! Yes, prolly a daring & cool 'crush move' among popular YouTuber squad, Piper Rockelle (Net Worth: $2.7 Million), Lev Cameron (Net Worth: $600,000 ), Symonne, Claire, Jentzen Ramirez (Net Worth: $1 Million ), Emily, Hayden, Connor, and Justin. 
Keeping things apart for now and moving onto the real topic, let's gossip about what' cooking between Indi Star Carey and Donald, are they the new hot couple on Town? How did they meet? Did they Kiss IN REAL! and much more intriguing stories ahead, let's begin with,
Is Dindi Real? Are Indi Star and Donald Dough Crushing?
Yes, they are crushes and after fans were a long time wondering if their crush was for real, Donald and Indi Star exclusively shared on the video titled REACTING to YOUR ASSUMPTIONS About DINDI. And similarly, they answered fan questions too like Do you hang out every day? They shared "we do". So yes guys it's official.
https://www.youtube.com/watch?v=xfHrgmEXD8A&ab_channel=DONLAD
The two met through Swayer and Karine who set them up for the Swayer video Letting My BFF for My Ex-Girlfriend. So it was how the couple met each other. Their relation'ship' seems to have taken a different tide as when asked by a fan called Daonlychild. Kyra "do you plan to date in the future", both Indi and Donald replied saying 'yes'.
In the series of questions, fans also ask when they started crushing on each other. Donald replied when @officialconnorcaln exposed than on Instagram. That's when they started crushing on each other. Last but not least one of the fans asked if they have kissed? Donald and Indi 'all blushing' replied that they have kissed on the cheek? Well, let's believe that. (Wait a moment whaattt), Indi and Donald just kissed each other!
You May Like: Why Gavin Magnus and Coco Quinn Decided to Go Their Separate Ways, Signs of Maturing, Perhaps?
So guys it could be just more than a 'crushing' relationship precisely after sharing their future plan of dating. Asked by a fan, "what do you guys love about each other," Donald commented that he loves Indi's 'laugh' and Indi shared that she loves his 'laugh' and 'goofy' personality. So yes, they are officially Crushes and might turn into something stronger. FYI, Donald is 14 years old and Indi star is 13 years old.
Who is Donald Dougher?
For those who are unfamiliar with Donald Dougher is a YouTube content creator who posts various contents of his lifestyle videos, and pranks. And talking about his YouTube career Dougher started his YouTube career in August 2019.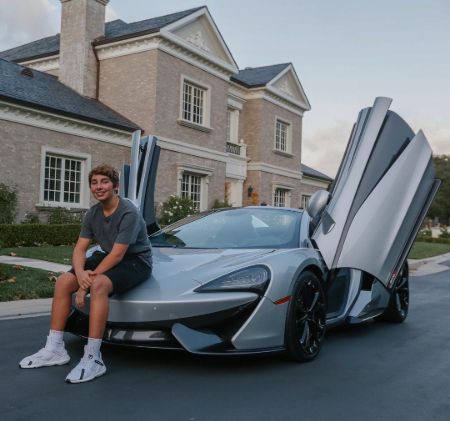 The rich kid in town 'Donald' is just starting his Internet career and going pretty smooth.
Image Source: Donald Instagram
Donald fans are also known as Ladiators and among his popular most viewed YouTube videos feature him giving FaZe Rug a Rolls Royce. Besides he has other intriguing videos like Mega Manson Hide N Seek, A Day in the life of the richest kid in America, $15,000,000 Texas MEGA Mansion... (Full House Tour), and I BROKE A $3 MILLION FERRARI !!!
Don't Miss: Indi Star and Walker Bryant Were 'Loving to the Fullest' – What Went Wrong with Their Previous Crushes
That's it for today, we hope you enjoyed the article. Make sure to keep updated with Celeb$Fortune to find more intriguing articles about your beloved celebrities.