Don't worry if you don't get who's dating who in the prank-video making gang of Piper Rockelle [net worth: $2.7 million]. It's a little difficult to understand. But to summarize, Piper Rockelle & Lev Cameron are active, Sophie Fergi [net worth: $200,000] and Jentzen Ramirez [net worth: $1 million] recently were revealed to have parted ways it seems and Walker Bryant & Indi Star [net worth: $300,000] also announced they might pursue something after Sawyer Sharbino [net worth: $300,000] & Indi settled on Sindi being limited to a real BFF ship.
Jenna Davis [net worth: $900,000] hasn't revealed who her crush is per their promise, despite the last revealing video crossing 50k likes. Hayden Haas [net worth: $200,000] has been linked sometimes with some of them. As it stands, Bryant, Indi & Ramirez kind of formed their own group. Any other linking you heard might've been real, but not absolute. [Check the respective links in the above paragraph to understand their detail.]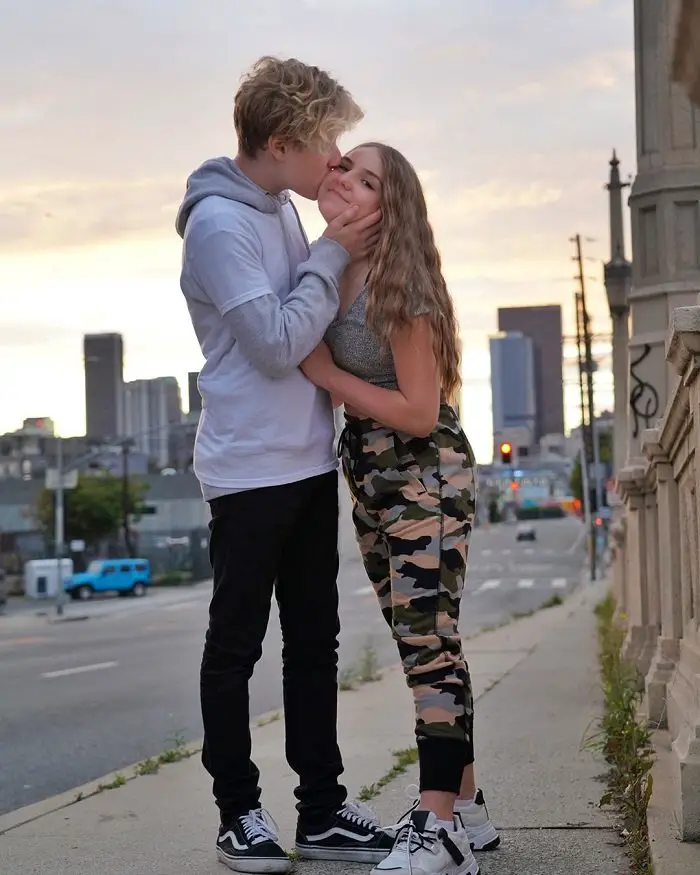 Lev and Piper = 'Liper'.
Photo Source: Lev Cameron, Instagram
With a birthday on October 11, 2005 (age 14), Lev Cameron Khemlev is better known right now as Mani star, Piper's boyfriend. But his prominence came after he placed in the Top 30 of So You Think You Can Dance: The Next Generation in 2016. After Piper and Bryant settled on being friends only after his confession, there was little left to be sure they are together (yes, even though Sawyer's second part of the video is still in waiting).
Background: Dancing Began Aged Five for Lev Cameron
Before joining the Piper Rockelle gang, dancing was a big thing for Cameron. He's been doing it since he was five years old as he knew he wanted to make it his life forever. So You Think You Can Dance opened up a lot of opportunities for the guy as he went on to feature in Dancing with the Stars on several occasions and even became a judge at Dream Dance Program in May 2019. He's uploaded a lot of photos of him related to dance in the past.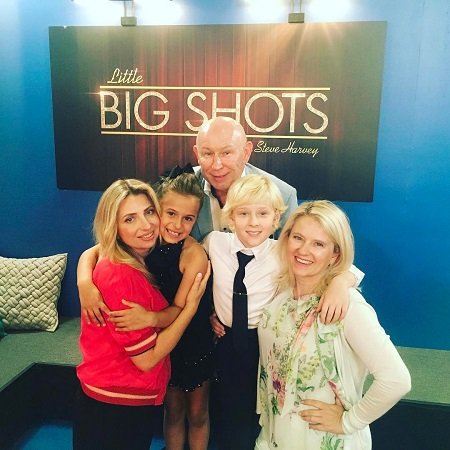 According to the caption on his photo during their time in Steve Harvey's show, his family details are given below.
Photo Source: Lev Cameron, Instagram
Cameron's mother is confirmed to be Irina Khmeleva as he hashtagged Alexander as his dad (highly unlikely, we don't want to promote fake information). The others are his Little Big Shots dance partner, Sofia Sachenko, and her mom Lena.
According to LA Casting, he trained hip-hop, jazz, contemporary & ballet styles from Industry Dance Academy at Millennium Dance Studio, while also training for Professional Ballroom & Latin Dance from Shirly Ballas, Samantha Safir and Leonid Proskurov at Beverly Hills Ballroom Dance Studio. He was the USA Dance Ballroom National Champion from 2013 to 2015 and completed music from Music Teachers' Association of California in 2015 with a level 5 Certificate of Merit (yeah, he sings). Michael Jackson's style was probably his favorite for dance back then.
He's been training to dance since the age of five.
Photo Source: Lev Cameron, Instagram
He's also trained to play piano, ice skate, do gymnastics & is a red belt in Karate. He's appeared in commercials for the likes of Samsung, H&M, Burger King and Old Navy. And he knows Russian, so maybe there's a little Russian ethnic background in him, considering his mom's name adds the letter 'a' in her last name, as Russian women do after marriage. And his height is 5' 7.5'', by the way. People seem interested to find that one out.
Besides Dance Shows, Lev's Been in TV Series, Short Scripted Videos and on Justin Timberlake's Music Video for 'Can't Stop the Feeling'
Lev Cameron's IMDb profile is quite an extensive one, but it's weird not to see SYTYCD in the list, or Little Big Shots for that matter as there is clear proof in all his past photos on social media (with filming crew and proved meetings with Steve Harvey). Regardless, he did get into the top 30 of The Next Generation show in 2016 as he partnered with Sofia on Little Big Shots in 2017.
Before SYTYCD, however, he apparently made a cameo appearance on the short video And the Tiara Goes To... in 2015 as well as guest-starred in an episode of My Haunted House in early 2016. He's been on several short videos not listed in his IMDb profile, but a huge exposure for him was being featured in Justin Timberlake's 2016 music video for the single Can't Stop the Feeling in May.
Apart from My Haunted House, he's featured in single episodes of other TV shows like 555 & Evil Things in 2017 and even been in the 2019 movie, Ham on Rye. Meanwhile, he was a partner to Addison Osta Smith in the premiere episode of Dancing with the Stars: Juniors in October 2018 as he followed up as an uncredited junior dance partner in the senior version of the same show later that year.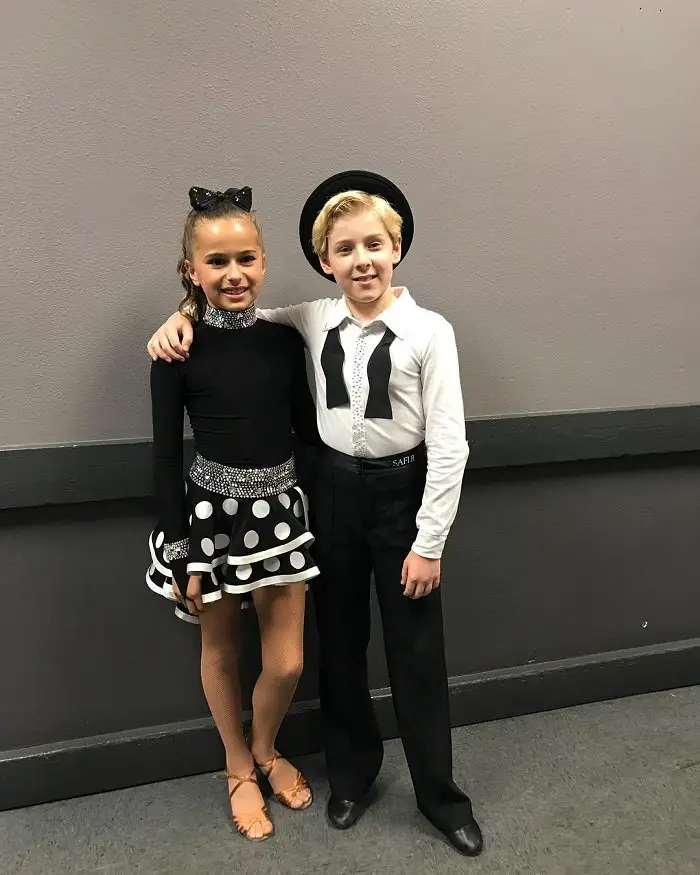 Lev Cameron spent a lot of his time with his 'SYTYCD' partner Sofia Sachenko.
Photo Source: Lev Cameron, Instagram
Along the way, he's associated himself with a number of huge Hollywood celebrities besides Timberlake & Harvey, with the likes of Goldie Hawn, Jordan Fisher, Alan Bersten, KYGO, Derek Hough, The Playground LA's Kenny Wormald, Frankie Muniz, Hank Garrett, & Pretty Little Liars star Sasha Pieterse. And YOU SHOULD KNOW THIS: he knew Indi Star since mid-2017 while filming for a commercial.
Lev's Relationship Status: Piper and Lev Are Dating (?)
Main Article: Everything to Do with Piper Rockelle's Relationships, Gavin Magnus, Walker Bryant & Lev Cameron
There's nothing to say more here (since we've discussed everything in that article mentioned above). It hasn't been comparatively long that he's started his YouTube channel. He started appearing on Piper and friends' videos since August 2019, ever since the Gavin Magnus [net worth: $2 million] breakup.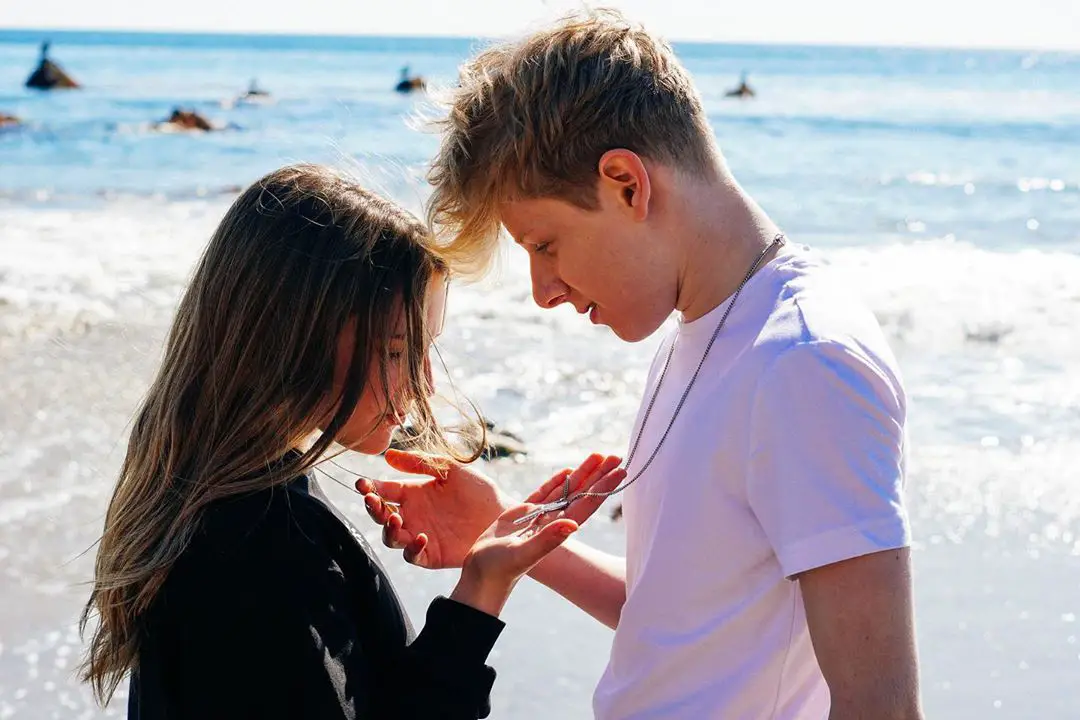 So, it's official?
Photo Source: Lev Cameron, Instagram
If you didn't understand, Piper had two crushes, Lev and Bryant, until the latter had The Talk with her in private about a mysterious gamer girl. That girl later was revealed to be Indi as the new-found crush couple called Windi got Piper's blessing. Despite vowing to make more videos together, that might seem a little difficult, especially after Jentzen's separation from Fergi (still referring to his videos on Instagram stories).
For now, Piper and Lev call each other by 'Boyfriend' and 'Girlfriend' in their videos since a long time ago, even when Walker was around. And now even more so. They don't need to say it, but 'Liper is official'. Especially with Lev's most recent video, where tries consoling Piper for losing her grandmother but might have gone a little overboard. [Update: And another video putting it all to rest.]
With All These & Social Media Earnings, Lev Cameron's Net Worth Is Pretty Much Justified
As of May 2020, Lev Cameron controls a net worth of $600,000 as a dancer, actor, YouTuber and social media personality. Appearing in 'Dancing with the Stars' might've also added some to his fortune, but his earnings primarily come from his social media posts. Any social media personality can obtain their wealth through sponsorships.
In addition, he's also promoted Piper Rockelle's merch items, regularly wearing her branded products. One of them has Liper written on the front. Like others, Fashion Nova is his choice to sponsor as well
Instagram
Lev started his Instagram account in March 2015, and many of his first posts are Lego-related. So, a former interest? He's also put a lot of photos of his mom and tagged her Instagram page as well.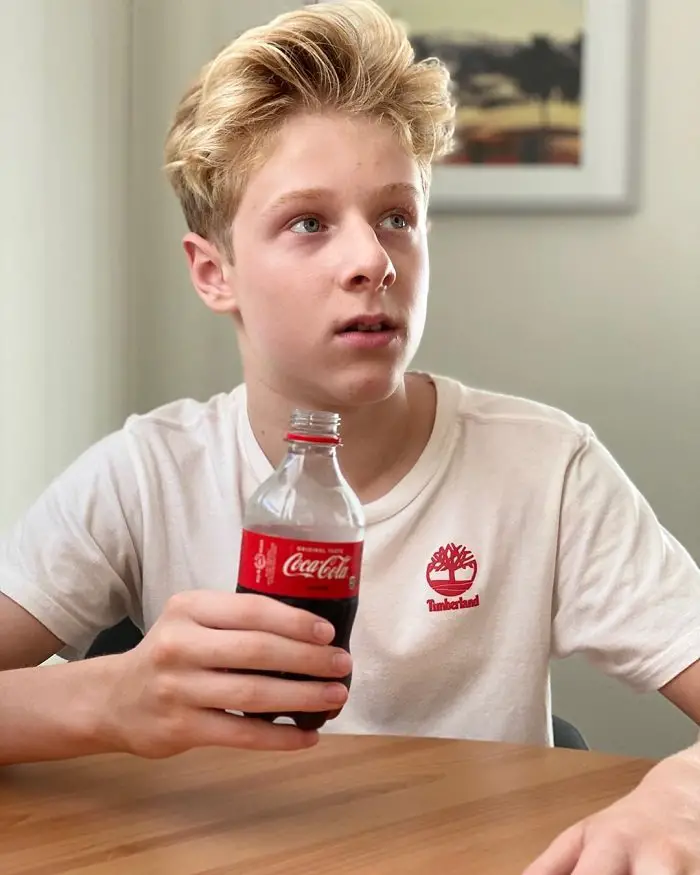 Your reactions to the sponsorships are a part of their earnings.
Photo Source: Lev Cameron, Instagram
With 705,000 followers and over 700 posts on his Instagram page, Lev Cameron, he earns somewhere around $2,800 from each of his posts through sponsorships.
TikTok
Unlike Piper Rockelle, Lev does have a TikTok account, and she participates in a lot of his syncing clips. With 1.5 million followers on his page, Lev, he earns around $1,150 for each of his posts through sponsorships. He's posted just over 175 times.
YouTube
The 14-year-old started his YouTube channel in January 2018, but his first video only dates back to November 2019. And he's mentioned in that video titled, MY CRUSH REACTS TO FUNNY ASSUMPTIONS ABOUT ME **INSTAGRAM CHALLENGE**. His posts are similar to the ones the other members of the gang make.
Watch: Lev Cameron Tries to Console 'Girlfriend' Piper Rockelle with Sophie Fergi
He's got 655,000 subscribers to his channel, Lev Cameron, with only 27 posts, including the latest one, Kissing My Girlfriend 100 Times In A Day **Quarantine Vlog**??, posted as a quarantine fundraiser video as well. He has the potential to earn around $500,000 every year from ad revenue on YouTube. His total video view-count is set to reach 40 million with the highest views, 3.5 million, coming for his March 2020 video, JEALOUS CRUSH MEETS My Ex GIRLFRIEND For The First Time! **EPIC REACTION** ??, as he introduces Emily Dobson as his ex-girlfriend only to prank his crush, Piper.
Keep tuning in to Celeb$fortune for more celebrity Net Worth & Facts content. If there are more developments in their lives, keep checking back.