Vicki Gunvalson was one of the main housewives in Bravo TV's The Real Housewives of Orange County since it debuted 14 years ago in 2006. She's the only one to have stuck it out with the show for all these years, but the recent demotion to just a 'friend' has affected her wealth in so many ways. With the next season also about to roll in this summer, there's no telling where she'll end up. Braunwyn Windham-Burke, who (kind of) replaced her as a main housewife, might have something to talk about — the recent alleged homophobic backlash.
Born on March 27, 1962 [age 58], in Chicago as Victoria Steinmetz, she grew up in the suburb of Mount Prospect before moving to Palatine. In a tight-knit family of her three sisters (two adopted) and one brother, the father, William J. Steinmetz, was the owner of their own Steinmetz Acoustical Construction Company.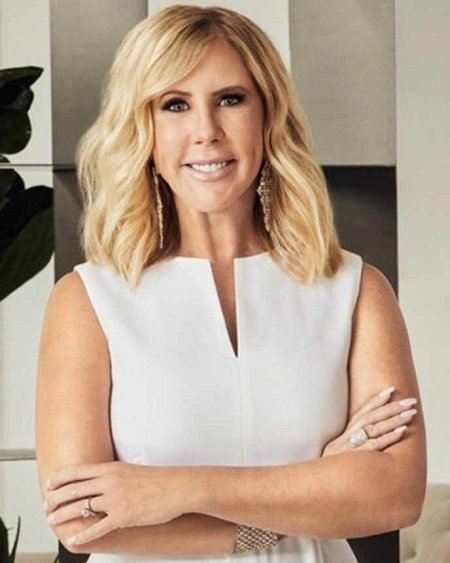 Vicki Gunvalson is the earliest member of the RHOC family.
Photo Source: Bravo TV
Gunvalson is not only a TV personality, but she is also a businessman as the founder of Coto Insurance & Financial Services, an insurance company. So yeah, she earns prettier than most housewives of OC. Her salary in RHOC increased over the years, but with the controversy tangling between her and Kelly Dodd, her paycheck's been cut to more than half of what she used to be paid. Nonetheless, her net worth is still impressive.
Vicki Gunvalson's Net Worth of $7.3 Million Comes from Business and TV Paycut — Salary, Sources and Comparison
As of 2020, Vicki Gunvalson accumulated a net worth of $7.3 million from her changing salary at RHOC, profits from her financial firm, and her best-seller books. There might be some more coming (or going) from lawsuits as well. Her salary reportedly was $60,000 per episode when she was the main housewife of the cast, which totals her earnings to $1.26 million per season. But the recent demotion means she would be earning only $20,000 per episode, making a total of $420,000 for all 21 episodes this season, less than half of her earlier season earnings.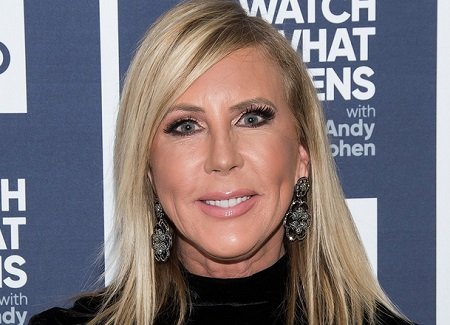 Vicki's net worth is really pretty despite her recent demotion.
Photo by: Bravo TV/Getty Images
On the verge of changing her last name to Lodge because of a pending marriage to fiance Steve Lodge, Vicki was demoted after she accused Dodd of using cocaine and Dodd refused to come back for the show. When Kelly was invited back to the show in December 2018 for the 2019 season, Gunvalson was not in the promos that Bravo released. It was later reported she would be a guest for the 14th season. She did get to stay though.
In comparison, to-be-Lodge's net worth is higher than Tamra Judge's $3 million, who is the second longest-running housewife after joining in Season 3, and that of newcomer Windham-Burke's $3.3 million.  Meanwhile, her fortune still remains behind Shannon Beador's $10 million and the same net worth of Dodd. The other two newer members also have lower net worth values, Gina Kirschenheiter: $1 million and Emily Simpson: $900,000.
Vicki Was First Married to Michael Wolfsmith and Already Is a Grandma to Two Kids
The 58-year-old was 21 when she married Michael J. Wolfsmith. They had two kids together, Briana Culberson (née Wolfsmith) and Michael Wolfsmith Jr., before divorcing when she was 29. After the divorce, she started working in her father's company until he met with an unfortunate passing in 1991 due to Alzheimer's.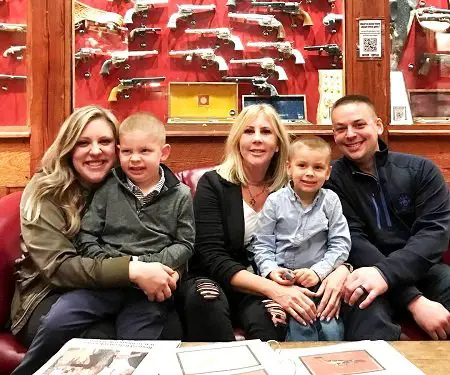 Gunvalson during her visit to daughter Briana, son-in-law Ryan, and their two sons.
Source: Briana Wolfsmith-Culberson
While son Michael works with her at Coto Financial, which she founded after her father died, Briana graduated from a nursing school and is currently married to Ryan Culberson. Vicki is one of the first grandmas of RHOC after Briana welcomed her first son, Troy Culberson, in 2012. Then her second grandson, Owen Culberson, was born in July 2014.
Coto Financial's Been Pumping Up Her Net Worth since 1994 after Marriage to Donn Gunvalson
After her father's demise, Vicki started her journey into the health insurance business in California. She married Donn Gunvalson in July 1994 and together launched Coto Financial. With all the hardships of raising two kids from a previous relationship, they managed to hold on to the marriage for 16 years. They separated in 2010, while the divorce was finalized in 2014.
According to reports, the divorce settlement with Mr. Gunvalson awarded her $1 million in assets, in contrast to their reported savings of $161,000 when they first split. But many didn't know of her insurance business until RHOC became more popular in its earlier years.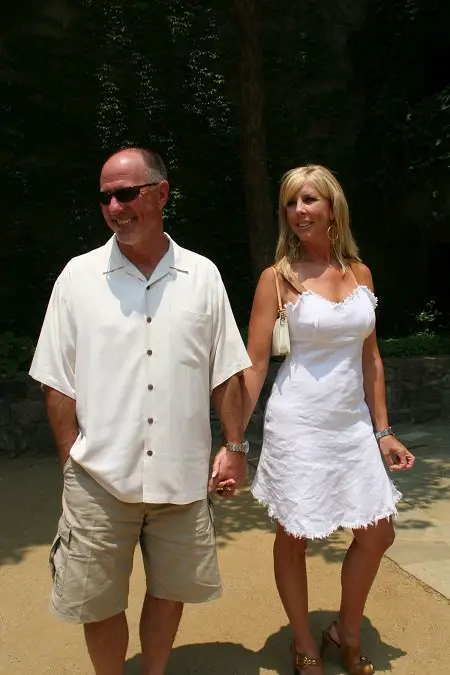 The marriage to Donn Gunvalson lasted for 16 years.
Photo by: Brett Ascarelli, NBC
The flourishing business was further boosted when she was invited for the show back in 2005. By 2017, she was taking home $750,000 per season from the show. The company's 2015 recognition helped quite a lot. She did an interview with ThinkAdvisor after an insurance veteran recognized her on the show in 2015. That's when the company's finances were given a sneak-peek into.
The mother-of-two booked two to four educational seminars every month to advise retirement-age people on insurance that year while booking 70-80% of the attendees for follow-up interviews. She already had 6000 clients until then, and her annuity business gained $15 million in 2014, with a goal of $20 million in 2015. In addition to life insurance, Coto also "provides wealth management, retirement planning, tax planning, risk management and insurance, corporate and executive solutions, and business consulting."
The firm also expanded its base with associates in Bellevue, Washington and Atlanta. She also expanded her own business mind with the launch of her own line of jewelry called Vicki's Diamonds in 2015. She's also been the spokesperson for ClubDetox and collaborated with MkCollab so that her fans could also get her design pieces. All those business lessons from her father really helped a lot, especially to pump up her net worth.
Vicki's Three Books Helped a Lot As One Was a Best-Seller
It's safe to say she is rich in her own right. She didn't need a divorce to boost her net worth, but the separation from Donn was what she needed to get her business on track. She was the contributor for her first book, More Than a Housewife, written by Jeff Scott based on her in 2009. It's available on Amazon for $9.99 on Kindle and for $19.99 with Paperback. It received an above-average review among the readers.
Vicki Gunvalson's best-seller book, 'Let's Talk Money'.
Source: Amazon
The housewife's second book, Internet Life Insurance Selling Made Easy, which she co-authored, is unavailable for purchase online. But her latest work with Dennis M. Postema, Let's Talk Money: Women's Guide to a Lifetime of Wealth, became a best-seller book after it was released in July 2014. She posted on Facebook about the book reaching #1 on Amazon in August of that year.
Why No One Likes Brooks Ayers and Everyone Suspects Lodge — Alleged Lies to Reach for Her Money
Of course, there are gold diggers in this world. But the deal between Vicki and her ex-boyfriend Brooks Ayers, who is apparently married to another woman already, had viewers divided. She started hooking up with Ayers after her separation from Gunvalson in 2010, but her castmates were sure Ayers was in it for the money Vicki made from her entire career. Briana also hated his guts.
Brooks had allegedly faked cancer on the show, and seeing the same thing her mates saw, she ended things with him in July 2015. She wrote on Twitter about how he stole her money by lying that he was suffering from a "stage 3 non-Hodgkin's lymphoma to gain sympathy and much more." He later apologized to her with a statement, and Gunvalson applauded him for coming clean.
The thing with Brooks also got people thinking her current boyfriend-turned fiancé, Steve Lodge, is also coming for her money. He was accused twice of assault & battery when he was a police officer, with the documents being allegedly destroyed. He also ran for the Anaheim City Council in 2012 and 2016 and was sued in 2012 for apparently changing his name to Steve "Chavez" Lodge for the ballots. Guess who first made the first accusation against Lodge of being a gold-digger. Yes, Dodd.
It may have stemmed from the fact that Lodge basically moved in with Vicki to her 6,000-square-foot mansion in Coto de Caza. She later spoke out about the accusations, stating he had his own money and that she "could care less about what the size of anyone's pocketbook is". Now, they're already engaged to be married after Lodge proposed to her in April 2019. She also confirmed she will be changing her last name to 'Lodge' after she gets married to her fiancé.
Is There More Coming Money Coming From Multiple Lawsuits against Ayers?
As it was, Ayers had allegedly borrowed a lot of money from Vicki. On April 11, she filed a lawsuit against him for breach of a written agreement, breach of verbal agreement, fraud, misrepresentation, and other claims that he allegedly failed to pay her money back. It totals up to over $266,000.
According to the court documents, he allegedly owes her the $184,899 loan she provided him in 2011, and she claimed he failed to abide by the written agreement they made in 2016, for Ayers to provide an accounting of his income.
The case against Ayers is yet to further develop.
Photo from: Bravo/Getty
There's more. She further alleged she loaned him $81,652.97 for attorney fees of another lawsuit against him between 2013 and 2015. The files also purported she suffered "damages in excess of $15,000 and now has to pay accountants, auditors, collection agents, attorneys, court costs and others to get the money back." She also wants an accounting of Ayers' finances, along with $15,000 to be determined at trial, "reasonable" attorneys' fees, costs incurred or to be incurred, interest, and punitive & exemplary damages.
Vicki also filed a lawsuit against Kelly Dodd and the RHOC producers for alleged defamation, for some statements featured on the show, in November 2019 under the name Jane Roe. But she later dropped the case. Here's her explanation. But there was still one case still in the open.
An 82-year-old woman, Joan Lile, sued her and Coto Insurance & Financial Services for fraud, breach of fiduciary duty, negligence, intentional infliction of emotional distress and breach of contract. She claimed she paid increased premiums but did not receive the benefits she was promised by the company after her husband passed away.
The case still is ongoing as the court ordered a dismissal to be filed by March 17, 2020.
Update: Will Vicki Gunvalson Return for RHOC Season 15?
In late January 2020, Gunvalson announced she was leaving the show after the network decided to let her know. Prior to the announcement, she had a talk with host Andy Cohen and admitted she was sad but will now start working on her new podcast Whoop it up with Vicki, with Westwood One. She will announce the date soon, and her life in RHOC is assured by her to be talked about on it.
Stay tuned for more Celebrity Net Worth Content from celeb$fortune. Click on the RHOC tag below for more of its members.